The wavering bull and the wavering bear.
U.S. Home-Builder Optimism Rises Home builders grew more optimistic in August as an improving job market and falling mortgage rates boosted the outlook for home sales.
An index of builder confidence in the market for single-family homes rose two points to 55 this month, the National Association of Home Builders said Monday. It was the gauge's second consecutive month over 50, a level that indicates more builders generally see conditions as good than bad.

Its measures of current sales conditions and expectations for future sales each rose two points to 58 and 65, respectively. The measure of prospective-buyer traffic increased three points to 42.

A regional breakdown of the data showed the gains were unevenly distributed with builders feeling more confident in the Northeast and Midwest but less so in the South and the West.

Fewer than one in five U.S. full- and part-time workers currently worry that they will be laid off in the near future, down sharply from 29% last year. This marks a return of worker confidence to the upper end of the range Gallup saw in the years prior to the financial collapse in late 2008. Workers' concerns about maintaining their current level of benefits and compensation have also eased, though they remain higher than pre-2008 levels.

(…) Since 2009, Gallup has seen a heightened, persistent fear among U.S. workers about their job status, pay, and benefits, even as the economy slowly recovered — pointing to a difficult job market. This year may tell a different story — one of a more confident workforce — as seen by the large drop in the proportion of U.S. workers saying they are worried about having their benefits and wages reduced and being laid off. (…)

(…) young workers' fear of being laid off has not decreased from last year, whereas this year, fewer older workers say they are worried about being laid off. Younger workers also are more likely than older workers to worry that their hours will be cut back. (…)
Home prices fell in 64 of the 70 cities surveyed in July by the National Bureau of Statistics, the biggest monthly proportion of declines since records began in July 2005. On average, property prices fell 0.9 per cent between June and July, the sharpest tumble in three straight months of declines.

As prices fell, real estate developers pulled back from making new investments. Property investments rose 13.7 per cent in the first seven months of the year, down from 14.1 per cent in the first half. In terms of floor space sold in July, China suffered a 16.3 per cent decline, down from a 0.2 per cent drop in June.
SENTIMENT WATCH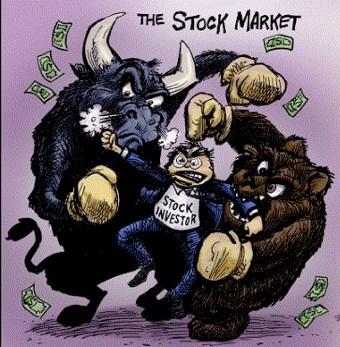 A BULL AND A BEAR WAVERING
They are both careful not to admit an actual change of heart:
David Rosenberg (my underline because this is what bearnobull.com is all about)
Let me emphasize from the outset that this is not an official change of view as it is an expression of how the conviction level over my forecast for vibrant U.S. growth in coming quarters is not as strong as it was a few weeks ago. In this business of wealth management, where assessing risks and measuring the probabilities of outcomes are so vital for success, even shifting the goalposts a little bit – which is what this exercise is all about – is no trivial endeavor.
David is worried that the U.S. has suddenly become the only growth engine in the world and that its own engine is showing unexpected signs of weakness. He is particularly shaken by the poor retail sales numbers for July although he sees softness in "all corners". He does not understand why the consumer is increasing his savings rate when his income is rising swiftly. He also seems to be waking up to the reality that there is no longer such a thing as THE American consumer but rather the 1-20 percenters and everybody else and that "the folks who spend the most of their incomes are those who are at the low end of the pay scale, and those in their 30s and 40s."
No recession, mind you – just more of the same: Sluggish. Tepid. Lackluster. Mediocre at best.
Wow! And the warning that he has put himself on watch:
(…) those of you who know me well also know that while I am patient, I also have no intention of sitting on a stale view past the best-before date. (…) I feel as though my current bullish view on above-consensus second-half growth, an earlier-than-expected Fed tightening, inflation a greater threat than deflation, and a cyclical back-up in bond yields is in need of some similar scrutiny at the current time.
The same day, John Hussman (Dimes on Black and Dynamite on Red), the last true bear around, also seems to be wavering, but towards the other side, but only for the shorter term, and only maybe:
The stock market is presently a roulette wheel with dimes on black and dynamite on red. We continue to have extreme concerns about the extent of potential market losses over the completion of the present market cycle. At the same time, we have very little view with regard to short-term market action.(…)

Stocks remain strenuously overvalued, overbought, and overbullish, but those conditions have persisted uncorrected much longer in the present instance than they have historically. That doesn't encourage us to abandon our concerns, but it does make us less aggressive about investment stances that rely on any immediate unwinding of what we continue to view, along with 1929 and 2000, as one of the three most reckless equity bubbles in the historical record.

(…) the 'buy the dip' mentality can introduce periodic recovery attempts even in markets that are quite precarious from a full cycle perspective.
In truth, John remains seriously bearish…but he is opening the door to short term spurts…even though he has very little view with regard to short-term action.
Not dissimilar to Jeremy Grantham, even though Grantham sees the possibility of another 12-24-month leg up to 2250.
Perhaps this is the more appropriate image:
If you enjoyed this article, Get email updates (It's Free)