Did you miss?
FactSet StreetAccount Summary – US Weekly Recap: Dow +0.67%, S&P +0.63%, Nasdaq +1.27%, Russell 2000 +0.71%
US equities finished mostly higher in fairly uneventful, holiday-shortened trading this week. The S&P 500 posted its third straight weekly gain, ending 6.5% above its recent low on 2-Feb. Most of the higher-profile stories had relatively little influence on the broader market. The drama surrounding Greece continued to dominate the headlines despite the limited directional takeaways for risk assets. However, a deal between Athens and the Eurozone did boost US stocks on Friday. The minutes from the January FOMC meeting had a slightly dovish tilt that underpinned Treasuries on Wednesday, though there did not seem to be any meaningful shift in policy normalization sentiment. While Wal-Mart's decision to boost pay for a third of its workforce received a lot of attention, there was some debate about its potential to trigger broader wage increases. Despite more focus on the economic reverberations, the West Coast ports dispute remained relegated to the backburner. Q4 earnings season continued to wind down and while there were few aggregate takeaways, the calendar did drive many of this week's outsized moves. Sector performance seemed to offer relatively read-through for risk/recovery sentiment. Healthcare fared the best with some upside leadership from biotech. Energy came under pressure with oil back on the defensive following a recent bounce. (…)
Not all breakthroughs are created equal. Some arrive more or less as usable things; others mainly set the stage for innovations that emerge later, and we have to estimate when that will be. But we'd bet that every one of the milestones on this list will be worth following in the coming years.
The Battle for Iraq: Shia Militias vs. the Islamic State by VICE News
Our son David is a fan of Vice News. He sent me this great clip: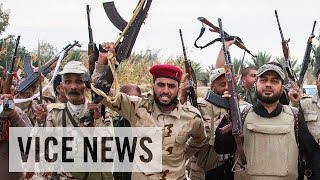 Last summer, the group known as the Islamic State of Iraq and Syria (ISIS) swept from Syria into northern Iraq, routing Iraqi security forces and seizing the city of Mosul. Soon afterward, the group declared the establishment of a dubious "caliphate" in the area it controls and rebranded itself the Islamic State. With Iraq's army weakened and radical militants advancing on Baghdad, the country's Iran-backed Shia militias — which have their own history of sectarian abuses — fought back, halting the Islamic State's progress.

The militias have successfully combated Islamic State fighters on the ground with the assistance of air strikes from a US-led military coalition. But their growing influence within Iraq's government amid accusations that they have harmed Sunnis in areas that they control has led many to fear that the militias threaten the country's fragile sectarian and political balance.

VICE News traveled to Iraq in December to witness firsthand how Shia militias are taking the fight to the Islamic State, and to document the fallout of their controversial rise to power.

Watch "The Islamic State (Full Length)" – http://bit.ly/1DlLA12
Watch "The Battle for Iraq" – http://bit.ly/16YRwQX
Watch "Syria: Wolves in the Valley" – http://bit.ly/1Clw9C6
Subscribe to VICE News here: http://bit.ly/Subscribe-to-VICE-News
Check out VICE News for more: http://vicenews.com
My Own Life Oliver Sacks on Learning He Has Terminal Cancer
Danny, our son in Miami, sent this link to a NYT Op-ed from Oliver Sacks, a professor of neurology at the New York University School of Medicine. This quote is the beautiful ending of Mr. Sacks' note:
(…) I cannot pretend I am without fear. But my predominant feeling is one of gratitude. I have loved and been loved; I have been given much and I have given something in return; I have read and traveled and thought and written. I have had an intercourse with the world, the special intercourse of writers and readers.

Above all, I have been a sentient being, a thinking animal, on this beautiful planet, and that in itself has been an enormous privilege and adventure.
Danny adds this beautiful thought…
Reading about Oliver Sacks learning he has terminal cancer motivates me to spend more time doing things that are meaningful.
…along with this:
What makes great art? I think that great art is elegant, thoughtful, and true/relevant in many context. Young, old, Chinese and Arabs: all recognize that Dali created great paintings.
Our mathematician son sees art wherever it is:
Have you heard of Euler's identity?

It may not have as many people ready to pay for it (e.g. Euler certainly didn't earn as much money as the most highly paid painters) but its importance is uncontested. Euler's identity is true in any Universe and its elegance and thoughtfulness is commensurate.
From Wikipedia:
Mathematical beauty

Euler's identity is often cited as an example of deep mathematical beauty. Three of the basic arithmetic operations occur exactly once each: addition, multiplication, and exponentiation. The identity also links five fundamental mathematical constants:

(Note that both π and e are transcendental numbers.)

Furthermore, the equation is given in the form of an expression set equal to zero, which is common practice in several areas of mathematics.

Stanford University mathematics professor Keith Devlin has said, "Like a Shakespearean sonnet that captures the very essence of love, or a painting that brings out the beauty of the human form that is far more than just skin deep, Euler's equation reaches down into the very depths of existence." And Paul Nahin, a professor emeritus at the University of New Hampshire, who has written a book dedicated to Euler's formula and its applications in Fourier analysis, describes Euler's identity as being "of exquisite beauty".

The mathematics writer Constance Reid has opined that Euler's identity is "the most famous formula in all mathematics". And Benjamin Peirce, a noted American 19th-century philosopher, mathematician, and professor at Harvard University, after proving Euler's identity during a lecture, stated that the identity "is absolutely paradoxical; we cannot understand it, and we don't know what it means, but we have proved it, and therefore we know it must be the truth."

A poll of readers conducted by The Mathematical Intelligencer in 1990 named Euler's identity as the "most beautiful theorem in mathematics". In another poll of readers that was conducted by Physics World in 2004, Euler's identity tied with Maxwell's equations (of electromagnetism) as the "greatest equation ever".
What for?
Dunno! FYI: Intuitive Understanding Of Euler's Formula
But there is a link to economics and finance:
We can have real and imaginary growth at the same time: the real portion scales us up, and the imaginary part rotates us around:
Rings any bell?
Danny recently sent me an example of what he does for a living. This was part of it:
Imagine our dinner table conversations!
If you enjoyed this article, Get email updates (It's Free)