The U.S. Census Bureau announced today that advance estimates of U.S. retail and food services sales for March, adjusted for seasonal variation and
holiday and trading-day differences, but not for price changes, were $441.4 billion, an increase of 0.9 percent (±0.5%) from the previous month, and 1.3
percent (±0.9%) above March 2014. Total sales for the January 2015 through March 2015 period were up 2.2 percent (±0.7%) from the same period a
year ago. The January 2015 to February 2015 percent change was revised from -0.6 percent (±0.5%) to -0.5 percent (±0.2%).
The disappointing report of the day was from retail sales. The chart above shows that three-month, six- month and 12-month trends in retail sales are still negative with sales contracting.

The table shows that while retail sales rose in all the categories in February they still are falling at a 6.1% annual rate over three months and a falling at a 2% annual rate year-over-year. Only motor vehicles and food sales show any tendency toward acceleration. Clothing sales are still decelerating sharply. Its sequential growth rates and those for `other' retail sales also exhibit a sharp deceleration, especially over three months, led by severe weakness in January.

Since all sales were weak or slow in January, the quarter-to-date data show weakness as well. Overall sales are falling at a 7.6% annual rate in the quarter-to-date with sharp declines in clothing and footwear and in `other' retail. However, motor vehicle purchases as well as food, beverages and tobacco purchases are showing growth.

Of course, dropping energy prices are still playing havoc with overall sales patterns. Motor vehicle sales and foods sales are free of direct energy effects and there sales are advancing. However, clothing also is free of any direct energy impact and sales there are weakening. The `other' category embodies direct energy effects and is severely weak.

For now we can be somewhat encouraged that sales did rebound in February after two straight months of declines and after three declines in the past five months. The 0.5% gain is the largest gain in overall sales since September 2014 when sales rose by 1.8%. But that optimistic assessment is damped by the fact that sales are only rebounding weakly from a 1.6% drop in January.
In February, the ratio of job-openings to applicants stood at 1.15. This marks the highest point in almost 25 years. These latest figures should be encouraging, both to the central bank and to the government. However, to what extent is overall wage growth sustainable?


The shortage of labour is not an economy-wide issue. Sectors such as medicine, care and construction now enjoy more job openings than used to be the case. These are sought after sectors due to the aging population and increased contruction following the earthquake and tsunami that occurred in March 2011. However, the ratio of job openings to applicants in other sectors has remained little changed. As it is not easy for workers to move between sectors, the shortage of workers in some sectors is unlikely to push aggregate wages up.

PM Abe's campaign to end the country's prolonged deflationary period hinges on achieving sustainable wage growth. The BoJ also counts on this to reach its 2% CPI target. The rising overall ratio of job-openings to applicants is promising. However, it is only some sectors that are experiencing shortages of labour. There are natural labour market rigidities meaning that a worker with one kind of skill set can struggle to move to an occupation that requires another type of skill set. Therefore, the current scarcity of labour in some sectors of the economy may not be a good indicator of overall wage pressure. We need to see tightness in a wider range of sectors before the labour market as a whole can be considered to be putting upward pressure on wages and inflation.
Industrial production in Italy rose 0.6 per cent in February, offering comfort that the eurozone's third-largest economy would this year emerge from three years of recession.

The increase in factory activity marks a rebound compared with a 0.7 per cent decline in January that had raised concerns about the ability of Italy's manufacturing sector to help drive the recovery.

The 0.6 per cent increase in industrial production in February was the largest jump since last June. Compared with the same period last year, however, industrial production slid by 0.2 per cent in February.
OIL
Output from the prolific tight-rock formations such as North Dakota's Bakken shale will decline 57,000 barrels a day in May, the Energy Information Administration said Monday. It's the first time the agency has forecast a drop in output since it began issuing a monthly drilling productivity report in 2013.

The EIA's May production forecasts cover the yield from major plays that together accounted for 90 percent of domestic output growth from 2011 to 2012.

Output from the Eagle Ford in Texas, the second-largest oil field in the U.S., is expected to fall 33,000 barrels a day in May to 1.69 million. Production in the Bakken region of North Dakota will decline 23,000 to 1.3 million, the EIA said.

Yield from the Permian Basin in West Texas and New Mexico, the largest U.S. oil field, will continue to rise, by 11,000 barrels a day to 1.99 million.

The decline in domestic production will come just as U.S. refineries start processing more oil following seasonal maintenance, easing the biggest glut since 1930. The withdrawal from U.S. oil stockpiles is expected to bring relief to a market that's seen prices drop by more than $50 a barrel since June.
China on Oil-Buying Spree Again State-run Chinaoil could surpass its monthly record for spot market oil purchases if it keeps up its current buying pace.
China National United Oil Corp., the trading unit of state-run China National Petroleum Corp. known as Chinaoil, has bought a total of 19 physical oil cargoes for delivery in June or July so far in April, Singapore-based traders said. That is equal to 9.5 million barrels of oil, and is Chinaoil's largest spot market purchase since October last year when it bought a country record 47 cargoes, or 23.5 million barrels of oil.

With over half a month of trading still left, Chinaoil could surpass its October volumes if it keeps up its current buying pace. (…)
Both the S&P and the US Bureau of Economic Analysis reported that profit margins dipped during Q4-2014. The former was at 10.2%, while the latter was at 10.4%. But both remained near their record highs of the previous quarter. One of our accounts observed that data that I compile are showing a possible peak in the forward profit margins of the S&P 500/400/600. That's not so clear for the S&P 500, where the margin peaked at a record high of 10.8% during the week of December 4, 2014. It did dip recently, but edged up over the past few weeks back to 10.6% in early April.

The dips are more noticeable and remain underway for the SMidCaps. For the S&P 400, the forward profit margin is down from last year's peak of 6.7% during the week of June 19 to 6.2% currently. For the S&P 600, it is down from the 2013 peak of 6.1% during the week of October 3 to 5.5% currently.

The perceptive fellow who brought this to our attention wondered why margins seem to be coming down more for smaller than for larger firms. That's a good question, assuming that the forward profit margins accurately reflect the situation. We think so. We calculate the data by dividing forward earnings by forward revenues.

The pace of employment has picked up over the past year. ADP data through March show that payrolls are up 2.9 million y/y, with large companies adding 546,000, medium-sized companies adding 1.0 million, and small companies adding 1.3 million. The additional payrolls may squeeze margins more for small firms than for large firms simply because add-to-staffs are more significant to the budgets of the former than the latter.

In any event, profit margins may be peaking across the board, though they aren't likely to tumble until the next recession. If they have peaked, then profits growth will be determined mostly by revenues growth, which is likely to be below 5% this year and next year.
Meanwhile, First Call earnings revisions keep declining as analysts reduce forward earnings.
(…) Tobias Levkovich, a strategist with Citi, notes that over the past decade, S&P 500 companies have repurchased $4tn worth of shares — in part to offset stock options offered to employees — while domestic investors have added less than $100bn to the mix.

"The lack of US retail investor interest in stocks has been stunning and equity market tops usually consist of overly aggressive individual investor interest in the asset class," says Mr Levkovich.

The pace of companies buying back their own shares now accounts for more than 2 per cent of overall equity volumes in the US and contributed 2.3 per cent to earnings growth for the S&P 500 last year, according to strategists with JPMorgan. That figure, the brokerage says, will probably accelerate this year as a slide in the dollar and oil cut into earnings gains from underlying operations.

(…) Qualcomm, Lowes, General Motors and Simon Property have initiated or authorised multibillion-dollar increases to share buyback programmes in the past two months, while the financial sector cleared a key hurdle in early March when the Federal Reserve gave a green light to dividend increases and repurchase plans from the country's largest banks. Citigroup,American Express and JPMorgan led a group of nearly two dozen financials that committed as much as $50bn to buybacks over the next five quarters.

Attention has now shifted to Apple, the exemplar of share repurchases, which is expected to announce changes to its multiyear $130bn programme in late April. (…)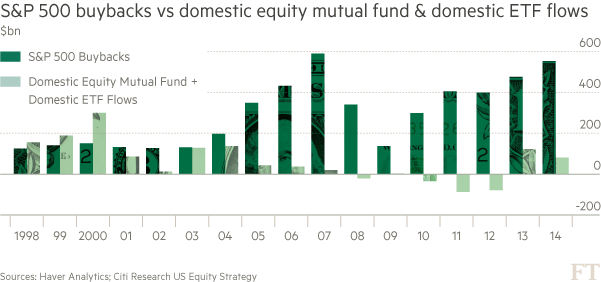 If you enjoyed this article, Get email updates (It's Free)