Total sales of light vehicles declined 3.5% during June to 17.16 million units (+1.5% y/y) following May's 7.8% jump to the highest level since July 2005.

Auto sales declined 4.0% last month to 7.78 million units (-6.1 y/y) after May's 10.1% increase. Domestic auto sales were off 4.5% to 5.61 million (-4.9% y/y) after a 10.7% jump. Imported car sales eased 2.7% to 2.18 million (-9.2% y/y) following an 8.6% rise.

Light truck purchases fell 3.2% to 9.37 million units (+8.9% y/y), giving back most of May's 5.9% increase. Trucks share of the total vehicle market nudged up to 54.6%. Imported truck sales improved 2.7% to 1.36 million (21.2% y/y) on the heels of four straight months of solid increase. Sales were at the highest level since March 2008. Domestic light truck sales eased 4.1% to 8.01 million (+7.0% y/y) after a 6.3% rise.
It seems tough to break the previous peaks!
YoY, light truck sales are +8.9%. Autos –6.1%.
U.S. construction spending advanced 0.8% to a seasonally adjusted annual rate of $1.036 trillion in May, the highest level since October 2008, the Commerce Departmentsaid Wednesday.

In May, spending on private nonresidential building led the way, climbing 1.5% to $393 billion, the highest figure since December 2008. Manufacturing spending has been especially robust over the past year.
Haver Analytics adds:
Building activity in the private sector improved 0.9% (10.3% y/y) and increased at an 18.7% rate during the last three months.
Average effective rents grew 3.6% during the second quarter compared with a year earlier, according to real-estate research firm REIS Inc. The pace of rent growth has been rising rapidly since 2012 and has hovered around 4% since then. The last time rents fell was the fourth quarter of 2009.

Hot technology markets, including San Jose, Calif.; San Francisco; and Denver, continued to see the biggest increases. In San Jose, rents increased 7.2% from the second quarter of 2014 to $1,951 a month, while in San Francisco they increased 6.8% to $2,316.

New York City—the country's most expensive rental market—also saw a pickup in its rental market after a slightly sluggish winter. Rents in New York increased 1.7% over the prior quarter to $3,294 a month from $3,233. That was the second-biggest quarterly increase of any city other than San Jose. (…)

More than 44,000 units were finished in the U.S. during the quarter. REIS is expecting 230,000 units to be completed this year, meaning that some 150,000 new units could be finished in the last six months of this year—roughly twice normal levels.

The apartment vacancy rate in the second quarter was 4.2%, around the same level at which it has been hovering since the second quarter of 2013. Economists said that as new supply comes online the vacancy rate and rent growth will likely start to ease. (…)
Employers took on 8.2 million square feet of additional office space in the second quarter, marking one of the stronger periods since the recession but a relatively modest expansion by historical standards, according to real-estate research service Reis Inc.

The increase left the overall office vacancy rate flat for the quarter at 16.6%, which is just a nudge down from the peak of 17.6% reached in 2010, according to Reis, which tracks 79 markets. Rents rose to an average of $24.60 a square foot, up 3.2% over the past 12 months. (…)

While the U.S. recovered to its prerecession employment level a year ago, employers occupy about 36 million square feet less than they did at the peak in 2007. That is about a year's worth of growth at the current rate, although it could disappear faster if the pace picked up. From 2005 through 2007, for instance, the amount of occupied office space increased by an average of 14.9 million square feet a quarter. (…)

The Seattle area registered as the strongest in terms of rent growth over the past 12 months, with rents rising 7.2% to $26.84 a square foot, including landlord concessions. Seattle was followed by the San Francisco area, where rents rose 6.3% to $40.18 a square foot, and the San Jose area, where they increased 5.9% to $28.28 a square foot. (…) (Chart below from CalculatedRisk)
The J.P.Morgan Global Manufacturing PMI™ – a composite index produced by JPMorgan and Markit in association with ISM and IFPSM – also slipped to 51.0 in June, its joint-lowest reading since July 2013. Over the second quarter, average rates of expansion in both global manufacturing production and new orders were the weakest since Q2 2013, further highlighting the generally subdued performance of the sector in recent months. (…)
Among the main emerging markets, output fell slightly in China and Russia, but rose in India, Mexico and Vietnam. Brazil's severe downturn in manufacturing production continued. (…)

The level of new export business rose following a brief growth hiatus in May, with increases in the eurozone, China, Japan, India, Mexico and eastern Europe. New
exports fell in the US, the UK, Russia, Taiwan, South Korea, Turkey, Indonesia, Vietnam and Brazil. (…)

Meanwhile, average selling prices edged higher for the second straight month, mainly reflecting charge increases in the developed markets. Emerging markets reduced selling prices for the eleventh straight month.
As Saudis Keep Pumping, Thirst for Domestic Oil Swells Kingdom is poised to break records for crude output, but its ravenous energy needs threaten its ability to ramp up exports
(…) Saudi Arabia has said it produced a near-record 10.3 million barrels a day in May, a mark that industry observers said could increase to 11 million barrels this summer as air-conditioning use increases with temperatures reaching 110 degrees Fahrenheit. The country has the ability to produce 12.3 million barrels a day for 90 days, but it has never pumped this much. Saudi output averaged 9.22 million barrels a day from 2006 to 2014, according to the U.S. Energy Information Administration. Most of its oil is exported.

For the past three years, Saudi domestic energy demand has been rising by about 8% due to an expanding population and new construction and large-scale projects. More than 25% of the country's crude is consumed domestically by cars, planes, homes and businesses, a figure that rises in the summer and is almost double what the kingdom used in the early part of the last decade. The kingdom's population has increased 17% since 2005, faster than most developed countries.

At this pace, the kingdom would have to start importing oil by 2030, Citigroup Inc. has predicted, a once unthinkable prospect for the linchpin of the world's oil market. Khalid al-Falih, the current chairman and former chief executive of the kingdom's state-owned oil company, Saudi Arabian Oil Co., known as Saudi Aramco, said in 2011 that, if left unchecked, domestic energy consumption would rise to 8.2 million barrels of oil a day by 2030. (…)

Total Saudi crude burned for domestic use rose more than 14% in 2014 over 2013. (…)

About 90% of Saudi Arabia's revenue comes from oil. According to Deutsche Bank AG, the oil price that the kingdom needs to balance its budget increased to $106 a barrel last year. (…)

Saudi Arabia's spare capacity—the gap between its output and what it can produce—hasn't been as low as two million barrels a day since 2008. It is a number closely watched by the oil market as a sign of the kingdom's power to flood the world's supplies. Saudi Arabia's oil minister has said the kingdom would maintain current production levels.

Other Middle Eastern countries face similar energy demands in the summer, but they have switched to natural gas for power generation. Saudi Arabia is the world's largest consumer of crude oil for electricity, according to the EIA, using an average of about 700,000 barrels a day during summers from 2009 to 2013. The next two highest, Iraq and Kuwait, averaged roughly 80,000 barrels a day for electricity, the administration said. (…)
Meanwhile, in the USA:
Yesterday, the DOE released monthly figures for crude oil supply and disposition for the month of April. Recall, these lagged monthly figures are reported to a more accurate degree than the weekly data.

Monthly crude oil production averaged 9.701 MMbpd in April, up 0.1% from the newly revised March figure of 9.692 MMbpd (which in turn was revised higher by
161,000 bpd). However, the entire increase in production in April was driven by U.S. Offshore production, which increased by 106,000 bpd month-over-month. In fact, U.S. onshore production (excluding Alaska and offshore) declined by 96,000 bpd sequentially in April.

Total product demand was estimated at ~19.0 MMbpd for April, down from ~19.2 MMbpd in March, but up slightly from the implied weekly demand figures and up 1.4% y/y. Importantly, gasoline demand increased by ~1% sequentially to just over 9.1 MMbpd (up 1.8% y/y), implying steady growth for the biggest driver of total U.S. demand. Additionally, we'd expect a further upward revision to gasoline demand based on the figures for miles driven from the Federal Highway Administration
(estimated at +3.9% y/y in April). Compared to the implied weekly demand figures for April, gasoline demand was revised higher by ~260,000 bpd.
(…) Average home prices rose 0.56 per cent in June from a month earlier, data from the China Index Academy's survey of 100 cities show, up from a 0.45 per cent gain in May and the fastest growth since January 2014. In spite of the new figures, however, analysts expect the market to recover only gradually. (…)
Analysts also say that some investors are now taking profits from the Chinese stock market — which hit a seven-year high on June 12 but has tumbled more than 20 per cent in the past two weeks — and investing them into property, which looks more fairly valued after a year of falling prices. (…)

The price recovery matches official data showing that new residential property sales were up 13 per cent annually in floor-area terms in May, the second month of gains after 13 straight months of falling sales. (…)
According to the tone of executives in the Bloomberg Orange Book of CEO Comments, the weakness in China is having a real impact on companies' performance, supporting the argument for additional policy accommodation.
ISI's surveys of U.S. companies doing biz in China has just recently stabilized at a very low level. China's LEI also ticked up lately after reaching 2008 levels.
China Shares Tank as Beijing's Moves to Spur Buying Fall Short Chinese shares plunged Thursday, even as Beijing grasps for solutions to stem the selling, including relaxing rules on the use of borrowed funds to invest in stocks.
The Shanghai Composite closed down 3.5% while the smaller Shenzhen market was down 5.6%. The ChiNext board, composed of small-cap stocks, sank 4%. Even after losing nearly a quarter of its value from a mid-June high, China's main stock market has almost doubled in value over the past year.

In the minutes before closing, China's blue chips staged a minirally, which some analysts put down to buying from government-backed funds. Stocks in large, state-owned firms benefited most, with PetroChina Co. nearly hitting its daily upward limit of 10%, rising 8.8%, and China Petroleum & Chemical Corp., or Sinopec, up 5.5%. Just 60 stocks on the Shanghai Composite gained while more than 900 stocks fell.

In a rare move late Wednesday, Chinese regulators set in motion draft proposals to ease restrictions on margin lending earlier than scheduled. The announcement came amid a series of measures to encourage stock buying after nearly three weeks of volatile trading wiped out some gains from a yearlong rally. (…)

Regulators' sudden shift in attitude about margin trading comes after vocal warnings about its risks in recent months. In April, regulators took various steps to rein in the practice, which had allowed investors to borrow several times their investment money. Last month, the China Securities Regulatory Commission said it was revising rules to ensure an "orderly development" of margin trading, worrying some investors that rules would be further tightened.

China's outstanding margin loans currently total around 2.1 trillion yuan ($338.68 billion), more than five times the level from a year ago.

But on Wednesday, the CSRC announced several moves to encourage margin lending. First, it said it would lower the required ratio of borrowers' total assets to margin loans. This would give investors more of a cushion before being forced to sell shares as losses add up. To further this end, regulators said they would allow brokers to negotiate rollovers of margin loans directly with clients.

The regulator also opened up margin trading to more investors, allowing those with less than 500,000 yuan ($80,600) in their investment accounts to engage in the practice. In yet another step, brokerages will be able to securitize their margin loans, which would boost the amount they can lend without pressuring balance sheets.

Separately, the Shanghai and Shenzhen stock exchanges lowered fees on securities transactions by about a third to encourage more buying, after sharp stock selloffs left both indexes down more than 20% from recent highs, marking bear territory. (…)
China is clearly panicking. These are all poisoned band-aids.
LONG, LONG-TERM
5000 years of interest rates! From Merrill Lynch via Bloomberg: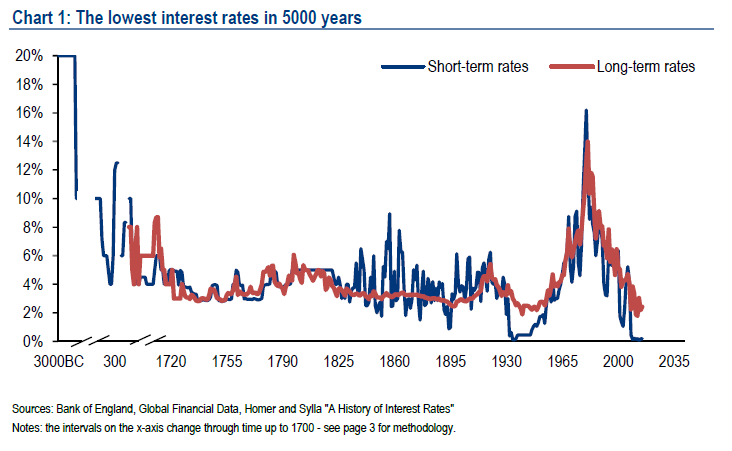 If you enjoyed this article, Get email updates (It's Free)