China Cuts Rates China cut its benchmark lending rate to 4.6% and reduced the cash levels banks are required to keep as China's stock-market tumble has sent its main stock index down 22% in the past four days.
China also did away with its ceiling on most bank deposits.

The People's Bank of China said in a statement on its website that it also cut bank reserve requirements for rural banks by an additional half a percentage point.
CHINA PBOC CUTS INTEREST RATES
CHINA PBOC CUTS REQUIRED DEPOSIT RESERVE RATIO
CHINA PBOC CUTS 1Y DEPOSIT RATE BY 25 BPS
CHINA PBOC CUTS 1Y LENDING RATE BY 25 BPS
CHINA PBOC CUTS BANKS DEPOSIT RESERVE RATIO BY 50 BPS
Beijing's leaders appear to have belatedly decided it is too expensive and ultimately futile to fight gravity in the equity market, especially as the government is now intervening separately on a massive scale to stop its currency from devaluing further.

Since the People's Bank of China devalued its currency and introduced a new "market-oriented" foreign exchange price-setting mechanism on August 11, it has had to spend as much as $200bn of the country's foreign exchange reserves to prevent the renminbi from falling more than it wants, according to people familiar with the central bank and its market interventions.

That was more money than the PBoC had spent over the past two years to keep its currency in the desired range against the dollar, these people said.

The scale of the intervention in both equity and currency markets has led many to question whether the Chinese authorities are in control of the situation or whether they have made a series of policy blunders. (…)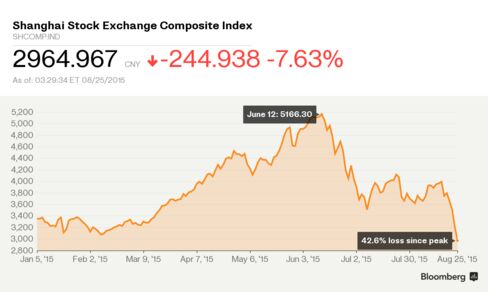 (…) there are two groups of emerging market economies that look particularly vulnerable.

There are the commodity rich nations, such as Sierra Leone and Angola, which have met China's insatiable demand for natural resources. And there are also the East Asian economies, such as South Korea, Malaysia and Vietnam, which export semi-manufactured and finished goods to China. Data suggest that China's slowdown has already hit commodity producers hard, and they will continue to suffer — with crude oil prices hitting new six-year lows. (…) (Chart from BCA Research)
Fifteen of the 30 largest equity markets among emerging economies extended losses yesterday from their peaks to 20 percent or more, fulfilling traders' definition of a bear market. China and Russia have led the pack, tumbling more than 30 percent each. The remainder are either in a correction, or on the brink.

Investors are even less confident about emerging-market equities than they were at height of the financial crisis in 2008, an index showed yesterday. That may be a signal that a market rebound is coming, argues Sentix, the data compiler.

The polling group's gauge of sentiment in emerging-market equities fell about 20 points to minus 27.75 in August, the lowest since it began in early 2007.

The sharp decline in the index "is an enormous glimmer of hope as the appearance of fear is usually a precursor of a turn in price developments," said Sebastian Wanke, senior analyst at Sentix. He said the sharp drop in the mood index in late 2008 preceded a rebound in emerging-market equities. (…)

Hmmm…
Led by improvements in production-related indicators, the Chicago Fed National Activity Index (CFNAI) rose to +0.34 in July from –0.07 in June. Two of the four broad categories of indicators that make up the index increased from June, and three of the four categories made positive contributions to the index in July.

The index's three-month moving average, CFNAI-MA3, edged up to a neutral reading in July from –0.08 in June. July's CFNAI-MA3 suggests that growth in national economic activity was at its historical trend. The economic growth reflected in this level of the CFNAI-MA3 suggests limited inflationary pressure from economic activity over the coming year.

The CFNAI Diffusion Index, which is also a three-month moving average, moved up to +0.06 in July from a neutral reading in June. Fifty of the 85 individual indicators made positive contributions to the CFNAI in July, while 35 made negative contributions. Forty-four indicators improved from June to July, while 40 indicators deteriorated and one was unchanged. Of the indicators that improved, 12 made negative contributions. [Download PDF News Release]

The next chart highlights the -0.7 level. The Chicago Fed explains:

When the CFNAI-MA3 value moves below -0.70 following a period of economic expansion, there is an increasing likelihood that a recession has begun. Conversely, when the CFNAI-MA3 value moves above -0.70 following a period of economic contraction, there is an increasing likelihood that a recession has ended.

The next chart highlights the -0.70 level and the value of the CFNAI-MA3 at the start of the seven recession that during the timeframe of this indicator. The 1973-75 event was an outlier because of the rapid rise of inflation following the 1973 Oil Embargo. As for the other six, we see that all but one started when the CFNAI-MA3 was above the -0.70 level.
(…) During the first two quarters of the year, real GDP increased 0.6 percent and 2.3 percent, respectively, for an average growth rate of 1.4 percent for the first half. With the economy on such thin ice, it isn't clear how resilient households — or businesses — can be to a profound and prolonged market slump.

As of August 18, the Atlanta Fed's GDPNow forecasting model estimates third-quarter GDP growth to be 1.3 percent. Keep in mind that the Atlanta Fed has the hottest hand in forecasting, having accurately predicted the first- and second-quarter GDP growth estimates. If the bank is correct again, third-quarter growth would be at essentially the same pace as during the first half.

Policy makers are cognizant that one 25 basis point increase will not derail the economy. However, they are sensitive to the fact that, if the market prices in a string of rate hikes, it would cause a significant tightening of financial conditions, and they do not want this given their hesitancy over the broader outlook. The key to the Fed successfully achieving liftoff will depend on it successfully telegraphing to the markets that the post-liftoff path of policy will be extremely shallow — more gradual than the roughly 100-125 basis points per year that it has previously signaled.

In short, the Fed can probably successfully pull off a September liftoff if it can convince the markets that it is a "one and done" approach for 2015. Policy makers can accomplish this through their forward guidance language, as well as through the dot plot.

SENTIMENT WATCH
It is really amusing how everybody is able to explain the market rout after the fact…even though the facts were all there for everybody to see. Now, the guessing game on what is needed to turn things around:
Gaining traction is going to take some sign of confidence returning to China since more than 80% of this year's U.S. market selloff has occurred since the devaluation – since that time, more than $5 trillion paper wealth has been wiped off the value of global equities (…)

Quite clearly, the state-directed attempt to turn the Chinese equity market has unravelled and it may be this sense that the authorities have "lost control" that is the principal cause of this sudden dramatic loss of global investor confidence, and we are reminded by the domino effect to other regions just how interconnected the world is today (…)

The capitulation is definitely in.

Here's what we need:

We need reassuring moves out of China. (…) Of all central banks, only the PBoC has anything left in its arsenal.
We need to see oil prices show signs of bottoming out
Technically, we need to see an outside positive reversal. (…) Credit spreads are usually a good leading indicator.
Break-even inflation rates bottom out
Less panic by global policymakers would be helpful too. (…) efforts to stimulate demand, not further manuipulate or distort asset prices.
• The EM market plunge of almost -60% in 1997-1998 ended when the Fed cut the funds rate.
• The S&P decline of almost -20% in 2011 ended around the prospect of more QE.
• Last year's S&P decline in Oct of -7% ended Oct 19 — "Monetary policies around the world edged toward easing, from BoE to China." Oct 26 — "Policymakers are leaning toward easing, eg, Abe, China, Fischer, and Draghi."
"I'm not a buyer that this is 1998. Nor am I am a buyer that that's 2008. And in 1998 you had a lot of fixed exchange rates. Now you have fewer of those. And 2008 was about the payments and settlement system. This is not about the payments and settlement system. This is an old-fashioned repricing of two things."

He added: "I'm not a buyer that this is the crisis of all crises. Yes, this is a very unpleasant repricing, very unpleasant. And it's going to go quite deep, but it's not going to derail the economy in a major way."

El-Erian said he believes a December rate hike is still possible: "I think December is still on the table, and for the following reason. The economy will benefit from lower commodity prices, particularly oi. And the economy will benefit from lower interest rates. And that's going to fuel some underlying strength that the economy does have. The big question is how much damage are we doing to the wealth effect, and to what extent will external demand collapse? We cannot answer that question yet. So I would think December is still a possibility, but September is unlikely to happen."
(…) Today the story is much different. Governments learned from the last crisis, and have more macroeconomic and policy tools at their disposal. Their currencies already float, and none are running current-account deficits with fixed exchange rates. Their foreign-exchange reserves are larger (though Malaysia's have just fallen below $100 billion for the first time in five years), and their banking systems stronger, with larger domestic-deposit bases. Their currencies have not come under attack—low oil prices are dragging down the ringgit, while concerns over long-term competitiveness are hampering Indonesia—and their economies better able to handle foreign-investment inflows. Big emerging-market firms look slightly less healthy; many have taken on large and growing piles of dollar-denominated debt, which have become less affordable as the dollar has risen in value. But these debts do not yet look a plausible source of widespread systemic financial risk.

The worry, though, is that governments have equipped themselves well to fight the last war. A panic-driven crisis may not loom, but emerging-market currencies the world over have taken hits from low commodity prices, China's slowdown and an impending American interest-rate hike. Yet in fact, Asia's currencies are faring relatively well: the Russian rouble, Colombian peso and Brazilian real have all fallen more than twice as much as the rupiah and ringgit. Low global demand has kept export growth low this year; a weakening yuan will make things worse. Last month Indonesian exports were down almost 30% year-on-year, a sluggishness mirrored across the region. Indeed, some now reckon that emerging markets will try to stimulate external demand through devaluation, as Vietnam did last week. That, in turn, suggests a different risk: that much of the world economy will try to cope with economic weakness by selling to the American consumer. Yet the sorts of global imbalances that result from competitive depreciation are dangerous, as the 2000s demonstrated. Americans might borrow too much as they attempt to play the role of engine of economic demand. Or they may simply tire, leaving the world without a source of economic locomotion.
(…) "U.S. economic trends are still very much driven by domestic phenomenon and data points continue to intimate growth as opposed to developments overseas that are creating turbulence and distressing investors," he writes. "Specifically, American employment, plus consumer and capital spending (ex-energy) remain on track."

The two key sectors to look at to gauge the health of the American consumer and economy—automotive and housing—still look healthy, according to Levkovich )…)

Levkovich points to three indicators that are at levels close to the previous market bottom in October and suggest that a rebound could be imminent:

The share of stocks listed on the New York Stock Exchange trading at or below their 200-day moving average is within shouting distance of the October 2014 level.
The ratio of 90-day to 30-day implied volatility is more than two standard deviations below its longer-term norm.
The put/call ratio exceeds the level it was at last October.

"In this context, investors should be sharpening some pencils to find the corn being thrown out with the chaff," he concludes.
(…) But there is nevertheless reason to think any weakness will ultimately prove temporary.

It is worth reflecting on just how aggressive a 10-per-cent stock market repricing is. It is the equivalent of concluding that one 10th of every company's future earnings stream has suddenly and forevermore vanished. Even a full-bore recession doesn't usually have an effect that corrosive.

To the contrary, global leading indicators continue to point to mediocre economic growth. The Chinese slowdown – while certainly consequential for the world – is unlikely to induce a recessionary nadir at the global level. Meanwhile, the latest bout of low interest rates and low commodity prices are both accretive to global growth.

Second, Chinese concerns warrant a more careful parsing. Recent stock market problems in the Middle Kingdom hardly matter to the rest of the world – the market is small relative to its host economy. China's stock indexes remain higher than they were in mid-2014 and mainland shares are largely domestically held. The currency story is also no great shakes given that the currency has stabilized at just 3 per cent lower against the U.S. dollar.

China's debt problems are a legitimate concern and the main reason for China's economic deceleration. Recent news of shadow-finance entities requesting government bailouts merely adds to the list of supplicants. Fortunately, the national government remains both inclined and equipped to rescue beleaguered parties. To be sure, China's economy will continue slowing, but a "soft landing" is still more likely than a crash.

Third, it is surprisingly normal for stock markets to swoon by 10 per cent or more. This happens every few years, and markets normally then reclaim the lost ground in short order. When framed in the context of the U.S. presidential cycle – a classic technical indicator – the bellwether S&P 500 usually experiences a decline very similar to this one somewhere in the year before an election, before surging back to new highs later that year.

Fourth, stock market valuations were fine before the correction took place. There is always a searing debate on this subject, given the wide range of metrics that exist, but classic measures such as the price-earnings ratio and more advanced ones such as the risk premium between stocks and bonds argue that equities are a reasonable buy.

Fifth, policy-makers generally do what they can to restore tranquility to financial markets. Chinese policy-makers almost certainly have more up their sleeves. The European Central Bank may yet do more in light of the euro's revival. Possibly most important, the Fed is now unlikely to tighten rates in September – eliminating one of the original catalysts for the stock market correction.

In the end, identifying financial market bottoms is highly imprecise, and some markets – including Canada's – may experience an especially sluggish revival due to persistently undershooting commodity prices. But with these caveats firmly in place, this looks more like a temporary correction than a permanent new trend.
The usual cheerleaders are out reassuring everybody that all is fine. Not a word on profits. And valuations were fine before!
Nobody can really forecast what will happen next and how markets will react. We can, however, re-assess the risk/reward equation. The growth scares of 2010, 2011 and 2012 brought the Rule of 20 P/E to between 15x (1425 on the SPY) and 16.4x (1575), while the 2014 mid-October drop stopped at 18x (1750). The "Lower Risk" area for the Rule of 20 P/E is between 15 and 20 with the low end generally reached in cases of extreme pessimism (actual recession or perceived high recession risk), conditions which currently do not exist in the USA.
My sense is that 17x (1640) would be a solid floor making 18.0-18.5 (1750-1800) a reasonable mid-point where potential upside reward would begin to exceed downside risk. This leaves another 5-8% of downside before a better risk/reward ratio surfaces.
This assumes that EPS do not deteriorate (TTM $108) and that core inflation remains fairly stable around 1.8%. A meaningful decline in inflation would normally have a positive impact on P/Es if deflation fears remain muted. Shorter term, headwinds will remain strong, likely offsetting positives from lower energy and commodity prices on the OECD economies.
China is slow and slower with questionable leadership.
The Fed seems clueless with few visible ammo left. This is Jackson Hole week.
Earnings will continue soft for another 3-6 months.
Inflation not a problem. Deflation?
Currencies?
Emerging markets?
Based on today's pre-opening indication (1940, +3%), the Rule of 20 P/E is 19.7, back in "lower risk" territory but not very comfy. BTW, the support has been redefined…
I have been writing about markets losing confidence in central bankers. Jared Dillian does not help with this:
(…) the current Board of Governors is composed of
Yellen
Fischer
Powell
Tarullo
Brainard
And maybe Landon
And now Kathryn Dominguez.

Vassar Undergrad (82), Yale PhD (87), taught at Harvard, got tenure at Harvard (which is damn near impossible for an assistant professor to do, so quite an
achievement), and then went to UMich.

I have never said that Fed people are dumb. They are unquestionably brilliant. They just have no real world experience! If the two nominations go through, this
is what the board will look like:
Professor
Professor
Professor
Professor
Lawyer
Lawyer
Banker (buddies with Obama)
If you enjoyed this article, Get email updates (It's Free)