IMPORTS AND EXPORTS
Overall, exports improved 0.4% in July (-4.2% y/y) after a 0.1% June dip. Goods exports increased 0.8% (-6.8% y/y) as auto exports jumped 4.7% (-9.7% y/y) following a 0.3% gain. To the downside were nonauto consumer goods exports which posted a 2.5% decline (-0.4% y/y). That reversed half of the prior month's increase. Services exports improved 0.3% (3.1% y/y) as travel exports also gained 0.3% (4.2% y/y).

Imports fell 1.1% (-3.3% y/y) and reversed a 1.1% increase during June. Nonpetroleum goods imports declined 1.4% (+0.9% y/y). Nonauto consumer goods imports were off 5.2% (+4.4% y/y), reversing the prior month's increase. Moving higher were automotive vehicles & parts imports by 1.1% (6.0% y/y) and that added to two months of strong increase. (Haver Analytics)
Briefly, exports remain weak reflecting poor foreign demand and the strong USD. Non-oil imports continue to decline reflecting weak domestic demand (inventory correction?)and lower import prices.
U.S.: Export volumes are contracting
The US export sector is indeed struggling to adjust to the strengthening dollar and that's hurting GDP. As today's Hot Charts show real exports remained below year-ago levels for the third month in a row in July. Such a stretch in the red hasn't been seen since 2009. Moreover, the USD's sharp appreciation this year is not only restraining 2015 growth but will also chop from growth next year according to the New York Fed. And that, even before considering the potential for the trade-weighted USD to appreciate further thanks to currency devaluations in emerging markets and ongoing currency debasement policies in Europe and Japan via QE. It's not just growth that is being sacrificed because the strong USD is also causing import prices to fall and pulling the inflation rate further away from the Fed's 2% target ─ recall the annual core PCE deflator was at a 4-year low of just 1.2% in July. All told, while the Fed has made it clear it wants to start the process of normalization of interest rates soon, the fed funds rate is set to remain far from normal for several more years.
Thus far in 2015's third-quarter, the 10-year Treasury yield has averaged 2.2%. By contrast, in the summer of 2014, the Blue Chip consensus expected a 3.5% average for the current quarter's 10-year Treasury yield, wherein the average of the ten lowest projections was a still far too high 3.1%. The chronic overestimation of Treasury bond yields stems from the market's inability to fully appreciate how the world economy's surfeit of production capabilities and a stronger dollar exchange rate put relentless downward pressure on US prices and wages.

July's annual rate of US import price deflation excluding petroleum products was -2.8%. However, lower prices for industrial metals and chemicals may have skewed that result downward. Nevertheless, July also showed year-to-year setbacks of (i) -1.4% for the import price index of motor vehicles and parts and (ii) -1.1% for consumer goods excluding autos. (…)

Inflation may be more than well contained, according to four regional indices of prices received by manufacturers from the Federal Reserve Bank Districts of Philadelphia, New York, Dallas and Kansas City. The unweighted average of the four regional indices of prices received by manufacturers located sank to -7.4 points in August 2015 for its lowest reading since October 2009's -7.6 points.

From June 2004 through October 2008, this regional proxy for prices received by manufacturers never fell to 0.0 or lower. In fact, it bottomed at the +5.5-points of August 2007. Not until November 2008's -5.5 points did the average turn negative.

When this barometer of manufacturers' pricing power averaged a much greater +16.6 during June 2004 through June 2007, the annual rate of core PCE price inflation averaged 2.1%. During that span of respectable pricing power, the proxy for prices received by manufacturers bottomed at the +7.2 points of August 2005 and even that was well above its +2.1-point average of the year-ended July 2015. The latest loss of pricing power should prevent the annual rate of core PCE price inflation from rising much above July 2015's 1.2%.

A diminished ability to hike prices warns businesses to compensate labor with caution. The still faster year-to-year growth of corporate America's gross value added relative to unit labor costs bodes well for both profits and the business cycle. In terms of the yearly percent changes of moving yearlong observations, each of the seven previous deficiencies of gross value added growth to unit labor costs growth overlapped a recession. The longer labor costs outrun revenues, the greater is the risk of a surge by layoffs that might trigger a recession.

Q2-2015 showed yearly increases of 3.6% for gross value added — a proxy for net revenues — and 1.7% for unit labor costs. Moreover, the year-ended Q2-2015 revealed annual increases of 4.9% for gross value added and 1.7% for unit labor costs.
To me, the main point from Moody's analysis above is that pricing power is eroding fast as lower import prices force goods prices down while wages are rising 2%+. Manufacturers and retailers need higher volume to offset the pressures on revenues and operating margins. Look at this next chart which plots YoY same-store-sales growth rates for a number of U.S. retailers. The sharp slowdown since January is a direct result of lower import prices (mainly apparel). Revenue growth is now well below wage growth pressuring margins. This Thomson Reuters' sample is admittedly small but it reflects the reality out there.
ECB Ready to Expand Stimulus Programs European Central Bank President Mario Draghi indicated that the bank stands ready to expand its stimulus programs if slowdowns in large developing economies and turbulence in financial markets hinder its ability to boost inflation to a target of just under 2%.
(…) Weaker growth in China and other emerging markets is dragging on the eurozone's economy, Mr. Draghi warned at a news conference on Thursday.

Asset purchases "are intended to run until the end of September 2016, or beyond, if necessary," he said—a statement investors and economists took as a sign that the bank could extend its more than €1 trillion ($1.1 trillion) bond-purchase program, known as quantitative easing, beyond its targeted end date of September 2016. (…)

In another sign that more stimulus may be on the way, the ECB on Thursday increased the share of an individual bond issue that it can purchase to 33% from 25%.

The technical change came after a six-month review of the program—which was launched in March—and will ensure that the ECB can execute its current €60 billion per month bond-buying program. (…)

The ECB's staff economists cut their forecasts for inflation and economic growth through 2017, and—importantly—those projections didn't take into account market turbulence in late August.

"We had a worsening of the situation in several emerging market economies, and it's unlikely these challenges are going to be quickly reversed," Mr. Draghi said. "Secondly, we had a tightening of financial conditions across the board. We'll have to see whether this is short-term volatility, or is permanent."

"So lower commodity prices, a stronger euro, somewhat lower growth, have increased the risk to a sustainable path of inflation towards 2 per cent."

Mr. Draghi said he expects Chinese officials to provide more details of their plans for tackling the economic slowdown and stock market falls during meetings this weekend of finance ministers and central bank chiefs from the Group of 20 largest economies in Ankara, Turkey.

"That is going to be one of the major themes," he said. "We do expect to have much more visibility in the coming days than we do now."

"We will have to see whether [the effects of recent turmoil] are transitory or permanent, whether [what] will happen is worsening our medium-term outlook or is just a transitory effect," Mr Draghi said. "And then we will decide whether to do more."
NEW trade figures from South Korea on September 1st surprised even the gloomiest of economic forecasters. The country's exports shrank by the largest annual amount in six years, down 14.7% last month from a year earlier to under $40 billion, according to the ministry of trade, industries and energy. (…) though exports have dropped every month since January, they declined just 3.4% in July in annual terms.

Exports account for roughly half of South Korea's GDP—and a quarter of all those go to China, its biggest trading partner. South Korea has been struggling with the rise of its currency, the won, against the Japanese yen in key export markets; now China's successive devaluations have started to bite. Provisional figures released today showed that South Korean car shipments dropped steeply in August, by nearly a third. Though exports of smartphones rose, fast-rising Chinese handset makers are increasingly vying with Samsung Electronics of South Korea for global market share (its profits have dropped for five consecutive quarters). A weaker yuan is also keeping holidaying Chinese shoppers away—just as the country attempts to woo them back after an outbreak of Middle East Respiratory Syndrome (which infected 186 and killed 36) hit South Korea in May.

Low global oil prices are also behind the startling figure. Petroleum products are a key South Korean export, and their price has dropped by over 40% from last August. The ministry of trade today pointed to this distortion to downplay concerns that falling exports might presage serious weakness in the domestic economy; by volume, it said, total exports actually grew by 3.8% in August from a year earlier. (…)

Frederic Neumann of HSBC, a bank, says the plunge is "pretty serious", not least because South Korea has "long been a reliable bellwether" for global trade. South Korean manufacturing sits at the top of the production chain, he says: a big chunk of its exports do indeed go into other finished goods, like Chinese smartphones and American laptops. But if demand slows there, so do requests for chips and screens. That means that Korean macroeconomic data "picks up very early changes in the global industrial cycle". Neither is a slowdown in China the only source of export weakness; South Korea's exports to the euro area plunged by 21%, more than twice the decline in exports to China.

(…) If South Korea's bellwether status is anything to go by, central bankers elsewhere ought to be paying attention as well.
Base pay climbed 0.6 percent from a year earlier, the biggest increase since November 2005, the labor ministry said on Friday. Overall wages adjusted for inflation rose 0.3 percent, the first rise in more than two years, after a steep decline in the previous month. (…)

Differences in the timing of bonus payments from year to year have contributed to swings in the wage data, with overall labor cash earnings– which include overtime and special payments — falling 2.5 percent in June from a year earlier before rebounding 0.6 percent in July. Bonus payments rose 0.3 percent in July from a year earlier.
From Markit's Japan Services PMI report for August:
Higher staff wages were cited as a factor behind increased input costs.
MIRROR, MIRROR…
David Rosenberg after poking at the bears out there::
Technical analysis is always helpful, as is valuation work, an assessment of fund flows, sentiment and market positioning, but true inflection points hinge on the macro underpinnings.

But there is no fundamental bear market without a recession – say it over and over.

This is the reason economists have jobs on Wall Street and Bay Street – to make that call when the storm clouds come in.
Forty years in this biz and still waiting for the right timely, unhedged (on the one hand, on the other…) call from economists. Tell me: what is the reason astrologists have jobs in media around the world?
Here, courtesy of Institute for Monetary and Financial Stability economist Volker Wieland and Goethe University economist Maik Wolters, is a picture of how badly economists' models failed to predict the Great Recession:
In one of the broadest studies of whether economists can predict recessions and financial crises, Prakash Loungani of the International Monetary Fund wrote very starkly, "The record of failure to predict recessions is virtually unblemished." He found this to be true not only for official organizations like the IMF, the World Bank, and government agencies but for private forecasters as well. They're all terrible. Loungani concluded that the "inability to predict recessions is a ubiquitous feature of growth forecasts." Most economists were not even able to recognize recessions once they had already started. (…)

If you look at the history of the last three recessions in the United States, you will see that the inability of economists and central bankers to understand the state of the economy was so bad that you might be tempted to say they couldn't find their derrieres with both hands.

Economists have yet to correctly call a recession:
It is often said that equity markets are the best predictors of recessions. True. They have never missed one.
To prove that Wall Street is an early omen of movements still to come in GNP, commentators quote economic studies alleging that market downturns predicted four out of the last five recessions. That is an understatement. Wall Street indexes predicted nine out of the last five recessions! And its mistakes were beauties. (Paul Samuelson)

predictor – someone who makes predictions of the future (usually on the basis of special knowledge)
I prefer to stick to trying to assess the risk/reward probabilities…
I have been reading a lot of stuff from bullish people lately and I am struck by the depth of their analysis when it comes to macro issues, market history and technical matters. On the other hand, it is simply amazing to see how little space is used to analyze profits which keep being ratcheted down.
(…) "After an extended bull run, many investors forget that it is normal for stock markets to periodically see intra-year declines in the 5 to 10 percent range."

Intrayear drops of 5 percent from peak to trough, Evensky added, happen on average about four times a year, with a recovery period of two to three months. The drops can take place over days, weeks, or months, according to JPMorgan's Asset Management Guide to the Markets. Investors see 10 percent declines about once a year, on average, followed by a recovery period of about eight months.
FYI: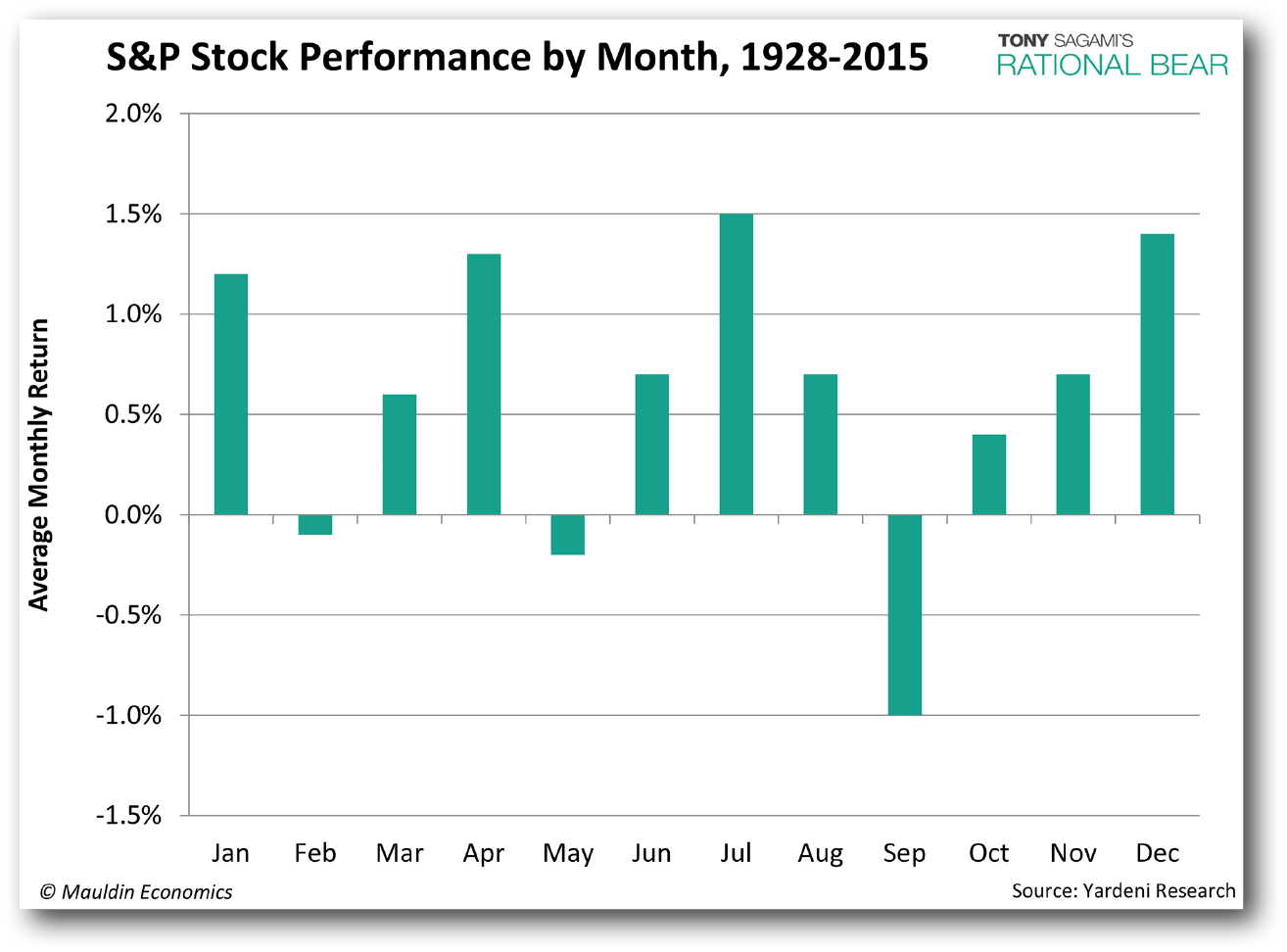 If you enjoyed this article, Get email updates (It's Free)