August may put forth a strong retail performance due to the presence of tax-free holidays, which are traditionally held in July. However, the longer-term trend of most retailing data points to weakness.

Retail sales increased 0.6 percent in July, while sales excluding motor vehicles and parts advanced 0.4 percent. This was a desirable pace for a month that didn't include the usual state tax-free holidays engineered to get consumers spending for the new school year. The retail sales control group — the category of retail sales used in the estimation of the quarterly GDP report — has moderated from 5.7 percent in the beginning of the year to a softer, yet still respectable 3.8 percent in July.

(…) during the week ended September 5, the Retail Economist-Goldman Sachs Retail Sales Index fell to 2.2 percent, its lowest year-over-year 13-week moving average since May 2014 (2.17 percent). (…)

Talking about the July sales situation, Kohl's CFO Wesley McDonald said there was "some softness in apparel also partially due to the tax-free shift," which appears to be a constant from many of the comments in retail conference calls.

Most accounts point to a strengthening in August. J.C. Penney CEO Marvin Ellison implied B-T-S strength at a retailing conference on September 9: "[O]n the August 14 call, we mentioned that we're off to a really strong start in back-to-school. And I'm pleased to say that the trend continued."

Hanesbrands CEO Richard Noll echoed those comments at the same conference: "In terms of back-to-school which we are now right in the midst of, we're seeing some ebbs and flows. When you heard a lot of retailers report in August, they talked about July being a little soft. But coming back in August, we saw the same exact type of trend."

After mentioning the calendar quirk, Dollar General CEO Todd Vasos said: "Where school has already started, our back-to-school comps are hitting and/or exceeding our expectation."

Another issue plaguing retailers is U.S. dollar strength. Executives have complained about the lack of tourists willing to travel to the U.S. and spend.Steven Madden CEO Edward Rosenfeld said: "[I]f we look at…the different performance by geography in our retail stores, we were double-digits everywhere except for New York. New York was up mid-single digits. And that was…by far the weakest in the quarter and I think that's really a function of the impact of the stronger dollar on tourism." (…)
(…) The Labor Department on Thursday reported that overall import prices fell 1.8% in August from July, putting them 11.4% below their year-earlier level. Much of that owed to the plunge in crude oil prices, but prices for other items fell, too.

Nonautomotive consumer-goods prices, for example, were down 1.2% on the year, marking the largest decline the broad measure of retailers' import costs has seen in 13 years. That drop will take some time to work its way into the prices consumers actually pay—it takes a while for imports to get trucked to store shelves, and stores aren't exactly anxious to pass lower costs on to shoppers. (…)
Prices of non-autos consumer goods have declined in 8 of the last 11 months. Prices of imported automotive vehicles, parts and engines are also deflating at an accelerating pace, having lost 2.1% annualized since December 2014.
Goods deflation also makes it difficult for manufacturers, distributors and retailers to grow revenues and maintain operating margins when wages and other costs are rising.
From Moody's:
Auto import price deflation helps to explain the -9% year-to-year drop by Dow Jones stock price index for autos & parts and the -15% average annual drop by the share prices of two major US automakers despite better than expected unit sales of cars and light trucks in the US market. In addition to the pricing pressures from abroad, earnings prospects for US auto companies also are being challenged by lower than expected sales outside the US and by the less favorable translation of foreign currency earnings into dollars.

I Bearnobull:
(…) let's not forget that we are going to be seeing some hefty fiscal stimulus coming out of China (including dividend tax elimination) (…) (David Rosenberg)
The facts are that dividend income represent about 1% of China GDP and that taxes are 1/40th of that (ISI). So let's not hold our breadth on that. China's Ministry of Finance said in a statement Tuesday evening that it would "accelerate the approval process for duty-free stores to boost construction". If this is what ignites investors…
David also wrote that
As for housing, all you need to know is that mortgage purchase approvals are up more than 40% from year-ago levels.
Hmmm…It might also help if you knew that purchase apps have sequentially turned down since the spring after seemingly hitting the same wall that has been there since 2010 as this CalculatedRisk chart illustrates. The YoY spike is due to the sharp drop in 2014 when mortgage rates rose.
BTW:
Some 4.9 million renters say they plan to buy in the next year, down from 5.2 million in January, according to the property-market database company.

Renters' confidence is especially weak in strong markets, such as San Francisco and Denver, where rising home prices and high rents have made it difficult for younger buyers to save for down payments. In San Francisco, 5% of renters between the ages of 18 and 34 said that they planned to buy a home within a year, compared with 18% when they were asked in January.

As wages and job growth have strengthened, many economists expected 2015 to be the year when younger adults finally made a delayed transition from renting to owning. The Zillow survey suggests that those buyers are unlikely to emerge now until at least well into next year.

The lack of first-time buyers is worrying because without new homeowners, the housing market is just recycling existing owners and isn't contributing to economic growth. Economist blame the stubborn absence of new buyers on the lack of more affordable inventory and struggles to save for a down payment when many are pouring a huge portion of their incomes into rents.

In contrast to pricey markets like San Francisco, in Philadelphia, where home prices are flat, 23% of younger renters said that they planned to buy in the next year in July, up from 1% in January. (…)
PulteGroup Inc., a builder in 29 states, has seen nascent demand for starter homes, but not enough. "As you start to see more consistent sales paces, that's when builders will get more active in that entry level space," Pulte spokesman Jim Zeumer said.
Emerging-Market Currencies: Things Look to Get Worse Investor bets that Brazil and South Africa will default on their debt hit their highest level since the financial crisis, underscoring the stress mounting on emerging-market economies heading into the most anticipated Federal Reserve meeting in years.
The cost to buy credit-default swaps—insurance-like contracts that compensate users for debt defaults—is far from the only sign that investor anxiety is building ahead of the Fed's two-day meeting concluding Sept. 17. Currencies in Turkey, South Africa and Malaysia have plunged to the weakest levels in many years against the dollar. The average 10-year government debt yield in emerging countries has increased significantly, even as U.S. yields have slipped this summer. Bond yields move inversely to prices. (…)

The pain has been substantial already. The Turkish lira, the South African rand and the Malaysian ringgit have lost 23%, 15% and 19%, respectively, against the dollar so far this year. The Brazilian real has depreciated 31% this year, hitting a 13-year low on Thursday, a day after Standard & Poor's Ratings Services cut the country's credit rating to junk. The J.P. Morgan Emerging Markets Currency Index, which tracks a basket of currencies, fell 14% in the first eight months this year.

Depreciating currencies hurt emerging nations by reducing purchasing power, pushing up inflation and creating asset-liability mismatches at companies that tapped the large market for dollar-denominated debt. A falling currency can hit revenue while increasing the local-currency value of debt payments.

Weakening currencies also can trigger capital flight, seen most notably this year in China, putting further downward pressure on exchange rates. Central banks often tap into foreign reserves to help stabilize the currency. (…)

Some see signs that the worst may soon be over. Patrick Zweifel, chief economist at Pictet Asset Management SA, which has $160 billion in assets, said 42 emerging-market currencies he tracks are on average 24% undervalued against the dollar, the cheapest level since 1985, based on measures such as purchasing power and productivity. (…)
Aggregate financing rose to 1.08 trillion yuan ($169.5 billion) in August, from 718.8 billion yuan in July, according to a report Thursday from the People's Bank of China that matched the estimate for 1 trillion yuan in a survey of economists. (…)

New yuan loans fell to 809.6 billion yuan after surging to a six-year high of 1.48 trillion yuan in July on government stock rescue efforts. M2 money supply rose 13.3 percent from a year earlier. The money supply matched analysts' median forecast, while economists had projected an 850 billion yuan increase in new loans. (…)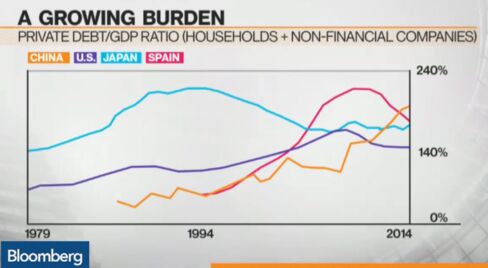 (…) In truth, China actually has plenty of people. But thanks in part to the impact of the one child policy, it is fast going to find itself with a shortage of working age people relative to the number of young and elderly who will rely on them for their taxes and other forms of support. (…)
This can only mean that for China to continue to grow its economy at solid rates of expansion, it will need to do so on the back of rapid gains in in productivity from a shrinking labour force. (…)
OIL
IEA Forecasts Deep U.S. Oil-Production Cuts The oil-price slump could force the U.S. and other non-OPEC producers to carry out their deepest production cuts next year since the early 1990s, a top energy watchdog said.
…which could potentially lead the oil-producer group to boost output even more.

In its closely watched monthly oil report, the International Energy Agency said the latest oil-price tumble is expected to cut supply outside the Organization of the Petroleum Exporting Countries by nearly half million barrels a day as producers in the U.S., the U.K. and Russia slash spending. By the end of 2016, those cuts are likely to result in the biggest production decline since the fall of the Soviet Union, the IEA said.

U.S. tight oil supply—the type of crude generally produced via hydraulic fracturing of shale formations that has been the engine of U.S. output growth—will comprise much of that decline, sinking by nearly 400,000 barrels a day next year, the IEA said.

The IEA said global oil demand growth is expected to climb to a five-year high of 1.7 million barrels a day in 2015, and will rise by 1.4 million barrels a day in 2016. The agency raised its oil-consumption forecasts by about 200,000 barrels a day for this year and the next. (…)

The IEA said demand for OPEC oil would rise to 32 million barrels a day in the second half of next year—the highest in seven years—more than the 31.6 million barrels a day the group produced in August and also much more than the group's target of 30 million barrels a day.

After reaching a three-year high in July, OPEC's crude output fell by 220,000 barrels a day in August due to disruptions in Iraq and lower fuel demand in Saudi Arabia, the IEA data shows.
(…) Goldman Sachs trimmed its oil price forecasts saying the potential for oil prices to fall to around $20 a barrel, was growing due to falling storage levels. "The oil market is even more oversupplied than we had expected," the bank said in its latest report on crude. (…)

Goldman cut its 2015 Brent price forecast to $53.70 a barrel from $58.20. it reduced its 2016 estimate to $49.50, down from $62. The bank lowered its US crude forecast for 2015 to $48.10 a barrel, down from $52. The 2016 estimate was cut to $45 from $57.

The IEA said inventories stand 2.4m b/d above levels a year ago. "Our balances show the world only starting to siphon off record-high stocks in the second half of 2016," it said. (…)

The oil slump has caused fiscal unease throughout Opec. But Saudi Arabia, the cartel's biggest producer and de facto leader, has pushed flows beyond the 10m b/d mark for six months in a row "suggesting it has no intention of backing down," the IEA said. (…)
(…) One Persian Gulf country official told The Wall Street Journal that members see Brent trading between $40 and $50 a barrel through the end of 2015. Gulf OPEC members had expected prices to bounce back firmly to the $70 to $80 range at the end this year.

Now, OPEC delegates see the market rebalancing sometime in 2016—and prices recovering as a result. Prices will remain weak "obviously for about six months," an Iranian oil official said.

"I think to be more realistic we should expect $60 by the first quarter of next year," another Gulf country oil official said. (…)

OPEC has been producing around 31 million barrels a day, a million barrels more than its agreed-upon production target. OPEC officials said it was likely to increase its target in December, but only enough to reflect the addition of Indonesia's 800,000 barrels a day when that country returns to the group. (…)

China is "buying less crude and that combined with fears of oversupply is not helping the sentiment in the market," another Gulf oil official said, adding "prices could drop again."

China's oil imports fell 10.2% from July, according to figures published by China's General Administration of Customs. (…)
(…) The big fear is losses from energy-related lending. As of the second quarter, the damage seems contained. The ratio of provisions for credit losses to loan balances, at the six banks in the quarter, were at or under their two-year average (0.5 per cent or less), says Moody's. Bank loans are at the top of the capital structure and are collateralised against the actual commodity, which serve as buffers even if borrowers run into trouble.

CIBC analysts recently estimated that even if the default rate on energy loans reached 5 per cent (the average default rate over the last 30 years is 2 per cent) and losses reached 20 per cent on those defaults, bank earnings would only be cut by 2 per cent. A broader analysis that includes losses from shrinking capital markets activity, as well as second order impacts on housing, business and consumer loans in energy-rich western Canada, together only cut earnings a tenth. (…)
If you enjoyed this article, Get email updates (It's Free)