THE PLOT THICKENS!
What a difference a month makes. The US labour market's surge earlier in the year had raised optimism about the strength of world's largest economy even prompting the Fed to warn about upcoming rate hikes. September's employment data poured cold water over that exuberance. Non farm payrolls not only fell short of consensus expectations, but downward revisions to prior months meant that just half a million jobs were created in Q3, the worst quarterly performance in three years. Low wage inflation didn't come as a surprise because that's been a recurring theme for years now. But more disappointing perhaps, besides weak employment creation, was the worst diffusion index since 2010 i.e. job gains were not widespread. The household survey had a similarly downbeat message with a decrease in employment but also a collapse in the participation rate to just 62.4%, the lowest since 1977. (NBF)
David Rosenberg:
As well, it's not just the softening in job creation, but the breadth of what modest gains we are seeing right now is narrowing discernably – the private sector diffusion index shrank from 55.5 to 52.9, the lowest since February 2010.

(…) and revealing an even softer underbelly to this report was the contraction in the workweek to 34.5 hours from 34.6 in August, which is effectively equivalent to an added 348,000 in job losses.

So take the headline number, tack on the downward revisions and the loss of labour input from the decline in the workweek, and the "real" payroll number was –265,000.

And this was validated by the companion Household survey which showed a 236,000 slide last month (…) – you have to go back to October 2013 and before that June 2011 to see such a whopper of a decline in the Household survey. (…)

Taking the workweek into account, and average weekly earnings fell 0.3% MoM, which, again, is something we last saw in December 2013 and, before that, August 2011. (…)

This is a big challenge for the hawks on the FOMC.
Employers added a modest 142,000 jobs in September, while gains in July and August were revised down by a combined 59,000 positions, the Labor Department said Friday. The job creation was enough to keep unemployment at a seven-year low of 5.1%. But more people moved onto the sidelines of the labor force, pushing the share of Americans working or looking for work down to the lowest in almost four decades.

The latest reading highlighted a widening divide in the U.S. economy: Industries most exposed to weakness abroad—factories and energy companies—have held off hiring or even shed workers this year as they get slammed by a strong dollar, depressed oil prices and a slowdown in key economies such as China. Meanwhile, service providers such as restaurants and hospitals continue to expand, with Americans stepping up purchases of homes and cars. (…)

The energy sector has been the biggest laggard in the job market this year. The mining industry—which includes oil and natural-gas drillers—lost 10,000 jobs last month and has shed 102,000 jobs since December. (…)

By contrast, many domestically oriented sectors continue to expand as millions of Americans who got jobs in recent years have stepped up spending on a broad range of goods and services. Retailers, benefiting from the boost to Americans' incomes due to lower gasoline prices, added 24,000 jobs in September. Over the past year, the restaurant and bar industry has added 349,000 jobs.

(…) Workers' hourly wages dipped by a penny last month after jumping in August, maintaining their choppy path that has kept growth at a subpar 2% pace throughout the economic expansion. From a year earlier, average hourly earnings climbed 2.2%.
This WSJ chart is very revealing: the goods sector which is facing weak exports and intense import competition is bearing the brunt of the strong dollar (and weak oil prices in certain states) while the services sectors are benefitting from the improving disposable income from falling commodity prices.
Jon Hilsenrath (WSJ):
Fed policy makers decided not to raise rates in September because they wanted to see how the U.S. economy tolerated headwinds from overseas. The September employment report will only compound their worries that these headwinds could crimp the expansion and thus will likely stay the central bank's hand this month.
(…) "When you look through all the details of the data, there just isn't anything good to hang your hat on," said Thomas Simons, a money-market economist at Jefferies LLC in New York. "It's been years since we've seen such an unambiguously bad report." (…)

"It's weak through and through," Simons said. Because such thoroughly disappointing reports are so rare, "we probably won't see it again next time around."

It'll be important to see if other labor-market data corroborate Friday's figures. Measures tracking jobless claims, job openings and households' perceptions of the labor market remain solid, suggesting the payroll figure may just represent a soft patch in the data, said Kevin Cummins, a senior U.S. economist at RBS Securities Inc. in Stamford, Connecticut.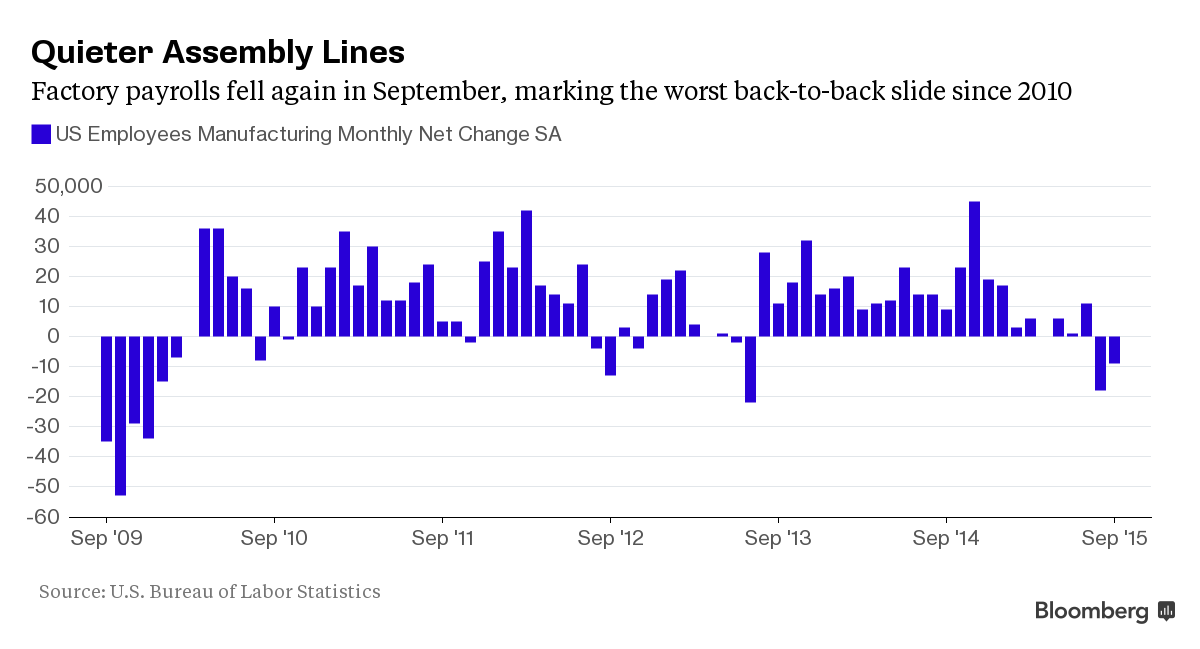 Even service industries, which make up the lion's share of the economy and are more shielded from global weakness, seem to have shifted into a lower gear. Payroll growth there has slowed for four straight months, the longest such streak since 2001.
It took some Canadian economists to find one silver lining:
One of the few positives from the employment report was the fact that government job creation at the state/local levels is ramping up, with Q3 seeing the largest quarterly job gains in nine years. Why is that good? Because that suggests improvement in local government finances, something that increases the odds of much-needed public infrastructure projects being implemented. (NBF)

In fairness, CalculatedRisk had noticed that too:

And Federal government layoffs appear to have ended (Federal employment is up 9,000 year-to-date).
This is strange.
September's NFP and the revisions to June and July are completely at odds with many other employment indicators:
Weekly unemployment claims declined 1.3% from Q2 to Q3 to a 40-year low.
The JOLTS, Conference Board, ADP and NFIB recent releases did not point to such a slowdown.
The Conference Board's September Consumer Confidence survey revealed that the share of respondents saying jobs were "plentiful" surged to a new cycle-high of 25.1%.
Evercore ISI's employment and wage surveys remained upbeat throughout Q3.
UAW members voted down the Fiat Chrysler contract their leadership recommended. First time in over 30 years UAW has rejected a contract.
The Manpower Group Employment Outlook Survey for Q4'15, conducted with more than 11,000 U.S. employers, improved from +16 from Q1 to Q3 to +18 in Q4.
Meanwhile, construction is booming, not only here in South Florida, but across the USA. Total expenditures on construction rose 0.7% MoM in August bringing the last 3 months at +1.7% (+7.0% annualized). Private construction rose 0.7% in August (+5.6% annualized in last 3 months) while public construction rose 0.5% (+9.1%).
And total job openings are booming…
…even in manufacturing!
On the other hand, layoff announcements have increased sharply in recent months but actual layoffs and discharges have not increased noticeably, yet.
Commodity Slide Threatens Emerging-Market Debt Many investors fear that emerging-market companies will suffer rising defaults on their foreign-currency bonds because of the commodity bust and drops in local currencies.
(…) The J.P. Morgan Corporate Emerging Markets Bond Index—a benchmark that tracks foreign-currency debt issued by companies in about 50 emerging-market countries—was up 4% in the first half but has seen its gains fade in recent months. The index was up 1% this year as of Oct. 1. By comparison, the Barclays U.S. Aggregate Bond Index, a benchmark for U.S. investment-grade bonds, was up 1.2% so far this year.

Last week, the International Monetary Fund said the corporate debt of nonfinancial firms across emerging-market economies has more than quadrupled from 10 years ago, rising to $18 trillion at the end of 2014. (…)

Emerging-market corporate debt as a proportion of gross domestic product grew 26 percentage points in the decade through the end of 2014, to 74%, with the largest increases in China, Turkey, Chile, Brazil, India and Peru, the IMF said. (…)

Credit quality among emerging-market issuers is deteriorating, according J.P. Morgan, which expects the default rate among emerging-market high-yield corporate issuers to reach 5.4% this year, up from 3.2% in 2014. The global default rate is expected to reach 2.7% by the end of this year, according to Moody's Investors Service. (…)

Liquidity is another concern. While bond traders in general are grappling with worse liquidity since the financial crisis, managers find it even harder to buy or sell corporate bonds in emerging markets as dealers are reluctant to hold bonds deemed as risky.

Still, some investors say the concerns over corporate bonds are overblown. Only 10% of emerging-market corporate bonds are exposed to significant currency mismatches, where companies receive income in local currencies but have obligations to repay debt or interest in dollars, according to UBS. (…)

Bonds denominated in foreign currencies account for only 5% of all the emerging-market corporate debt outstanding, said Samy Muaddi, a manager for T. Rowe Price's emerging-market corporate-bond portfolio, which has more than $5 billion in assets. (…)
Earlier today, Macquarie released a must-read report titled "Further deterioration in China's corporate debt coverage", in which the Australian bank looks at the Chinese corporate debt bubble (a topic familiar to our readers since 2012) however not in terms of net leverage, or debt/free cash flow, but bottom-up, in terms of corporate interest coverage, or rather the inverse: the ratio of interest expense to operating profit. With good reason, Macquarie focuses on the number of companies with "uncovered debt", or those which can't even cover a full year of interest expense with profit.

The report's centerprice chart is impressive. It looks at the bond prospectuses of 780 companies and finds that there is about CNY5 trillion in total debt, mostly spread among Mining, Smelting & Material and Infrastructure companies, which belongs to companies that have a Interest/EBIT ratio > 100%, or as western credit analysts would write it, have an EBIT/Interest < 1.0x.

As Macquarie notes, looking at the entire universe of CNY22 trillion in corporate debt, the "percentage of EBIT-uncovered debt went up from 19.9% in 2013 to 23.6% last year, and the percentage of EBITDA-uncovered debt up from 5.3% to 7%. Therefore, there has been a further deterioration in financial soundness among our sample."

(…) Macquarie lays it out in just three charts.

First, it shows the "debt-coverage" curve for commodity companies as of 2007. One will note that not only is there virtually no commodity sector debt to discuss, at not even CNY1 trillion in debt, but virtually every company could comfortably cover their interest expense with existing cash flow: only 4 companies – all in the cement sector – had "uncovered debt" 8 years ago.

Fast forward to 2013 when things get bad, as about a third of all corporations are now unable to cover their annual interest expense, even as the total addressable corporate debt has soared to CNY4 trillion for just the commodity sector.

And then in 2014, everything just falls apart. Quote Macquarie, "more than half of the cumulative debt in this sector was EBIT-uncovered in 2014, and all sub-sectors have their share in the uncovered part, particularly for base metals (the big gray bar on the right stands for Chalco), coal, and steel."

Compared with the situation in 2013, while almost all sub-sectors did worse in 2014, but things appear to have worsened faster for coal companies as more red bars have moved beyond the 100% critical level for EBIT-coverage.

It means that last year about CNY2 trillion in debt was in danger of imminent default.

The situation since than has dramatically deteriorated.

"Given the slumps in metal and coal prices so far this year, it's quite likely the curve will have deteriorated further for commodity firms this year, with total debt getting better in the meantime."

In other words, it is safe to assume that up to two-third of Chinese commodity companies are now at imminent danger of default, as they can't even generate the cash to pay down the interest on their debt, let alone fund repayments.

We fully expect this to be the source of the next market freakout: when the punditry turns its attention away from macro China, which has more than enough problems to begin with, and starts to focus on the cash flow devastation in China at the micro, or corporate, level.
OIL
Russia said it produced oil in September at levels not seen since the fall of the Soviet Union, pumping an average of 10.74 million barrels a day, government data showed on Friday. Oil production increased 0.4% from August.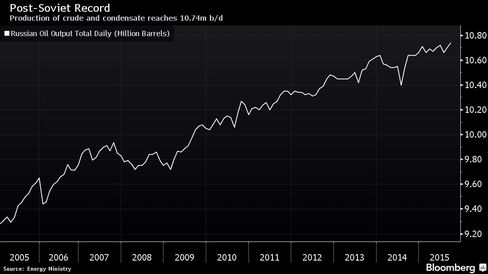 On the same day, one of the world's most influential oil ministers—Saudi Arabia's Ali al-Naimi—said his country would continue investing in oil and gas, saying his country remained committed to energy resource development, according to a Saudi Press Agency report. The world's largest exporter has ramped up production above 10 million barrels a day for the past few months. (…)

Mr. Naimi, speaking at a Group of 20 conference of government energy officials in Turkey, again called on non-OPEC countries to help it "stabilize the market," though he didn't name Russia.

"Since the 1970s this industry has been experiencing sharp fluctuations in prices—up and down—which have impacted investments in the field of oil and energy, and its continuity," Mr. Naimi said, according to Saudi Press Agency. "This volatile situation is neither in the interest of the producing nor consuming countries, and the G-20 countries can contribute to the stability of the market." (…)

The International Monetary Fund forecasts the Saudi government will run a budget deficit this year of around 19.5% of gross domestic product, compared with a deficit of 3.4% of GDP last year.

Oil prices have also battered the Russian economy, where oil and natural gas sales account for more than two-thirds of export revenue. The oil price slump, coupled with Western sanctions and a weakening currency, has already pushed the country into a recession which the World Bank expects to wipe 3.8% off the Russian economy this year. (…)

On Friday, Anton Siluanov, Russia's finance minister, said oil prices won't recover as quickly as after the 2008-09 financial crisis. His ministry sees oil averaging at $50 a barrel in 2016 and $52 in 2017. Brent crude, the global oil price benchmark, was trading at $48.60 a barrel on Friday. (…) (Chart from Bloomberg)
This a.m.:
(…) But Moscow is now prepared to meet OPEC and non-OPEC oil producers to discuss oil markets if such a meeting is called, its energy minister said on Saturday. A separate meeting between Russian and Saudi officials was being planned for the end of October, he said.
But also this a.m.:
(…) "There is no future for Assad in Syria," Saudi foreign minister Adel Al-Jubeir warned, a few hours before the first Russian bombing sorties began. If that was not blunt enough, he spelled out that if the president did not step down as part of a political transition, his country would embrace a military option, "which also would end with the removal of Bashar al-Assad from power". (…)
Speculators reduced their net-long position in West Texas Intermediate crude by 9.1 percent in the week ended Sept. 29, according to data from the Commodity Futures Trading Commission. Longs dropped from a 12-week high while shorts increased. (…)

Investors pulled $393 million in September from United States Oil Fund, the largest U.S. exchange-traded product that tracks crude futures, the biggest withdrawal since April.

U.S. crude output is down 514,000 barrels a day from a four-decade high reached in June, Energy Information Administration data show. The number of rigs targeting oil in the U.S. dropped to a five year low, Baker Hughes Inc. said Oct. 2. (…)

To investor Jim Rogers, oil holding near $45 a barrel in the face of bearish news is a sign that prices are poised to recover.

"When there's bad news and something doesn't decline, it usually means it's at a bottom and will be turning," Rogers, who correctly predicted a commodities rally in 1999, said in an interview in Singapore on Thursday.
Simply amazing exploding crude inventory charts from BNP Paribas (via FT Alphaville)
From Zerohedge:

Meanwhile, Suncor Formally Begins Offer for Canadian Oil Sands for $3.29 Billion
SENTIMENT WATCH
Buried deep in a routine Federal Reserve report that is notable mainly for its numbers-heavy presentation is a data point that threatens to upend the notion that Corporate America is struggling to boost earnings. The Fed's measure of income, which happens to have moved in unison with profits for Standard & Poor's 500 Index companies 83 percent of the time since 1992, just posted its biggest quarterly increase since 2012.

Strength in the Fed data contrasts with earnings viewed through the benchmark equity measure, where analysts are predicting the largest quarterly contraction since 2009, based on data compiled by Bloomberg. The divergence highlights what bullish investors have said is an illusion of weakness in profit signals flashed by stocks, where the biggest drop in oil-company earnings since the financial crisis is drowning out strength elsewhere.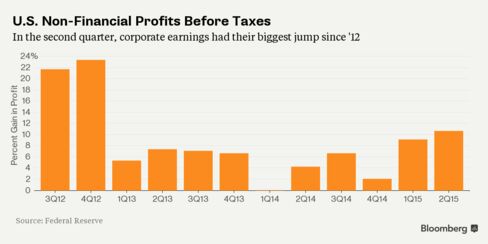 Comparing the two earnings gauges isn't apples-to-apples: the Fed's looks at pretax profit for non-financial companies throughout the U.S. The S&P 500's measures after-tax income for a smaller subset of corporate America and captures roughly 75 percent of the nation's equity market cap. At the same time, the two have moved in virtual lockstep on a yearly basis, with weakness in the Fed index portending a shrinking economy in 2001 and 2008. (…)

For now, almost all of the drop in S&P 500 earnings is attributable to energy companies, where they are projected to fall more than 60 percent in both the third and fourth quarters. Excluding them, S&P 500 profits are estimated to rise 0.1 percent and 3.9 percent in the two periods. (…)
Factset's most recent tally calls for +2.3% ex-Energy in Q3, down from +3.0% two weeks ago and from +5.9% at the end of August. Also, only 4 of the ten sectors are expected to show EPS growth in Q3.
DoubleLine's Gundlach: risk assets globally face 'another wave down' DoubleLine Capital co-founder Jeffrey Gundlach, widely followed for his investment calls, warned after a weak non-farm payrolls report on Friday that the U.S. equity market as well as other risk markets including high-yield "junk" bonds face another round of selling pressure.
"The reason the markets aren't going lower is people are holding and hoping," Gundlach told Reuters in a telephone interview. "The market bottoms out when people are selling and sold out – not when they are holding and hoping. I don't think you've seen real selling in risk assets broadly. Markets need buying to go up and they need volume to go up. They can fall just on gravity." (…)

Gundlach said junk bonds are vulnerable: "I'll think about buying when it stops going down every single day."

"People are acting like everything is great. Junk bonds are at a four-year low. Emerging markets are at a six-year low and commodities are at a multi-year low – same level as in 1995 … GDP is not growing at a nominal basis."

"Clearly what's happening is people are waking up to the idea that global growth is not what they thought it was."

He added: "There's going to be another wave down in risk assets and it's happening globally." (…)

Gundlach, who has maintained since May that the Federal Reserve will not raise rates at all this year, said the environment feels similar to 2007's, when a financial crisis was brewing.

"People want them (Fed officials) to increase because they think it is a signal that everything is secretly OK. If the Fed raises rates, that means everything is OK. But it is the other way around. If the Fed raises rates against this backdrop, it just makes things worse."
Speaking of spreads:
Not only has the current upturn's high-yield spread been comparatively wide, it has also been volatile. Since the end of the Great Recession, the high-yield spread ballooned and then narrowed considerably on two occasions.

After starting the upturn at 987 bp, the high-yield spread dropped to February 2011's 435 bp. However, Eurozone jitters quickly distended the high-yield spread to an October 2011 average of 775 bp. An ensuing drop in risk aversion then lowered the spread to March 2012's 589 bp.

Nevertheless, renewed worries about Europe quickly re-inflated the high-yield spread to June 2012's 679 bp. Shortly thereafter, extraordinary measures by the ECB and Federal Reserve prompted a thinning of the high-yield spread to June 2014's current cycle bottom of 331 bp.

Since then, the global economy's surfeit of production capabilities and a stronger dollar have suppressed product prices by enough to swell the high-yield spread to September 2015's preliminary average of 597 bp. Worse yet, during the last five trading days of September, the high-yield bond spread averaged a wider 650 bp, which was slightly above its predicted value of 642 bp.. (…)
Until the global outlook stabilizes, the high-yield bond spread may widen further. In view of how industrial metals prices are a readily available barometer of world economic activity, the lack of a material price recovery by base metals prices would imply a continuation of downward pressure on the prices of internationally traded goods and services. For both September 2015 and Q3-2015, the base metals price index plunged by -26% annually.

Some argue that the latest widening by the high-yield bond spread portends hard times for business activity. Nonetheless, wide spreads have not always been the harbinger of doom.

Just prior to the December 2007 start of the Great Recession, the high yield bond spread averaged a seemingly benign 539 bp in November 2007. By contrast, for the months preceding the recessions of 2001 and 1990-1991, the high-yield spread revealed more risk-averse averages of 756 bp for February 2001 and 599 bp for June 1990.

September 2015's high-yield bond spread of 597 bp was not very different from the spreads that held immediately before the last three recessions. Nevertheless, it is very much a stretch to view the latest broadening of high-yield spread as the uncontested forerunner of an imminent diminution of systemic liquidity that might quickly extinguish the current recovery. (…)
WORTH YOUR TIME: Carl Icahn video
Business Insider vs. Peppa Pig
(…) This week both firms announced deals. German media giant Axel Springer agreed to buy Business Insider in a deal valued at $390 million. According to press reports, a production firm that co-owns the rights to Peppa Pig, a cartoon featuring a young female pig with a British accent, sold a 70% stake to Entertainment One, Peppa Pig's other co-owner, for about £140m or $212 million.

According to the letter, Deutsche Bank estimates that Business Insider sold for roughly 13 times its trailing annual revenue. (…)

Analysts at Deutsche Bank AG took a lighthearted stab at answering that question [on relative valuations], penning a letter in the voice of Business Insider founder Henry Blodget:

Dear Wall Street, Remember when you gave me a lifetime ban from the industry? I may have given outrageous valuations to some technology companies just before the 2000 crash, but look how things turned out. On Tuesday I sold Business Insider for 13 times last year's revenues. Take that Peppa Pig! Her company only managed to bag 0.3 times revenues this week. No wonder – who cares about branded lunchboxes and theme-parks? Business Insider is a web 2.0 phenomenon and only needs revenue growth of 40 per cent a year for the next decade to reach Peppa's multiple. That's easy when you publish weekly lists of the world's sexiest chief executives. And yes revenue multiples are legit – they are less volatile and exclude confusing accounting details, such as profits. Those will come. To find out when, click here. Sincerely, Henry Blodget.
If you enjoyed this article, Get email updates (It's Free)