Did you miss yesterday's TIME TO GET SENTIMENTAL
Global economic growth lost further impetus at the end of the third quarter, as September saw the rate of output expansion slip to a nine-month low. Emerging
markets were the main drag on headline global growth, whereas the performances of the developed economies held up better in comparison.

The J.P.Morgan Global All-Industry Output Index1,2 – which is produced by J.P.Morgan and Markit in association with ISM and IFPSM – fell to 52.8 in September, from 53.9 in August. The average reading over the third quarter as a whole (53.5) was below that registered in the second quarter.
Although tracking on a subdued growth rate trend, global economic output has nonetheless expanded in each of the past 36 months. Further (albeit slower)
increases were seen for both manufacturing output and service sector business activity during September.

Among the developed nations, rates of all-industry output expansion held up well in the US and the eurozone. Both recorded solid increases, despite the pace of growth easing to three- and four-month lows respectively. The slowdown in the UK economy continued, while Japan registered only a modest and weaker increase in economic activity.

Within the euro area, output rose in Germany, France, Italy, Spain and Ireland. Although France was the only one of these nations to signal faster expansion, its rate
of growth remained behind the others. Emerging markets generally performed poorly during September. The China All-Industry Output PMI remained below 50.0 for the second straight month, while Brazil remained in a severe downturn. Russia fared slightly better, seeing a marginal increase in economic activity following last month's contraction.
The Markit (and for the US, ISM) MFG PMI's largely weakened globally in September. There were readings below 50 in nine of the seventeen countries/units in the table. There were month to month declines in the MFG-PMI indices in 11 of seventeen. Thus manufacturing readings are low and are generally moving lower. (…)
HOUSING
House hunters shrugged off stock market volatility and unsteady overseas economies in August, with the Redfin Housing Demand Index up 9.6 percent to 103 from 94 a year ago. The number of Redfin customers touring homes held steady from July to August, but fewer people made offers to buy.

The Demand Index is based on millions of visits to Redfin.com home-listing pages and thousands of Redfin customers requesting tours and writing offers in 15 major metro areas. It is scaled to equal 100 on January 2013, the first month of the estimation period, and adjusted for Redfin market share growth. (,,,)
The fall housing market is holding steady. While the usual seasonal slowdown is under way, homebuyer demand is still strong. However, there are warning signs.

Tours are outpacing purchase offers by a wide margin, suggesting that it takes more effort to find a home. In 2014, one in six Redfin customers who requested a tour eventually made an offer. So far this year, it's one in seven.

"Buyers are worried about too-high prices and are more cautious about making offers," said Karen Krupsaw, Redfin vice president of real estate operations. "We're seeing that sellers are getting the memo, as more people are dropping their prices in the past few weeks."

Still-low inventory is holding them back. Although newly listed homes increased 10 percent in August, it still wasn't enough to meet demand. The result was 0.3 percent fewer homes for sale overall in August compared to the same time last year.
Orders, adjusted for seasonal swings and inflation, dropped 1.8 percent after decreasing a revised 2.2 percent in July, data from the Economy Ministry in Berlin showed on Tuesday. The typically volatile number compares with a median estimate of a 0.5 percent increase in a Bloomberg survey. Orders rose 1.9 percent from a year earlier. (…)

Domestic factory orders declined 2.6 percent as demand for investment goods slumped. The drop in orders was exaggerated by school holidays, it said. A bright spot was the rest of the euro area, where demand for capital goods jumped. (…)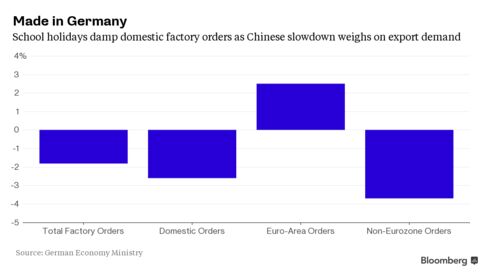 Latest Eurozone Retail PMI® data showed a fifth straight monthly rise in sales in September, with the rate of growth picking up slightly from that seen in August. Of the 'big-three' euro area nations, only France failed to record an increase in sales, with the level there falling fractionally for a second month running.

The headline Markit Eurozone Retail PMI – which tracks month-on-month changes in like-for-like retail sales across the bloc's biggest three economies combined – registered 51.9 in September, up from 51.4 in August. The latest reading was the second-strongest seen since April 2011, behind July's recent high, although still pointed to only moderate growth in sales overall. Year-on-year sales growth was the weakest for three months.


Fuel Prices Fall, but FedEx and UPS Boost Surcharges FedEx is raising its fuel surcharge for the second time this year, jolting e-commerce companies and other shippers with price increases just as they gear up for the holiday season.
Big U.S. firms hold $2.1 trillion overseas to avoid taxes: study The 500 largest American companies hold more than $2.1 trillion in accumulated profits offshore to avoid U.S. taxes and would collectively owe an estimated $620 billion in U.S. taxes if they repatriated the funds, according to a study released on Tuesday.
(…) with just 30 of the firms accounting for $1.4 trillion of that amount, or 65 percent, the study found.
If you enjoyed this article, Get email updates (It's Free)