IMF Lowers Global Outlook Agency cuts 2015 global growth view to 3.1% from its previous forecast of 3.3%
(…) The IMF cut its forecast for emerging markets to 4% this year, down 0.2 percentage point from its last update in July. That marks the fifth consecutive year of declining growth and a level nearly half the rate the IMF recorded six years ago.

Modest growth in the U.S. and a meager recovery in the eurozone, meanwhile, haven't been able to offset falling output in emerging markets. Souring emerging-market prospects also are muting next year's rebound: The IMF reduced its prediction for global growth in 2016 by the same amount to 3.6%. (…)

The fund said there's a 50% chance the global growth rate will fall below 3% next year, a level it has, in the past, said is "equivalent to a global recession." (…)
The IMF kept its forecast for China's growth to slow to 6.3% in 2016 from 6.8% this year as fund officials say fears of a hard landing are overblown. A booming services sector appears to be offsetting a decline in manufacturing as the country transitions to a new growth model more reliant on domestic consumption, Mr. Obstfeld said. (…)
(…) Just hours after Obstfeld spoke, Citigroup Inc. economists were warning that "continued sub-par growth is likely to put the global economy back into recession." They've already penciled in a 55 percent probability of such an event in the next couple of years.

The relatively good news for finance ministers and central bankers gathering in Lima for the IMF's annual meetings is that most economists are siding with Obstfeld and advising investors not to panic about the economic outlook.

"We are struck by the negative spin many commentators are putting on recent developments," Ethan Harris, co-head of global economics research at Bank of America Corp., said in an report to clients last week.

His review of past worldwide recessions finds they've been caused by three things, none of which are a present danger. Central banks aren't fighting inflation, commodity prices aren't surging and the U.S. economy isn't facing serious problems.

The global economy was previously able to withstand the Latin American banking crisis of the 1980s, currency turmoil in Europe and Mexico in the early 1990s and Europe's more recent fiscal woes, Harris said as he noted that "history is on our side."

What about contemporary risks such as the slump in emerging markets in a world they hold greater sway, or a lack of room for central banks to inject more stimulus?

While developing nations now account for about 35 percent of global gross domestic product, exclude China and they're still on course to grow 2.5 percent this year, according to BofA. Even though growth has disappointed in such economies every year since 2011, the world has plowed on.

As for China, Alan Higgins, U.K. chief investment officer at Coutts & Co., says the nation's woes aren't contagious given that its exports only contribute about 3 percent to global GDP, and about half of those are components that the receiving country ships back out again in finished products. Beijing is also stepping up its response, cutting taxes on vehicle purchases and reducing the minimum down payments for first-time home buyers.

There is still momentum in developed markets. Fiscal austerity is showing signs of fading, Greece's problems are now ring-fenced, banks are lending more and the slide in commodities should boost consumption and investment. (…)
Add that China has adopted 20 fiscal stimulus measures in September alone and that the Party's 5th Plenum meeting will be held in 2 weeks. In China, the Party decides and dictates. The Government then executes as directed. Employment conditions are worsening in China which must unnerve Beijing more and more. More stimulus is likely on te way.
Then there are the lags between the negative effects of lower commodity prices on producing countries and their positive impacts on consuming countries as I argued in IS THE FED IN LEFT FIELD, AGAIN? As this Markit PMI chart shows, DM economies are performing pretty well.
Within the U.S. economy, the much wider-than-expected trade gap in August suggests that real net exports should weigh down 3Q real GDP by -0.5 percentage point. Yet, Evercore ISI says that final domestic demand appears robust in 3Q, probably advancing over 4.0%.
Willem Buiter, chief economist at Citigroup, Tobias Levkovich, chief U.S. equity strategist at Citigroup, and Ed Morse, head of commodity research at Citigroup, examine the global economy, the impact of China's economic slowdown, lower commodity prices and the economic struggle created by zero interest rates. They speak on "Bloomberg Surveillance."
The seasonally adjusted Purchase Index increased 27 percent from one week earlier. The unadjusted Purchase Index increased 27 percent compared with the previous week and was 49 percent higher than the same week one year ago. (…)

This surge was partially related to applications being filed before the TILA-RESPA regulatory change, so I expect applications to decline significant in the next survey.

The average contract interest rate for 30-year fixed-rate mortgages with conforming loan balances ($417,000 or less) decreased to 3.99 percent, the lowest level since May 2015, from 4.08 percent, with points increasing to 0.46 from 0.45 (including the origination fee) for 80 percent loan-to-value ratio (LTV) loans.
To be watched closely. I can understand the rush to beat a regulatory change on refinancing but purchasing implies a real transaction. The Purchase Index has been stuck in a narrow channel since 2010.
The U.S. foreign trade deficit in goods and services during August increased to $48.3 billion from $41.8 billion in July, revised from $41.9 billion. A deficit of $43.0 billion had been expected in the Action Economics Forecast Survey. Exports declined 2.0% (-6.2% y/y) and imports rose 1.2% (-2.2 %y/y). In constant dollars, the trade deficit in goods deepened to $63.4 billion from $56.1 billion. Real exports of goods fell 1.5% (-2.5% y/y) and reversed a 1.2% July surge while real goods imports increased 3.1% (6.8% y/y) after a 0.8% dip.

The 2.0% decline in exports reflected a 3.1% drop in goods, off 10.5% y/y. In constant dollars, goods exports fell 1.5% (-2.5% y/y) during August as auto exports declined 3.8% (-4.5% y/y) following a 5.0% gain. Nonauto consumer goods exports fell 3.0% (-4.0% y/y) and added to a 2.5% fall. Industrial supplies & materials exports were off 2.0% (-3.2% y/y), reversing a 2.5% increase. Capital goods exports gained 0.5% for a second straight month (-4.8% y/y). Foods, feeds & beverages exports also increased 0.5% (11.3% y/y) following two months of roughly 1.6% decline. Services exports improved 0.6% (2.5% y/y) as travel exports gained 0.8% (1.7% y/y).

Imports increased 1.2% during August (-2.2% y/y) and reversed a 1.0% decline during July. In constant dollars, nonpetroleum goods imports rose 3.5% (7.0% y/y) after a 1.0% drop. Nonauto consumer goods imports jumped 8.5% (14.2 % y/y) and reversed July's 4.9% decline. Capital goods imports increased 2.5% (1.4% y/y) following a 0.6% improvement. Foods, feeds & beverages imports gained 1.3% (4.2% y/y) after a 0.7% dip. Industrial supplies & materials imports eased 0.4% (+0.7% y/y) after a 1.4% jump and automotive vehicles & parts imports fell 1.0% (+10.3% y/y), offsetting a 1.3% increase. Imports of services improved 0.7% (3.7% y/y) as travel imports increased 1.5% (10.8% y/y).
Once the Biggest Buyer, China Starts Dumping U.S. Government Debt Central banks are selling U.S. government bonds at the fastest pace on record, the most dramatic shift in the $12.8 trillion Treasury market since the financial crisis.
Foreign official net sales of U.S. Treasury debt maturing in at least a year hit $123 billion in the 12 months ended in July, according to Torsten Slok, chief international economist at Deutsche Bank Securities, the biggest decline since data started in 1978. A year earlier, foreign central banks purchased $27 billion of U.S. notes and bonds.
(…) the PBOC has been buying yuan and selling dollars to prevent the yuan from weakening beyond around 6.40 per dollar.

Internal estimates at the PBOC show that it spent between $120 billion and $130 billion in August alone in bolstering the yuan's value, according to people close to the central bank.

China isn't alone. Russia's holdings of all U.S. Treasury debt fell by $32.8 billion in the year ended in July, according to the latest data available from the U.S. Treasury. Taiwan's holdings dropped by $6.8 billion. Norway, a developed nation hit by the oil-price decline, reduced its Treasury holdings by $18.3 billion.

Some other central banks increased holdings. India increased its Treasury debt holdings to $116.3 billion at the end of July 2015 from $79.7 billion a year ago. The Federal Reserve held $2.45 trillion of Treasury debt at the end of September and isn't expected to sell U.S. debt soon.

Traders said China's selling has been a factor in why 10-year Treasury yields have remained near 2% as stock and commodity markets tumbled in recent months. The yield fell as low as 1.6% before the so-called taper tantrum in mid-2013 as the Fed prepared to end monthly bond purchases. (…)

In the 12 months to July, foreign private investors bought long-term Treasury debt at the fastest pace in more than three years.

U.S. bond mutual funds and exchange-traded funds targeting U.S. government debt have attracted $20.4 billion net cash this year through the end of September, poised for the biggest calendar-year inflow since 2009, according to fund tracker Lipper. (…)
When Chinese markets reopen on Thursday following an extended holiday, investors will be watching for the next phase of the country's wrestling match with the "impossible trinity."

China basically bowed to the impossible trinity when it devalued the yuan on Aug. 11. The act was an acknowledgment of the challenge of maintaining a flexible monetary policy, a fixed exchange rate and freely flowing capital at the same time. The term, which is used interchangeably with the "unholy trinity" and the "trilemma," was popularized by economists Robert Mundell and Marcus Fleming in the 1960s.

It helps explain why China isn't lowering interest rates further, even amid signs of continued economic softness. If it did, the flow of capital out of the country would pick up. Worries about flight already have prompted China to resort to some capital controls.

And although the yuan, also known as the renminbi, has appreciated by 0.6% against the dollar since tumbling on Aug. 11, many analysts say further currency weakness is inevitable.

"The price that China is paying for maintaining renminbi stability is they have not been able to ease monetary policy more aggressively," said David Woo, head of global rates and currencies research at Bank of America Merrill Lynch. "There's a pretty good chance they'll have to let the renminbi go, make it a free-floating currency."

Most developed economies focus on two aspects of the trinity: monetary policy and open borders when it comes to capital. The exchange rate is allowed to float.

China's battle with the "unholy trinity" has rattled financial markets, adding to the nervousness about the country's economic slowdown.

Past reckonings with the trilemma have resulted in sharp currency devaluations as central banks were forced to allow currencies to float. In 1994, Mexico's central bank severed the peso's peg to the dollar after digging deep into its foreign-exchange reserves to support the currency, which was under pressure from capital flight sparked in part by monetary easing.

The unholy trinity also played a role in the Asian financial crisis in 1997-1998. In Thailand, where the crisis began, the government held rates steady and instituted some capital controls to stop money from leaving the country. The Bank of Thailand quickly burned through its foreign-currency reserves in supporting the baht, and its peg to the dollar eventually collapsed in July 1997.

Last month, the People's Bank of China required that banks trading currency forward contracts denominated in dollars must deposit 20% of their sales at the central bank starting on Oct. 15, a move designed to stabilize the renminbi. In addition, the PBOC took steps on Sept. 1 to stem the flow of money leaving the country by having large lenders monitor Chinese corporations to ensure they limit their currency exchanges to paying for imports or approved foreign investments.

In August, China cut interest rates for the fifth time since November. Any further easing would exert more downward pressure on the renminbi—which is still loosely pegged to the dollar after the Aug. 11 changes—and could spark another wave of capital flight, especially if the Federal Reserve lifts interest rates in the U.S., analysts say.

After the devaluation, China also used its massive foreign-exchange reserves to stabilize the currency. In August, the country's reserves fell by a record $93.9 billion. (…)
(…) Global oil demand will grow by the most in six years in 2016 while non-OPEC supply stalls, the EIA said in its monthly report on Tuesday that suggested a surplus of crude is easing more quickly than expected.

Total world supply is expected to rise to 95.98 million barrels a day in 2016, 0.1 per cent less than forecast last month, the EIA said in its Short-Term Energy Outlook. Demand is expected to rise 270,000 bpd to 95.2 million barrels, up 0.3 per cent from September's forecast.

Oil executives at an industry conference in London, meanwhile, warned of a "dramatic" decline in U.S. output that could lead to a price spike if fuel demand escalates. Mark Papa, former head of U.S. shale producer EOG Resources, told the "Oil and Money" conference that U.S. production growth would tail off this month and start to decline early next year.

Russia's energy minister said Russia and Saudi Arabia discussed the oil market in a meeting last week and would continue to consult each other.

OPEC Secretary-General Abdullah al-Badri said at a conference in London that OPEC and non-OPEC members should work together to reduce the global supply glut.

Iran's crude sales were on track to hit seven-month lows as its main Asian customers bought less.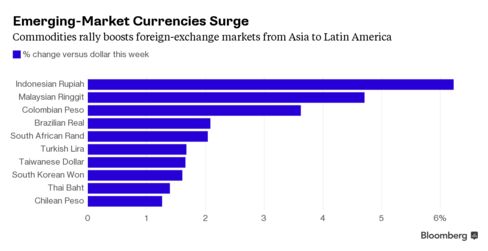 Ed Morse, head of commodity research at Citigroup, and Willem Buiter, chief economist at Citigroup, discuss why oil isn't out of the woods with its recent price rise, the state of production in the Middle East and U.S. and the overall economic impact of lower oil prices. They speak on "Bloomberg Surveillance."
EARNINGS WATCH
(…) However, during the confusion in September, company managements were particularly reluctant to guide the market any way at all on their earnings. According to BofA Merrill Lynch, only 26 S&P 500 companies issued guidance last month, the lowest figure for any month since 2000. The monthly average over that period is 125. (…)

As for the US earnings season, we should buckle our seat belts. Analysts are flying blind, possibly because managements themselves have not known how to guide them. The dribble of early results makes plain some dramatic rebounds are possible, but also implies that any earnings misses will be punished severely. (…)
Either John Authers or BAML are missing something. Factset numbers as of October 2 show that 108 companies had issued guidance vs 109 at the same date last year and the year before. Thomson Reuters' tally, which also includes "in-line guidance" is 133 pre-announcements so far vs 135 last year.
This latest piece by Authers follows his negatively slanted article of October 1:
And so far, the course of earnings gives better reason than almost anything else to suppose that the bear market is indeed under way.
To repeat my reply to Authers' Oct. 1 article:
Some facts omitted by John Authers:
Analysts have lowered earnings estimates for the S&P 500 for Q3 2015 by a smaller margin than average. On a per-share basis, estimated earnings for the third quarter have fallen by 3.0% since June 30. This percentage decline is smaller than the trailing 5-year and 10-year averages at this same point in time in the quarter.
Fewer companies have lowered the bar for earnings for Q3 2015 as well. Of the 108 companies that have issued EPS guidance, 76 have issued negative EPS guidance and 32 have issued positive EPS guidance. The percentage of companies issuing negative EPS guidance is 70%, which is below the 5-year average of 72%.
More companies have issued positive guidance for Q3 than normal according to data from both Factset and Thomson Reuters. In fact, with the same number of companies having pre-announced, 33 (31%) have guided positively compared to 27 (25%) at the same time last year. This is the highest number of positive pre-announcements since at last 3 years.
If the Energy sector is excluded, the estimated earnings growth rate for the S&P 500 would jump to 2.9% from -4.5%.
As to the "dreadful earnings momentum" by sectors, Authers only refers to the semis. Here's TR's tally for 2016. Apart from commodity-related sectors, nothing too dreadful in this table.
Société Générale argues similarly (via Zerohedge)
US EPS growth has been very disappointing this year, with Q3 earnings likely to decline (yoy) for the second quarter in a row. Our Equity Quant team notes that profits growth has never been this weak outside of a recession. Consequently, risk aversion has increased, reinforced by fears of contagion across asset classes and notably the return of idiosyncratic risk in credit. The external headwinds of a strong USD, lower commodity prices and slower global demand should continue to weigh on sectors such as industrials, materials and energy. But, lower oil prices and a healthier job market (with the current soft patch likely to be transitory) are positive for US consumers, as reflected by strong spending data over the past months (+0.4% mom on average). As a result, sectors exposed to US consumption could still report solid EPS growth going forward. The eurozone recovery should also support earnings, allowing the Euro Stoxx to benefit from less demanding valuation levels.
Earnings Don't Tell Full Economic Story The sharp drop in oil prices probably makes an earnings recession a flawed harbinger of economic growth
(…) The 0.6 percentage point drop in corporate profit margins in the past year is of a magnitude previously only seen prior to economic recessions. There was an exception, though: the one coinciding with the oil-price collapse in the mid-1980s.

The S&P 500 energy sector, for instance, is expected to adversely impact overall third-quarter earnings for the large-cap S&P index by 7.1 percentage points, per FactSet. Thus, if energy were excluded from the picture, profits would stand to expand 1.9% in the third quarter.
Published quarterly, the JPM Guide to the Markets is a great source of charts on most things economy and finance related. Some of the most relevant with my comments:
The U.S. consumer, 70% of U.S. GDP and 17% of world GDP, is in great shape:
But the overall stats are skewed by the highest income earners. The average Joe still finds it difficult to get a mortgage in spite of record low mortgage rates. The hope is that employment growth will foster faster household formation among the prime house buying group (25-34 year age). This age group saw its employment rise 43k in September after +113k in August.
At the other age extreme, savers get no break:
Buy-low time for high yields? Yes, if no recession.
Europe is borrowing again.
EM valuations: be careful, they are partly based on forward earnings…
…and EM earnings are still falling!
(…) For most people it is a simple way to lose cash. The piles are won by a tiny fraction of the participants. And, the New York Times reported this week, some of those happen to be employees of FanDuel and DraftKings who have access to data on gaming patterns and who play on each other's sites.

This humdrum fantasy always had an illicit thrill: it is dangerously close to online gambling, which is illegal in the US. The fantasy companies were banking on an exemption from that law. The "insider-betting" scandal makes that look precarious.

The US authorities may decide that fantasy is a harmless pastime that would be pointlessly difficult to police. Several UK-listed internet gambling companies bet on similar hopes a decade ago, running offshore gambling sites Americans could use. The reality was a crackdown — complete with executives arrested at airports — and the industry disintegrated.
If you enjoyed this article, Get email updates (It's Free)