U.S. New-Home Sales Tumble in September Decline suggests a highly volatile segment of the housing market could be cooling
Purchases of new single-family homes fell to a seasonally adjusted annual rate of 468,000in September, the Commerce Department said Monday, down 11.5% from August's downwardly revised rate of 529,000.

September's pace of newly built home sales is up 2% from September a year ago.

The number of homes for sale at the end of September stood at 225,000, the most since March 2010, although most of the 9,000-home uptick was in homes that weren't yet started or still under construction. (…)

Edwin Woods, a division president of Dan Ryan Builders, which operates in six East Coast states, said inventories are tight in his region in North Carolina because supply isn't keeping up with demand. He hasn't been able to keep speculative homes—those that go under construction without a buyer lined up—in stock.

"We barely have any homes currently available that will deliver in the next 60 days," Mr. Woods said.

The rate of home sales in the Northeast region fell by 61.8% in September from August, and is down 56.7% from September a year ago. The South and West regions are still up from September 2014, despite a downward tick last month. (Chart from Doug Short)
CalculatedRisk says no worries:
Even though the September report was disappointing, sales are still up solidly year-to-date. The Census Bureau reported that new home sales this year, through September, were 392,000, not seasonally adjusted (NSA). That is up 17.6% from 333,000 sales during the same period of 2014 (NSA). That is a strong year-over-year gain for the first nine months of 2015!
Fed Strives for a Clear Signal on Interest Rates As 2016 approaches, pressure is on the central bank and Janet Yellen to better manage expectations for rates and the U.S. economy.
(…) Officials have their work cut out, as illustrated in this recent exchange:

"I don't really understand what is unclear right now," said William Dudley, president of the Federal Reserve Bank of New York, during an appearance at a panel in Washington this month.

"Are you kidding?" Stanford University economist and Fed critic John Taylor said. "No one knows what you're doing." (…)

Ms. Yellen's own inner circle of advisers has at times been out of sync in the long-running debate. Fed governors in Washington, meantime, want to delay a rate increase while pushing back against regional bank presidents eager to get started.

"I'm scratching my head about why so much of this is going on outside of the building," said Princeton University professor Alan Blinder, a former Fed vice chairman.

The Fed's uncertainty is contagious. A Wall Street Journal survey of market economists this month found that 64% believe the Fed will raise rates by December. Futures markets put the odds at 35%. (…)

The responsibility of managing the various viewpoints inside the central bank falls to Ms. Yellen, who is supposed to forge consensus. She meets regularly with other Fed governors and schedules calls with every regional bank president before meetings. More social than her predecessor, Ben Bernanke, she mills about at Fed dinners after policy meetings, according to officials. (…)

Ms. Yellen, who won a 9-1 vote to hold rates steady at the September meeting, must bring together three different camps inside the Fed.

One group, which includes several regional bank presidents, is ready to act on rates. Another, which includes Ms. Yellen and her core leadership, is poised for a rate increase if hiring and economic output keep growing at a healthy clip.

The third group of presidents and governors is called by some the "show-me camp." They want to see concrete signs that inflation or wages are going up before raising rates. This group could help Ms. Yellen build a consensus around her centrist stance by counterbalancing the eager-to-move group. (…)

Ms. Yellen believes inflation will rise as slack in the economy diminishes and a falling jobless rate is central to her case. (…)

The Fed's favorite measure of slack is the unemployment rate. (…)

If the Fed can't make a persuasive argument that inflation is set to rise, it has little case for raising rates.

The distance between Ms. Yellen and the two governors actually wasn't as great as it appeared, as she revealed in her long-planned speech on inflation that she delivered after the Fed's September meeting.

Ms. Yellen acknowledged in the speech that despite the long-held economic theory, the connection between the unemployment rate and inflation was tenuous. If it were strong, inflation would have tumbled when unemployment soared to 10% in 2009 and rebounded as joblessness fell. Instead, the inflation rate drifted lower and then got stuck below 2%.

"The theoretical underpinnings of the model are still a subject of controversy among economists," Ms. Yellen said in the Sept. 24 speech. "The validity of forecasts from this model must be continuously evaluated in response to incoming data."

To observers, it served as a meaningful clue. If, in the weeks ahead, the data don't confirm to the Fed's projections of solid growth and hiring—and if the numbers don't hint at a gradual rise in inflation—she and her colleagues won't be moving interest rates much, if at all. (Chart from Bespoke Investment)
This wait-and-see attitude is contagious:
A Frustrated Koch Brother Decides It's Time to 'Spout Off' Charles Koch, who presides over a network of major conservative donors, has been frustrated by the tone of the 2016 campaign and said he will wait until year-end to determine how much he'll spend on the race
(…) The front-month Nymex contract for November delivery hit a low of $1.997 per mBtu in early trading on Tuesday, dropping below $2 per mBtu for only the fourth time since 1999.

The US Energy Information Administration projects that gas in storage will total 3.956tn cubic feet by the end of this week, the most on record for the time of year. (…)

While lower heating bills may provide a boost for consumers already benefiting from a sharp drop in oil prices, US energy producers face a testing time. (…) (Chart from Bloomberg)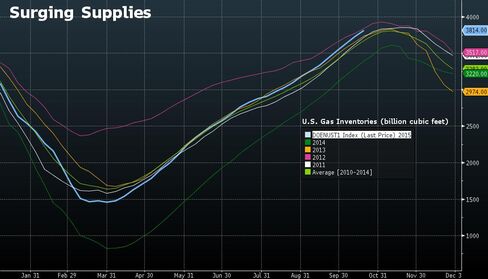 More info on automakers labor deals:
GM to Boost Its U.S. Workers' Pay General Motors, which has been delivering some of the richest operating profits in its 107-year history, has decided to do something it hasn't done in nearly a decade: give its veteran U.S. factory workers a raise.
(…) GM lost $7,360 a car in 2009. Through September, it made $3,784 a car this year, the most in recent history.

For GM, Mexico offers an attractive alternative to U.S. plants as it girds for an eventual downturn and U.S. market share at 17%, more than six percentage points lower than in 2007. Not only does Mexico have trade deals with most other nations, labor costs are between $1,000 and $1,300 a car lower than in the U.S., according to people familiar with the Detroit Three's finances, due mainly to auto factories' $7.50-an-hour pay.

GM's U.S. wage tab of $58 an hour, including benefits, is 20% lower than the 2007 figure, but still the richest in the industry and 20% higher than at Toyota Motor Corp., according to the Center for Auto Research. Even Ford, which unlike GM avoided bankruptcy in 2009, has a lower hourly rate. (…)

Union workers aren't happy with the industry's two-tier wage system that was created in 2007. Modified in 2011 so GM and its rivals hired new workers at about $15.78 an hour and gradually increased their hourly wage to $19.28, UAW members saw the structure as unfair and pushed UAW President Dennis Williams to close the gap and get a raise for all 140,000 factory workers.

Mr. Williams achieved both through a Fiat Chrysler Automobiles NV wage deal ratified last week. Entry-level workers will graduate to the top rate over eight years, and more experienced workers will move to nearly $30 an hour from about $28 an hour.

That deal, which GM was pushed to at least match by the UAW, will raise Fiat Chrysler's hourly wage costs—including all benefits—by 12% to nearly $54 an hour

from $48, according to people familiar with the financial details of the contract. (…)
EARNINGS WATCH
184 companies (46.0% of the S&P 500's market cap) have reported. Earnings are beating by 3.9% (4.1% last Thursday) while revenues have missed by -0.6%.
Results for Financials have been lackluster, missing by –0.1%, while the rest of the market has surpassed expectations by 5.5% (5.7% last Thursday).
The beat rate is 68% on EPS (74% ex-Financials), 33% on revenues.
Expectations are for a decline in revenue, earnings, and EPS of -4.0%, -4.1%, and -3.0%. EPS growth is on pace for -0.9%, assuming the current beat rate for the remainder of the season. This would be 6.6% excluding Energy (+4.5% last Thursday).
If you enjoyed this article, Get email updates (It's Free)