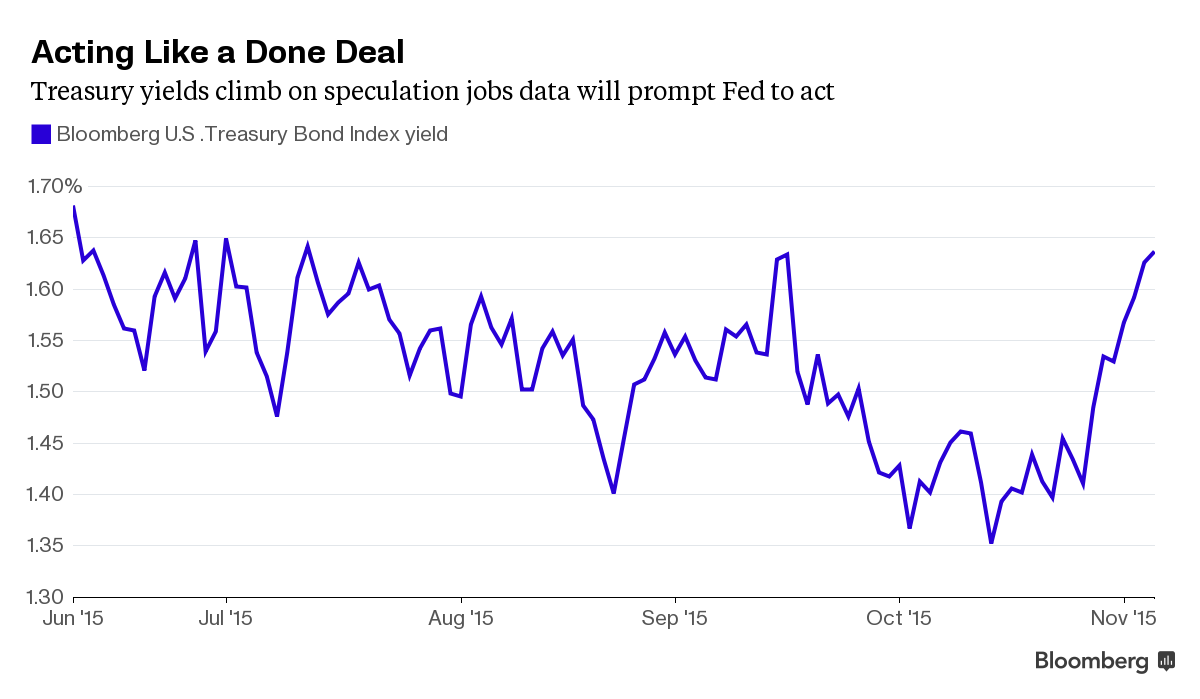 THE 'OLD NORMAL"
Moody's brings us back to the "old normal:
Forward-looking market lifts Treasury yield above model's prediction
In addition to the high-yield spread, a regression model that predicts the 10-year Treasury yield includes (i) the federal funds rate, (ii) the annual rate of core PCE price index inflation, and (iii) the percent of employees aged at least 55 years among its other explanatory variables. The regression equation's exceptionally strong adjusted R-square statistic of 0.91 shows that the model performs very well at explaining the 10-year Treasury yield.

The statistical inquiry utilized monthly data beginning with January 1985 and ending in September 2015. According to the model, the recent 10-year Treasury yield eclipsed its predicted value. Some combination of expectations calling for a higher fed funds rate, faster core inflation, and a thinner high-yield spread explain why the predicted 10-year Treasury yield now exceeds the actual yield. (Moody's)
Core inflation stands out among 10-year Treasury yield's primary drivers
Among the primary drivers of the 10-year Treasury yield, none is more significant than the annual rate of core PCE price index inflation and that is shown by core inflation's very high "t-statistic" of 17.0. Holding everything else constant, the model suggests that for each percentage point rise by the annual rate of core PCE price index inflation, the 10-year Treasury yield increases by 90 bp.
10-year Treasury yield often moves independently of fed funds
When the other explanatory variables of the model are unchanged, a percentage point increase by the fed funds rate is expected to add 23 bp to the 10-year Treasury yield, on average. However, the relatively lower "t-statistic" warns of a wider band around the average response of a change in the 10-year Treasury yield to movement by fed funds. Forces other than the fed funds rate exert considerable influence over the 10-year Treasury yield. As the accompanying chart shows, the benchmark Treasury yield moves independently of fed funds, where the inverted yield curve serves as an extreme example. The latter refers to situations where the fed funds rate exceeds the 10-year Treasury yield. In the past, an inverted yield curve has been a reliable harbinger of an impending recession.
GDPNow
The Atlanta Fed GDPNow model forecast for real GDP growth (seasonally adjusted annual rate) in the fourth quarter of 2015 rose to 2.3% on November 4, up from 1.9% on November 2. Following the Non-Manufacturing ISM Report On Business, the forecast for fourth-quarter real consumer spending growth increased from 2.4% to 2.7% while the forecast for real fixed investment growth increased from 3.0% to 4.3%.

First-time buyers fell to 32% of all purchasers in 2015 from 33% last year, the third straight annual decline and the lowest percentage since 1987, according to a report released Thursday by the National Association of Realtors, a trade group.

The historical average is 40%, according to the group, which has been recording such data since 1981. (…)

Without them, current owners have difficulty trading up or selling their homes when they retire. (…)

The median price of previously built homes sold in September was $221,900, up 6.1% from a year earlier, according to the NAR. The median price for a newly built home rose to $296,900 in September from $261,500 a year ago, according to the Commerce Department. (…)

A quarter of first-time buyers said their biggest challenge was saving for a down payment. Of those, a majority said student loans were the main obstacle. (…)

The typical first-time-buyer household earned $69,400, up from $68,300 in last year's survey. They purchased a 1,620-square-foot home costing $170,000. The median repeat buyer purchased a 2,020-square-foot home costing $246,000. (…)
EARNINGS WATCH
437 companies (90.1% of the S&P 500's market cap) have reported. Earnings are beating by 4.8% (4.7% yesterday) while revenues have missed by -0.2%.
Expectations are for a decline in revenue, earnings, and EPS of -4.0%, -1.8%, and -0.9%. EPS growth is on pace for -0.4% (-0.3%), assuming the current beat rate for the remainder of the season. This would be 6.4% excluding Energy (6.6%). (RBC Capital)
In a joint report US banking watchdogs said the value of weak loans nationwide had risen by 9.4 per cent from last year, while the value of loans that were heading towards trouble was up 18.5 per cent. (…)

The total value of loans to oil producers and service companies is $276.5bn, or 7.1 per cent of the universe of big loans assessed jointly by three federal regulators in an annual review.

Outside the oil and gas sector, the regulators said leveraged lending and loose underwriting were also increasing credit risk. (…)
"REINVESTORS" VS "RETURNERS"
[U.S. large corporations'] profitability, as measured by the Credit Suisse Holt group in a new white paper, shows a 13.5 per cent return on investment once excess cash is excluded. That excess pool of cash is enormous — $2.1tn, or 15 per cent of total assets.

That cash can be deployed in mergers and acquisitions, or reinvested in the business, or distributed to shareholders via dividends or by purchasing stock so as to shrink the outstanding float of shares.

Historically, according to the Holt white paper, companies have deployed an average of 60 per cent of their cash flows in capital investment (whether organically or through M&A) and have returned 26 per cent to shareholders (12 per cent dividends and 14 per cent share buybacks). More recently, the capital invested has dropped to 53 per cent while cash returned to shareholders has increased to 36 per cent, with an increasing share going to buybacks.

For the past seven quarters, according to S&P, at least 20 per cent of S&P 500 companies have reduced their share count by 4 per cent or more. That has risen to 23 per cent in the latest quarter. (…)

The Holt paper follows the fortunes of "reinvestors" and cash "returners" and finds that the latter increase their sales by only 5 per cent per year over the ensuing five years on average. Reinvestors managed to grow sales at 19 per cent per year. So the critics' picture of tired ex-growth companies, out of ideas for growth, and deciding to reward their shareholders to the detriment of the chance for economic growth, has at least something to recommend it. (…)

But it is still hard to read the pattern of cash flows optimistically, even if financial engineering has brought the US stock market close to its all-time highs for now. Companies are getting less cash than they used to, they are not optimistic that they can invest it productively and so they are choosing to deploy it in a way that weakens the chances of sales growth in the future. Not encouraging. (FT)
Are share buybacks jeopardizing future growth? Fears that US companies underinvest by paying too much back to shareholders are unfounded. Rather, the rise in buybacks reflects changes in the economy.
By McKinsey's calculations, share buybacks alone have increased to about 47 percent of the market's income since 2011, from about 23 percent in the early 1990s and less than 10 percent in the early 1980s.1 Some investors and legislators have wondered whether that increase is tantamount to underinvestment in assets and projects that represent future growth.

It isn't. Distributions to shareholders overall, including both buybacks and dividends, are currently around 85 percent of income, about the same as in the early 1990s. Instead, the trend in shareholder distributions reflects a decades-long evolution in the way companies think strategically about dividends and buybacks—and, more broadly, mirrors the growing dominance of sectors that generate high returns with relatively little capital investment. (…)

Regardless of the proportion of buybacks to dividends, there's little evidence that distributions to shareholders are what's holding back the economy. In fact, on an absolute basis, US-based companies have increased their global capital investments by an inflation-adjusted average of 3.4 percent annually for the past 25 years5 —and their US investments by 2.7 percent.6 That exceeds the average 2.4 percent growth of the US GDP. Furthermore, replacement rates have remained similar. Capital spending was 1.7 times depreciation from 2012 to 2014, compared with 1.6 times from 1989 to 1999.7 The only apparent decline is in the level of capital expenditures relative to the cash flows that companies generate, which fell to 57 percent over the past three years, from about 75 percent in the 1990s.

That's not surprising, given how much the makeup of the US economy has shifted toward intellectual property–based businesses. Medical-device, pharmaceutical, and technology companies increased their share of corporate profits to 32 percent in 2014, from 13 percent in 1989. Since a company's rate of growth and returns on capital determine how much it needs to invest, these and other high-return enterprises can invest less capital and still achieve the same profit growth as companies with lower returns. Consider two companies growing at 5 percent a year. One earns a 20 percent return on capital, and the other earns 10 percent. The company earning a 20 percent return would need to invest only 25 percent of its profits each year to grow at 5 percent, while the company earning a 10 percent return would need to invest 50 percent of its profits. So a higher return on capital leads to higher cash flows available to disburse to share-holders at the same level of growth.

That is what's happened among US businesses as their aggregate return on capital has increased. Intellectual property–based businesses now account for 32 percent of corporate profits but only 11 percent of capital expenditures—around 15 to 30 percent of their cash flows. At the same time, businesses with low returns on capital, including automobiles, chemicals, mining, oil and gas, paper, telecommunications, and utilities, have seen their share of corporate profits decline to 26 percent in 2014, from 52 percent in 1989 (Exhibit 2). While accounting for only 26 percent of profits, these capital-intensive industries account for 62 percent of capital expenditures—amounting to 50 to 100 percent or more of their cash flows.

Here's another way to look at this: while capital spending has outpaced GDP growth by a small amount, investments in intellectual property—research and development—have increased much faster. In inflation-adjusted terms, investments in intellectual property have grown at more than double the rate of GDP growth, 5.4 percent a year versus 2.4 percent. In 2014, these investments amounted to $690 billion.

Certainly, some individual companies are probably spending too little on growth—just as others spend too much. But in aggregate, it's hard to make a broad case for underinvestment or to blame companies returning cash to shareholders for jeopardizing future growth.
Hopefully, GS et al will also teach them ethics, that is if they have any…
But what the heck!
Will this be better?
BofA is building a robot to provide investment advice.
Have a good weekend!
If you enjoyed this article, Get email updates (It's Free)