U.S. Consumer Credit Growth Slows Americans added to their debt at a slower pace in October, suggesting cautious spending on the part of consumers at the start of the holiday season.
Outstanding consumer credit, a reflection of all debt besides mortgages, rose $15.98 billion or at a 5.5% annual rate in October, the Federal Reserve said Monday. That's a tapering from September, when it rose at a revised annual rate of 9.9%, but a slight increase from August, when it grew at a 5.1% pace.

Revolving credit, mostly credit cards, rose at an annual 0.2% rate, sharply lower than in September, when it increased at an annual rate of 8.7%. October's rate was the smallest gain since February.

Non-revolving credit, made up largely of auto or student loans, rose at a 7.4% annual rate, a slower pace than the revised 10.3% rate in September.
Haver Analytics says that during the last ten years, there has been a 47% correlation between the y/y growth in consumer credit and y/y growth in personal consumption expenditures.

Bespoke Investment charts consumer credit growth in real terms:

We will get the November retail sales from the Commerce Department on Friday. In the meantime:
Americans' daily self-reports of spending averaged $92 in November. This is the same as the October average, and remains slightly higher than the other monthly averages to date in 2015.

Each day, Gallup asks Americans how much they spent "yesterday" in restaurants, gas stations, stores or online — not counting home, vehicle or other major purchases, or normal monthly bills — to provide an indication of Americans' discretionary spending. The November 2015 average of $92 is based on interviews with more than 14,000 U.S. adults.

While the November 2015 spending average is slightly below the $95 found in November 2014, it is similar to the $91 in November 2013. Other November averages since 2008 have been lower, between $66 and $87.

Gallup found that average daily spending increased significantly this year during the last few days of November and on Black Friday specifically. This spending increase could be a good sign as the U.S. enters the December holiday shopping period. Historically, spending increases by about $5 between November and December, although smaller increases were seen in 2008 and 2014.

In 2010, 2013 and 2014, spending increased from October to November, but it was stable or even decreased slightly in all other years. Last year, there was a large increase, $6, from October to November, but then a smaller one, $3, from November to December. Other than 2015, 2012 was the most recent year when spending was level between October and November. That same year saw a $10 jump between November and December, the largest jump Gallup has found between these two months.

Strong, consistent spending in November is a good sign for December spending. Consumer spending generally sees a boost as the year draws to a close, as a result of holiday shopping. And strong December spending is important to the health of the U.S. economy, because spending accounts for about two-thirds of the U.S. gross domestic product.
Remember that November 2015 was exceptionally warm across the USA.
Whirlpool Corp.:
Stronger consumer spending, especially on long-lasting durable goods, has bolstered growth at the Michigan-based appliance maker, which is hiring "in just about every U.S. location," said James Keppler, the company's vice president for integrated supply chain and quality for North America.
Imports fell 8.7 per cent in US dollar terms in November compared with a year earlier, trimming losses after a 12.6 per cent drop in October, customs data showed on Tuesday. Exports for November fell 6.8 per cent year-on-year, steeper than the 5 per cent fall in October. (…)

"Commodity prices extended their downward slide in November, but import volumes rebounded. The rise in crude oil imports probably reflects the increase in strategic reserves, while iron ore stockpiles at ports have continued to increase, suggesting that final demand hasn't improved much," economists at China International Capital Corp led by Liu Liu wrote on Tuesday.
Japan Avoids Second Recession of Abenomics Era Stronger-than-expected capital spending helped the Japanese economy grow in the third quarter, revised figures show.
Japan's gross domestic product, the broadest measure of a nation's economic activity, grew 1.0% in the third quarter from the prior three-month period on a seasonally adjusted annualized basis, the Cabinet Office said Tuesday. Previously it had estimated that the economy shrank 0.8% on that basis in the third quarter.

The upward revision allows the government of Prime Minister Shinzo Abe to say the economy is on a recovery track after a revised decline of 0.5% in the second quarter. (…)

A main reason for the revision was business investment, which was initially estimated to have shrunk 5% in the quarter on an annualized basis. The revision showed it increased 2.3%. (…)
OIL
(…) The El Niño weather phenomenon has limited demand for natural gas and other heating fuels in the U.S. this year. Forecasts released Monday show above-average temperatures persisting for the next two weeks, at a time of year when demand for indoor heating is typically robust.

Temperatures in cities in the Midwest and East Coast could range between 15 and 25 degrees warmer than usual for the next 10 days, says Matt Rogers, meteorologist and president at Commodity Weather Group LLC.

Some traders say it is risky to bet on further declines for oil prices that are already down 29% on the year and well below $40—a level under which analysts say many producers can't make money and will have to cut back. (…)
(…) The mean adjusted 2016 EPS estimate for Exxon Mobil Corp. has been cut by more than 9 cents a share and for Royal Dutch Shell Plc by 8.4 cents over the past month, according to data compiled by Bloomberg. EPS projections for Total SA, Europe's second-biggest oil company, and Repsol SA are lower for 2016 than those for this year.

Those estimates assume a much higher price than the $41.19 a barrel that Brent traded at as of 9:57 a.m. in London on Tuesday. Oswald Clint, a London-based analyst with Sanford C. Bernstein has based his EPS estimates for oil majors at a Brent price of $60 a barrel, he said by phone Dec. 7. Alexandre Andlauer, a Paris-based oil sector analyst with AlphaValue SAS, has assumed a price of $63. (…)
There are several striking parallels between the Organization of Petroleum Exporting Countries' current situation and the period from 1997 to 1999, when the group lost control of the market and oil slipped to less than $10 a barrel. While investors may wonder whether markets will follow a similar trajectory this time, it's important to remember that OPEC emerged from the crisis to see oil prices surge all the way to almost $150 a barrel. If the parallels hold, markets could be in for a wild ride.

Nearly two decades ago, Venezuela had a growth spurt that lifted its output from 2.2 million barrels a day in 1992 to 3.5 million barrels a day six years later. Saudi Arabia responded by increasing its own production, flooding the market. This time around, Saudi Arabia has embarked on a production spree — pumping a record of 10.6 million barrels a day earlier this year — while Iran plans to boost daily output by as much as 1 million barrels next year after sanctions are lifted.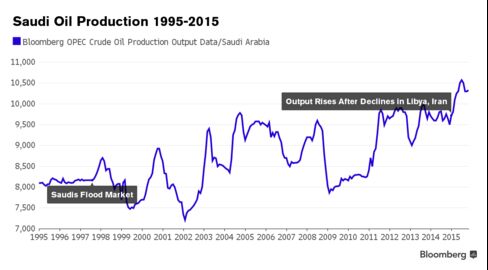 As OPEC lifted production in 1997, Asia headed into economic meltdown. The devaluation in July that year of the baht, the currency of Thailand, triggered a financial crisis that pushed Indonesia, Malaysia, Philippines, Singapore and Thailand into recession. The group's GDP contracted 8.3 percent in 1998, compared to growth of 7.5 percent on average the previous decade, according to data from the International Monetary Fund. While Asia isn't collapsing this time around, China is experiencing the slowest expansion in 25 years.

The oil slump of 1997 to 1999 was compounded by El Nino, which curbed demand for heating fuel by warming the ocean surface in the equatorial Pacific and making fall and winter in the Northern hemisphere milder than normal. Fast forward to 2015 and El Nino is already comparable to the record events of those years, according to the Bureau of Meteorology of Australia. Heating oil stockpiles in the U.S. and northern Europe are high, potentially affecting overall crude demand.

Just as they were nearly two decades ago, Saudi Arabia's al-Naimi and Iranian Oil Minister Bijan Namdar Zanganeh stand in opposition across the conference table in Vienna. Both have a long history of working together to resolve oil gluts, but the differences loom larger this time as their nations' conflicting positions on Syria, Yemen and Iraq get in the way of the business of oil. (…)
(Bespoke Investment)
Anglo American to Slash Assets, Cut 85,000 Jobs, Suspend Dividend Anglo American announced a radical restructuring of its business that includes more asset sales and cutting 63% of its workforce in a bid to weather the severe slump in commodity prices.
Moody's Investors Service is sticking with its "negative" outlook for Canadian banks in 2016, pointing to challenges emanating from the struggling Canadian economy and a changing regulatory framework in the financial sector – even as the big banks continue to diversify abroad.

In its outlook, the credit rating agency pointed to Canada's high household debt, the vulnerability of consumers with credit card balances and auto loans in a deteriorating economy, and the possibility that the federal government will create a so-called bail-in regime to protect taxpayers if banks fail.

Although this marks the third consecutive year that Moody's has issued a negative outlook for the banks, this one stands out for its focus on asset risk, as the economy feels the impact of continuing low commodity prices. Moody's expects the Canadian economy will expand by just 1.8 per cent in 2016, up from an estimate of 1 per cent growth this year.

"It's not a huge thing. If it were only [asset risk], it would probably not be enough to tip the entire outlook into negative," said David Beattie, senior vice-president of the financial institutions group at Moody's. "But combined with the probable reduction in government support, that certainly does leave it firmly in negative."

Even with the negative outlook, Moody's has awarded the big banks some of its top credit ratings. The baseline credit assumption for Toronto-Dominion Bank is just three notches from the highest-quality debt. Bank of Nova Scotia is a notch below TD, followed another notch down by Canadian Imperial Bank of Commerce, Bank of Montreal and Royal Bank of Canada.

In other words, the negative outlook is applied to a relatively high level for the sector over all – and at a time when many of the banks have been making efforts to diversify beyond the Canadian economy. (…)
Malaysia Airports Holdings Bhd. placed an advertisement Monday in the nation's best-selling English daily asking for the "untraceable" owner of three Boeing Co. 747-200F planes to come and collect them. The planes are parked at three separate bays at KLIA in Sepang, outside the Malaysian capital, the Star newspaper ad showed.
FUTURE PRESIDENTS?
If you enjoyed this article, Get email updates (It's Free)