(…) Recently, the pace of consumer spending, outside of big-ticket items such as cars and homes, has eased. That's puzzled economists who expected solid hiring, improving wage gains and cheap gasoline to drive improved spending.

Data released Wednesday by the JPMorgan Chase & Co. Institute sheds new lights on what's happening. The report found mid- and upper-income Americans, and those older than 65, pulled back on spending sharply from mid 2014 through June, while outlays among those younger than 35 and those with lower incomes held up fairly well.

The institute taps into anonymized data from 48 million JPMorgan customers in 15 U.S. metro areas to reveal spending patterns.

The report found overall spending on "everyday" products and services—the type of purchases you would put on your credit or debit card—rose just 0.5% in the second quarter of 2015, from a year earlier. For the prior year, before gas prices dipped and hiring accelerated, spending rose a robust 5%. The data is not inflation adjusted, and price increases were stronger in late 2013 and early 2014.
Actually, many goods prices declined in 2015, likely impacting the JPM analysis.
Those on the lower end of the income spectrum are the ones whose budgets benefit most from lower gasoline prices. They are also among that portion of the population likeliest to have found jobs in fast-growing but low-paying industries such as restaurants and retailers. Lower-earning workers tend to spend most of what they earn. (…)

The JPMorgan data showed that the top 40% of earners were a drag on any growth in consumer spending beginning in February.

The biggest pullback in spending, of course, came from less-costly fuel purchases. But spending on durable goods, long-lasting items such as appliances and computers, also declined in the second quarter.

Contributions to spending growth from services and nondurable items, like clothing and food, eased in the first half of this year. (…)
In all, most of the recent "trends" seem to be caused by diverging inflation patterns between energy, goods ex-energy and services. Between February and September 2015, Goods deflated 2.9% YoY on average with Durables prices down 2.2%. Meanwhile, Services prices rose 1.9% on average. In case you did not notice, Energy Goods and Services prices was –17.9% during the same period. The diverging inflation trends are enough to totally disrupt analysis based on nominal dollars. Too bad because this is an awesome database.
Fed Plans to Signal Gradual, Cautious Path on Rate Hikes For Federal Reserve officials, deciding to raise short-term interest rates will be the easy part of their meeting next week. The harder part may be agreeing on how to signal the likely path of rate increases in 2016 and beyond.
That's the plan. But we all know that plans can change…Here's one thing that could derail the Fed's current plans. Look at the recent surge! (Chart from Gluskin Sheff)
Here's another potential plan buster:
From Jesse Felder @jessefelder via FT Alphaville: GUNDLACH: 'High-yield spreads have never been this high prior to a Fed rate hike.'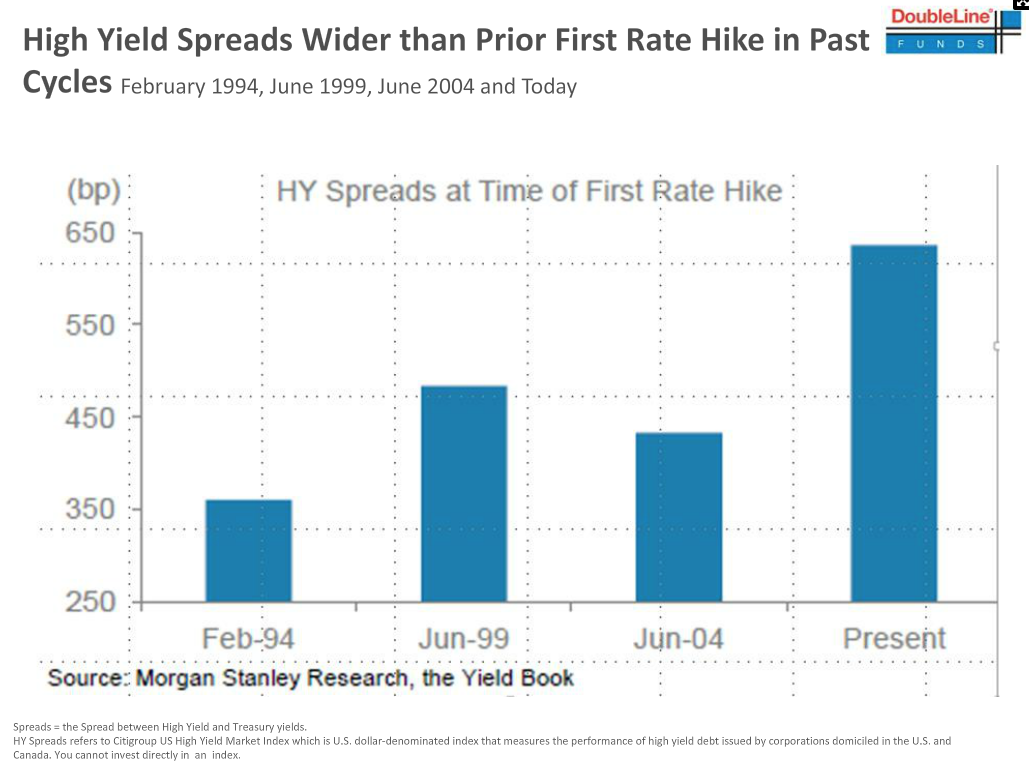 Survey Shows Growing Appeal for U.S. Factories The U.S. is becoming more appealing as a location for manufacturing capacity, a new survey by Boston Consulting Group suggests.
The consulting firm said 31% of manufacturing executives surveyed in September said they were most likely to add production capacity in the U.S. in the next five years for goods to be sold in that country. That was up from 26% in a similar survey two years earlier. The percentage of executives who named China as the most likely place for such production declined to 20% from 30%. Mexico was named the most likely site by 29%, up from 26% two years before. (…)

Boston Consulting Group said many of the executives cited a wish to reduce shipping costs and the risks of relying on faraway suppliers. In recent years, global supply lines have been disrupted by crises including floods in Thailand and the 2011 Fukushima nuclear accident in Japan. Declining costs for robots and other forms of automation also help the U.S. compete against countries with lower labor costs. Meanwhile, China's labor costs, though still far below those in the U.S., have risen rapidly in recent years.

Even so, some executives remain hesitant to move production to the U.S. because of "concerns about rising U.S. health-care costs, federal and local regulatory uncertainty, increases in the U.S. minimum wage, and unclear progress on tax reform," the firm said. Some companies have trouble finding enough skilled labor and suppliers in the U.S. (…)
Output from the Organization of Petroleum Exporting Countries rose by 230,100 barrels a day in November to 31.695 million a day, the highest since April 2012, as surging Iraqi volumes more than offset a slight pullback in Saudi Arabia. The organization is pumping about 900,000 barrels a day more than it anticipates will be needed next year. (…)
Non-OPEC supply will fall by 380,000 barrels a day next year, averaging 57.14 million a day, with an expected contraction in the U.S. accounting for roughly half the drop, the organization said Thursday in its monthly report. It increased estimates for non-OPEC supply in 2015 by 280,000 barrels a day.

The group maintained projections for the amount of crude it will need to pump next year at 30.8 million barrels a day.

Iraqi production increased by 247,500 barrels a day to 4.3 million a day last month, according to external sources cited by the report, which didn't give a reason for the gain. (…)

Production in Saudi Arabia slipped by 25,200 barrels a day to 10.13 million a day in November, OPEC's report showed.
From the WSJ:
(…) OPEC's report said demand would grow about 1.25 million barrels a day, unchanged from its previous forecasts. That is down from 1.53 million barrels a day of growth in 2015. (…)

OPEC said demand for its crude stood at 29.4 million barrels a day this year—lower than its current output, and a downward revision of 200,000 barrels a day from previous estimates. In 2016, demand forecasts for OPEC crude remains unchanged at 30.8 million barrels a day, an increase of 1.5 million barrels over the current year. (…)
America's Middle Class Is No Longer the Majority That's the finding of a new Pew Research Center report detailing how incomes and wealth have changed in the U.S. over more than four decades.
More on this on Bloomberg.
Read the above Bloomberg article to better understand the "asset impairment charges" incurred by energy companies with the current low prices. These charges are significantly impacting reported earnings. (And this is only part of the story)
If you enjoyed this article, Get email updates (It's Free)