China's Industrial Production Gears Up China's industrial production grew at a faster-than-expected pace in November, suggesting that efforts to boost growth may be bearing fruit.
The National Bureau of Statistics reported Saturday that China's industrial production rose 6.2% in November from a year earlier, accelerating from a 5.6% increase in October. This exceeded a median 5.7% growth forecast by 14 economists in a survey by The Wall Street Journal.

Fixed-asset investment in nonrural China rose 10.2% year-over-year in the January to November period, unchanged from the January to October period and matching expectations. Retail sales rose 11.2% in November from a year earlier, accelerating from the 11% year-over-year increase in October, the statistics agency said. The retail figure was slightly above expectations. (…)

Consumption was helped last month by a tax cut for small cars and by China's Singles' Day online-sales festival on Nov. 11. During Singles' Day, e-commerce platform operator Alibaba Group Holding Ltd. reported a 60% rise in year-over-year revenue to 91.2 billion yuan ($14.1 billion). However, the one-day sales event may detract from December retail numbers after many consumers front-loaded purchases, economists said. (…)

Real-estate investment rose 1.3% year -over-year, the statistics agency reported Saturday, compared with 2% growth for the January to October period. (…)
Prime Minister Li Keqiang told China's cabinet recently that "destocking" the property market is a priority. By official count, there are 430 million square meters of unsold housing; unofficially there is lots more. (…) One municipality near the eastern city of Hangzhou is subsidizing buyers with a modest 1% of the purchase price, up to around $4,600.

There's a wrinkle. Those with college degrees get 1.5%. A masters degree gets you 3%. A doctorate holder buying a house would receive 10%. In China, education pays.
The yuan dropped 0.06 percent to close at 6.4591 a dollar in Shanghai, according to CFETS prices. It earlier declined to 6.4665, the weakest since July 2011. While the currency has retreated 3.9 percent against the greenback this year, it has advanced against 11 of 16 major currencies tracked by Bloomberg. The PBOC on Monday cut its reference rate by 0.21 percent to a four-year low of 6.4495. (…)
Chinese Move Would Loosen Yuan's Peg to the Dollar China's central bank signaled it could loosen the yuan's peg to the U.S. dollar and let it track the currencies of its broader trading partners.
China's central bank signaled its intention to change the way it manages the yuan's value by potentially easing its loose peg to the U.S. dollar and instead letting it track the currencies of its broader trading partners.

In an editorial posted on its website Friday night, the People's Bank of China said the yuan's exchange rate would be better measured against a basket of currencies rather than the dollar alone.

The foreign-exchange trading system run by the central bank for the first time published the composition of the currency basket, which comprises the dollar, euro, yen and 10 other currencies.

It isn't clear whether or when China would move away from the dollar in favor of the currency basket, which it has discussed in the past. But any change could have broad repercussions for currency markets—such as reducing China's demand for dollars—as well as for investors and global trade. (…)

On Friday, the yuan recorded its biggest weekly drop against the dollar—about 0.83%—since a surprise devaluation on Aug. 11. A dollar bought 6.4553 yuan based on Friday's closing price published by the China Foreign Exchange Trade System, or CFETS. (…)

Decoupling from the dollar peg would give the PBOC more flexibility in allowing the yuan to depreciate against the dollar, economists and analysts say.

"They're preparing for the Fed to hike; expecting the hike would lead to a stronger dollar," said Koon Chow, a senior strategist at Union Bancaire Privée. "They don't want to be caught in the corner defending their exchange rate." (…)
The FT is more direct:
(…) "By showing that the yuan has actually appreciated against a trade-weighted basket of currencies, it will be very hard for the US authorities to criticise Chinese policymakers for allowing the yuan to weaken against the dollar," he said. (…)
Business conditions were unchanged since September, with the headline index for large manufacturers coming in at +12, compared with market expectations of a fall. (…)

In a country where some official statistics are notoriously unreliable, with gross domestic product especially prone to large revisions, the BoJ regards the Tankan as the best measure of Japan's economy.

The quarterly Tankan is similar to ISM surveys of purchasing managers in the US but samples more than 10,000 companies and has a response rate of almost 100 per cent. The maximum possible reading is +100, the minimum -100.

Large service companies gave a reading of +25, unchanged since September and among the highest levels since the 1990s. Businesses of all sizes forecast conditions will get worse but that is common when the current reading is good.

Compared with September, companies raised their forecast for profit growth in the current fiscal year by 2 percentage points to 5.4 per cent. They also raised their forecasts for capital investment from 6.5 per cent to 7.8 per cent growth. (…)
Euro-area industrial production climbed 1.9 percent in October from a year earlier, surpassing economists' forecasts.

Month-on-month production rose 0.6 percent, snapping two periods of declines, according to Eurostat.

Analysts said the better-than-expected performance was as a good starting point for the final quarter of the year, with manufacturers' orders up amid low inventories.

The October data showed that the rebound was driven by a broad-based expansion across the industrial categories.

The production of durable and non-durable consumer goods as well as capital goods grew, after contracting in September.

Energy production expanded at a slower pace but remained a positive contributor.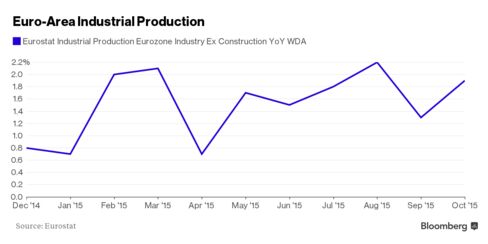 Here's the Eurostat L.T. chart, showing the EA trailing the EU28:
And the table that reveals how erratic IP has been in 2015:
The overall Final Demand Producer Price Index increased 0.3% (-1.1% y/y) during November, following a 0.4% October decline. Prices excluding food & energy gained 0.3% (0.5% y/y) after two months of 0.3% decrease.

Final demand goods prices (35% of the total index) eased 0.1% (-1.2% y/y), down for the fifth straight month. The latest decline was led by a 0.6% drop (-19.0% y/y) in energy prices. Gasoline prices fell 1.3% (-33.4% y/y) while home heating oil prices declined 5.2% (-40.4% y/y). Residential natural gas prices were off 3.1% (-11.8% y/y) and residential electric power costs fell 0.3% (+0.1% y/y). Offsetting this decline was a 0.3% gain (-3.9% y/y) in food prices.

Final demand goods prices excluding food & energy eased 0.1% (-0.1% y/y) after declining 0.3% in October. Core finished consumer goods ticked 0.1% higher (2.4% y/y) after a 0.2% decline. Core consumer nondurables costs rose 0.2% (3.3% y/y) following no change, and consumer durables edged 0.1% higher (1.1% y/y).

Final demand services costs (63% of the total index) increased 0.5% (0.5% y/y) after a 0.3% fall. This was led by trade services which rebounded 1.2% (1.0% y/y); trade services represent the margins charged by retail and wholesale dealers and merchants. Prices for transportation of passengers rose 0.4% (-6.2% y/y) after three months of decline. Prices for transportation and warehousing of goods gained 0.4% (-1.9% y/y). Other services, including financial, health care and communications, improved 0.1% (+0.8% y/y).
(…) More than 45 per cent of them — almost 2.5m adults — have joined the lowest income ranks since 2011, long after the post-crisis recession was ostensibly over. (…)

They also help explain why any notion of a recovery still seems a long way off to many in the US and why the message of populist politicians such as Donald Trump that America is not working resonate on the eve of an election year. (…)

But the country's lowest income group — defined by Pew for a three-person household as earning less than $31,402 a year — has also grown at more than five times the rate of the middle class in the past seven years. There are now 48.9m adults in this bracket in the US, up from 43.2m in 2008 and just 21.6m in 1971.

Pew's measure of the lowest income group is relatively broad, though it calculates that almost half of the adults in this category — 23m — fell below the $18,850 poverty line for a household of three set by the US Census Bureau.

The group's members earn half or less of Pew's $62,804 median household income in the US last year and the $41,869 to $125,608 range Pew uses to define the American middle class. (…)
HIGH YIELD
There's never just one cockroach!
A day after a prominent Wall Street firm shocked investors by freezing withdrawals from a credit mutual fund, things only got nastier in the junk-bond market. Prices on the high-risk securities sank to levels not seen in six years and, to add to the growing sense of alarm, billionaire investor Carl Icahn said the selloff is only starting.

"The meltdown in High Yield is just beginning," Icahn, who's been betting against the high-yield market, wrote on his verified Twitter account Friday. (…)

The weakness in the market comes as credit quality in speculative-grade debt is falling. For every junk-bond issuer that had its rating boosted this year, two have been downgraded, a ratio not seen since 2009, according to data compiled by Bloomberg. (…)
(Bespoke Investment)
(…) Friday's high-volume selling felt like capitulation to some traders, who said it was based on a misunderstanding of the significance of the Third Avenue move, while the strength of the afternoon rebound means the bottom is now in. That rosy judgment seems premature. US high yield bond returns will be negative this year for the first time since 2008, and there are large numbers of fair-weather investors and reluctant yield-chasers who are in the asset class and who will have to be flushed out before this sell-off is over.

Third Avenue does not seem likely to be a harbinger of more mutual fund closures to come. Its fund is very different from mainstream junk bond funds. In fact, it operated more like a distressed debt hedge fund. As Morningstar points out, management had invested half the fund's assets in bonds rated below a B grade and another 40 per cent in bonds that did not have a credit rating at all. Its losses this year have been many times those of the average junk bond fund, and its unique collection of assets would have been hard to sell in a hurry even in the pre-crisis days of ample liquidity in bond markets. (…)

With interest rates held at rock bottom and conservative bonds yielding a pittance, high yield has attracted investors who would not normally be in the asset class. Are they likely to hang around after seeing their portfolio statements bathed in red? After last week's rout, US junk bonds are showing returns of minus 4.5 per cent for the year to date, according to a Barclays aggregate index.

Many high-yield investors have been comforted by the ultra-low levels of defaults on junk bonds in recent years. But those benign conditions are rapidly becoming a thing of the past. JPMorgan is forecasting the default rate among energy companies will hit 10 per cent in 2016, nearly triple this year's rate. That pulls the overall junk bond default rate up to 3 per cent next year and the bank is forecasting that it could spike even further in 2017, to 4.5 per cent compared with the long-term average default rate of 3.6 per cent. Those forecasts were penned before the latest leg down in the oil price, so they probably underestimate the distress to come.

There is also a whole new area for investors to concern themselves with, as the retail sector appears to be entering a period of accelerating change. The customer shift to online shopping has caused profit warnings all the way up to giants such as Macy's this year; among the less robust and more highly indebted chains who fund themselves in the junk bond market, credit quality threatens to decline sharply.

All of which is to say, one does not need to predict a liquidity crisis or a run on high-yield funds to expect further declines from this asset class. No meltdown, perhaps, but a prolonged period of misery may be in store.
If you enjoyed this article, Get email updates (It's Free)