Seven years of near-zero interest rates caused investors to pour money into corporate debt, emerging-market bonds and commercial real estate, all in search of higher returns. Now that money has started to leave, borrowing costs are climbing, and markets have turned treacherous. (…)

But history counsels caution: The scale and nature of the distortions brought on by easy monetary policy can take time to show up. (…)

The harm from financial disruptions is much less predictable than from inflation, because it involves linkages that are apparent only under stress.

(…) a gusher of credit has flowed to companies in the U.S. and in emerging markets. Banks' loans to leveraged companies have been pooled into "collateralized loan obligations." A large chunk of the leveraged loans held in CLOs are rated just above CCC, at which companies are considered vulnerable to default. If even a fraction is downgraded, the CLOs' demand for new loans will contract sharply, a report by Ellington Management Group, a hedge-fund manager, recently warned. "Access to credit for weaker companies would be significantly diminished," says Rob Kinderman of Ellington.

Between 2009 and 2014 investors poured $973 billion into corporate bond mutual funds and $219 billion into exchange-traded funds that hold corporate debt, according to Thomson Reuters Lipper. Some of those flows are now reversing.

Companies have for the most part used the money not to expand their business operations, but to buy one another and their own stock. This year alone, U.S. companies have borrowed $327 billion to finance mergers and acquisitions, according to Thomson Reuters, more than double the previous full-year high in 2012. Business debt now equals 70% of annual gross domestic product, surpassing its pre-recession peak.

This alarms regulators. The Treasury, in its annual financial-stability report released Dec. 15, warned higher rates and widening spreads between corporate and Treasury rates "may create refinancing risks, expose weaknesses in heavily leveraged entities, and potentially precipitate a broader default cycle." The extent of borrowing since the crisis means "even a modest default rate could lead to larger absolute losses than in previous default cycles." (…)

Low rates have had an even bigger impact in emerging markets than the U.S.; their companies have racked up $3.4 trillion of U.S. dollar-denominated debt, more than double the pre-crisis level, according to the Bank for International Settlements. As those countries' currencies fall, those debts become harder to repay. (…)
And now, 'When Is the Next Hike?'
(…) New projections show officials expect the fed-funds rate to creep up to 1.375% by the end of 2016, according to the median projection of 17 officials, to 2.375% by the end of 2017 and 3.25% in three years. That implies four quarter-percentage-point interest rate increases next year, four the next and three or four the following. It depends on whether the Fed's forecasts for the economy—which have frequently been wrong in this expansion—hold up.

The pace of rate increases projected by officials is somewhat slower than what they saw in September and much slower compared with earlier cycles of Fed rate increases. In the 2004-06 period, for example, the Fed raised rates 17 times in succession, a staccato approach Fed officials don't intend to repeat. (…)

The central bank focused on the inflation outlook in its policy statement, and Ms. Yellen suggested it might alter its course if its projection of a gradual rise in inflation doesn't materialize as expected. Fed officials don't want inflation to run below their 2% goal for long periods because they see that as a sign that the broader economy isn't living up to its potential.

"We do need to monitor inflation very carefully," Ms. Yellen said. If it doesn't pick up, "we would need to take further action to reconsider the outlook and to put in place appropriate policy." (…)

Officials predicted the economy would expand at an annual pace between 2.4% in 2016 and 2% in 2018, which would take the expansion to a decade in length. They saw their preferred measure of inflation rising from 0.4% in 2015 to 1.6% in 2016 and then to 2% by 2018. The jobless rate is seen stabilizing at 4.7% during the next three years. These projections were largely in line with earlier estimates. (…)
(…) By raising interest rates on Wednesday the Fed removed one major source of uncertainty, leaving developments in China at the top of investors' and policymakers' watch lists, alongside the Fed's next steps.

China accounts for more than 10 percent of global trade and remains the single biggest contributor to global growth. A financial market selloff in China sent ripples around the world and caused the Fed to stay its hand when it considered a rate hike in September.

If anything, China's influence is growing. If Beijing allows the yuan to weaken further and re-pegs it to a basket of currencies instead of just the dollar, it could end up exporting deflation that might delay or reverse rate hikes globally.

"We try to get the best information we have… and we talk to everybody. But I don't think we have any better information than anybody else," James Bullard, President of the Federal Reserve Bank of St Louis told Reuters. (…)

"I don't think the Chinese government has that good information," said Bullard. (…)

Former and current Fed officials say there is no official hotline with China, although there is formal interaction. (…)

An examination by Reuters shows the Fed relies on the same publicly available China data that other economists do, and U.S. central bankers acknowledge both publicly and privately that they cannot say they have any firmer handle on how shifts in the Chinese economy affect the United States than anyone else. (…)

Officials from Fed Chair Janet Yellen down do have regular contact with Chinese central bankers and other government officials. On Oct. 8, for instance, Yellen spent 30 minutes with the deputy governor of the People's Bank of China at the G-20 meeting in Lima, Peru, her schedule shows. The Fed would not comment on what was said.

San Francisco Fed President John Williams, who makes an annual swing through Asia with Board Governor Jerome Powell, has said his meetings with Chinese officials give him greater confidence the authorities there will engineer a smooth transition from an export-led economy to a domestically driven one, even if that pivot is faster than expected.

"The shift is happening quickly," Williams said last month. (…)

Senior staff at major central banks in Europe say they have built up competence on China in recent years, but that gaps in data, plus the sheer pace of change make it a challenge.

They point to a lack of an import price index or comprehensive demand side data for national accounts as some of the obstacles.

The Reserve Bank of Australia has 10 analysts in its Beijing office churning out research on everything from wealth management to capital flows. The Bank of Japan also an office in the Chinese capital. (…)

While the Reserve Bank of Australia and the Bank of Japan have offices in Beijing, the U.S. Federal Reserve and the European Central Bank appear to rely on the same data – that may be flawed – as everyone else. (…)

One of the first things the new Dallas Fed President Rob Kaplan did after taking office in September was to get his researchers to crunch numbers on China.

His staff estimates that each percentage point decline in China growth trims 0.2 percentage points from U.S. GDP growth.

"Understanding China's slowdown is essential because China is still the largest individual contributor to global growth," Kaplan said in his first speech in the new role.
Emerging Markets Face Rate-Increase Pressures The Federal Reserve's expected first rate increase in almost a decade is stirring fears of another wave of turmoil in emerging markets that have already been hit by financial squalls, rising debt levels and anemic demand.
Housing starts during November recovered 10.5% to 1.173 million (SAAR) from 1.062 million in October, last month reported as 1.060 million. Starts were 18.5% higher than one year earlier. The latest figure surpassed expectations for 1.133 million starts in the Action Economics Forecast Survey.

Single-family starts increased 7.6% (14.6% y/y) to 768,000, the highest level since June. A 15.1% rise (-7.3% y/y) in the West paced the gain followed by the South where single-family starts rose 8.8% (13.3% y/y). In the Northeast, single-family starts increased 1.7% (9.1% y/y) but they declined 4.4% in the Midwest (-0.9% y/y).

Starts of multi-family homes jumped 16.4% last month (20.2% y/y) to 405,000 and recovered roughly half of the prior month's decline. Multi-family starts in the South rebounded 57.3% m/m and more than doubled y/y. In the Midwest, multi-family starts increased 8.2% (4.8% y/y) but in the West they fell 13.7%, off by more than one-half y/y. In the Northeast, starts of multi-family home declined 15.7% (+34.6% y/y).

Building permits in November increased 11.0% (19.5% y/y) to 1.289 million following a 5.1% gain. A 26.9% rise (36.1% y/y) in multi-family permits led the advance. Single-family building permits edged 1.1% higher (9.0% y/y).
Steady but slow growth. Here's why:
The Mortgage Credit Availability Index (MCAI) decreased 0.8% from October's eight-year high, meaning mortgage credit availability diminished. Despite the sequential decline in November, the MCAI has increased on a m/m basis for 11 of the past 13 months and is at the second highest level since December 2007. For reference, from 2006 to 2007 the MCAI would have registered readings in the 800 range, roughly six times higher than current availability. Mortgage credit availability decreased in November due to a tightening in adjustable-rate mortgage programs. Underwriting requirements remain tight for borrowers with credit blemishes (or those with irregular/cash-based income), which continues to impact the recovery of first-time and entry-level homebuyers.
The CoreLogic Home Price Index for the lowest-priced homes is up 10.1% YTD (through October) and is the only price tier to pass its pre-housing downturn peak. Furthermore, entry-level inventory levels remain tight, as many homeowners are still underwater on their mortgages and fewer homes at lower-price points are being built. Further reductions in FHA premiums or g-fees may spur increased demand, but tight underwriting standards, declining affordability, and the inability to save a down payment remain the biggest headwinds to the recovery of entry-level and first-time buyers. (Raymond James)
Nearly 95% of renters 34 years old or younger want to own a home in the future and overall 83% of renters said they have a desire to own, according to NAR's new quarterly survey of renter and owner households.

But only half of all households polled—renters and homeowners—said they believe the economy is currently improving and 44% said they believe the country is in a recession. Renters were slightly more optimistic, with 57% saying the economy is improving.

More than half of renters said they haven't yet bought a home because they couldn't afford one, while just 19% said they prefer the flexibility of renting. (…)

An earlier survey by NAR of people who recently purchased a home found that the share of first-time buyers fell to its lowest level in almost three decades. First-time buyers fell to 32% of all purchasers in 2015 from 33% last year, the third straight annual decline.

Sharon Voss, president of the Orlando Regional Realtor Association, said a shortage of inventory and intense competition from investors have locked first-time buyers out of the sub-$200,000 market in her area. Orlando's median home price has increased 17% since the beginning of the year, while the inventory of single-family homes below $200,000 dropped 23%. (…)
Industrial production, a broad measure of everything produced by American factories, mines and utilities, fell a seasonally adjusted 0.6% from a month earlier, the Federal Reserve said on Wednesday. That was the sharpest drop since March 2012.

Capacity utilization, which measures slack across industrial firms, fell in November to 77% from 77.5% in October. That was the lowest level in two years. Before the 2007-2009 recession, capacity use typically hovered above 80%.

Manufacturing output, which accounts for almost three-quarters of overall industrial production, was flat last month, as falling production of autos, electrical equipment, metals and appliances canceled out increases for food and other nondurable goods.

Mining output declined 1.1% in November and was 8.2% below its level from a year earlier. The index for oil and gas well drilling was less than half its November 2014 level.

Output at utilities fell by 4.3% in November, a reflection of warm weather. (Table from Haver Analytics)
In the wake of the Fed's decision, the yield on U.S. two-year notes climbed above 1 percent for the first time since 2010. German two-year yields, in contrast, haven't been above zero since August 2014, and the securities currently yield minus 0.35 percent. Euro-area government bonds rose Thursday, with benchmark German 10-year bunds advancing for the first time in four days, as the Fed said the pace of further U.S. rate increases would be gradual. (…)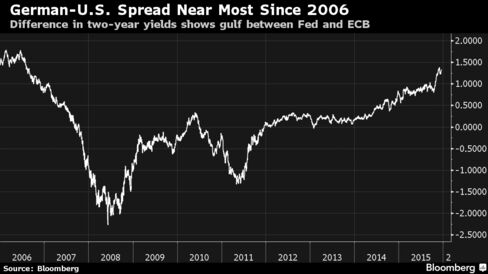 The yield difference has widened as the Fed and European Central Bank move in opposite policy directions. Earlier this month, the ECB boosted its stimulus program by cutting the deposit rate and extending its asset-purchase program by at least six months. While the measures announced on Dec. 3 fell short of the expectations of some investors, they signaled an extension of accommodative monetary policy until at least March 2017.

"This cements the idea that policy will be divergent," said Elwin de Groot, a senior market economist at Rabobank International in Utrecht, Netherlands. "Even on a modest rate hike path" the Fed is still tightening policy while the ECB is easing and "that should be sufficient to cause a further widening" in shorter-termed rate differentials, he said.
Hmmm…Such a strong consensus should make us all cautious.
Divergence in monetary policies may not last very long
Core inflation has started to perk up in Europe as well: Eurozone core CPI is up at a 2.0% annualized rate in the last 3 months and +2.4% in the last 4 months. The forward inflation swap rate is reflecting the upturn…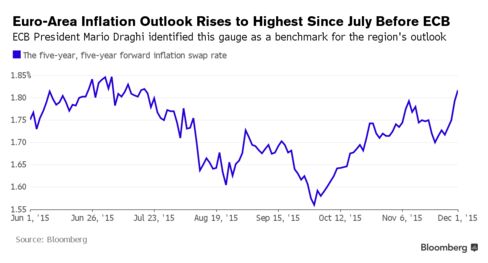 …even though Markit's surveys are not signalling too much pressure yet.
However, Markit also says that "the recent strength of the PMI business activity readings are broadly consistent with a neutral ECB policy stance and go some way to perhaps explaining why the ECB held back from more aggressive stimulus at its December meeting."
Add that employment growth is accelerating…
…particularly in inflation-wary Germany:
The survey data suggest GDP growth picked up in Germany during the fourth quarter, rising to 0.5% as strong domestic demand and rising exports drove a broad-based upturn in manufacturing and services.
German unemployment is around post-reunification lows, and real wages are growing at the fastest pace in more than 20 years (Jawad Mian, Stray Reflections).
The 25% drop in the euro is clearly effective as Markit's December PMI survey reveals:
German manufacturers reported a fifth successive monthly increase in new export orders, with the pace of expansion little-changed from November's 21- month record.
German private sector companies raised their staffing levels further in December. Moreover, the rate of job creation was the most marked in four years, which panellists linked to strong demand and planned expansions. Employment growth was particularly strong in the service sector.
The latest increase in workforce numbers was insufficient to relieve pressure on operating capacity, however. This was highlighted by a further rise business outstanding. The rate at which backlogs of work accumulated was equal to September's 52-month record.
While France is not there yet, Italy and Spain are also enjoying stronger growth. Germany's weight will surely make the ECB more and more hesitant in priming the engine even more.
Investors have been going long Draghi and short Yellen in 2015. Looks smart given a flattish S&P 500 vs the 6% rise in the Stoxx 600 (chart via John Mauldin).
"Smart" assumes they also hedged the euro which dropped 13% during the year.
BTW, China's electric power usage rose 0.7% MoM in November (+0.6% YoY) after Oct –0.4% and Sep –0.2%.
Putin Says Peak of Economic Crisis Over President Vladimir Putin said the government may have to cut the federal budget as the price of oil falls, but he tried to assure Russians that the worst of the economic crisis is over.
(…) "We'll probably have to adjust something here," said Mr. Putin, speaking at his annual news conference. But he played down the problem, saying the government wouldn't have to do so in haste.

"Volatility is very high," he said, referring to the crude price. "We won't rush with recalculations and making adjustments in the budget, because that brings with it a reduction in the volume of financing for social spending, the nonfinancial sector."

Mr. Putin reiterated previous statements that the peak of the crisis in Russia was over. He rattled off economic statistics, forecasting that the economy would shrink 3.7% this year, but return to growth next year. (…)
Putin also said that a price of $50 per barrel for 2016 is "very optimistic", according to Bloomberg which adds:
The government sees gross domestic product growing by 0.7 percent next year and it won't rush to alter the budget. (…)

Millions of Russians are sinking into poverty after the government allowed household finances to bear the brunt of the country's first economic contraction in six years. This year, 21.7 million people, or about 15 percent of the population, are living beneath the subsistence level, according to the Federal Statistics Service.

Eighty percent of Russians agree that the country is in economic crisis and 58 percent say they've cut spending on food, according to a survey of 1,600 people published Thursday by the independent Levada Center. The poll, conducted Oct. 23-26 and Nov. 20-23, had a margin of error no greater than 3.4 percentage points.
FedEx Corp. on Wednesday said that this year's peak holiday season is its busiest ever, and the pace has been consistent since Cyber Monday.

"There's no sign it's going to let up," FedEx Ground Chief Henry Maier said during the company's quarterly earnings call following the announcement of a 4% increase in profit for the quarter ended Nov. 30. (…)
Barry Ritholtz lists what made the 2015 wall of worry (tks Fred):
Here's a sampling of some of the things that were going to kill the economy and crush your portfolio:
Strong U.S. dollar
Ebola
Falling oil prices
Another government shutdown
Commodities crash
Rising minimum wages
Euro weakness
New York Stock Exchange credit at record highs
Grexit
Peak earnings to gross domestic product
Shanghai market crash
Standard & Poor's 500 Index death cross
European austerity
Shiller CAPE ratio
Japanese recession
Downed Russian jet
ISIS
Donald Trump
And now you can add to the list the Fed raising interest rates.
The S&P 500 Index had a so-so year being flat overall. It only had a 6-week period of weakness in spite of all the above. However, excluding Energy, the S&P 500 is up 4.5% YtD, just about in line with earnings ex-Energy (+6.5% according to S&P). (Chart from Gluskin Sheff)
This morning:
If you enjoyed this article, Get email updates (It's Free)