The U.S. Economy's Latest Growth Is Looking Increasingly Frail The first week of 2016 has brought sinking temperatures and stocks–and now weaker estimates of economic growth for the fourth quarter.
The Federal Reserve Bank of Atlanta said Monday it now believes fourth-quarter GDP grew at just a 0.7% pace, down from a prior estimate of 1.3% growth. J.P. Morgan Chase cut its estimate in half to 1% growth from 2%. Forecasting firm Macroeconomic Advisers lowered its estimate by three-tenths of a percentage point to 1.1%.

If those estimates pan out, it would mean the economy ended 2015 in roughly the same precarious state in which it began the year. GDP grew 0.6% in the first quarter of 2015 before rebounding in the spring and summer.
The forecast for the contribution of net exports to fourth-quarter real GDP growth fell 0.1 percentage points to -0.4 percentage points on December 29 after the U.S. Census Bureau's advance report on international trade in goods. The nowcast for real GDP growth fell 0.5 percentage points this morning following the Census Bureau's release on construction spending and the Institute for Supply Management's Manufacturing ISM Report On Business.
The value of construction put-in-place declined 0.4% (+9.7% y/y) during November following a 0.3% October rise, revised from 1.0%. Three-month growth of 0.2% (AR) compared to 29.2% during Q2.

Public sector building fell 1.0% (+6.0% y/y), the fourth decline in the last five months.
CHINA
China scrambled to stabilize its stock markets and calm jittery investors, pumping nearly $20 billion into the country's financial system and intervening to prop up the yuan. (…)

Investors had been spooked by a series of actions taken by Chinese policy makers early in the week—including the central bank's guiding the yuan to a psychologically important level against the dollar, and the finance minister's and the Communist Party's mouthpiece newspaper's damping hopes for aggressive measures to spur growth. Chinese equities responded with their worst-ever start to a year, setting off a world-wide selloff.

Another policy step that riled the market, according to people familiar with the matter, was the People's Bank of China's unexpected decision Monday not to roll over a 130 billion yuan ($19.9 billion) credit line to China Development Bank, a major policy bank tasked with financing many of the country's low-income housing and infrastructure projects.

The decision was based on the belief that market liquidity had remained ample, the people said. But combined with the other actions, it made investors think Beijing intends to dial back on stimulus and monetary easing as it carries a painful economic overhaul. (…)

Early Tuesday, it pumped 130 billion yuan in short-term funds into the financial system—demonstrating it hasn't changed its easing bias, the people said. In a sign that the move was aimed at quelling fears of monetary tightening, the latest injection involved the exact same amount of funds the central bank didn't extend to China Development Bank. Chinese stocks rebounded in early mainland trading but retreated again later and ended the day lower. (…)
"Given our views on credit contraction in Asia, and in China in particular, let's say they are going to go through a banking loss cycle like we went through during the Great Financial Crisis, there's one thing that is going to happen: China is going to have to dramatically devalue its currency."

"China many years ago attached its currency to the dollar: they hitched their wagon to our star very smartly because back then our goal was to depreciate our dollar through inflation. So we issued debt to the rest of the world to depreciate the dollar. And so now the real problem is China has hitched their wagon to our star, and their currency has effectively appreciated about 60% versus the rest of the world since 2005 and it's killing them… China's effective exchange rate moving up versus the rest of the world made their goods and services a little bit more expensive each year and now that labor arbitrage is gone. And if that labor arbitrage is gone, and the banking system has expanded 400% in 7 years without a nonperforming loan cycle, my view is we are going to see a non-performing loan cycle."

If one very conservatively assumes that loans are about half of the total asset base (realistically 60-70%), and applies an 20% NPL to this number instead of the official 1.5% NPL estimate, the capital shortfall is a staggering $3 trillion.That, as we suggested three weeks ago, may help to explain why round after round of liquidity injections (via RRR cuts, LTROs, and various short- and medium-term financing ops) haven't done much to boost the credit impulse. In short, banks may be quietly soaking up the funds not to lend them out, but to plug a giant, $3 trillion, solvency shortfall.

Incidentally, this is precisely what Bank of America just said overnight:

When debt problem gets too severe, a country can only solve it by devaluation (via the export channel), inflation (to make local currency debt worth less in real terms), writeoff/re-cap or default. We judge that China's debt situation has probably passed the point of no-return and it will be difficult to grow out of the problem, particularly if the growth continues to be driven by debt-fueled investment in a weak-demand environment. We consider the most likely forms of financial instability that China may experience will be a combination of RMB devaluation, debt write-off and banking sector re-cap and possibly high inflation. Given the sizeable and unstable shadow banking sector in China and the potential of capital flight, we also think the risk of a credit crunch developing in China is high. In our mind, the only uncertainty is timing and potential triggers of such instabilities.

The full Kyle Bass interview is here, and the part discussing the best investment opportunity begins 10:40 in.
The latest CEBM Research survey gives hope:
The CEBM Composite Sales vs. Expectations Index rose from 1.3% in December to 35.4% in January. December sales targets were reached in most industries and January forecasts are expected to further rally from the previous month. Industries expecting sustained growth include: real estate, autos, and shipping. Respondents were less cheery in consumer retail, steel, and cement.

Seasonal improvement in housing sales but no change in investment: Developer feedback indicates speculation driven buying in 1st tier and certain 2nd tier markets, which is expected to continue through the next quarter. Though the sales environment continues to improve, the investment outlook remains subdued due to inventory overhang.

Auto sales exceed expectations again: Sales have been robust since October, with December growth figures 10-15% higher M/M. Survey respondents expect 8-10% growth for next year.

Bank lending contracts M/M on further tightening of underwriting requirements: A subdued economic outlook and a rising overdue loan rate resulted in further tightening of loan underwriting requirements in December. In order to reduce loan portfolio risk, commercial lenders have reduced willingness to lend to borrowers in sectors of the economy facing excess capacity pressures (e.g., small-scale property developers and steel producers) unless sufficient collateral is provided.

Looking forward to January, the CEBM Composite Sales Expectations Index rose from -9.5% in December to 24% in January. The change in this month's Expectations Index reading largely reflects an expected rally in industrial sector sales activity in January.
Emerging-Market Currencies Tumble With Global Stock Markets Emerging-market currencies dropped against the U.S. dollar Monday, reflecting renewed fears that an economic slowdown in China will further depress struggling developing economies.
(…) In addition to the sector's weak growth outlook, many believe that years of heavy investor flows into emerging markets have left these nations awash in debt—much of it denominated in dollars—that borrowers will struggle to repay as U.S. interest rates rise. (…)

More money left emerging markets in 2015 than entered them for the first time in decades, according to a capital-flows forecast from the Institute for International Finance, which represents more than 500 of the world's biggest banks, hedge funds, insurers and other financial firms. The group projects outflows from emerging markets hit a net $540 billion in 2015. (…)
The JPMorgan Global Manufacturing PMI™, compiled by Markit, fell from 51.2 in November to 50.9 in December, its lowest reading for three months. The survey data are consistent with global manufacturing output expanding at a modest annual pace of just over 1%.

At 51.2, the average PMI reading for 2015 is down from 52.3 in 2014 and the lowest – albeit by a small margin – since 2012, a year in which global manufacturing suffered a slight decline. (…)
Nine of the 14 expanding manufacturing economies were found in Europe, joined by the US and Mexico, with the latter's exporters benefitting from the ongoing US expansion. (…)

Of the 11 countries that saw a worsening of their manufacturing economies in 2015, nine were emerging market economies. (…)
Asia ex-Japan suffered a fourth consecutive annual decline, registering the steepest downturn in the history of data collection that began in 2004. (…)

With an average PMI reading of 48.7, China's manufacturers also reported their steepest downturn since data were first available in 2004. Both Taiwan and South Korea endured the largest downturns in manufacturing activity since 2008.

Only three of the 14 expanding manufacturing economies were found in Asia (Japan, India and Vietnam), though each saw only modest expansions. (…)
Not lost to the Chinese: the Eurozone and Japan, which both engineered a sharp devaluation of their respective currency, saw a sharp increase in their manufacturing PMI during 2015.
EARNINGS WATCH
This was on heavy watch given the importance of retail sales at the end of 2015 given the bloated inventories.
For the fourth quarter to date, 85 companies in the S&P 500 have issued negative EPS guidance and 26 companies have issued positive EPS guidance. At the sector level, the Consumer Discretionary and Information Technology sectors have the highest number of companies issuing negative EPS guidance for the fourth quarter. This is not surprising, as these two sectors have historically had the highest number of companies providing quarterly EPS guidance on average.

What is surprising, however, is the unusually high number of companies in the Consumer Discretionary sector issuing negative EPS guidance for Q4. While the number of companies issuing negative EPS guidance in the Information Technology sector (22) is slightly below the five-year average (23.5) for the sector, the number of companies issuing negative EPS guidance in the Consumer Discretionary sector (25) is well above the five-year average for the sector (15.9).

If the final number of companies in the Consumer Discretionary sector issuing negative EPS guidance is 25, it will be the highest number for this sector since FactSet began tracking guidance in 2006. The current record high is 22, which occurred in both Q1 2014 and Q2 2014.

In addition, the number of companies in the Consumer Discretionary sector issuing positive EPS guidance is zero. If this is the final number of companies issuing positive EPS guidance in this sector, it will be the lowest number since FactSet began tracking guidance in 2006. The current record low is three, which occurred in Q1 2006.
At the industry level, 13 of the 25 companies that have issued negative EPS guidance are in retail industries: Specialty Retail (eight), Multiline Retail (three), and Internet & Catalog Retail (two).
The surprise, however, is that weak revenues do not seem to be the culprit:
The chart below highlights factors that companies in this sector specifically cited when issuing negative EPS guidance for Q4. The numbers do not add to 25, as some companies cited more than one of the factors listed below, while others did not highlight any specific factors.
Which means that most of the negative pre-announcements are from large multinational consumer companies. In turn meaning that end-of-year sales were ok. In fact, David Rosenberg says that holiday sales from Black Friday to Christmas Eve are up 7.9% YoY! But this does not jibe with Gallup's survey which suggest a pretty weak gain YoY for December.
Overall, earnings estimates are not falling apart, just yet anyway. Based on Factset's numbers, the number of negative pre-announcements has gone up vs Q3 but is in line with the last 4 quarters:
Thomson Reuters keeps a daily tab of pre-announcements and the numbers have not deteriorated in recent days.
OIL
(…) There are several scenarios in which these tensions could escalate in a way that would affect global oil markets more seriously.

Iran could significantly try to stir up trouble in Saudi Arabia's oil-rich province of Hasa. In the past, Iran has done so periodically, particularly in 1979, when there were giant Shia demonstrations against the House of Saud. Tehran might also try to subvert the Saudi rulers more directly and discredit their leadership more overtly and heatedly.
We can't rule out some type of military brinkmanship. The two countries almost clashed in 1984 and 1987, during the Iran-Iraq war. They could have a real or threatened air or naval engagement.
Both countries could ratchet up tensions in other regions of the Middle East, such as Yemen. Even though this would not really affect oil supplies, markets might misread it as such.
The Saudis might well decide to continue their strategy of maintaining oil production to squeeze out higher-cost producers for a longer period than they otherwise would have done, even though that approach runs counter to their historical role in cutting production to boost oil prices. The row with Iran may incline the Saudis to try to punish the country even longer with lower oil prices. Even though Iran's economy is used to economic pain, this prospect certainly will hurt Tehran.

Of all these scenarios, the most likely is the fourth – that the Saudis extend their strategy of maintaining current production levels in order to punish Iran. This is the easiest, lowest-risk form of rivalry. (…)

Strategically, neither country wants a military engagement. Historically, Iran and Saudi Arabia have clashed in many ways but not in a military manner, except for two minor incidents. (…)

Over all, then, the Saudi-Iranian row will probably simmer, assume a slow burn and complicate bilateral relations – a type of Cold War will become further entrenched. But the tensions are unlikely to escalate enough to cause a major spike in oil prices, unless leaders in both capitals truly believe that they need to boost their political position at home with a foreign adventure.

Of course, when tensions run high on emotive religious issues, one needs to make predictions with caution.
Saudi Nuclear Option in Iran Oil War Is Getting Rusty (Bloomberg)
(…) With Tehran likely to meet the conditions needed to lift those sanctions as soon as next week, that's set to change. The government is promising to bring an extra million barrels of daily oil production into the market by mid-year, more than a third of its current output.

Saudi Arabia is unlikely to take that challenge lying down. (…) The problem in the current situation is that its rival across the Persian Gulf has already been toiling through four years of sanctions. Combine that with a far more diversified economy, and Iran has much less to lose from low oil prices than it had in the past.

Were both countries' oil production to stop overnight, Saudi Arabia would find itself with a 57 percent budget deficit. Iran's would be just 7.5 percent, not much worse than many Western countries. Diminished exposure to weak oil prices is helping protect Iranian government spending in the current downturn: Government net debt in Riyadh will rise to 44 percent of GDP by 2020, when Tehran will be holding a net asset position, according to the International Monetary Fund. While Iran needs an unlikely crude price of $70.40 a barrel to balance its budget this year, Saudi Arabia need an extraordinary $95.80, according to the fund:

The kingdom still has some trump cards up its sleeve. Its $642 billion in foreign-exchange reserves are enough to cover three years of imports, according to the IMF, while Iran's would run dry after about 20 months. Low prices will also further discourage investment from international oil companies such as Total and Lukoil which Tehran desperately needs to rebuild its domestic industry. Iran's oil infrastructure is in such a poor state that about half of analysts in a survey by Bloomberg Intelligence last August thought it wouldn't be able to ramp up production until the second half of this year.

(…) Both countries are pumping into an Asian market that already appears satiated: The discount for the Oman-Dubai oil benchmark used in Asia compared to Brent contracts rose to the highest level since October 2008 last week, according to data compiled by Bloomberg.

After four years of sanctions, Iran is now likely to take whatever price it can get to bring in more cash. In those circumstances, Saudi Arabia's nuclear deterrent looks more like a promise of mutually assured destruction.
(…) Saudi Arabia's precise motivation for the execution of the Shia cleric Sheikh Nimr-al-Nimr is unclear. The authorities in Riyadh executed 43 Sunni jihadis convicted of terrorism offences at the weekend and may have wanted to demonstrate even-handedness by executing a few Shia. The Sheikh was not a terrorist. He was a radical dissident who spoke out against the kingdom's discrimination towards its Shia minority and the royal family. His death has rightly received worldwide condemnation. (…)

The death of Sheikh Nimr plays into the hands of Iranian hardliners determined to undermine President Hassan Rouhani's international outreach. Their invasion of the Saudi mission in Tehran at the weekend was calculated to harden Iranian foreign and domestic policy. They may have succeeded.

Since coming to power one year ago, King Salman bin Abdulaziz has taken a more belligerent approach to international affairs than his brother Abdullah who preceded him. Riyadh has long seen Iran's malevolent hand in a host of conflicts, including Syria, Iraq, Yemen and Bahrain. Last year's US deal with Iran over its nuclear programme marked a turning point, however, encouraging the kingdom to believe it must act more forcefully in its own defence. Far from consolidating their position, the Saudis' actions — notably launching a war against Iranian backed Houthi rebels in Yemen — has only deepened the chaos. (…)

But as the killing of Sheikh Nimr suggests, the Saudi leadership seems to lurch from one decision to another without contemplating the strategic consequences. (…)

Reconciling Riyadh and Tehran is essential if there is to be any hope of a resolution to the civil war in Syria. And for all the gloom, there is scope for US President Barack Obama to nudge both sides towards dialogue. Much of Iran's leadership wants to come in from the cold. The Saudis, for their part, need US military and diplomatic cover. If dialogue is to happen, however, Washington will first have to deliver some tough messages to the Saudis and Iranians. This is a time for reason and containment, not recklessness.
It's about to get a lot more expensive for Gulf region borrowers to fill the holes in their budgets caused by slumping oil prices.

Issuers in the six-nation Gulf Cooperation Council, including the governments of Saudi Arabia and Qatar, will probably find themselves paying 50 to 100 basis points more than current yields to sell bonds on global markets in 2016, according to Mashreq Capital DIFC Ltd., which manages the Middle East's best-performing Islamic fixed-income fund. Oil's 35 percent drop last year pushed yields to the highestin more than four years. (…)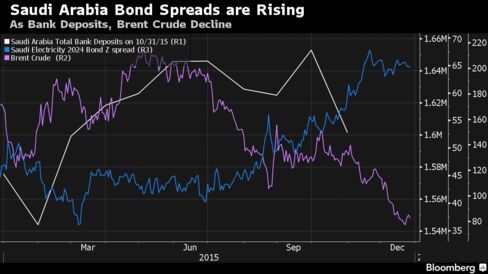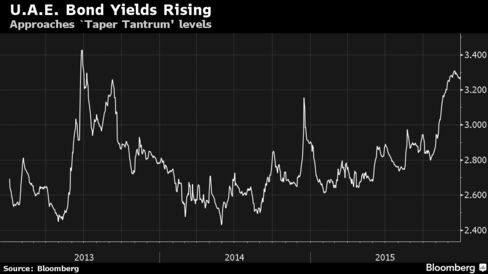 Supermines Feed Vicious Metals Circle Giant mines, begun when prices were high, are adding to the oversupply of copper, iron ore and other metals, compounding the woes of the depressed mining sector.
(…) The big mines cost so much to build and extract minerals so efficiently that mothballing them is unthinkable—running them generates cash to pay down debts, and huge mines are expensive to simply maintain while idle. But as a result, their scale means they are helping miners dig themselves even deeper into the price trough by adding to a glut. (…)

When Freeport's Cerro Verde mine's production is fully ramped up this year, it will hit a billion pounds of copper a year—3% of the world's production, even as copper prices sink to six-year lows.

The impact of mines like Cerro Verde is sweeping, including downward pressure on commodity prices until the end of the decade, when supply is expected to slip as some older mines finally dry up. Companies' profit margins are shrinking, many are writing down assets and more smaller players are likely to go belly-up, according to ratings firms and analysts. (…)

"After nearly three decades of having to beg for capital, suddenly bankers and investors were throwing money at miners and imploring them to invest in more and bigger projects," said Dick Evans, a former board member of Rio Tinto, and now chairman of aluminum maker Constellium NV. "The miners were like kids in a candy store."

At the same time, new mining technologies, like bigger haul trucks, shovels and other equipment, enabled the building of facilities that could produce two or three times the copper or iron ore of the previous generation of big mines. (…)

[Cerro Verde]'s huge scale keeps its operating costs down, at under $1.50 per pound. That means even with copper prices now just above $2 a pound, a six-year low, it will continue to make money on an operational basis. (…)
Byron R. Wien, Vice Chairman of Multi-Asset Investing at Blackstone, today issued his list of Ten Surprises for 2016. This is the 31st year Byron has given his views on a number of economic, financial market and political surprises for the coming year. Byron defines a "surprise" as an event that the average investor would only assign a one out of three chance of taking place but which Byron believes is "probable," having a better than 50% likelihood of happening.

Byron started the tradition in 1986 when he was the Chief U.S. Investment Strategist at Morgan Stanley. Byron joined Blackstone in September 2009 as a senior advisor to both the firm and its clients in analyzing economic, political, market and social trends.

Byron's Ten Surprises for 2016 are as follows:
Riding on the coattails of Hillary Clinton, the winner of the presidential race against Ted Cruz, the Democrats gain control of the Senate in November. The extreme positions of the Republican presidential candidate on key issues are cited as factors contributing to this outcome. Turnout is below expectations for both political parties.
The United States equity market has a down year. Stocks suffer from weak earnings, margin pressure (higher wages and no pricing power) and a price- earnings ratio contraction. Investors keeping large cash balances because of global instability is another reason for the disappointing performance.
After the December rate increase, the Federal Reserve raises short-term interest rates by 25 basis points only once during 2016 in spite of having indicated on December 16 that they would do more. A weak economy, poor corporate performance and struggling emerging markets are behind the cautious policy. Reversing course and actually reducing rates is actively considered later in the year. Real gross domestic product in the U.S. is below 2% for 2016.
The weak American economy and the soft equity market cause overseas investors to reduce their holdings of American stocks. An uncertain policy agenda as a result of a heated presidential campaign further confuses the outlook. The dollar declines to 1.20 against the euro.
China barely avoids a hard landing and its soft economy fails to produce enough new jobs to satisfy its young people. Chinese banks get in trouble because of non-performing loans. Debt to GDP is now 250%. Growth drops below 5% even though retail and auto sales are good and industrial production is up. The yuan is adjusted to seven against the dollar to stimulate exports.
The refugee crisis proves divisive for the European Union and breaking it up is again on the table. The political shift toward the nationalist policies of the extreme right is behind the change in mood. No decision is made, but the long-term outlook for the euro and its supporters darkens.
Oil languishes in the $30s. Slow growth around the world is the major factor, but additional production from Iran and the unwillingness of Saudi Arabia to limit shipments also play a role. Diminished exploration and development may result in higher prices at some point, but supply/demand strains do not appear in 2016.
High-end residential real estate in New York and London has a sharp downturn. Russian and Chinese buyers disappear from the market in both places. Low oil prices cause caution among Middle East buyers. Many expensive condominiums remain unsold, putting developers under financial stress.
The soft U.S. economy and the weakness in the equity market keep the yield on the 10-year U.S. Treasury below 2.5%. Investors continue to show a preference for bonds as a safe haven.
Burdened by heavy debt and weak demand, global growth falls to 2%. Softer GNP in the United States as well as China and other emerging markets is behind the weaker than expected performance.
If you enjoyed this article, Get email updates (It's Free)