There is more than China. The hope that the oil dividend would finally appear at the checkout counters across the developed world is evaporating, along with the related hope that excess inventories would get cleared rapidly as a result.
Macy's to Cut Costs, Jobs Retailer blames warm weather, strong dollar for worse-than-expected holiday quarter
(…) Sales at existing stores in November and December fell 4.7%, and the company said it expects the decline to continue this month. It would be the sharpest holiday period decline since 2008. The company had been expecting fourth quarter sales, which also includes January, to decline between 2% and 3%.

Macy's is the first major retailer to release holiday sales figures, and its results are likely to reinforce concerns that the season was a challenging one, particularly for department stores which were burdened by excess inventory and a shift to Web shopping. (…)

"About 80% of our company's year-over-year declines in comparable sales can be attributed to shortfalls in cold-weather goods such as coats, sweaters, boots, hats, gloves and scarves," he said. (…)

The company said it doesn't expect a major improvement in sales in January, and cut its earnings guidance for the year to $3.85 to $3.90 a share, down from $4.20 to $4.30 a share. The guidance excludes expenses related to the layoffs and store closures. (…)

To adjust for the lower sales, Macy's plans to eliminate about 4,800 jobs although some employees will be relocated to other positions in the company. About 2,700 of the job cuts will come from 40 stores to be closed.

Macy's employed about 166,900 full-time and part-time workers as of Jan. 31, 2015. (…)
It could be mainly a Macy's problem…
…but given the mild weather, demand for seasonal goods and services (e.g. apparel, sports stuff and services) will remain weak:
(…) The cold hasn't been that extreme. Through Tuesday, the average temperature for January was just over a degree below normal in Central Park and not quite a full degree in Philadelphia, National Weather Service said. In Boston and Chicago, the average readings are still just above normal. (…)

Temperatures in the eastern U.S. and Canada are forecast to moderate through the weekend. New York, Boston, Philadelphia and Washington will all reach the 50s (about 12-13 Celsius) by Sunday, the National Weather Service said. Toronto could make it into the 40s, while Montreal and Ottawa linger above freezing, according to Environment Canada. (…)

For the next 30 to 60 days, the outlook gets a little hazy, Hurley said. An El Nino that has contributed to flooding in California and snowstorms in Texas is still under way in the equatorial Pacific and that often means milder winters in the northern U.S.
European consumers are also on hold:
Markit Eurozone Retail PMI® Disappointing end to 2015 as sales fall for second month running
December's Eurozone Retail PMI® showed a second straight monthly decrease in sales. The fall largely reflected a deepening downturn in French retail sales, with Germany and Italy both recording marginal growth.

At 49.0, up from November's nine-month low of 48.5, the headline Markit Eurozone Retail PMI – which tracks month-on-month changes in like-for-like retail sales in the bloc's biggest three economies combined – signalled another modest decrease in sales in the final month of the year. Prior to this sales had risen for six months in a row, the longest sequence of growth since the end of 2006.

Retailers also reported that sales were down on a year-on-year basis in December, with the contraction again centred on France.

The ripple effects:
Dealers, manufacturers and analysts are anticipating a between 10% and 15% drop in sales compared with this year. FTR predicts 260,000 new U.S. truck sales in 2016, saidDon Ake, commercial vehicles analyst the research group. Three months ago, FTR had projected sales of 290,000 trucks for the year.

In part, carriers have less incentive to upgrade to more fuel-efficient trucks now that diesel prices have plunged. Companies that placed large orders for new trucks last year sold their older models into the used market. That depresses resale prices, a factor in trucking companies' decision to trade in. (…)

Truck makers say retail sales during the holidays will be crucial. Stores held unusually high inventories for much of 2015, a major factor behind this fall's weak freight volumes. Truck orders picked up in December from November's lows, indicating the market may be stabilizing, Mr. Ake said. (…)
New orders in the manufacturing sector fell 0.2% during November (-3.5% y/y) following a 1.3% October increase, revised from 1.5%. The shortfall reflected little change (+2.3% y/y) in durable goods orders which were unrevised from the advance report. The figure contained a 22.2% decline (-10.4% y/y) in nondefense aircraft & parts orders.

Factory sector orders excluding the transportation altogether eased 0.3% (-5.7% y/y) following a 0.1% gain. Orders for nondurable goods (which equal shipments) fell 0.4% (-8.7% y/y), off for the fifth straight month. A 1.7% decline (-36.1% y/y) in shipments from petroleum refineries was the fifth consecutive drop as prices fell. (…)

Unfilled orders in the manufacturing sector increased 0.2% (-2.2% y/y). Transportation sector backlogs rose 0.2% (-2.4% y/y), despite a 0.4% fall (-1.8% y/y) in nondefense aircraft & parts. Outside of the transportation sector, backlogs improved 0.2% (-2.0% y/y). Electrical equipment backlogs fell 0.6% (-4.7% y/y), the eighth decline in as many months. Computer & electronic product backlogs gained 0.7% (5.7% y/y).
(…) Both exports and imports fell in November. Exports slipped 0.9% m/m (-7.1% y/y) with industrial supplies and consumer goods showing the most weakness. This was the fifth month in the past seven in which exports have declined, reflecting the impact of weak growth abroad as well as the stronger US dollar. Imports fell almost twice as much as exports, down 1.7% m/m for a 4.9% y/y decline. Consumer goods and capital goods led the November decline in imports.
MoM exports are down 2.5% in Oct-Nov, more than erasing September's 1.4% gain. Nonpetroleum imports cratered 2.4% in November after dropping 1.1% in the previous two months. Weak domestic demand in the U.S. is transferred abroad magnified by the need to reduce inventories.
Hence:
The JPMorgan Global PMI, compiled by Markit from its national business survey data, fell from 53.6 in November to 52.9 in December, its lowest since September. At 53.2, the average reading for the fourth quarter was the lowest since Q4 2014, though well above the no-change level of 50 to thereby signal further economic growth. The fourth quarter survey data are broadly consistent with global GDP rising at an annual rate of 2%.

New business meanwhile grew globally at the slowest rate for 11 months, easing in both sectors, a factor restraining employment growth well below pre-crisis trend rates and adding to the sense that companies remain more cost conscious and reluctant to invest in the expansion of capacity in the post-recession world.
Emerging markets remained a major drag on the global economy, slipping back into decline to signal the fifth month of contraction in the past seven months. At 49.5, the PMI for the emerging markets is indicative of just less than 4% annual GDP growth, less than half the average rate of expansion seen in the five years prior to the global financial crisis.
China slipped back into decline after returning to growth for the first time in four months in November, playing a key role in constraining growth in other parts of Asia. Asia ex-Japan manufacturing saw the worst performance for over a decade in 2015, according to PMI data.

A drop in output from China's factories was accompanied by a near stagnation of services activity.

Downturns were also seen in Russia and Brazil, the former registering the largest drop in activity since March, though it was the latter that continued to see the steepest downturn of all major economies covered by the PMI surveys. India bucked the downturn trend, as a jump in service sector activity offset the most severe drop in manufacturing output since the height of the global financial crisis.

Growth meanwhile eased to an 11-month low in the developed world, the PMI dropping from 54.6 to 53.8 and pointing to annual GDP growth of around 1.5%. While the overall rate of expansion signalled is only modest, the surveys at least point to broad-based growth, with all four largest developed economies firmly in expansion territory.

Notice how the services PMIs are also on the weakish side in the U.S. and particularly in China. The offset to weak manufacturing from the tertiary industries is not as strong:
(…) Total orders, adjusted for seasonal swings and inflation, gained 1.5 percent from October, when they were up a revised 1.7 percent, data from the Economy Ministry in Berlin showed on Thursday. (…)

Basic-goods orders rose 4.8 percent in November, driven by domestic demand, the ministry said in a statement. Total orders from within the country increased 2.6 percent. Euro-area orders fell 0.5 percent after a 2.6 percent jump in October, while demand from outside the currency bloc was up 1.4 percent. (…)

Shipments to the U.S. jumped more than 20 percent in the 10 months through October from the previous year, while sales to China slipped 4.2 percent, according to data by the statistics office. (…)

Industrial production plunged 2.4% from October in seasonally adjusted terms and 12.4% from November 2014, the Brazilian Institute of Geography and Statistics, or IBGE, said Thursday.

A survey of economists by the local Agência Estado newswire had produced a median estimate of a 0.9% decline in month-on-month terms, with the worst forecast only calling for a 1.8% drop.
World Bank Again Cuts Global Growth Forecasts Souring prospects in the world's largest emerging markets are darkening an already cloudy outlook for the global economy, the World Bank said on Wednesday, as it cut growth forecasts for the third straight year.
(…) Deeper contractions than expected in Brazil and Russia and weaker output in most of the world's biggest economies, including the U.S. and China, led the international development institution to downgrade its forecast for global growth in 2016 by 0.4 percentage point to 2.9%. That is up slightly from last year's downward-revised growth rate of 2.6%. (…)

The World Bank said U.S. gross domestic product would expand 2.7% in 2016, a rate of growth slightly higher than last year's 2.5%, though 0.2 percentage point lower than the bank's previous forecast. It also cut its outlook slightly for China to 6.7%, the slowest growth rate since 1990. (…)

The World Bank cut its forecasts for developing countries in general for the year by more than half a percentage point to 4.8%. (…)

But unlike during the financial crisis, developing economies have much more limited space in their budgets and monetary policy to fuel growth, the World Bank and other economists say.
Our weak demand and balmy winter is hitting China. Is devaluation the solution?
(…) The currency hoard shrank by a record $108 billion to $3.33 trillion in December, the People's Bank of China said Thursday. The median forecast of economists surveyed by Bloomberg was for a drop to $3.42 trillion. The reserves fell by more than half a trillion dollars in 2015.

Policy makers fighting to stem declines in the currency amid slower growth and plunging stocks have been burning through the stockpile to reduce yuan volatility. The yuan sank to a five-year low on Thursday as the PBOC set its reference rate at an unexpectedly weak level, a signal that it's more tolerant of depreciation as growth slows. (…)

The drop in the stockpile would have been even greater had it not been for strength in other currencies that China holds in reserve. The stronger euro and yen in December helped lift the valuation of the reserves, which are reported in U.S. dollars. (…)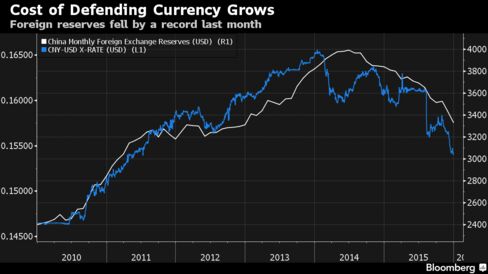 Deutsche Bank via FT Alphaville:
China Dec FX reserves was just released at $3.33trn, a dropped of $108bn from prior. This was much worse than market expectation and the lowest level since December 2012. After adjusting for FX valuation ($17.2bn), our model estimate possible intervention to be around $125.5bn. This would be the largest USD selling performed by the authorities on record. Do note in August when China had a one-off devaluation, USD selling was only around -$100bn. Given the sizeable drop in FX reserves, FX outflows could be around $156bn, also the largest on record.

Why is the number much worse? We will need to wait for the overall net FX purchasing data by FIs to confirm whether China did see significant outflows. Now assuming outflows has again picked up notably, as mentioned in my comment yesterday, the much worse than expected FX reserves would likely result in the market assuming the authorities are not able to effectively control these flows and/or the authorities are not as concern about the outflows and the pace of weakness given ongoing comment that their focus is RMB vs the trade weighted basket.

With the size of FX liabilities that still needs to be unwound is around $300bn according to our estimate (not including importers USD buying and domestic portfolio diversification), RMB depreciation will continue particularly if USD/CNY fixing continues to move higher than USD/CNY spot like today. Tomorrow USD/CNY fixing will be a focus.
Meanwhile, Fed officials are still in the fog:
(…) Traders in futures markets see the Fed moving short-term rates up in two more quarter-percentage-point increments by year-end, to just under 1%, while Fed officials have penciled in four increases to just below 1.5%. (…)

Federal Reserve Vice Chairman Stanley Fischer, speaking on CNBC on Wednesday, said the market is underestimating how many times the central bank will lift interest rates this year. He said he sees something "in the ballpark" of four increases.

John Williams, president of the San Francisco Fed and a confidant of Fed Chairwoman Janet Yellen, earlier in the week said he could "easily see" the Fed raising rates three to five times this year. He expressed little concern about stock-market declines this week.

And Loretta Mester, the Cleveland Fed president, said that the bank's internal projections "give a good sense" of where officials expect interest rates to go in the months ahead.

(…) "nearly all" of the Fed officials at the meeting had become "reasonably confident" inflation would rise in the months ahead, the minutes said. (…)

"Although almost all [officials] still expected downward pressure on inflation from energy and commodity prices would be transitory, many viewed the persistent weakness in those prices as adding uncertainty or imposing important downside risks to the inflation outlook," the minutes said. (…)
(…) Prices at the pump have fallen less quickly than oil prices in the past 18 months due to strong consumption. U.S. drivers paid an average of $1.999 a gallon for retail gasoline Wednesday, according to AAA, down 8.9% from a year ago. In comparison, Nymex oil has fallen 30% in the past year.

Retail gasoline prices could fall 10 or more cents a gallon next week, analysts said, following sharp drops in wholesale markets around the country. That would offer additional savings to U.S. consumers, who already saved $134 billion at the pump last year compared with what they spent in 2014, according to Gasbuddy.com. (…)

Cheap gasoline, along with higher employment, spurred consumers to drive more miles and buy less-fuel-efficient cars in the past two years. U.S. gasoline demand rose 2.5% in 2015, the EIA estimated in December.

However, inclement weather and the holiday season kept drivers off the road in recent weeks.

Gasoline stockpiles in the U.S. rose by 10.6 million barrels last week, the biggest weekly increase since 1993 and the highest level since March, as demand fell 13%, the EIA said. The four-week average for gasoline demand dropped below nine million barrels a day for the first time since May. (…)
But there is also this:
(…) Average effective rents nationwide rose 4.6% in 2015, the biggest gain since before the recession, according to a report by real-estate researcher Reis Inc. The average apartment rent now stands at nearly $1,180, up from about $1,125 a year ago.

Another report from Axiometrics Inc., a Dallas-based apartment research company, showed that rents increased 4.7% in the fourth quarter compared with the same quarter a year earlier, the strongest year-end performance since 2005.

(…) rents scarcely dipped during the downturn. Since then annual increases have accelerated from 2.3% in 2010 to about 4% in each of the last two years. Over the last 15 years, rents have increased by an average of 2.7% annually, according to Reis. (…)
Analysts say the apartment market is showing some early signs of peaking. Vacancy rates rose slightly in the fourth quarter to 4.4% from 4.3% in the previous quarter.

The main factor: a flood of new supply, which is especially likely to weigh on rents in high-end buildings in downtown areas. In all, more than 188,000 apartment units were completed in 2015, the most since 1999, according to Reis. (…)

Both reports showed that some of the hottest markets in the country are finally starting to cool, while smaller, less expensive ones are starting to heat up. (…)
It is normal for vacancy rates to bottom here as CalculatedRisk illustrates:
In all: Risk off!
(…) The US high-yield bond market has been shuttered for the longest period of time since 2011, as sharp gyrations across global equity markets further damp risk appetite from an investor base that suffered a losing 2015.

Speculative grade US companies — those rated double B plus or lower by one of the major credit agencies — have not sold new bonds to investors since the middle of December, the longest stretch without a new junk offering since 2009, according to data from Dealogic.

Without new issuance on Thursday or Friday, the drought could become the longest since the depths of the financial crisis when the market went a record 40 days without a junk bond offering. (…)

US junk bonds slid 4.5 per cent in 2015, the worst performance since 2008, according to Barclays Indices. (…)
Global markets are facing a crisis and investors need to be very cautious, billionaire George Soros told an economic forum in Sri Lanka on Thursday.

China is struggling to find a new growth model and its currency devaluation is transferring problems to the rest of the world, Soros said in Colombo. A return to positive interest rates is a challenge for the developing world, he said, adding that the current environment has similarities to 2008. (…)

"China has a major adjustment problem," Soros said. "I would say it amounts to a crisis. (…)
If you enjoyed this article, Get email updates (It's Free)