Fed's Beige Book Finds Modest Growth in Most Districts The U.S. economy expanded at a modest pace in most of the country into the new year, boosted by consumer spending and a tightening labor market, the Federal Reserve said.
Wages and prices remained subdued in most of the U.S. through the first week of the year, according to a survey of economic conditions, a discouraging signal for Federal Reserve officials grappling with the threat of persistently weak inflation to economic growth.

While the jobs market continued to improve moderately, wage increases were "flat to moderate, while price increases tended to be minimal" from late November through Jan. 4, the Fed's beige book found. (…)

Wednesday's report, based on anecdotes in the Fed's regional survey of economic conditions, nonetheless had bright spots as the majority of the Fed's 12 districts reported economic growth. Conditions in the New York and Kansas City districts were "essentially flat," but contacts were "upbeat" in Boston.

Consumer spending, a mainstay of the economy, grew in most districts through the holiday season. The housing market and commercial construction improved in most areas, and loan demand grew in most districts, the Fed said.

However unseasonably warm weather caused some hiccups, prompting weaker apparel sales in a few places, and renewing downward pressure on low energy prices by increasing the sector's already abundant inventories of oil and gas.

Auto sales "were somewhat mixed, as activity has begun to drop off from previously high levels in some districts," the report said. The report cited lower gasoline prices as a contributing factor for auto sales in roughly half of the districts.

A strong U.S. dollar and slow growth overseas continued to stifle manufacturing activity in many areas, the report found. The sector has been hit by low commodity prices, weakness overseas and currency movements, which have curtailed demand for U.S. exports while also making imported goods less expensive. (…)

Tourism activity varied as the strong dollar made trips to the U.S. more expensive for visitors from overseas. New York reported particular weakness, with lower hotel revenue. Mild weather hurt ski resorts across the East Coast and parts of the Midwest.

Conditions on farms were generally more negative, due to weak crop and livestock prices. Drought remained a problem in some regions, while heavy rain and flooding hit harvests elsewhere. (…)
THE BIG CHINA AND OIL SPILLS
China's Slowdown, Oil's Slide Show Peril of Faulty Assumptions China's waning appetite for commodities and the oil-price war are rippling through markets and supply chains in ways that are having a disproportionate impact on U.S. manufacturing and financial markets. It doesn't necessarily spell recession, Greg Ip writes, but it shows the peril of faulty assumptions.
(…) A pronounced slowing in China's industrial sector and a steep drop in oil prices have taken investors, business and policy makers by surprise. That doesn't mean a crisis or recession are in the cards. But it could mean the U.S. economy and markets will take a bigger hit than the relative importance of either China or oil can explain.

Exports to China constitute less than 1% of U.S. annual gross domestic product. The U.S. is also a net importer of oil, so a fall in oil prices should be positive.

Yet, some economists estimate, in the fourth quarter of 2015 the U.S. economy grew only about 0.5% at an annual rate. (…)

The U.S. didn't sell many commodities directly to China, but it sold things to countries that did. Their growth has slumped along with commodity prices, and capital has fled, driving down their currencies and pushing up the dollar, creating headwinds to U.S. exports.

The reversal of sentiment on oil has been even more dramatic. (…) That fueled a boom in projects premised on oil between $80 to $100, and in loans and bond issues that valued the companies' reserves at $80 to $100 per barrel. Mr. Thomas estimates that energy accounted for two-thirds of the rise in total U.S. industrial capacity between 2009 and 2014.

(…) while U.S. auto production rose last year to meet consumer demand for gas-guzzling light trucks, Mr. Thomas notes that was more than offset by a collapse in orders for machined parts, precision tools, engines, transmissions, pumps and other "intermediate" goods for the global commodity production chain. Many companies earlier in the chain didn't realize how exposed they were to the commodity bust.

The selloff has spilled into the financial system. Yields on bonds of energy companies have shot up and smaller banks are announcing significant reserves against lending to energy companies. The stress has spread to other borrowers: Yields on bonds issued by nonenergy companies have risen to 7.7% from 5.3% in mid-2014.

"Credit-market shocks of the sort triggered by the commodity-price collapse can prove quite damaging to broader economic conditions," Mr. Thomas says.

How bad will it get? Because output per worker is much higher in manufacturing and mining than in services, the pullback in those sectors affects GDP more than employment. Indeed, overall job growth and demand for services so far remain buoyant.

China's growth appears to have steadied. So absent even more contagion, the U.S. seems likely to escape a recession. Even so, this year will likely provide another object lesson in taking trends for granted.
Coincidentally, Reuters had this piece yesterday (thanks Gary):
Oil and gas production was one of the fastest-growing industries in the United States between 2009 and 2014 according to the U.S. Bureau of Economic Analysis (BEA).

Oil production increased by more than 60 percent while natural gas production was up by more than 25 percent thanks to the shale revolution.

What is less well-known is that oil and gas production is also very energy intensive and the drilling boom contributed significantly to fuel consumption, especially diesel.

Now the drilling boom is over, lower fuel demand from oil and gas producers helps explain why diesel consumption in the United States has been unusually weak over the last 12 months.

(…) the fuel requirements of oil and gas production are significant enough that they are having a noticeable impact on consumption and prices, especially for diesel. (…)

Producing $1 worth of oil and gas required $1.58 of gross output by all domestic industries in 2014, according to the BEA ("Commodity-by-commodity total requirements" 2014).

Once all the direct and indirect effects are taken into account, U.S. oil and gas producers stimulated $1.12 worth of oil and gas demand for every $1 that they produced in 2014. (…)

During the boom, oil and gas drillers created enormous extra demand for raw materials, transport and workers, all of which in turn stimulated more oil and gas demand. Now the process has gone into reverse, worsening the slump.
CASE IN POINT:
Falling oil prices have brought widespread layoffs in the oil fields of Texas, Louisiana, Oklahoma and Pennsylvania and questions about whether once-hot local economies are retrenching for good or just hitting pause before resuming growth at a slower pace.

But the risk is acute in North Dakota, where the boom was especially strong. Oil production in the Bakken Formation, underlying the western part of the state, grew from barely a blip in 2006 to making the state the nation's No. 2 oil producer after Texas by 2012. Thousands of workers flocked to the prairie, driving up rents and straining the resources of small communities. (…)

In December, a Moody's report warned that the state's economy could enter a "full-blown recession" if job losses continue. "North Dakota's oil boom has come to an end," wrote Moody's economist Dan White. (…)

In recent months, Williston's population has slipped back to about 32,000 [from 36,000 in 2014 and 12,000 in 2008], Mr. Klug said. Building permits have dropped to a third of what they were last year. Today, about $250 million of construction projects are under way, down from about $1 billion in projects three years ago.

Nick Krebsbach, manager of Eleven Restaurant & Lounge, a steak and seafood restaurant in Williston, said the long wait times and outsize tips that his staff saw during boom times are no more.

"We were busy six nights a week. Everybody was employed, and they were willing to spread it around town," he said. "It was a whole different world than it is now."

Mr. Krebsbach said the restaurant hasn't had to lay off any workers but some have left because spouses lost jobs or were transferred out of state. "Now is when the real work starts and you do what you need to survive," he said. (…)

Still, the city, which has an annual budget of about $240 million, has about $300 million in debt. Eight years ago, its budget was just $40 million.

Sales-tax revenue in Williston was down at least 35% in the quarter ended in December from a year earlier, but still above levels in 2010 and 2011.

The real-estate market has also taken a hit.(…) "We haven't gotten a lot of foreclosures yet," she said. (…)

In early January, there were 54 drilling rigs operating in North Dakota, down from a peak of about 200 in the spring of 2012. (…)
Continental Resources CEO Sees Oil Prices Doubling by Year End Energy executive Harold Hamm sees oil prices doubling to $60 a barrel by the end of 2016, a prediction that runs counter to the many analysts who recently have been marking down their oil forecasts.
He also believes that Saudi Arabia made a "monumental mistake" in continuing to pump oil at a fast pace. The move not only depressed world prices but likely contributed to the lifting of the U.S. government's 40-year ban on oil exports, Mr. Hamm said. (…)

Mr. Hamm, chief executive of top U.S. shale-oil producer Continental Resources Inc., believes that the current glut will ease substantially this year as U.S. shale companies ratchet down production until the market recovers. U.S. output has been falling recently but not as rapidly or by as much as many investors anticipated.

He said that will end soon. (…)

With oil prices currently covering only half the cost of industry operations, Mr. Hamm said U.S. producers are cutting output at a rate of 1.6 million barrels a year. That could quickly take the U.S. back to levels three years ago. Though companies can continue to pump at this price, they can't afford to drill new wells, ramping down future supplies, he said.

Once supply deficits begin, they can't reverse quickly. It could take one to two years to bring output back on line, Mr. Hamm said. With Saudi Arabia already pumping near maximum capacity, there will be little ability to make up the shortfall, he added. (…)

He added that with U.S. exports poised to gain global market share, he viewed OPEC as "almost a nonentity" that is losing its ability to dictate market prices as it has for many decades.

The Continental Resources CEO also said the end of the export ban could ease another concern: the lack of enough storage to hold all the barrels produced if supply doesn't slow soon. Some analysts think this constraint could lead to lower oil prices as producers would look to get those barrels out the door.

Mr. Hamm said that U.S. producers shipping overseas could temporarily stow oil on board floating tankers if they run out of storage space, an option he dubbed the "blowout preventer."
(…) In an authoritative study published on Thursday, the energy consultancy Wood Mackenzie says development of some 68 major projects, or 27bn barrels of oil equivalent in reserves, has been put back as companies scramble to curtail costs and protect dividend payouts.

The latest figures show that the amount of deferred capital spending on projects awaiting approval has almost doubled since June, from $200bn to $380bn, with 2.9m barrels a day of liquids production — equivalent to Kuwait's crude output — now not due to come on stream until early in the next decade. (…)

The list has grown by a third in the last six months, with the average "break-even" price of the projects being $62 a barrel. Deepwater fields account for more than half of new deferrals, up from 17 six months ago to 29.
Canadian oil sands producers are feeling pain as bitumen — the thick, sticky substance at the center of the heated debate over TransCanada Corp.'s Keystone XL pipeline — hit a low of $8.35 on Tuesday, down from as much as $80 less than two years ago. (…)
Since most of the spending for bitumen extraction comes upfront, and thus is a sunk cost, production will continue and grow. Canada will need more pipeline capacity to transport bitumen out of Alberta by 2019, King said. (…)
(…) "The knife has fallen," said David Fann, chief executive officer of TorreyCove Capital Partners, which advises investors in private equity. While much of "the reckoning" is about two years out, as many companies sold futures contracts to lock in prices for their product, "the energy opportunity is really starting to develop, finally." (…)

The closely watched junk bond exchange traded funds, State Street's JNK and BlackRock iShares' HYG, have tested new lows, but are down less than 3 per cent each.

That appears to Leslie Biddle, partner at Serengeti Asset Management, as burnout in the high-yield market. Sentiment has become so bad it just can't get much worse, she believes.

"Everyone has just gotten so pummelled about the head and face that they're slightly immune" to further price pain, Ms Biddle says.
Bonds issued by BreitBurn Energy, an independent US oil and gas group, maturing in 2022 with a 7.875 per cent coupon have traded as low as 17 cents on the dollar. Denbury Resources bonds that mature in 2022 have slid to 33 cents on the dollar from 98 cents last June, yielding more than 29 per cent.

While low prices are alluring, last year's experience has left many investors feeling it still may be too soon to step in.

"A lot of the price action is warranted," says Putri Pascualy, a managing director at Pacific Alternative Asset Management Co. "There is real, fundamental change in the industry, both in terms of much lower prices and the fact that industry needs continued access to capital markets to function."

Although energy and metals and mining have been the focus for distressed portfolio managers — the two sectors represent a fifth of the $1.2tn US junk bond market —, the sell-off in lower quality retail, telecom, healthcare and industrial names last year has also presented opportunities, portfolio managers say.

Richard Smith, managing director for leveraged capital markets at Mizuho says although all three leading US credit rating agencies project defaults to rise this year, many companies have already locked in funding for the near term,

Less than $1bn of subordinated, and senior-secured and -unsecured corporate debt that has fallen into distress matures in 2016, according to Standard & Poor's. The figures climb to roughly $13bn in 2017 and $24bn in 2018 before jumping to $40bn in 2019.

While companies have space before the so-called maturity wall is hit, the size of the distressed market has surged. S&P counts 271 issuers with $233bn of debt in distress, the highest level since 2009. (…)

For some investors, the slide in bond prices in 2015 was representative of a fundamental re-pricing in high yield markets as portfolio managers have an increasingly difficult time trading in and out of junk bonds.

Bob Michele, chief investment officer of JPMorgan Asset Management, notes that investors had for a long time priced in an average of 300 basis points of "liquidity premium" to the thinly traded asset class.

"Broker dealer balance sheets are structurally smaller than they have been historically so that risk premium has to expand beyond what defaults and recoveries price in to spreads," he says. "That seems to be the one thing that has changed. It makes sense that it has to be re-priced."
U.S. Budget Deficit Ends Year Down 2% The U.S. budget deficit ended last year at its lowest mark since 2007, the sixth straight annual decline.
The deficit ended calendar year 2015 at $478 billion, or around 2.6% of gross domestic product, down from a year-earlier level of $488 billion, or 2.8% of GDP, the Treasury Department said Wednesday. (…)

Government spending will rise further after last fall's bipartisan agreements between President Barack Obama and Congress that boost discretionary spending caps through September 2017 and extend a series of tax breaks for businesses and households.

Economists at Goldman Sachs estimate the deficit could rise to $650 billion, or 3.5% of GDP, in the fiscal year ending Sept. 30 and to $575 billion, or 3% of GDP, in fiscal 2017. (…)

The U.S. has added nearly $8 trillion in debt since 2007, and the nation's debt-to-GDP ratio has doubled to around 73%, based on federal debt held by the public. Last year, debt-service costs for the U.S. government fell to 1.2% of GDP, from 1.7% in 2008. (…)
Germany's government posted a record €12.1 billion ($13.14 billion) budget surplus last year, a much needed financial boost that the country's finance minister said will help accommodate the record influx of migrants to Europe's largest economy. (…)

In November, the government said it has put aside an expected €6.1 billion surplus from 2015 to cover migration-related costs. In its budget plans, the government has penciled in €8 billion in total migration-related costs for 2016. Last year, nearly 1.1 million migrants arrived in Germany, nearly 1.4% of the total population. (…)
(…) Announcing the figures on Thursday, the government's statistical office said growth in Europe's largest economy was driven by private consumption, which rose at its strongest rate since 2000, thanks to low unemployment, wage increases and low inflation. Householders were also encouraged to spend by lower energy costs and by low interest rates on savings, which has made it less attractive to put money away for a rainy day. (…)

The statistical office said private consumption expanded by 1.9 per cent, contributing 1 percentage point to 2015 growth, while public spending added 0.5 points. Trade contributed 0.2 points, although imports expanded at a slightly higher rate than exports, which remain strong helped by a weak euro and by lower oil prices. (…)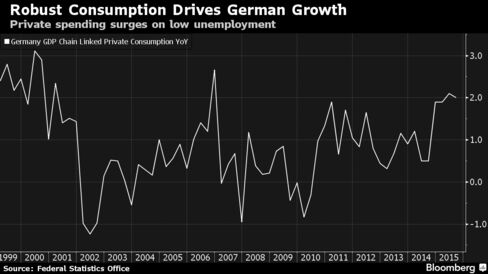 SENTIMENT WATCH
In today's Chart of the Day, we highlight historical bear markets for the Russell 2000 which just officially entered bear market territory today. After running into resistance at its 50-day moving average at the end of 2015, the Russell 2000 has been in complete liquidation mode for all of 2016. As a case in point, there has only been one day so far in 2016 where the index closed higher than its opening level. As a result of this weakness, the index is now down more than 10% in 2016. If you think deflation has been solely confined to commodity prices, think again.
(…) "There are few people out there willing to buy the dips because everyone is scared that the selloff will be deeper the next day. And it has been. Sentiment is rock-bottom. I would sell any highs. There is definitely potential for bigger losses." (…)
According to Bloomberg, on a share-weighted basis, S&P 500 profits are expected to have dropped by 7.2% in 4Q, while revenues are expected to fall by 3.1% This would represent the worst U.S. earnings season since 3Q 2009, and a third straight quarter of negative profit growth. It's no longer simply a recession: as noted above, the Q4 EPS drop follows declines of 3.1% in Q3 and 1.7% in Q2. it is… whatever comes next.

As Bloomberg adds, the main driving forces behind drop in U.S. earnings are the rise in the dollar index (thanks Fed) and the drop in average WTI oil prices. However, since more than half of all industries are about to see an EPS decline, one can't blame either one or the other.
(…)The fair value for Standard & Poor's 500 Index is 2,100, Cohen said. The benchmark last closed above that level on December 1 and has fallen 10 percent since, after turbulence in China's stocks and currency spurred a global market rout.

"What is happening is really very much an emotional response," Cohen told Elliot Gotkine on Bloomberg Television. "We need to put things into perspective. Stocks are probably the best place to be." (…)
EARNINGS WATCH
Thomson Reuters says that 23 companies or 5% of the S&P 500 have reported Q4. The beat rate is 78% with a 5% surprise factor:
Blending the reported with the estimates, Q4 EPS are currently seen down 4.8% from –3.7% on Jan. 1. Most od the deterioration is from Energy though Financials also retreated (b4 JPM's results today):
Pre-announcements are not getting worse.
Full year EPS are now seen at $116.94 (per TR) which, at 1888, puts the trailing P/E at 16.1 and the Rule of 20 P/E at 18.1. Fair value per the Rule of 20 is 2105, right where it was in January 2015 and right where Abby Joseph Cohen sees it, not that that makes it more comfortable
.
Upside to fair value is 11.5%. Downside risk is to a Rule of 20 P/E of 16.3, the lows of 2011 and 2012 (1675), down 11.3%.
If you enjoyed this article, Get email updates (It's Free)