West Texas Intermediate futures dropped as much as 5.8 percent in New York and are down more than 10 percent for the week. The grade had slipped below $30 a barrel on Tuesday for the first time since 2003. International sanctions on Iran may be lifted soon, allowing for a boost in oil shipments from the fifth-biggest member of the Organization of Petroleum Exporting Countries. (…)
Ben Hunt gets the Fed involved:
(…) For example, we all know that it's the overwhelming oil "glut" that's driving oil prices down and wreaking havoc in capital markets, right? It's all about OPEC versus US frackers, right?

Here's a 5-year chart of the broad-weighted US dollar index (this is the index the Fed publishes, which – unlike the DXY index and its >50% Euro weighting – weights all US trading partners on a pro rata basis) versus the price of WTI crude oil. The red line marks Yellen's announcement of the Fed's current tightening bias in the summer of 2014.
Ummm … this nearly perfect inverse relationship is not an accident. I'm not saying that supply and demand don't matter. Of course they do. What I'm saying is that divergent monetary policy and its reflection in currency exchange rates matters even more. Where is the greatest monetary policy divergence in the world today? Between the US and China. What currency is the largest contributor to the Fed's broad-weighted dollar index? The yuan (21.5%). THIS is what you need to pay attention to in order to understand what's going on with oil. THIS is why the game of Chicken between the Fed and the PBOC is so much more relevant to markets than the game of Chicken between Saudi Arabia and Texas. (…)
It's not just oil that is having a horrid time, with industrial metals heading for their second weekly drop in a row as all base metals fell on the London Metal Exchange.
Recently, Moody's industrial metals price index sank to its lowest reading since May 28, 2009. As of January 13, the base metals price index — one of the better coincident indicators of global economic activity — was off by -7.3% since year-end 2015 and down by -26.4% from a year earlier. The latter was deeper than the -18.5% year-over-year plunge by the base metals price index's latest moving 52-week average.

In 2015, the base metals price index's yearlong average sank by -17.8%. Notwithstanding the severity of 2015's setback, the consensus projects a 3.0% annual increase by 2015's world economy. . Though the latter lags the world economy's 3.8% average annual increase of previous recovery years, the record suggests that the consensus view will prove too high given the harshness of industrial metals price deflation.

According to a sample that begins in 1979, 2015's annual average decline by the base metals price index was the third worst on record. The two deeper calendar-year setbacks were 1982's -20.8% and 2009's -20.0%, or when the percent change in world economic activity approximated 0.8% and 0.0%, respectively. In addition, 1998's fourth deepest annual contraction by the base metals price index of -16.9% was joined by a well below-average 2.5% gain for the world economy.

More than a cursory examination of the data favors slower-than-anticipated growth for the world economy. According to a regression model that explains world economic growth in terms of the annual percent changes of the industrial metals price index and US real GDP, 2015's annual increase by world real GDP may be closer to 2.5% than to the projected 3.0%.
The caveat is that the current commodity price collapse is more a supply than a demand problem as CRU demonstrated at a recent Scotia Capital conference:
Despite a general economic slowdown, China continues to face deficits in many commodities, including copper, nickel, zinc, iron ore, and potash. The value of imports has declined on the back of lower commodity prices, but not volume. In fact, the pace of commodity imports remains in a secular uptrend, as represented by an index of leading imported commodities over at least the past 22 months, and CRU thinks this indicates healthy demand growth, and not a collapse like some believe.

CRU believes much of the commodity price decline seen to date is not due to a lack of demand, but rather, a result of overcapacity. However, supply in China is self-correcting on the back of: (1) shutdowns due to unprofitability; (2) production curtailments by producers; and (3) government-imposed closures. Moreover, the Chinese government has been withdrawing subsidies and incentives for smaller producers (e.g. electricity, transportation, etc.), to encourage consolidation. CRU estimates planned capacity closures will negatively impact China's GDP by ~0.6%.

Hailed as the biggest initiative since the opening of China, the One Belt One Road (OBOR) initiative calls for the development of an economic corridor that connects 60+ countries. This is could increase China's outward direct investment to $300B/yr from $100B/yr currently, with much of it focused on commodities required for the planned infrastructure build, including new rail, road, ports and pipelines. CRU estimates that the policy could increase steel requirements by as much as 100M mt/yr.
I also believe it is mainly a supply issue after years of over-investment based on free money and extrapolating China's demand, but demand is also pretty tame currently as evidenced by world industrial production, barely rising YoY.
An index of the U.S. currency against 10 of its peers rose for a third week, the longest stretch since July, amid demand for haven assets as oil dropped below $30 for the first time in more than a decade and Chinese stocks led a global rout. Futures show 26 percent odds the Fed will tighten policy by its March meeting, down from 41 percent as of the end of last week. (…)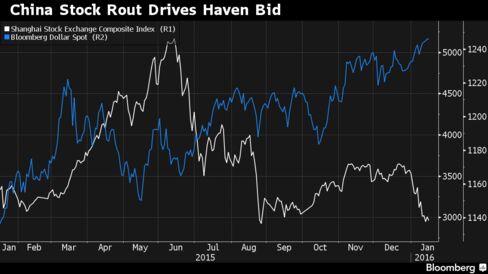 Global Malaise Spurs U.S. Growth Worries Concerns are mounting over whether the U.S. economy and financial markets can remain upright while so much of the world teeters.
(…) Forecasters in The Wall Street Journal's latest survey of economists said there is a 17% chance the U.S. will enter a recession in 2016, the highest percentage in three years. And 80% said they see downside risks to the economy.

"To lose the U.S. expansion, there has to be some transfer mechanism of global angst to the domestic U.S. economy," said Ellen Zentner, chief U.S. economist at Morgan Stanley.Falling stocks and deteriorating credit markets could do the trick, she said. (…)
They expect the economy will grow 2.5% in the coming year and the unemployment rate will fall further to 4.7% by year's end.

They are less optimistic about emerging economies: 53% of economists surveyed think these markets will weaken, while only 18% think they will strengthen. (…)
How can the US economy create 257,000 jobs when the dollar is strong and oil prices are low and HY energy spreads are widening? Because the elephant in the room is the service sector, which benefits from lower oil prices. Bottom line: Don't interpret 10y rates in the US at 2.2% as a sign that the US economy is unhealthy (…)
Shift in Inflation Expectations Clouds Interest-Rate Outlook Investors show growing doubt that the Federal Reserve will successfully spur inflation to climb back to its 2% target after running below that level for more than three and a half years.
(…) Yield movements in the Treasury inflation-protected securities, or TIPS, market indicate that compensation for inflation expected in five to 10 years has dropped to 1.56% annually, according to Barclays. That is down from 1.67% when the Fed raised short-term rates in December. Moreover, it is down from 2.5% two years ago. (…)

The Federal Reserve Bank of New York's survey of consumer expectations, released this week, found households in December expected 2.8% inflation over the next three years and 2.5% inflation over the next year, both down from 3% a year earlier.

More data on consumer inflation expectations come Friday from the University of Michigan. The Michigan survey in December showed expectations of 2.6% inflation over the next year and a 2.6% annual rate for the next 5 years, down from 2.8% a year earlier. (…)

Fed Chairwoman Janet Yellen said in a Dec. 2 speech that "convincing evidence that longer-term inflation expectations have moved lower would be a concern" and could make "the attainment of our 2% inflation goal more difficult."

She said in mid-December, "I still judge that inflation expectations are reasonably well anchored." (…)
U.S. Import Prices Down 1.2% in December Declining prices for imports, even beyond oil, appears likely to exert downward pressure on inflation in the U.S. well into this year.
It was the sixth straight monthly decline. From a year earlier, import prices were down 8.2% in December. The year-over-year figure has declined for 17 consecutive months. (…)

Imported petroleum prices fell 10% in December—the largest monthly decline since August. Imported oil prices are down 41.3% from a year earlier. The rout on oil prices isn't abating. Oil prices touched below $30 a barrel this week for the first time since 2003.

But even outside of petroleum, import prices were down 0.4% in December, and have fallen 3.7% from a year earlier. That was the largest 12-month decline for the category since October 2009. (…)

In December, import prices fell in most categories, including a 1.4% drop in industrial materials excluding petroleum, a 0.3% fall in capital goods such as machinery, and a 0.1% decline in car and automotive part prices. The cost of nonagricultural foods, such as fish and distilled beverages, increased 0.5% last month, but overall food prices still fell.

The price of goods imported from China fell 1.7% in December from a year earlier, the largest 12-month decline in six years. Prices from Canada, the largest U.S. trading partner, were down 14.8% from a year earlier. The price of imports from the European Union fell 3.9%.

U.S. export prices also declined last month, possibly reflecting lackluster demand overseas. Export costs fell 1.1% in December from the prior month. Export prices are down 6.5% year-over-year.
Nonpetroleum import prices have declined for seven consecutive months (-3.9% a.r.). Curiously, U.S. export prices have also declined for seven consecutive months and non-ag export prices are down 5.9% YoY (chart from Haver Analytics).
Barring a major upward revision in the outlook for operating profits, a steadying of financial markets may require an unambiguous shift in the likely direction of Fed policy from tightening to neutrality. Otherwise, the high-yield bond spread may remain wider than 700 bp and equity prices will struggle. The high-yield bond spread's 738 bp average since year-end 2015 questions the rationale behind higher benchmark interest rates.

Thus far in 2016, investment-grade and high-yield bonds have moved in different directions. Unlike the -7 bp decline of the long-term Baa industrial company bond yield to 5.35%, the US composite speculative-grade bond yield jumped up by 34 bp to a recent 9.22% for its highest reading since October 2011.

However, high-yield's prospects were more favorable in October 2011 compared to January 2016. For starters, the recent average EDF (expected default frequency) of US/Canadian non-investment-grade companies approximated 7.5%, more than doubling its 3.6% average of the three-months-ended October 2011. Moreover, the net high-yield downgrades of 2011's second half approximated 2.8% of the number of US high-yield issuers, which was far less than the 7.9% ratio of 2015's second half.

Also, revenues and profits both supplied stronger underpinnings for high-yield credit quality in late 2011. Yearlong 2011's 8.3% annual surge by core business sales far surpassed 2015's prospective 2.2% rise, where the latter will be the worst calendar-year showing by this version of business sales ex energy since 2009's -11.8% plummet.

In addition, October 2011's outlook for profits was brighter. Unlike recent consensus expectations of a -0.9% dip by 2015's pretax profits from current production followed by a meek 2.8% rebound for 2016, October 2011's consensus looked for livelier profits growth of 7.3% for 2011 and 5.0% for 2012.

The US composite high yield bond spread has remained above 700 bp since December 10, 2015. In all likelihood January 2016's month-long average for high-yield spread will top 700 bp for the first time since December 2011's 736 bp. Nevertheless, January's spread should fall short of October 2011's post-2009 high of 775 bp. Recently 763 bp, the high-yield spread has averaged 738 bp thus far in January.

Despite the high-yield spread's 753 bp average of September-December 2011, the US was safely distanced from recession. After barely growing by 0.8% annualized from the second to the third quarter of 2011, real GDP proceeded to increase by 2.4% over the next four quarters. Business activity was lively enough to lower the unemployment rate from Q3-2011's 9.0% to Q3-2012's 8.0%.

The record suggests that a wider than 700 bp spread does not reliably indicate the nearness of a recession unless it has persisted over an extended span. For example, recessions were either impending or already underway each time the high-yield spread's moving 12-month average first broke above 700 bp. More specifically, the high-yield spread's moving 12-month average initially topped 700 bp for the spans-ended October 2008, February 2001, and January 1991. (…)

According to a sample that begins in late 1982, the Fed has hiked rates only once when the base metals price index's moving 13-week was down by at least -15% year-over-year — and this one exception just occurred at the December 16, 2015 meeting of the FOMC. Despite an accompanying -26% annual plunge by the base metals price index's moving 13-week average, the target range for fed funds was raised by 25 bp.

Moreover, the Fed had never hiked rates in the context of a wider than 650 bp high-yield bond spread until the December 16th meeting. Thus, do not be surprised if the next rate hike does not occur until industrial commodity prices stabilize convincingly and the high-yield bond spread breaks well under 700 bp. The need to resolve issues pertaining to financial market volatility and the adequacy of global growth explains why the futures market does not expect another rate hike until the June 15th meeting of the FOMC.
In November 2015 compared with October 2015, seasonally adjusted industrial production fell by 0.7% in the euro area (EA19) and by 0.6% in the EU28, according to estimates from Eurostat, the statistical office of the European Union. In October 2015 industrial production rose by 0.8% and 0.6% respectively. In November 2015 compared with November 2014, industrial production increased by 1.1% in the euro area and by 1.4% in the EU28.
Nothing really positive going on in IP:
China's central bank has one foot on the gas, but another on the brake. Little wonder it isn't getting much traction.

Since November 2014, the People's Bank of China has slashed interest rates six times, and cut the mandatory level of bank reserves five times. The benchmark lending rate has fallen by 1.65 percentage points. But the results so far have been unimpressive.

The latest sign was lending data released Friday. China's banks extended just under 6 trillion yuan ($910 billion) of new loans in December. That was below expectations, and down from more than 7 trillion the previous month, even though December typically sees a seasonal uptick in lending.

Total social financing, a broader measure of credit in the economy, is also sluggish. It rose 11.8% in 2015, the slowest pace in at least a decade. Some economists argue this is an underestimate, because it excludes a new local-government bond swap program put it in place this year. The issue is disputed. But even after including this program, growth in total credit still only came to 14.3%, a slight deceleration from 2014.

Why has PBOC loosening failed to unleash credit growth? In part, because the PBOC is also tightening at the same time.

It is doing so through its massive interventions to prop up the yuan, spending around $130 billion in December alone, according to Goldman Sachs. When the PBOC spends dollars from its currency reserves to buy up yuan, this shrinks the domestic money supply. It is the opposite of the process seen in China's boom years, when it bought up dollar inflows with newly printed yuan, adding to its reserves and domestic liquidity.

To see the effect, look at reserve money, a liability on the PBOC's balance sheet. This is effectively the monetary base, or the amount of money supplied to banks by the PBOC.

This monetary base is shrinking. It fell from a year earlier in each of the last four months, including a 6% decline in December. These are the first such declines in at least 15 years, says Rhodium Group analyst Logan Wright. Back in 2011, when China was contending with massive inflows and buying up reserves, it was rising as fast as 33%.

So the PBOC is trying to juice liquidity with one hand, while taking money out of circulation with the other. Even more frustratingly, further PBOC loosening such as rate cuts might only add to outflow pressures, prompting more intervention.

To break the cycle, currency outflows need to stop, perhaps due to a sudden turnaround in domestic growth, or the PBOC needs to stop intervening and let the currency fall. Neither seems likely any time soon.
The FT and Bloomberg have a different view:
(…) New borrowing — including bank loans, bonds and off-balance sheet lending — totalled Rmb1.7tn ($260bn) last month, according to the central bank's broadest gauge of credit flows to the real economy.

That is the biggest increase since January, as borrowers rushed in to take advantage of a series of interest-rate cuts and cash injections, much as US Federal Reserve easing fuelled loan growth in the US in recent years.

Corporate bonds set a monthly record, with net issuance of Rmb470bn, on the back of buoyant liquidity and falling interest rates. Equity financing was also the strongest on record at Rmb153bn in December, as regulators unfroze initial public offerings late last year amid a recovery in the stock market that has since foundered.
(…) Analysts project a 6.7 percent contraction in fourth-quarter profits for Standard & Poor's 500 Index members. For peers in Europe, estimates call for growth of just 2.7 percent for all of 2015, about half the pace predicted four months ago. Investors are also running for the door — they pulled about $12 billion from global stock funds last week. (…)

Thomson Reuters' tally as of yesterday is for EPS to drop 4.9%. It was –4.7% 2 days ago and –3.7% on Dec. 31. As I said yesterday, most of the deterioration is in nergy and Financials. Q1'16 estimates are +0.8%, down from +2.3% 2 weeks ago with Energy EPS sen collapsing 60.5% vs –41.6% 2 weeks ago.
SENTIMENT WATCH
China Shares Fall Into Bear Market Shanghai Composite Index drops 20% from its recent high hit on Dec. 22
The pace of withdrawals accelerated to $12.4bn in the week to January 13, with stock funds suffering the largest two-week period of redemptions in 10 months, according to fund flows tracked by EPFR.

Investors raced into the haven of the US dollar, with money market funds counting $24bn of inflows. Figures from Lipper showed funds investing in US government debt attracted $1.9bn — the highest level since October — in the latest week. (…)

European stock funds counted withdrawals for the first time since the start of October, while $4.5bn was pulled from US high-yield, balanced, bank loan and total return funds.

Emerging market equity funds, stung by the rout in commodity prices, saw the 11th consecutive week of redemptions.
With the S&P 500 seeing its weakest eight-day start to a year in history, you would expect to see stock market sentiment become less optimistic. What is really surprising, though, is just how weak sentiment has become. According to the weekly sentiment survey from AAII, bullish sentiment dropped from 22.2% down to 17.9%. Not only is that the 45th week in the last 46 weeks where sentiment has been below 40%, but this week's level of bullish sentiment is the lowest weekly reading in more than ten years (April 2005). As bullish sentiment declined to the lowest levels in a decade, bearish sentiment has also been on the increase, although not to quite the same degree. In this week's survey from AAII, bearish sentiment increased from 38.3% up to 45.5%. That's a high reading, but you only have to go as far back as 2013 to find the last time bearish sentiment was higher than the current level.
It's been a roller coaster year for China's legions of semi-literate day traders who have seen the heights of feast and the depths of famine with Chinese equities over the past 12 months. Now, in the wake of more volatility, many Chinese retail investors are throwing in the towel.
(…) Mr Lapthorne acknowledged he has a curious job. "We're paid very very well if we're completely and utterly wrong. I suppose a bit like economists."
If you enjoyed this article, Get email updates (It's Free)