FED BETWEEN A ROCK AND …
From the January 2016 NABE Business Conditions Survey:
For the first time in more than a decade nearly half (49%) of respondents report their firms' wages and salaries rose in the latest quarter. The NRI [net rising index] for wages and salaries rose sharply to 45 in the January survey from 28 in the October survey—the highest NRI since at least January 2005. But wage increases were much less prevalent in the goods-producing sector (35% of respondents) and in TUIC firms (33%) than in the finance, insurance and real estate (FIRE) sector (61%) or the services sector (50%).

Expectations for wage increases over the next three months are more prevalent than in the previous six surveys. (The question was not asked prior to July 2014.) Fifty-eight percent of respondents anticipate increases in wages and salaries at their firms, resulting in an NRI of 54, compared to an NRI of 40 in the October survey. (…)

"Equal numbers of participants report declining and rising profit margins at their firms, the first time since the July 2013 survey that rising margins did not predominate," said Survey Chair Patrick Jankowski, senior vice president of research at the Greater Houston Partnership. "Nevertheless, more respondents than in the previous survey in October report that their firms had raised selling prices, and more firms experienced falling than rising input costs. Fewer panelists than in the past three surveys report difficulty filling open positions, and shortages of skilled labor are less prevalent among respondents' firms than in the two previous surveys."
BTW: Walmart announced that it "will increase all 1.2 million hourly workers wages by at least 2% on Feb 20, as the company hopes to stem defections."
The S&P/Case-Shiller Home Price Index, covering the entire nation, rose 5.3% in the 12 months ended in November, greater than a 5.1% increase in October.

After seasonal adjustment, the national, 10-city and 20-city indexes all gained 0.9% from October to November.

Strong price increases are being driven in part by employment and wage growth and low mortgage rates. But economists also warn that a stubborn shortage of new homes for sale is helping to drive down the volume of sales, while pushing up home prices. (…)

Portland, one of the hottest markets in the country, saw the number of homes on the market drop 26% since this time last year, according to Redfin. Overall, the 15 biggest markets in the country saw inventory declines of 10%.

After years of volatility, home price growth appears to have stabilized at an annual rate of close to 5%. But West Coast markets with strong job growth are seeing much more rapid price gains than other cities. Portland had an 11.1% price gain, followed by San Francisco with 11% and Denver with 10.9%. Three cities—Dallas, Denver and Portland—have reached new all-time highs, while San Francisco pulled even with its previous peak.

In contrast, prices in Chicago, Cleveland and Washington, D.C., rose by around 2% in November.
The U.S. House Price Index from the Federal Housing Finance Agency (FHFA) increased 0.5% in November (5.9% y/y), the same as during October. Over the last three months, the annualized rate of change picked up to 7.5%, the quickest growth since December 2014.

Prices were strongest during November in the Mountain states where a 1.8% monthly increase (10.0% y/y) was the firmest since June 2012. A 1.5% rise (8.6% y/y) in the Pacific states also was largest since late-2012. In the South Atlantic region, a 0.8% rise in prices left growth firm at 7.6% y/y.

Moderate price increases were logged in the East North Central region where prices rose 0.5% (5.0% y/y) and in New England where a 0.3% rise lifted prices 3.7% y/y. Prices gained 0.2% (4.9% y/y) in the West North Central states but they declined elsewhere in the country. House prices fell 0.4% (+5.5% y/y) in the West South Central region. They also were off 0.2% (+3.3% y/y) in the East South Central states and ticked 0.1% lower (+2.6% y/y) in the Middle Atlantic states.
Think about that:
Demand for housing has remained essentially flat since 2013 in spite of rising employment and low mortgage rates (chart from Haver Analytics).
Yet, house prices have jumped nearly 30% in the last 4 years and are almost back to their previous bubble peak (next 2 charts from CalculatedRisk).
Surprisingly, sharply higher prices are having zero impact on supply……which is seen as the main reason for the slow sales…
And while lenders are slowly loosening lending standards to help demand, prices are running away, hurting demand.
Retail sales rose sharply in January after a weak reading in December, pushing the index to 27 from -36. The index for big-ticket sales climbed to 30 from last month's reading of -32. In addition, shopper traffic was heavy this month, driving the indicator up to 26 from December's index of -19. Retail inventories increased moderately with the index gaining 13 points this month to finish at 12. Retailers anticipated further strength in sales prospects during the next six months, elevating the gauge for expected product demand to 16 from last month's reading of -3.
RETAIL DEFLATION IN THE U.K.
As in the U.S., deflating retail prices are causing confusion on retail sales statistics:
(…) As the Office for National Statistics puts it in its latest data release on U.K. retail sales:

"Although the annual change in the quantity bought was strong (4.5%) between 2014 and 2015, the amount spent increased by only 1.1%. This could be explained by falling prices in stores, which decreased by 3.2%, as shown in Figure 2. Essentially, as a consequence of falling prices, consumers were buying more items which were costing less."
Amount spent, quantity bought and average store prices in the 4 main retail sectors,
seasonally adjusted, 2015.
(…) Oklahoma-based Continental Resources, controlled by its founder Harold Hamm, said it would cut capital spending by 66 per cent this year to $920m, following a 46 per cent reduction last year.

New York-based Hess said it would cut spending by 40 per cent this year, following a 29 per cent cut in 2015. (…)

The costs of drilling and completing wells in the US has fallen sharply — in some cases by 40 per cent in the past year — but not as fast as oil prices.

The slowdown in activity at both Continental and Hess means their production is set to decline.

Continental predicted average output of 200,000 barrels of oil equivalent per day this year, down 5-9 per cent from 2015.

Hess said production would be 330,000-350,000 b/d for 2016, a drop of 7-12 per cent from its rate in the first nine months of last year. (…)

Continental's production grew by an estimated 24-26 per cent last year, the company has said, while Hess's output for the first nine months of last year was 19 per cent higher than in the equivalent period of 2014.

US oil production is expected to drop by about 1.2m b/d, or 12 per cent, from its latest peak in April 2015 to the end of 2016. (…)
There comes a time when the level of correlation hits a point where people start to notice. They will trade one asset on the back of moves of another asset because the correlation tells them that the two will move in lock step. In doing so they create a positive feedback loop of tighter and tighter correlation.

Algorithmic trading relies on correlations and there are correlations out there that only algorithms have seen and trade on. Some of them will make absolutely no sense to humankind as humankind attempts to satisfy its desire to justify correlations. The correlations algorithms trade on may be so obscure that the human brain would not even bother to look under the stones they are hiding as the number of stones to look under is almost infinite and humans like to apply filters to make the search easier. But computers? Well computers can look under stones that our logic filters would have discarded as duds. Humans have a desire to understand or justify the correlation before they trade on it. Why? Because justification is the excuse humans raise in case of failure. Without excuse there is little chance of being excused. Many years back we spotted a correlation between USD/DEM and the Icelandic fish catch. In fact it was better than USD/DEM vs Oil. Did we trade on it? No way. We would have been laughed out of the manager's office should we have had to excuse our losses.

Many years ago my friend Gerald Ashley (@Gerald_Ashley), told to me that 'Correlations work really well – until you put the trade on'. I have never forgotten that and often quote it, normally to 12yr old quants. This statement may sound as though it flies in the face of my original comment that correlations become reinforced by those trading on them, but what it really expresses is the point where that artificial forced correlation caused by the actions of the observer (their trading) can no longer hold down the reality that the two assets are not naturally correlated but had wandered together through chance and at some point will start to diverge again causing mass liquidations of all these hearded correlation trades in a classic high volatility blow up.

I raise this thought because of the current "correlation du jour'. That of oil and global stock indices. This correlation is not just real in mathematical terms but also has handy justifications that can be strapped to it to keep the human mind happy too. (…)

Odd things can happen when large things are pushed around by small things. Now whilst the oil market is vast it doesn't take that much to push the price round in $ terms relative to moving the price of, say, every stock in all the countries whose indices appear to be following oil. Which means that if you want to move a stock market at the moment all you have to do, rather than buying the huge volumes of stocks that would normally be required, is to buy a relatively small amount of oil and have the rest of the market do your job for you on assumed correlations. In simple terms . (…)

I think we are getting to the point where the correlation is going to break down between oil and stock in general. (…) But more importantly, oil does not normally correlate so closely to the stock market, if it correlates to it at all, so the artificial correlation imposed upon stocks and oil due to traders acting and reinforcing that correlation could well be due a blow up. This has been running a while now and when I hear of traders looking at oil for a guide as to where telecom stocks are going I think something is wrong. (…)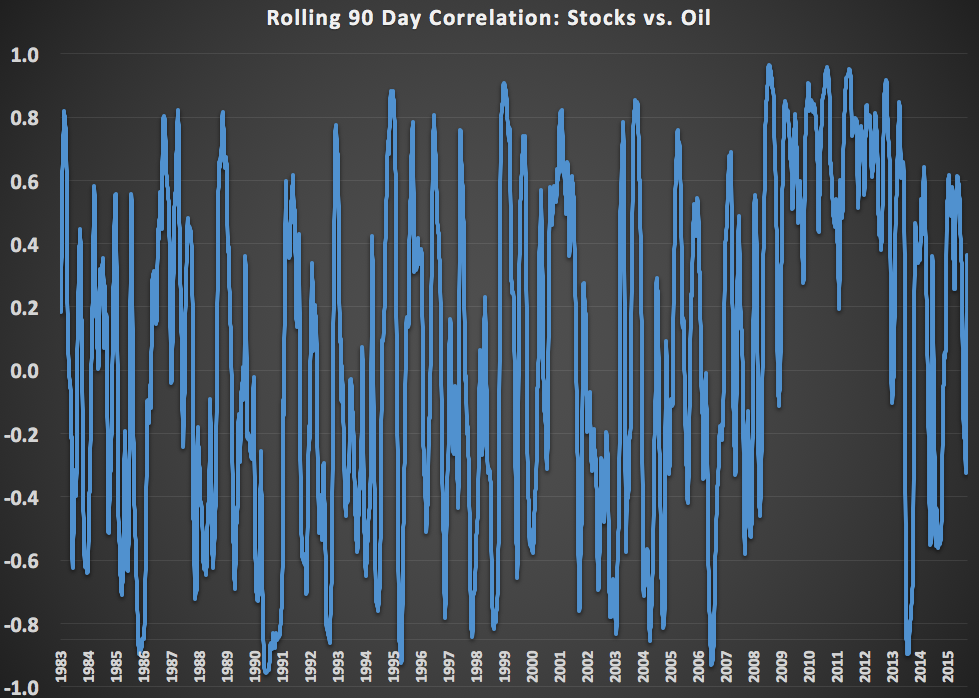 (…) Brent crude was down 14% during 2016 as of Friday. That rout is hurting oil-dependent nations from the Middle East to Central Asia, whose sovereign-wealth funds are huge holders of global stocks.

J.P. Morgan estimates those funds could sell $75 billion of stocks this year to prop up their countries' budgets. (…)
This a.m:
Aberdeen Asset Management Plc reported 9.1 billion pounds ($13 billion) of net outflows in its fiscal first quarter amid waning investor confidence in emerging markets and as sovereign-wealth funds continued to withdraw cash.

Investors pulled a net 6.3 billion pounds from a range of equity funds in the three months through December, including 3.5 billion pounds from global stocks, the Scottish firm said in a statement on Wednesday. (…)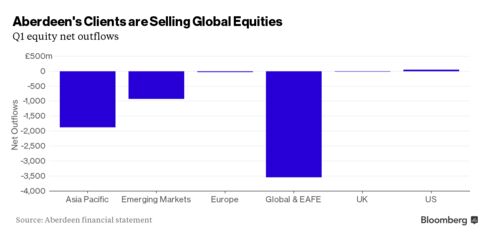 EARNINGS WATCH
Becoming more significant after one third of market cap in:
101 companies (32.1% of the S&P 500's market cap) have reported. Earnings are beating by 4.3% while revenues have missed by 0.4%.
Expectations are for a decline in revenue, earnings, and EPS of -3.5%, -4.9%, and -3.3%. EPS is on pace for -0.4% (+0.1% yesterday and +1.4% last week), assuming the current 4.3% beat rate for the remainder of the season. This would be +5.6% (+6.1% yesterday) excluding Energy.
The beat rate is 73%, 75% ex-Financials (68%).
Earnings projections have been far too pessimistic for more global businesses, largely on growth and currency concerns. Specifically, more globally-oriented names have surprised by 4.0% vs. 1.5% for more domestically-focused firms. (RBC)
If you enjoyed this article, Get email updates (It's Free)