Job Market Leaves Fed in Limbo Slower pace of hiring, higher wage gains yield mixed signals; jobless rate under 5%
The U.S. job engine slowed in January while unemployment hit an eight-year low and wage growth accelerated, complicating the outlook for Federal Reserve officials as they assess whether the economy is strong enough for further interest-rate increases.

Employers added 151,000 jobs last month, the Labor Department said Friday, the weakest reading since September and well off last year's average monthly gain of 228,000. The unemployment rate fell to 4.9%, falling below 5% for the first time since February 2008 just as the recession began. (…)

Average hourly earnings for private-sector workers surged 0.5% from December to $25.39, the second-strongest monthly gain of the expansion. Wages were up 2.5% from a year earlier, a pace that could reassure central bankers that overall inflation will return to a healthier pace with a tightening labor market. (…)

Average hourly earnings for production and nonsupervisory employees—over 80% of workers—rose 0.3% from a month earlier.
The jobs market is better than headlined (charts from WSJ):
Despite its natural monthly volatility, employment growth has been steady. The facts are that payroll employment increases over the past three months averaged +231k compared with +225k over the past 12 months.
Slack is almost gone:
Hence, a pretty clear trend…
there is some evidence that managers caused the recent gain. Hourly pay for all workers advanced 12 cents an hour last month from December. But pay for only production and nonsupervisory workers—rank-and-file Joes and Jills—increased just 6 cents last month. (The Labor Department doesn't break out managers' wages.)

"This means the supervisors and management, accounting for only 15% of the work force, saw a huge jump in their pay," said Megan Greene, an economist at John Hancock. "Part of this can probably be explained by end-of-year boss bonuses being deposited in January."
The FT:
Friday's report suggests the recent market turmoil has not yet had a deep impact on the US jobs market, even if hiring was weaker than the 262,000 recorded for December. Manufacturers surprisingly added the most jobs since August 2013, while employers in retail added 58,000 jobs and restaurants increased headcounts by 47,000.
And the diffusion index in manufacturing reached 62.2% from 59.5% in December, a 13-month high! So much for the low January ISM (validating Markit's somewhat better PMI reading).
The income math is this:
employment: +1.9% YoY
workweek: +0.2%
= hours: +2.1%
Hourly pay: +2.5%
= income: +4.6%
Inflation, near zero.
David Rosenberg: "It will be very difficult to tip the economy into recession with real personal incomes running close to 4%"
(…) Their model, based on a series of economic and market indicators, points to just a 25 percent risk of recession in the industrial economies in the next four quarters and 34 percent over the next two years. Both undershoot the average risk of the past 35 years despite the recent fears of financial markets.

The probability of a slump in the U.S. is just 18 percent and 23 percent over the two timeframes respectively, while the euro-area threat is greater at 24 percent and 38 percent, according to Goldman Sachs. (…)

Their prognosis is aligned with that of Bruce Kasman of JPMorgan Chase & Co., who says the probability of a U.S. recession in the next 12 months has grown yet is still only about a third. (…)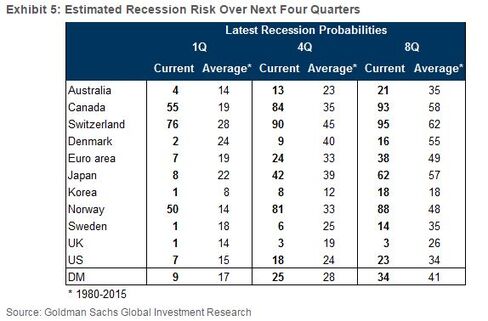 Before every one of the past seven U.S. recessions, long-term interest rates fell below short-term rates, producing what economists call a yield curve inversion. Historically, the slope of the yield curve has been such a reliable predictor of economic conditions that economists at New York and Cleveland Federal Reserve banks use it to calculate the probability of recession.

Ultralow yields on short-term bonds, however, may prevent the yield curve from inverting even if the economy is about to contract. (…)

The difference between yields on 3-month Treasury bills and 10-year notes is regarded by economists at the Fed as the best yield curve predictor of recessions. This is currently at 1.54 percentage points, according to Tradeweb. That is down roughly half a percentage point since the end of last year, but remains wide by historical standards. By the New York Fed's calculation, this means there is less than a 5% chance of a recession in 12 months. The Cleveland Fed puts the chances slightly higher, at 6.19%. (…)

But with short-term rates already so low, long-term rates would have to go very close to zero for the yield curve to invert. Since that seems highly unlikely, the inversion indicator may be broken.

Some investors and analysts believe the slope remains positive only because of extensive central bank easing, which tends to push harder on short-term rates.

Mark Yusko, chief executive of Morgan Creek Capital Management, said last week that he believes the curve would already be inverted if not for the relentless pressure on short-term rates. (…)

Japan's experience with ultralow rates may be instructive. During each of its past four recessions, the yield curve didn't invert. Analysts at Deutsche Bank AG argue this indicates the yield curve won't invert when short-term rates are below 1%. (…)
Here's how the curve can still invert:
Nearly $6tn of core government bonds sold by Japan and various European countries currently feature yields below zero, and this figure will continue growing according to the chatter of central bankers. (…)

Now as the 10-year Bund loiters at 0.25 per cent, the global market eyes whether Japan's equivalent benchmark will break zero. In a world of limited high-quality collateral, the prospect of the Bank of Japan and the ECB pushing policy further into the negative sphere has global ramifications. (…)

With two-thirds of Japanese government bonds now negative, it is not surprising record amounts of domestic money left the country last year towards other core government markets. Expect further flows into positive yielding areas of the eurozone, while 10-year Gilts at 1.51 per cent and US Treasuries at 1.81 per cent stand out as global high yielders.

The trend will only gather pace should emerging markets continue their descent, as global investors seek 'safe' places to park their cash and raise the odds of a global recession this year. With oil yet to find a bottom and China seeking a weaker currency to offset slowing activity, central banks want lower bond yields as they fight the risk of falling inflation and deflation.

Ultra-low government bond yields should push investors towards riskier assets. The problem in 2016 is this trade has long left the station. After seven years of QE, modest growth in the US and UK has been achieved at the expense of savers, while companies have racked up debts, weakening their balance sheets as revenues have largely flatlined.

The current slump in global equities and credit suggests a reckoning beckons, a prospect that runs counter to the popular asset allocation mix of owning equities and underweighting core government debt relative to bond indices when central banks pump up the printing press.

While some investors understandably balk at the idea of buying low-yielding government bonds; Treasurys, Gilts and Bunds act as ballast in a portfolio, helping investors navigate rough waters for their credit and riskier holdings. And from all indications, early into 2016, the risk of a major storm is very high.

Hence the absence of any meaningful rise for US Treasury yields, no matter a resilient January employment report. This week, Janet Yellen, the Fed chair will probably strike a confident note on the economy, while acknowledging global jitters in testimony before Congress, thus keeping alive the option of further US policy tightening.

True to form, many economists and strategists across Wall Street are steadfast in forecasting much higher long-term Treasury yields by the end of the year and warn investors should shun the market.

This downplays the global links between economies and markets such as sovereign debt. In the current climate, buying US Treasurys with the tailwind of a stronger dollar is an attractive option for foreign investors.

The idea that bond yields beyond the front end have a floor at zero is being dismantled and a period of lower long-term core government bond yields beckons.
(…) Many are compensating for soaring starter-home prices with FHA loans that became cheaper after insurance premiums were cut last year. And they're giving a lift to the U.S.homeownership rate, which rose in the second half of 2015 after steadily declining for almost two years.

An increase in apartment rents — which rose 4.6 percent nationally in the fourth quarter from a year earlier, according to Reis Inc. — also is helping drive young people to buy instead of lease. They're entering a market with few affordable houses available. The U.S. inventory of starter homes — the bottom third of the market — is down 39 percent from three years ago, according to data from brokerage Redfin.

FHA-insured mortgages, used mostly by first-time buyers, nonetheless accounted for 22 percent of all loan originations in December, up from 17 percent a year earlier, according to data compiled by Ellie Mae Inc. (…)

(…) The FHA reduced annual mortgage-insurance premiums in January 2015 to make homebuying more affordable. The Department of Housing and Urban Development estimates the decrease in costs will save borrowers an average of $900 a year.

As a result of the mortgage-insurance decrease, FHA purchase originations increased more than 30,000 a month last year from 2014, said Sam Khater, deputy chief economist for CoreLogic Inc. That means that more than 250,000 first-time homebuyers were added to the market. (…)

Rob Nunziata, chief executive officer of FBC Mortgage LLC in Orlando, Florida, said lenders are feeling more confident as the real estate market recovers. In the past year, his firm has dropped its minimum credit score for a FHA mortgage to 580 from 640.

"Credit standards were a little too tight — now they're easing toward a more acceptable level," Nunziata said. "Defaults have decreased, the economy is doing better and the housing market has stabilized."
BTW: speaking of first-time home buyers: that's +429k newly employed young adults last month, second biggest monthly jump on record (nearly 70 years).
Mirroring the USA: oil winners and losers:
Canada: Full-time jobs at record high in the big three provinces
Full-time employment is losing momentum at the national level but the weakness remains concentrated in oil-reliant provinces. After being pummelled in 2015, Alberta (AB) and Newfoundland (NL) started 2016 with another thud: full-time jobs contracting at 6.5% annualized rate in AB and by 8.8% in NL in January. Fortunately for the country, other provinces have been able to pick up the slack. As the chart below shows, the three largest provinces (Ontario, Quebec and British Columbia) are still doing quite well when it comes to creating full-time employment. We expect this divergence to continue well into 2016. (NBF)

Exports fell 0.3%, while imports increased 0.3%. For all of 2015, the U.S. trade deficit grew 4.6% from 2014. Exports fell 4.8% on the year. Imports declined 3.1% last year. (Charts from Haver Analytics)
Ford to More Than Double Mexico Production Capacity in 2018 The move represents the latest shift of investment abroad by a Detroit auto maker following the signing of a costly new labor deal.
The No. 2 light-vehicle seller in the U.S. plans to add 500,000 units of annual Mexican capacity starting in 2018, more than double what it built in 2015, according to people briefed on the plan. The plan mirrors General Motors Co.'s $5 billion investment to double Mexican capacity by 2018. (…)

Ford last year built 433,000 vehicles in Mexico, or 14% of its North American production.

Costs for the project likely will exceed $1 billion, people familiar with the details said, with factory construction beginning later this year. It follows a $2.5 billion investment Ford announced last spring to build an engine and a transmission plant in Mexico. (…)

Labor rates in Mexico are roughly one-fifth of those earned by unionized workers in the U.S., a gap that is only expected to widen as UAW wages approach nearly $30 an hour in coming years, representing as much as a $10 increase for some newer hires.

Auto factories in Mexico produced 3.4 million vehicles last year, or about one-fifth of North American production, according to LMC Automotive.

Still, roughly three-quarters of Ford's North America production is in the U.S., according to WardsAuto, and the company committed to invest $9 billion in U.S. assembly and parts factories through 2019.

Mexico auto output is poised to thrive during that time. LMC expects the industry's Mexican production to grow 53% to 5.2 million vehicles by 2019 as the share of production in the U.S. and Canada falls. Mexico's economy minister, Ildefonso Guajardo, said last month there would be several significant auto investments announced in the first quarter involving plants and new models but declined to elaborate on specific deals. (…)
OIL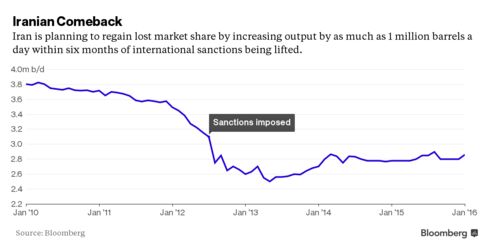 Oil-Price Drop Squeezes States A deep and prolonged drop in oil prices is increasingly squeezing tax collections in energy-producing states, fueling calls for tax increases and cuts to schools, road projects and other government services.
Total tax collections in the top six oil-producing states in the four quarters ended Sept. 30 fell 3.6% from a year earlier, compared with a 5.4% increase nationally, according to a recent report from the Nelson A. Rockefeller Institute of Government. Its authors say those numbers continue to weaken.
(…) Baker Hughes, the oilfield services group, said 467 rigs were drilling oil wells in the US this week, down 31 from last week. It was the steepest drop for 10 months.

The number of working US oil rigs has dropped 71 per cent from its peak in October 2014, to its lowest level in almost six years.

The slowdown in activity is expected to contribute to a decline in US oil production over the coming months.

RT Dukes of Wood Mackenzie, a consultancy, said the sharp drop was a sign that the slowdown in the rig count was "not over yet".

He expects the number of rigs drilling the more productive horizontal oil wells in the US to drop from 372 this week to less than 250. (…)

Wood Mackenzie on Friday published an analysis showing that although about 3.4m b/d of production worldwide was losing money with Brent at $35 per barrel, most of it was not being shut down.

The largest share of that, about 2.2m b/d, is in Canada's oil sands, where if operations are shut down they are expensive to restart, and there is a risk of damage to equipment or the reservoir.

About 96.5 per cent of global oil production can cover its operating costs with Brent crude at $35 per barrel, including most of the US shale industry, but that does not include the cost of drilling and completing new wells. Analysts say very few US shale wells can cover their full costs with oil at $30. (…)
More on Wood Mac's report here.
As U.S. natural gas prices collapse to 1990s-era lows, producers in four shale plays are cutting their losses.

Surging output has sent gas futures tumbling, forcing drillers to abandon marginal plays in favor of more profitable areas. Drilling has ground to a halt in two gas basins in Oklahoma, along with the Fayetteville reservoir in Arkansas and the Niobrara formation in Colorado and Wyoming, data from Baker Hughes Inc. show.

Even as U.S. gas rigs drop to the lowest on record, there's still no sign of declining production — at least, not yet. Output from shale formations has left stockpiles at a seasonal record as a mild winter curtails demand, expanding a supply glut that's threatening to keep prices depressed into the second half of the year. (…)
(…) The total stock of dollar-denominated credit in bonds and bank loans to emerging markets — including that to governments, companies and households but excluding that to banks — was $3.33tn at the end of September 2015, down from $3.36tn at the end of June.

It marks the first decline in such lending since the first quarter of 2009, during the global financial crisis, according to the BIS.

The BIS data add to a growing pile of evidence pointing to tightening credit conditions in emerging markets and a sharp reversal of international capital flows. (…)

The Institute of International Finance, an industry body, said last month that emerging markets had seen net capital outflows of an estimated $735bn during 2015, the first year of net outflows since 1988.

In November, the IIF warned of an approaching credit crunch in EMs as bank lending conditions deteriorated sharply. This month, it said a contraction over the past year in the liquidity made available to the world's financial system by central banks, primarily those in developed markets, now presented more of a threat to global growth than the slowdown in China and falling oil prices.

(…) leverage in emerging economies had increased further as profitability had decreased, with exchange rates playing an important role.

"Stronger EM currencies fed into more debt and more risk taking. Now that the dollar is strengthening, we have turned into a deleveraging cycle in EMs. So there is a sudden surge in measurable risk; all the weaknesses are suddenly being uncovered."
He added: "The issue is not just for emerging markets. It is spilling back into developed markets. The broader financial markets are recoiling from risk, and that spreads across all markets. The problem now is that the real economy is being affected." (…)
Sales of new cars and light commercial vehicles fell 29 percent from a year earlier after a 46 percent drop in December, the Association of European Businesses in Moscow said in a statement on Monday. The median of four estimates in a Bloomberg survey was for a 23 percent decline. (…)

The government has stepped in to coax crisis-scarred Russians into buying cars, offering subsidies on auto loans and discounts for drivers willing to part with their old vehicles. The state-support measures have slowed the decline in the car market by half, according to Industry Minister Denis Manturov.

Demand for cars will probably decline another 4.7 percent this year after a 36 percent drop in 2015, the AEB's Schreiber said last month. (…)
Tech Stocks Swoon Amid Worries Over Economic Growth A sharp dive in technology shares underscored investor worries about uneven U.S. economic growth, as the latest lackluster corporate outlook, this time from LinkedIn, fueled a rush out of stocks.
(…) LinkedIn's shares tumbled 44% on Friday following a disappointing earnings forecast. (…)

The tech-oriented Nasdaq Composite Index dropped 3.2% on its way to a 5.4% drop for the week. The tech sector has been an investor favorite in recent years, reflecting the strong growth and popularity of big firms such as Facebook Inc., Amazon.com Inc.,Netflix Inc. and Google parent Alphabet Inc.

But those firms all slumped at least 3% Friday, after LinkedIn and another smaller technology firm, data-analysis software maker Tableau Software Inc., posted softer-than-expected growth projections for 2016.

Tableau's shares plummeted 49%, and other tech companies dropped as well, including a 5.8% decline in Twitter Inc.

(…) companies have been trading at high valuations, a factor that makes them vulnerable to selling for essentially any reason.
This is precisely why it is more important to focus on valuation than on stories. Valuation ranges rarely change but stories always vary.
"We saw some softness in spending, especially in North America," Tableau CEO Thomas Walker told analysts. "We did see our customers continue to expand their use of Tableau in the organizations, but not at the same cadence we'd historically experienced."

Tableau's comments helped spark an exodus by investors from other business-software makers.

Salesforce Inc., a maker of customer-relationship software with annual revenue exceeding $6 billion, fell 13%. Smaller firms were hit harder: Splunk Inc. fell 23%; New Relic Inc., 22%, Hortonworks Inc., 17%; Workday Inc., 16%; and NetSuite Inc., 14%. (…)

Even after Friday's selling, Amazon traded at a 402 times its earnings over the past 12 months. Netflix traded at 296 times, Facebook traded at 81 times and Alphabet at 31 times. (…)
Here is Albert Edwards showing that the S&P had breached key moving averages normally seen at the start of a bear market.

Back in the mid-1990s, (…) I remember the head of fixed income explaining to me it was far better not to try and pick market tops or bottoms but to wait and observe the market turn, making the trade late rather than prematurely trying to pick the bottom or top.

So the chart below is notable, showing that key 200d and 320d moving averages for the S&P have just been breached to the downside. If one is looking for key technical indicators to ring the bell on the cyclical bull market- maybe it has just rung loud and clear.

A renminbi devaluation will only sever an already badly frayed safety rope.
DoubleLine Capital's Jeffrey Gundlach said it's "frightening" to see major financial stocks trading at prices below their financial crisis levels.

He cited Deutsche Bank AG and Credit Suisse Group AGas examples in a talk outlining bearish views at a conference in Beverly Hills, California, on Friday. Both banks fell this week to their lowest levels since the early 1990s in European trading.

"We see the price of major financial stocks, particularly in Europe, which are truly frightening," Gundlach said. "Do you know that Credit Suisse, which is a powerhouse bank, their stock price is lower than it was in the depths of the financial crisis in 2009? Do you know that Deutsche Bank is at a lower price today than it was in 2009 when we were talking about the potential implosion of the entire global banking system?"

The manager of the $54.7 billion DoubleLine Total Return Bond Fund said the dollar is headed lower in 2016 and that he's buying non-U.S. currencies for the first time in five years. The euro is likely to strengthen against the greenback as the probability that the Federal Reserve will increase borrowing costs at its March meeting is virtually zero, and only 50 percent for the rest of the year, he told the Tiger 21 conference for high-net-worth investors.

Gundlach, 56, said he's considering buying corporate bonds later this year as prices continue to fall, including investing his personal money.

"The whole question for me is when am I going to buy enormous amounts of corporate credit, because it's crystal clear that that's the next opportunity that's out there," Gundlach said. "There's plenty of things out there that will have 100 percent returns. It's a whole question of: Don't tell me what to buy, tell me when to buy it."

Debt related to energy and mining is still very risky, because of weakness in China's economy and a worldwide oil glut, he said.

"There's simply no bullish case for oil right now," Gundlach said. (…)
(…) Not all of the problems are peculiar to Europe's lenders. All investment banks, including those on Wall Street, are struggling with tough trading conditions. But the environment has tipped European banks into the red, weighed down by billions of dollars in costs associated with restructuring and resolving government investigations and lawsuits. Credit Suisse was the most recent loser, and its shares tanked 11% on Thursday—to their lowest level in 24 years—after it disclosed that rich clients had yanked cash from its wealth-management business.

Even the recent plunge in oil prices appears to be taking a toll on the shares of European banks. Sovereign-wealth funds and other government-affiliated investors in the Middle East, Africa and Norway have been among the biggest losers from swooning oil prices, causing some to sell assets to drum up money. Those same funds happen to be among the biggest investors in European banks.

About 10% of UniCredit's shares, for example, are held by funds from Abu Dhabi, Libya and Norway, while Barclays PLC and Credit Suisse are both roughly 10%-owned by Norwegian and Qatari funds and investors, according to FactSet. Sovereign funds from oil-producing nations also own substantial stakes in Deutsche Bank, Italy's Intesa Sanpaolo SpA, France's BNP Paribas SA and Société Générale SA, the U.K.'s Lloyds Banking Group PLC and Nordic lender Nordea Bank AB.

It is unclear if the government funds are actually selling their European-bank shares—the funds declined to comment—but the expectation that they are selling or might do so in the future appears to be exerting downward pressure on the banks' shares. (…)

(…) What's behind the nonchalance in credit?

Mr. Lichwa said that regulatory and economic shifts since 2012 are part of the reason that credit has not reacted so violently this time. For a start, banks have built up much bigger capital cushions to absorb losses.

Banks also don't have the same short term liquidity risks now thanks to the billions of euros that the European Central bank has flooded into markets, said Chris Tefler, portfolio manager at ECM asset management.

For Dan Davies, at independent research house Frontline Analysts, the decline in stocks is largely a reflection of the decline in projected earnings.

"That's obviously not good news for anything in the capital structure, but earnings are not at levels which look like generating capital-destroying losses," Mr. Davies said.

Shares are also falling because dividends are being cut and cancelled, Mr. Davies said. That would typically benefit credit.

But other analysts ask if the credit market is just being too sanguine over risks.

Mr. Lichwa notes in his research that banks would be "very vulnerable" to an economic downturn.

That means that credit markets could also be vulnerable to a correction, if investors start to believe the outlook for European banks is bleaker than they expected.
If you enjoyed this article, Get email updates (It's Free)