U.S. Jobless Claims Fall 16,000 to 269,000 The number of Americans filing for first-time unemployment benefits fell last week, another sign of the domestic job market's resilience in the face of economic turmoil overseas.
(Bespoke Investment)
Risk Grows of Markets Sparking Recession While current U.S. economic data show no recession, market turmoil speaks to deeper problems and could spark a recession, writes WSJ chief economics commentator Greg Ip.
Greg Ip enumerates the numerous uncertainties currently driving P/Es down.
Is the U.S. headed for recession? The markets suggest so.

With Thursday's selloff, the Dow Jones Industrial Average is now down 14.5% from its all-time high last May. Yields on risky bonds continue to climb, while investors have sought safety in U.S. Treasurys, sending those yields lower. And oil has hit a nearly 12½-year low.

Yet the economic data show no recession. Job growth in January was healthy, and employers are having trouble filling vacancies.

This dichotomy is neatly captured by two indexes compiled by Cornerstone Macro. One, using financial indicators such as the stock market and corporate bond yields, puts the probability the U.S. is now in recession at 50%. The other, which adds in macroeconomic data such as loan delinquencies and inflation-adjusted income, puts the probability at just 28%.
Of course markets often wrongly predict recessions. But in some circumstances they can help bring them about. Economic turning points are unpredictable because they are caused by changes in psychology, not just mechanical factors such as interest rates and wages and salaries. Markets influence that psychology by signaling to businesses whether they should invest or hire. Fear of recession can thus be self-fulfilling.

It's not just anxiety about growth and oil prices that's weighing on investor psychology. There's also policy. Will the Federal Reserve press ahead with raising interest rates? Will China devalue the yuan again? Will Britain leave the European Union? Will Americans elect a populist president who seeks to overturn the existing economic order? Policy uncertainty has created a "risk premium" that reduces what investors are willing to pay for stocks and bonds. (…)

Market turmoil can, of course, dent economic growth by leaving consumers less wealthy and depriving business of credit. The Fed's twice-annual Monetary Policy Report, released Wednesday, shows no evidence of the sort of crisis that would shut off credit to business: Short-term funding markets are operating normally. And for most families, the loss of stock-market wealth is less important than last year's rise in home prices.

Yet yields on bonds such as those issued by energy companies have risen by more than likely defaults can justify, and banks have begun tightening underwriting standards.

Such shifts in financial conditions can then produce outsize shifts in consumer and business behavior.(…)

Declining markets, worsening psychology and economic weakness can feed on each other. If such a vicious spiral threatened to pull the economy into recession, central banks step in as circuit breakers. These days they are less equipped to do that. (…)

Still, the bigger worry isn't whether the Fed will stop raising rates, but whether it can, if needed, cut them enough to make much difference. (…) Will negative rates actually help? Or will they just undermine bank profits?

Policy uncertainty hurts in other ways. European bank stocks are getting hammered in part over fears that regulators will force some banks to convert debt to equity, diluting shareholders, to maintain their capital buffers. Ironically, regulators made such conversions part of their tool kit for protecting taxpayers from bailouts in financial crises. But, as Krishna Guha of Evercore ISI notes, the result is "pro-cyclical," meaning it aggravates rather than relieves stress. Banks whose stocks are getting pounded are less likely to lend.

Political uncertainty looks to get worse this year rather than better. The U.K. is likely to vote on whether to leave the European Union; if it decides to go, Scotland may then vote to leave the U.K. And the victories of Republican Donald Trump and Democratic candidate Bernie Sanders in the New Hampshire primary this week raise the odds that Americans may elect a populist president in November on a platform of radical economic change.

"Investors can't dismiss the odds of an extreme election outcome that poses major risks to the stock market," said Andy Laperriere, a political analyst at Cornerstone Macro.
Two views from Moody's:
High-yield's wider than 800 bp spread serves a warning
Though the latest swelling of the high-yield bond spread warns that the risks to business activity are to the downside, it offers no assurance of an impending recession. After averaging 776 bp in January 2016, the US high-yield bond spread has averaged 836 bp thus far in February.

The record shows that the high-yield bond spread's month-long average has climbed above 800 bp on only four previous occasions: August 2008, July 2002, November 2000, and October 1990. In three of those four incidents, the US was about to enter or already in a recession.

The one exception was July 2002. Despite how the high-yield spread's month-long average eventually peaked at the 1,059 bp of October 2002, a then young economic recovery survived and would not expire until November 2007.
The HY market sure looks like a candidate for "Buy Low"…
Equities have yet to signal recession
The market value of US common stock (Dow Jones' "Total Stock Market" index) recently sank by -11.7% since year-end 2015 and by -13.6% from a year earlier. The record suggests that a recession is likely when the moving three-month average of the market value of US common stock plunges by at least -10% annually at least two years after the end of the latest recession.

Since 1968 for those spans more than two years after a business cycle bottom, April 1988 through October 1988 was the only episode where a deeper than -10% yearly drop by the market value of US common stock's three-month average was not accompanied by a recession. Currently, the good news is that the latest moving 13-week average of the market value of US common stock is off by merely -3.5% annually. However, for the five-trading-days-ended February 10, the market value of common equity plunged by -10.8% year-over-year. Thus, vigilance is in order.
More doomsayers:
"Global markets are now facing a significant 'negative wealth effect' that has a potential to result in a recession. This negative wealth effect of low commodity prices and a strong USD combined with the slowdown in China could be comparable to that of the 2008/2009 crisis (it involves diverse effects ranging from layoffs in the Global Energy sector to a lack of EM Sovereign wealth flowing into developed market equity hedge funds). While the economists were debating if the low-priced oil is good or bad for the economy, the equity markets never had any doubts – Oil and Equities were moving down together."
Very far fetched to compare today with 2008-09.
Economists, CEOs: Recession Risk Rising A growing number of corporate leaders and economists see mounting risk of the U.S. tipping into a recession, a nod to headwinds posed by the global growth slowdown and early-year convulsions in financial markets.
The odds of recession in the next 12 months have climbed to 21%, double the level of a year ago and the highest since 2012, according to the average estimate in The Wall Street Journal's monthly survey of economists. Economists at Bank of America Merrill Lynchpeg the chance of recession in the next 12 months at 25%. (…)

Chuck Robbins, Cisco's chief executive, said the company began hearing signs of caution among some customers in January, toward the end of the quarter. In response to developments such as declining stock prices, he said, companies began holding up orders on nonessential purchases such as some types of the switching systems used on corporate campuses. (…)
Interest rates are low, but for many American companies they may not be nearly low enough. (…) The effective yield on U.S. corporate bonds tracked by the BofA Merrill U.S. Corporate Master Index was 3.6%, and has been running above nominal GDP growth since the third quarter. (…)
The U.S. deficit fell to $405 billion over the 12-month period ended January, or around 2.2% of gross domestic product, boosted by a $55 billion surplus in January. The deficit figure was down from the year-earlier $495 billion, or 2.8% of GDP. (…)

The White House said on Tuesday that it expects the annual budget deficit to exceed $600 billion, or 3.3% of GDP, for the fiscal year that ends Sept. 30, driven largely by a package of tax credits that Congress and President Barack Obama agreed to extend or make permanent at the end of last year.
Eurostat, the European Commission's statistics bureau, said the latest 0.3 per cent expansion meant the economy of the single currency area was 1.5 per cent larger than during the fourth quarter of 2014. The figure matched analysts' forecasts. (…)
SENTIMENT WATCH
J.P. Morgan Chase & Co. Chairman and Chief Executive James Dimon bought 500,000 of his bank's shares on Thursday, a person familiar with the matter said. (…)

Meanwhile, Citigroup Chief Financial Officer John Gerspach bought about $500,000 worth of Citigroup shares Tuesday, the New York bank disclosed Thursday in a regulatory filing. Citigroup CEO Michael Corbat and Chairman Michael O'Neill bought about $1 million shares each three weeks ago.
JPM got cheaper in 2011 and 2012 but its capital base is now much better (see below) (chart courtesy of CPMS/Morningstar):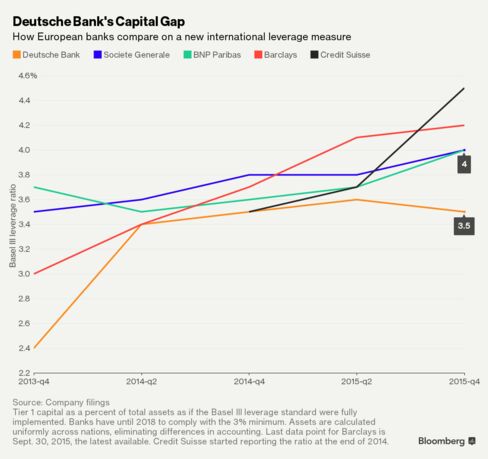 If you enjoyed this article, Get email updates (It's Free)