Yellen: Global Uncertainty Justifies Slower Path of Rate Increases Global uncertainty has heightened the risk to the U.S. economy, making a cautious approach to rate increases "appropriate," the Fed's Janet Yellen said.
"Given the risks to the outlook, I consider it appropriate for the committee to proceed cautiously in adjusting policy," Ms. Yellen said Tuesday before the Economic Club of New York. (…)

"The major thing that's changed between December and March that affects the baseline outlook is a slightly weaker projected pace of global growth," she said. "Global developments pose ongoing risks," she added, citing specifically the dangers posed by the economic slowdown in China and the collapse in the price of oil. (…)

"Investors responded to those developments by marking down their expectations for the future path of the federal funds rate, thereby putting downward pressure on longer-term interest rates and cushioning the adverse effects on economic activity," she said. (…)

Ms. Yellen's speech contrasts with recent remarks by other Fed officials who have highlighted the U.S. economy's strength and suggested next month might be a good time to consider raising rates. (…)

Ms. Yellen said the U.S. economy's performance in 2016 so far has been "somewhat mixed." While the labor market, consumer spending and the housing market are faring well, manufacturing has suffered and exports have been hit by the global turmoil and the resulting increase in the dollar. Inflation appears to be rising closer to the Fed's 2% target, but Ms. Yellen said she wasn't convinced recent price increases were a sure sign of improved economic activity.

Should the economy take a turn for the worse, Ms. Yellen said, the Fed could take steps to give it a jolt even though interest rates are still historically low. Officials could rely on public statements to reassure markets—a tool known as "forward guidance"—or they could launch a new round of asset purchases.

Notably, Ms. Yellen didn't include negative interest rates as a possible tool, even though other central banks such as the European Central Bank and the Bank of Japan are using that approach. The omission could be a sign that Fed officials have closed the door on negative rates, at least for now. At her March 16 press conference, Ms. Yellen said the possibility of negative rates "is not actively a subject that we are considering or discussing."
(…) Yellen also drove home the message that when officials don't know, they either don't change policy at all, or only move gradually. That means making progress in the current tightening cycle isn't about the Fed following a pre-set course of rate hikes, but acting when conditions are right. In a way, it takes a page from previous Fed playbooks.

During the chairmanship of Alan Greenspan, Fed officials spoke about "opportunistic disinflation," or a strategy of moving interest rates early in an economic cycle to clip off the inflation impetus that was embedded in the economy at that time. Today, the Yellen Fed is coming from the opposite direction — letting the economy run hot and only raising interest rates when it won't upset fragile balances in the global economy and financial markets.

The Fed chair said it was appropriate to "proceed cautiously." One sentence later she said "caution is especially warranted." If her audience at the Economic Club of New York still didn't get the message, a footnote in the text of her speech stated "uncertainty and greater downside risk" when the Fed's policy rate is so close to zero "call for greater gradualism." (…)

Another insight from the speech, McCarthy said, is the "wide range of things" data dependence covers.

For example, just looking at the Fed's domestic mandate of employment and inflation, it looks like the central bank should be raising rates further this year.(…)

"We are looking at a whole variety of factors that impact the outlook for the U.S. economy," Yellen said in the question-and-answer session following her speech. (…)

Yellen gave investors a list of conditions they need to watch for future rate hikes. Here they are:

Foreign economies and their financial markets need to stabilize.
The dollar can't appreciate further. That would depress inflation and exports, and hurt U.S. manufacturing.
Commodity prices need to stabilize to help foreign producers find a better footing for growth.
The housing sector needs to make a larger contribution to U.S. output.
Inflation is a two-sided risk: Yellen is skeptical that the recent rise in core inflation, which strips out food and energy, "will prove durable." She is watching closely. (…)
Good luck Mrs. Yellen! (Her full speech here)
We will get the PMI surveys from Markit and the ISM on Friday. Doug Short charted the Fed regional surveys for March.
U.S. Home Price Index Continued Steady Climb Home prices continued rising at a steady clip in January, according to the S&P/Case-Shiller Home Price Index—another early sign that 2016 will offer more of the same in the housing market: tight inventory leading to rising prices and volatility in the volume of sales.
The S&P/Case-Shiller Home Price Index, covering the entire nation, rose 5.4% in the 12 months ended in January, slightly greater than a 5.3% increase in December.

The 10-city index gained 5.1% from a year earlier and the 20-city index gained 5.7% year-over-year. (…)

The hottest markets in the country, primarily on the West Coast, continued to show double-digit price gains, with Portland reporting an 11.8% year-over-year jump, Seattle showing a 10.7% gain, and San Francisco prices advancing 10.5%. (…)
Another Condo Bust Looms in Miami Condo developers in Miami have started canceling projects, slashing prices and offering incentives such as private-jet access to spur sales, an ominous echo of the housing crash.
(…) In the fourth quarter of 2015, the number of Miami Beach condo transactions declined nearly 20% from a year earlier, while inventory jumped by nearly a third, according to a report from appraisal firm Miller Samuel Inc. The median sales price slipped 6.6%, according to the report. (…)

Many of the forces buffeting the Miami market are also hitting luxury markets in New York, Southern California, Australia and London. A strong U.S. dollar and weakening local currencies, dropping oil prices and global economic turbulence have crimped the buying power of foreign investors.

At the same time, stock-market turbulence has made wealthy locals hesitant to undertake big purchases. (…)

Overall, about 1,200 condo units in Miami were delivered last year, down from the peak of 10,000 units in 2008, according to Integra. But with more than 7,300 units under construction, inventory is expected to increase. (…)
Output slumped 6.2 percent in February after rising in January, the trade ministry said on Wednesday. Economists surveyed by Bloomberg had forecast a 5.9 percent drop. The government projects output will expand 3.9 percent this month.

The ministry estimates that production for the three months ending Thursday may shrink. This casts a shadow over gross domestic product for the whole quarter, underscoring Japan's struggle to bounce back from a contraction at the end of last year. Shipments of capital goods also slumped last month, indicating sluggish business investment. (…)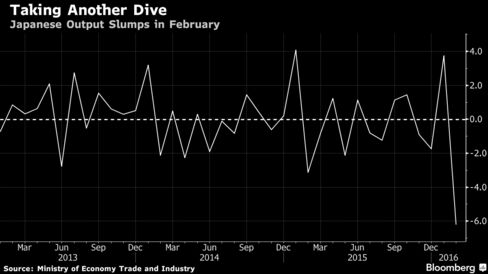 Even taking out the fall in production at Toyota and the lunar new year, production for February was poor, according to Hiroaki Muto, chief economist at Tokai Tokyo Research Center.

"The outlook for production looks weak as demand in emerging nations, as well as industrialized nations including the U.S., is slowing," Muto said. "Japan's economy may avoid falling into a recession, but any rebound in the first quarter will be weak." (…)

Toyota's domestic production of cars and light trucks fell 19 percent in February from a year ago. The company suspended production at assembly plants in Japan after an explosion at Aichi Steel Corp.'s Chita plant, which supplies specialty steel for engine, transmission and chassis components.

The trade ministry's report also shows:

The transport sector was the biggest contributor to the drop. Motor vehicles make up about 16 percent of the index.
Shipments from factories dropped 4.6 percent from January, which was also the biggest fall since March 2011.
Shipments of capital goods excluding transport equipment, an indicator of business investment, fell more than 10 percent in February from the previous month. That's the biggest drop in a year
Production is forecast to fall 0.7 percent in the first quarter from the previous three months, if applying the ministry's March forecast figure
If you enjoyed this article, Get email updates (It's Free)