Many Federal Reserve policymakers were warning of "appreciable" risks to the US economy from global developments at their latest meeting as a deeply divided body of officials debated how soon to further increase short-term interest rates. (…)

The minutes suggested those advocating caution outnumbered those seeking action this month, supporting market perceptions that the Fed will not move until its June meeting at the earliest. (…)

Public statements have pointed to disagreements among officials, however, with a number of regional Fed presidents putting forward a bullish view of America's prospects. (…)

The minutes shed further light on these disagreements, with policymakers differing for example over whether the US is nearly at full employment and how much weight to put on a recent pickup in inflation and subdued inflation expectations. (…)

"Several participants expressed the view that the underlying factors abroad that led to a sharp, though temporary, deterioration in global financial conditions earlier this year had not been fully resolved and thus posed downside risks," the minutes said.

It was noted, for instance, that weak growth overseas could lead to a further appreciation in the dollar, something that would drag on exports and inflation.

The fact that the Fed has limited room to cut rates if the US economy slows was also a major consideration for a number of policymakers. (…)
(…) Despite central banks doing just about everything bar throwing money from helicopters, companies still won't deploy cash. Global capex fell about 10 percent in 2015, according to Standard & Poor's, and could shrink another 4 percent this year. That's driven by the ailing commodities sector. But if energy and materials are excluded, capex still shrank 2 percent last year.

What's gone wrong? In a world marred by low growth and industrial overcapacity it's hard for companies to generate a return exceeding their WACC and this is clearly slowing investment. (…)
Good BB piece with charts. This also not helping:
Germany's composite Output Index (produced by Markit from its manufacturing and service sector surveys) fell to an eight-month low of 54.0 in March, pointing to a slowdown in economic activity at the end of the first quarter. The survey data are nevertheless still signalling modest, albeit unspectacular, GDP growth of approximately 0.4% in the opening quarter of 2016.

Modest GDP growth signalled

Worryingly, the forward-looking indicators suggest that growth could slow even further in coming months. The amount of new work received by businesses rose at the weakest rate since last August, which in turn resulted in a more cautious approach with regards to hiring. Although employment continued to rise during the month, the rate of job creation equalled February's near one-year low, with goods-producers cutting payroll numbers for a second consecutive month. Moreover, levels of work outstanding rose only marginally, which could lead to a further slowdown of jobs growth in coming months.

Germany's mighty service sector continued to grow at a steady pace throughout the first quarter, leading the economy's expansion, although failed to gain traction from prior months. There have been reports recently from survey participants that the large inflow of refugees led to increased activity, especially with regards to building new shelters. This development was also reflected in recently strong construction PMI numbers, with the index reaching its highest level since the first quarter of 2011 in February, before slowing in March.

Meanwhile, the manufacturing sector grew at a snail's pace during the past two months, thereby highlighting how the sector is struggling in an uncertain global economic environment. Despite ticking higher from February's 15-month low, at 50.7, the PMI signalled a near-stalling of manufacturing.

Steady services growth contrasts with weak manufacturing

(…) The strong euro clearly has some negative side effects. First, it makes imports from overseas cheaper, which will add additional downward pressure on inflation and lead to 'import substitution'. Second, exports will be more expensive. This is particularly bad news for Germany's more export-oriented manufacturers, who are already struggling in the current global economic environment. Markit's PMI New Export Orders Index fell to an eight-month low in March, signalling a near-stagnation of foreign sales. With the exception of the marginal decline in July 2015, it was the lowest reading in over a year. (…)
More global risks:
IMF Warns of Possible Crises for Emerging Markets Hit by Outflows An exodus of cash from emerging markets in recent years is closely tied to developing economies' slower growth rates and could end with financial crises in the countries involved, the International Monetary Fund says.
(…) "Much of the decline in inflows can be explained by the narrowing differential in growth prospects between emerging market and advanced economies," the IMF said in a study included in its World Economic Outlook publication. "Both weaker inflows and stronger outflows have contributed to the slowdown."

Flows to 45 key emerging markets have fallen off by more than $1 trillion since 2010, withhalf of the drop coming from China, the world's second-biggest economy, and Russia, which has faced international sanctions and a precipitous drop in energy prices, the IMF said. (…)

Collectively, the reversal in capital flows is equivalent to an outflow of 1.2% of gross domestic product in the most recent four quarters, compared with an inflow of 3.7% of their GDP in 2010. The slowdown occurred in three-quarters of the economies the IMF studied.

It is the third major pullback in three decades for the emerging markets, and it comes at a time when the extra growth offered by emerging markets contracted by 0.75 percentage point, the IMF said. (…)
SENTIMENT WATCH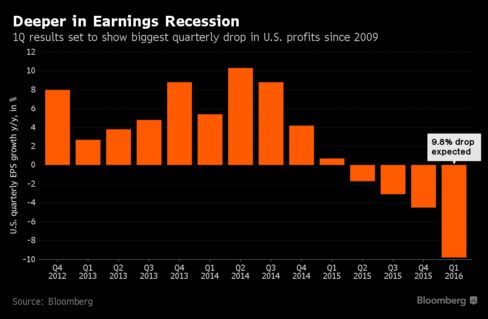 U.S. corporate profits are expected to drop the most in 6 1/2 years in the first quarter, led by a wipeout in the embattled energy sector. Earnings for companies in the Standard & Poor's 500 Index will fall 9.8 percent year-over-year, which would be the sharpest decline since the third quarter of 2009 and a fourth consecutive quarter of contraction, according to Bloomberg data. Results will be insufficient to justify current stock valuations, says Alex Bellefleur, head of global macro strategy and research at Pavilion Global Markets.
Wait, wait! There is a potential silver lining:
When Wall Street's quarterly earnings season kicks in to high gear next week, hundreds of companies will vie for the bragging rights that come from "beating the Street" – showing revenues and profits that are higher than analysts expected.

That hurdle may be unusually easy to clear this quarter, as analysts, who saw oil prices and stocks collapse at the start of the year, went really negative on the first quarter of 2016.

While the majority of companies typically beat forecasts, the bar for positive surprises may be even lower this time around, with analysts expecting profits of S&P 500 companies to be down 7.4 percent from a year ago, according to Thomson Reuters data.

With a handful of early reports coming in well above expectations and some evidence of stability in two company-hurting trends – falling oil prices and a rising dollar – some strategists are predicting enough positive news in an otherwise negative earnings season to boost stocks at least in the short term. In order words: First quarter earnings will be bad, but maybe not that bad.

(…) roughly 80 percent of S&P companies that have already declared first-quarter results are beating expectations. That is higher than usual, and includes strong performance from a diverse group of companies, including Lennar Corp (LEN.N), FedEx Corp (FDX.N) and Adobe Systems Inc (ADBE.O). (…)

It was "an absolute collapse in expectations," said Jonathan Golub, chief equity strategist at RBC Capital Markets in New York.

The drop in analysts' views between Jan. 1 and now was almost triple the typical 3.5 percent preseason decline, he said, and "about as bad as we've ever seen, with the exception of the period going into the '08-09 crisis." (…)
Could be overdone. But a problem remains: unless earnings beat by 8-9%, highly unlikely, EPS will still be down YoY in Q1, dragging trailing earnings lower. Unless inflation diminishes markedly, the Rule of 20 fair index value will keep falling. The yellow line of the chart below peaked in March 2015 at 2174, falling 4.4% to its current 2079. If Q1'16 EPS drop 5%, trailing EPS will decline 1.2% to about $116.00, bringing "fair value" to 2053. Given current high valuations, investors would need a lot of faith in the economic environment to drive equities much higher. Central bankers are certainly not helping on that matter!
Another reason to be careful on building too high beat expectations is that smaller companies seem to be struggling. Here's a great chart from the NFIB via Zerohedge charting the current margin squeeze. This helps explain why small and mid-cap stocks keep underperforming larger caps.
Meanwhile, this support may also be fading:
(…) Some of the mega transactions that had champagne corks popping in boardrooms are running into antitrust problems and, in the case of pharmaceutical firm Pfizer Inc's (PFE.N) $160 billion takeover of rival Allergan PLC (AGN.N), political opposition to a deal that envisaged the biggest drug company in the United States moving to Ireland to lower its taxes. (…)

The political uncertainty and antitrust concerns mean that firms will think twice about future tie-ups that consolidate industries and move tax dollars offshore. (…)

But the consequence of greater consolidation is increased scrutiny by antitrust officials. That was exemplified on Wednesday by the U.S. government filing a lawsuit to stop Halliburton from buying Baker Hughes, arguing the combination of the No. 2 and No. 3 oil services companies would lead to higher prices in the sector.

The Justice Department and Federal Trade Commission (FTC), which enforce antitrust law, have filed lawsuits to stop an unusually high number of deals in the past 18 months. FTC officials are in court this week to block a merger between Staples Inc (SPLS.O) and Office Depot Inc (ODP.O).

"It isn't just the number of proposed deals that makes this a unique moment in antitrust enforcement; it's their size and their complexity," U.S. Attorney General Loretta Lynch said in a speech on Wednesday.

"This represents a remarkable shift toward consolidation and it presents unique challenges to federal enforcers in our work to maintain markets that serve not just top executives and majority shareholders, but every American."

In Europe, meanwhile, talks between Orange SA (ORAN.PA) and Bouygues SA (BOUY.PA) to create a dominant French telecoms operator collapsed last week, amid competition concerns and a stand-off between Martin Bouygues and French Economy Minister Emmanuel Macron about the clout the billionaire would have gained in the former state monopoly, according to people familiar with the matter.

For bankers, scuttled deals cost money.
If you enjoyed this article, Get email updates (It's Free)