Pretty dismal stat.
The 0.3 percent drop in purchases followed little change the prior month, Commerce Department figures showed Wednesday in Washington. The median forecast of 81 economists surveyed by Bloomberg called for a 0.1 percent gain.
The decrease was led by the biggest drop in demand for autos in a year, and cutbacks at clothing stores, Internet merchants and restaurants. (…) Retail sales excluding automobiles and service stations increased 0.1 percent, less than the projected gain of 0.3 percent in the Bloomberg survey.

The figures used to calculate gross domestic product, which exclude categories such as food services, auto dealers, home-improvement stores and service stations, showed a 0.1 percent advance, matching the prior month's increase in the so-called retail control group.

The retail report showed sales decreased 0.9 percent at clothing chains, the biggest retreat since October, and a 0.8 percent drop at restaurants and bars. (…) (Chart from Doug Short)

Zerohedge adds:
(…) and if you are hopeful about April, Johnson-Redbook reported a 2.8% plunge in Same-Store-Sales – the worst start to an April since 2005.

Finally, as Goldman notes, weakness in auto sales and production could be an unwelcome headache for the manufacturing sector. Growth in auto output has accounted for 40% of the increase in manufacturing production since January 2012, not including spillovers to related sectors (Exhibit 4).

The total effect is likely bigger, as spillovers from auto manufacturing can be significant:

producing $1 of motor vehicle output requires $1.8 dollars of output from all other industries – the highest "multiplier" of any sector in the economy (according to the BEA's input-output accounts).

Although prospects for the manufacturing sector have started to look brighter, a pullback in motor vehicle activity could limit the extent of any rebound.
(…) Exports surged 18.7 per cent in renminbi terms in March over the same month last year, after declines in both January and February. Imports also stabilised, dropping just 1.7 per cent compared with an 8 per cent fall in February.

In dollar terms, exports rose 11.5 per cent while imports fell 7.6 per cent for the period, reflecting the renminbi's recent rise. The currency has gained 1.9 per cent against the dollar over the past two months. (…)
Bloomberg adds:
Seasonal factors aided the recovery. The week-long lunar new year holiday fell in February this year, closing factories and curbing shipments. That saw exports tumble 25.4 percent in U.S. dollar terms from a year earlier, the biggest decline since May 2009.

Exports to the U.S. increased 9 percent while those to EU nations jumped 17.9 percent. Shipments to Brazil plunged 39.4 percent. Imports from the U.S. fell 2.8 percent, while those from Canada tumbled 32.3 percent. China's imports from the EU rose 1.4 percent.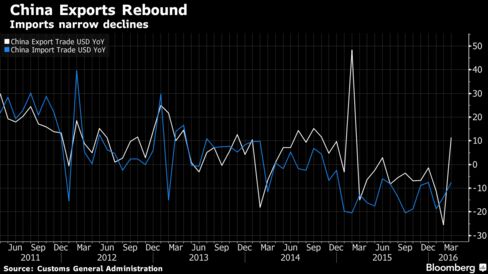 The European Union's statistics agency said on Wednesday that the output of factories, mines and utilities fell 0.8% from January, but was 0.8% higher than in February 2015. That was a weaker outcome than anticipated, with economists surveyed by The Wall Street Journal last week having estimated output fell 0.5% on the month, and rose 1.3% on the year. (…)

The decline in industrial output during February was widespread across the eurozone, with German production falling 0.7%, French production 1%, and Italian production 0.6%. (…)

IMF Cuts Global Economic Growth Outlook for 2016 The world economy is increasingly at risk of stalling, the International Monetary Fund warned as it once again cut its forecast for global growth prospects.
(…) The IMF said it was forced to downgrade its growth forecast for this year to 3.2%, down by 0.2 percentage point from its projection issued in January. China's slowdown and weak commodity prices are taking a deeper toll on emerging markets than expected and rich countries are still struggling to escape the legacies of the financial crisis, the fund said.

The downward revision is the fourth straight cut in a year, putting world economic growth just a hair over last year's 3.1% and only marginally above the 3% rate the IMF has previously considered a technical recession globally.

"Consecutive downgrades of future economic prospects carry the risk of a world economy that reaches stalling speed and falls into widespread secular stagnation," IMF Chief Economist Maurice Obstfeld said as the fund launched its flagship report. The IMF is worried such stagnation could further stifle investment, smother wage growth, curb employment and push government debt to unsustainable levels in some countries. (…)

Recessions in Russia and Brazil are proving to be deeper and longer than the IMF anticipated after political problems compounded the effects of a plunge in commodity prices. Dozens of other oil exporters—from Venezuela to Canada, Saudi Arabia to Nigeria—are also facing sharp slowdowns.

The IMF upgraded China's growth forecast this year by 0.2 percentage point to 6.5% as the service sector compensated for a downturn in manufacturing. (…)

Europe and Japan, meanwhile, can't seem to escape from low growth despite aggressive central-bank actions that have pushed rates into uncharted negative territory. (…)

The IMF shaved 0.2 percentage point off its U.S. growth forecast for the year to 2.4%. (…)

Amid those threats, the IMF also cut its global forecast for next year by 0.1 percentage point to 3.5%. (…)
(…) The French finance ministry said it would find an additional €3.8 billion ($4.31 billion) of savings this year and another €5 billion in 2017 to ensure France meets its pledge of getting the budget deficit under the European limit of 3% of economic output.

The belt-tightening indicates Mr. Hollande is opting for fiscal credibility rather than handing out sweeteners to taxpayers before the 2017 presidential election. (…)
Weak Oil Prices Curbing Crude Production The debate among the world's biggest oil nations over whether to freeze production is beginning to be overtaken by a rapid slide in global output.
(…) London-based research consultancy Energy Aspects recently revised its estimates for non-OPEC production declines this year to 700,000 barrels a day from 200,000 to 300,000 in earlier forecasts. It expects demand to begin outstripping supply and drawing on swollen crude stockpiles globally starting in June. (…)

The U.S. Energy Information Administration said in its short-term energy outlook Tuesday that U.S. crude production fell by 90,000 barrels a day in March from February. The agency lowered its U.S. output forecast for 2016 to 8.6 million barrels a day and 8 million barrels a day in 2017. That is off from a multidecade peak of 9.4 million barrels a day last year. (…)

It isn't just U.S. shale fields falling off. In the deep waters of the North Sea, where production is expensive, declining investment has meant the output declines that fields naturally experience over time have overtaken production from new drilling.

Norway's crude-oil production, for example, grew by 4% to 1.56 million barrels a day in 2015. But output is expected to drop by 2% in 2016 and gradually level off to 1.38 million barrels a day in 2019, according to the Norwegian Petroleum Directorate.

Oil production in Latin America is plummeting, as well, according to Energy Aspects. In Brazil nearly all of the biggest fields could see declines this year. Overall, Latin American production in February and March dropped below 8 million barrels a day for the first time since March 2014. Production in Mexico and Venezuela is also falling. (…)

"The key is going to be, once we have a pickup in prices how does shale respond? The jury is out on that." said Christof Ruhl, global head of research for the Abu Dhabi Investment Authority.
(…) The Organization of the Petroleum Exporting Countries forecast on Wednesday that a long-expected contraction in non-OPEC oil supply was shaping up to be steeper than expected. In March, it forecast non-OPEC output would fall by 700,000 barrels a day this year. It is now estimating that drop will be 730,000 barrels a day.

The downgrade was due to lower expectations for oil production from China's onshore mature fields and further declines in the U.S. and the U.K., where projects have been deferred due to lower oil prices. (…)

In its closely watched monthly report, the Organization of the Petroleum Exporting Countries cut its forecast for 2016 oil demand growth by 50,000 barrels a day. Demand for the commodity will now rise by 1.20 million barrels a day to 94.18 million barrels a day, according to its projections.

The downgrade, though small, is underpinned by slower economic momentum in Latin America and uncertainties in Chinese growth, OPEC said. (…)

OPEC said its overall crude production rose by 15,000 barrels a day to 32.25 million barrels a day in March. The increase was driven by Iran, whose output rose by 139,400 barrels a day to 3.291 million barrels a day last month. (…)
(Bespoke Investment)
Tax-Rule Changes Ripple Widely The Treasury's new corporate rules will reach far beyond the few companies that moved their legal addresses to low-tax countries, forcing many firms based in the U.S. to change their internal financing strategies and tax planning.
(…) Corporate tax lawyers, who have spent the past week trying to understand one of the Obama administration's most far-reaching tax regulations, say the rules cast aside decades of precedents and force corporations to alter routine cash-management techniques. The rules would also end a strategy used by companies such as Illinois Tool Works Inc. to repatriate foreign profits without paying U.S. taxes.

Tax lawyers were surprised at how many transactions may be affected by the rules, which address the line between internal company debt and equity.

"The breadth and scope of the regs are quite a bit beyond what anyone expected," said Jason Bazar, a partner at Mayer Brown LLP in New York, who advises companies on cross-border transactions. "They've assumed the worst in certain transactions and not considered the commercial considerations." (…)

The second package would have longer-lasting effects. It limits earnings stripping, the post-inversion technique used to load up U.S. subsidiaries with debt and push profits to low-tax countries. But it is much bigger than that.

The rules are of particular interest to foreign companies with significant U.S. operations, such as Nestlé SA, which expressed concerns about the regulations last week. Nestlé, which said it doesn't engage in earnings stripping, said Tuesday it will monitor the regulations. It said it worries the rules could affect foreign-based groups' investments and jobs in the U.S. (…)

The rules were written under the 47-year-old Section 385 of the tax code, which gives Treasury wide authority to distinguish debt and equity. That is often a tricky distinction to make, and companies exploit it to extract all the benefits of debt, including interest deductions in the U.S. and tax-free repatriation of foreign profits.

"We're not really focused on cash management here," a senior Treasury official said Tuesday. "We're really focused on extraordinary amounts of debt being loaded onto companies in a short period of time." (…)
If you enjoyed this article, Get email updates (It's Free)