With the time needed to fill a job already near the highest in at least 16 years and the number of people voluntarily leaving jobs at its strongest since the recession, difficulties finding skilled labour will intensify, pushing up wages and squeezing corporate profits, the Conference Board said in a report. (…)

"We are already very close to full employment, yet we have this trend of very slow growth of labour supply for the next 15 years, and there is very little that could be done about it barring major immigration reform," said Gad Levanon, chief economist, North America at the Conference Board. "The implication of that is it is harder to find workers, and there is more acceleration in labour costs." (…)

Analysis from Goldman Sachs this week estimated that labour costs as a share of S&P 500 companies' revenues rose to 9.8 per cent last year compared with 9.1 per cent in 2014, and were set to jump further.
(…) Temporary-help employment, which peaked prior to the last two recessions, is showing signs of topping out. And a broad labor-market index constructed by Federal Reserve economists — and monitored by Chair Janet Yellen — has fallen for three straight months, the first time that's happened since 2009.

"I am a little concerned," said 75-year-old Bob Funk, chief executive officer of Express Employment Professionals, which provides temporary workers to companies. "Our industry is always on the front end of a recession," as provisional workers are the first to be let go on signs of economic weakness.

Temporary-help employment fell in two of the past three months and is down 1.8 percent so far this year — even while total payrolls are higher. (…)

In the run-up to the 2001 recession, provisional employment peaked 11 months before the downturn began. The lag before the Great Recession of 2007 to 2009 was 16 months.

The picture is similar for the labor market conditions index, which is comprised of 19 indicators, including temporary help. The six-month moving average of changes in the index turned negative nine months before the 2001 economic drop-off and five months before the more recent recession.

On that basis, broad-based declines among its components turned the average just barely negative last month, suggesting labor conditions may be plateauing rather than deteriorating in a way that would presage a recession.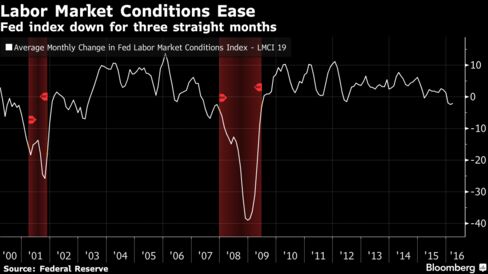 (…) some of Funk's fellow staffing specialists are voicing confidence in the outlook.

"Generally speaking, we think the labor market is still fairly robust," said Kip Wright, senior vice president of Manpower North America, part of ManpowerGroup Inc. "We've certainly seen certain sectors that had some weaknesses, like manufacturing. But they've bottomed out to some extent and are starting to stabilize."

In perhaps a sign of strength, companies seem more willing to take on permanent workers rather than hiring temporary help. "They're gaining more confidence," Wright said. "Our full-time hiring business is growing at significant double-digit numbers." (…)
Target increases minimum wage to $10 an hour Discount retailer Target Corp has started raising employee wages to a minimum of $10 an hour, its second hike in a year, pressured by a competitive job market and labor groups calling for higher wages at retail chains, sources said.
Homebuilder Confidence Holds Steady This Month Home builders' outlook on the market for single-family homes remained generally upbeat this month despite choppy home sales, boosting hopes that construction will pick up this year.
The industry's National Association of Home Builders said Monday its monthly index of home builder sentiment stood at 58 in April, matching the reading for February and March. (…)

Monday's report showed that builders' expectations for sales in the next six months rose a point to 62. A Measure of buyer traffic climbed a point to 44, while views on current sales conditions fell two points to 63.

Regionally, sentiment was strongest in the West, where it stood at a reading of 67, matching the prior two months' levels. Builders lost confidence in the market in the Northeast, where the index tumbled to 41, and in the Midwest, where it fell to 56. It held steady at 59 in the South. (…) (chart from Haver Analytics)
New guidelines released by seven Chinese ministries over the weekend build on previously announced commitments to restructure the coal and steel industries, whose excess production is dragging on the economy, and to take care of an estimated 1.8 million workers who will be displaced. The new measures place priority on finding jobs and cushioning the transition to reduce the unemployment that the authoritarian government sees as a threat to social stability. (…)

Government plans call for reducing some 10% to 15% of the excess capacity in the steel and coal sectors over the next several years. That is less than half the portion analysts say is needed to bring supply closer in line with demand. And steel and coal are only two of numerous other industries plagued by overcapacity that haven't been addressed. (…)
Cast in Concrete: China's Problem With Excess Construction of a giant new cement plant—the last thing China needs—helps explain why this year's economic pickup is unlikely to last.
(…) Yet here in the industrial northeast, Tangshan Jidong Cement, a state enterprise with domestically listed shares, has begun work on a giant 7,200-ton-a-day facility. Bulldozers have ripped a wide gash across low hills to make way for a factory that is likely to exacerbate an already epic glut of cement used to make concrete. (…)

Local officials are masterful at subverting edicts from mandarins in the capital. In the case of cement, new capacity must be justified by closing outdated plants, but the process is full of loopholes. (…)

China accounted for 57% of global production last year. In just two years, 2011 and 2012, China churned out as much cement as the U.S. in the entire 20th century.

Yet a recent report by the European Chamber of Commerce in China said that despite efforts by the central government to reduce cement overcapacity, the measures "have so far only managed to slow down the rate at which the problem is expanding." About one quarter of China's cement capacity is idle.
(…) Spooked by a fresh wave of defaults at state-owned enterprises, investors in China's yuan-denominated company notes have driven up yields for nine of the past 10 days and triggered the biggest selloff in onshore junk debt since 2014. Local issuers have canceled 61.9 billion yuan ($9.6 billion) of bond sales in April alone, and Standard & Poor's is cutting its assessment of Chinese firms at a pace unseen since 2003. (…)
Listed firms' ability to service their debt has dropped to the lowest since at least 1992, while analysts are cutting profit forecasts for Shanghai Composite Index companies by the most since the global financial crisis. (…)

Non-financial companies traded in Shanghai and Shenzhen are generating just enough operating profit to cover the interest expenses on their debt twice, down from almost six times in 2010, data compiled by Bloomberg show.

Analysts are getting more downbeat. Twelve-month earnings forecasts for Shanghai Composite companies have dropped by 7.8 percent this year, the most since 2009, according to data compiled by Bloomberg. S&P has cut its credit ratings or reduced its outlook on 63 Chinese companies this year while upgrading just two, on course for the highest annual ratio of downgrades to upgrades in 13 years. (…)
PRETTY LEGS?
Yesterday, David Rosenberg was suggesting that this rally may have some legs:
"China's economic data have improved, even if credit induced."
"The U.S. dollar has stopped making new highs."
"Oil has managed to consolidate around the $40 per barrel level."
"The technical picture has improved – breadth in particular, as 90% of stocks are north of their 200-day moving averages."
"While the major averages are still shy of their highs, the NYSE cumulative Advance-Decline line just broke above its own."
"Financials are starting to outperform as the banks posted better than expected earnings results last week."
"And sentiment remains depressed which is a contrary positive as evidenced by investors yanking $6 billion from developed markets last week (…)."
'The High-Yield corporate bond market is flashing the green light for risk appetite as well, confirming the stock market's message. (…)"
"And the Treasury market is signalling no interest rate risk (…)."
Hmmm…some facts for you legs watchers:
On China:
The big news was last week's report that China's dollar-denominated exports jumped 11.5% YoY in March. But the primary driver behind the surge in export growth was a low base effect from March 2015. The stats for the last 3 years:
March 2016: USD160.8B
March 2015: USD144.6B
March 2014: USD170.1B
March 2013: USD182.2B
Maybe it's a turning point.
But February's exports were down 25.4% YoY! So, maybe more of a catching up month. Meanwhile:
Also:
China's industrial production grew 5.4​% in January and February compared with a year earlier, down from December's 5.9% pace. Meanwhile, retail sales clocked 10.2% growth in the two-month period, slower than December's 11.1% increase.
China's top 50 retailers saw sales fall 6 per cent at the start of the year, and sales of basic goods from noodles to detergent grew just 1.8 per cent at the end of last year, down from more than 9 per cent just three years ago, according to Kantar Worldpanel data.
Rail freight volume plunged 9.4% year-over-year to 788 million tons, according to data from China Railway Corporation.
On the technical picture:
Rosenberg should know that about 52% of the issues traded on the NYSE are not shares of domestic common stocks, but include closed-end bond funds, REITs, and preferred shares – all of which trade based on interest rates which have been declining lately. Lowry's Research data shows that using only operating companies, the "Adv-Dec Line is currently far below its May 2015 bull market high. Similarly, our NASDAQ (all-common) Adv-Dec Line has recently recovered just 34.5% of its losses from its 2014 bull market high. Thus, the NYSE All-Issues Adv-Dec Line is at new highs because of recent strength in bonds, and selective strength in some large-cap stocks, rather than because of strong investor Demand in a broad spectrum of small-cap, mid-cap, and large-cap common stocks."
Otherwise, the USD may have stopped making new highs but nobody really understands what's currently happening in forex markets. Same for oil, especially post the Doha fiasco.
Finally, the Treasury market may be signalling no interest rate risk, but this is because it is seeing no economic strength.
You may be interested to know Rosenberg's real fears. This BI piece is really worth reading. Some tidbits:
The world is still grappling with a problem of over-indebtedness.
Germany is following a policy of austerity to the detriment of its Eurozone allies
In Japan, Abenomics has hit a wall
The Brexit vote on June 23rd is a classic fork in the road for the European Union
Spain's coalition government is about to fall. Italy's banks are in disarray. Prime Minister Hollande has backed down on French reforms. Greece is at risk of defaulting again this summer.
While Obamacare may have been good social policy, it froze the small business sector two years after the detonation of the housing sector and capital markets. One shock layered on top of another.
Fiscal policy was never loosened enough and the move to tighten it so dramatically in 2013 via spending restraint and broad-based tax hikes has exerted dampening economic effects to this day. The structural component of the deficit, once as high as 7%, is now close to zero, as revenue growth (the tax take) is exceeding program spending growth currently by a three to one ratio.
Meanwhile, the Republican who shut down the government four years ago is now in second spot in the GOP primaries, and the leader has become the poster boy for the anti-free-trade movement.
The tax code has not undergone a face-lift in three decades. We have a White House now making it up as it goes along when it comes to merger activity, adding to business uncertainty over tax and regulatory policy —which is running at historically high levels.
Employment among males aged 20 to 24 has not increased in eight years and the employment rate for this group is extremely depressed even if off the bottom. Ditto for those aged 25 to 34.
As for those fertility rates, what woman wants to date, let alone marry, a guy who's still living with mom and dad? Indeed, an unheard-of 35% of males aged between 18 and 34 live at home.
A rising savings rate amidst lingering high excess capacity in a global basis means that deflationary pressures are not going to go away.
Central banks will be forced to offset these pressures by ongoing monetary accommodation, though as we are seeing with quantitative easing and negative rates in the euro area and Japan, central banks are losing their effectiveness.
From Bloomberg this a.m.:
(…) Last week saw five consecutive days of inflows into the biggest fund tracking the S&P 500, the longest such stretch in seven months.

Meanwhile, short sellers have been covering positions since bets that the economy was headed toward recession didn't pan out. A Goldman Sachs gauge of the most-shorted companies in the Russell 3000 Index has climbed 32 percent since Feb. 11. Short interest in S&P 500 members averaged 3.1 percent of shares available as of Monday, according to Markit Ltd. data compiled by Bloomberg. The level touched 3.5 percent in mid-February, the highest since at least 2011.

The number of stocks going up has increased. Since the Feb. 11 bottom, the S&P 500's equal-weighted gauge, a proxy for breadth since smaller companies have as much influence as large, has outpaced its market-weighted counterpart by 2.9 percentage points. Digging into the 10 main industries and all but one, consumer staples, are performing better on an equal-weighted basis over the stretch.

That bodes well for the rally, according to Bilello's research.

(…) history could be on the side of the bulls, as April historically is the strongest calendar month for equities. In the past 20 years, the S&P 500 has risen an average of almost 2.1 percent during this month and has posted gains 15 times. (…)
So, maybe this rally has legs. They just don't seem very muscular. These guys also don't seem like being strong on legs (chart via Toni Sagami):
EARNINGS WATCH
43 companies (11.9% of the S&P 500's market cap) have reported. Earnings are beating by 5.3% while revenues surprised by 0.1%. Expectations are for a decline in revenue, earnings, and EPS of -1.4%, -9.2%, and -7.0%.
EPS is on pace for -2.4%, assuming the current beat rate for the remainder of the season. This would be +2.6% excluding Energy.
A recent Gallup poll pegged the percentage of Americans who think their own federal income tax bills are too high at 57%. That's up from 51% last year and it's the highest level since 2001, just before the Bush tax cuts became law.

Here's the problem. Just 55.5% of American households will pay federal income taxes in 2016, according to the Tax Policy Center.(…)

What is going on here?

One possibility is the survey itself. The Gallup poll has a 4 percentage-point margin of error and it's asking people about income taxes at the very moment they're angriest about them—the run-up to Monday's tax-filing deadline.

The second possibility is that Americans aren't distinguishing between income taxes (what's reconciled on your annual return) and payroll taxes (what comes out of your paycheck often labeled as FICA) for Social Security and Medicare. For about two-thirds of all households—and three-quarters of households making $40,000 to $75,000—the payroll tax is bigger than the income tax, according to the congressional Joint Committee on Taxation. And none of that includes state or local taxes.

So Americans may be responding to a different question from the one that Gallup asked. (…)
Buffalo Bills head coach Rex Ryan talked a big game Monday night when he introduced Donald Trump at an upstate rally — but the GOP front-runner fumbled right away, calling the ringless Ryan a great coach "who won championships" in New York and confusing 9/11 with 7-Eleven.
If you enjoyed this article, Get email updates (It's Free)