Initial claims for unemployment insurance jumped to 294,000 (7.8% y/y) during the week ended May 7, after rising to an unrevised 274,000 in the prior week. It was the highest level of claims since February 2015. Expectations were for 267,000 applications in the Action Economics Forecast Survey. The four-week moving average of claims rose to 268,250, the highest level since early-February. During the last ten years, there has been a 74% correlation between the level of claims and the m/m change in payroll employment.
U.S. Import Prices Rose For Second Straight Month in April Prices for imported goods rose for the second straight month in April, a sign firming oil prices could be pushing up inflation pressures in the U.S.
Import prices rose 0.3% in April, the Labor Department said Thursday, following an upwardly revised 0.3% rise in March. (…) The monthly increase again largely reflected an uptick in oil prices. Petroleum import prices advanced 4.1% in April, and March's rise was upwardly revised to a 9.6% monthly gain. Over the year, petroleum prices are still down 37.4%. (…)

Excluding the volatile food and fuel categories, import prices were flat from March and are down 2% from April 2015. (…)

And import prices for non-petroleum industrial supplies and materials, such as metals and building materials, rose 0.4% in April, the first monthly advance since December 2014. That could signal some stirring in the U.S. manufacturing sector.

Overall import prices are still down 5.7% from a year earlier. The year-over-year figure has fallen each month for 21 straight months, but the annual decline has been shrinking since September.

U.S. export prices rose 0.5% in April, matching the largest advance since March 2014. Export prices are down 5% year-over-year. (…)
But export prices were unchanged in March and down 0.4% in February.

Almost 20 percent of Americans 65 and older are now working, according to the latest data from the U.S. Bureau of Labor Statistics. That's the most older people with a job since the early 1960s, before the U.S. enacted Medicare. (…)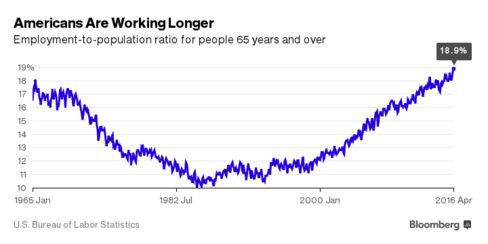 When asked to describe their plans for retirement, 27 percent of Americans said they will "keep working as long as possible," a 2015 Federal Reserve study found. Another 12 percent said they don't plan to retire at all.

Why are more people putting off retirement?

Three in five retirees surveyed by the Transamerica Center for Retirement Studies said making money or earning benefits was at least one reason they had retired later than they planned to. Almost half said financial problems were their main reason for working past 65. (…)

Today, 60 percent of U.S. households have no money in a 401(k) or similar retirement account, and the benefits of 401(k)s are skewed toward the wealthiest Americans, a recent report by the Government Accountability Office found. (…)
Eurostat said gross domestic product in the eurozone increased by 0.5% over the quarter, equivalent to an annualized growth rate of 2.1%. Late last month, it estimated growth was 0.6%, or an annualized rate of 2.2%.

Despite the revision, that marked a pickup from the 0.3% quarter-to-quarter rate of growth recorded in the final three months of last year, which was driven by a marked acceleration in Germany, the eurozone's largest member.

The Federal Statistics Office said German GDP increased by 0.7% in the first three months of the year, more than double the growth rate in the fourth quarter of 2015. That translates into an annualized rate of 2.7%. (…)
EMU economic data continues to show spotty results. Industrial production for the euro area in March is now tabulated, showing a drop of 0.8%. Output is still higher in the quarter even after two straight months of IP declines because in January IP had spurted by 2.4%. Still, output is down for two months running overall and in all categories except intermediate goods, where output in February has risen by 0.1%.

In the just-completed quarter, overall IP is up at a 3.8% annual rate. Manufacturing IP is up at a 4.3% annual rate. Capital goods output is up at a huge 8% annual rate followed by consumer nondurables at a 5.3% pace and intermediate goods at a 4% pace. All the growth in Q1 was front-loaded as output jumped in January. As the quarter has progressed, output has receded to the point where March output indices sit well below their respective Q1 averages. This spells trouble for Q2 growth. The relationship between the level of the output index in the last month of the quarter and the quarterly average gives us a view of inherited growth; what trend is doing as we get ready for the next quarter. Consider these metrics: for overall IP, output is falling at a 10.5% annual rate in March compared to its quarterly average. For consumer goods, the drop is at a minus 21% annual rate. For capital goods, the drop is at a -22.9% annual rate. For Germany, the drop is at a -11.8% annual rate. The `strong-looking' Q1 growth rate of IP growth hides a whole lot of hurt that has built up heading into Q2. Q1 is no growth launching pad.

Of the 13 EMU and EU-only members in the table, at least seven show manufacturing IP drops in March and in February as well as drops by seven countries over three-month, six-month and 12-month. There is clear ongoing weakness and uneven growth in the euro area. Manufacturing IP growth in the EMU is at an annual rate of 0.5% or less over 12-month, six-month and three-month. This is very low flying growth and clearly flirts with stall-speed and hitting the tree tops. (…)

There is an apparent slowing in EMU growth brewing as Q1 ends. The spike in January growth helps to dress up the case for a subsequent slowing, of course, but there is also weakness in February and March output. And the year-over-year momentum is poor. The OECD area shows ongoing slowing trends for the region as a whole as well as for all members with most showing weak absolute readings on their trend-restored indicators in addition of failing rates of growth for them. PMI gauges have slowed as well. In a broad group of 18 countries or economic units globally, PMIs slow from three-month to six-month in all but three and over six-month compared to 12-month for all but five. (…)
New-car sales in the European Union rose 9.1% to 1.3 million in April, the highest level since before the financial crisis hit, the European Automobile Manufacturers' Association said on Friday.
Forecasters in the latest Wall Street Journal survey of business, academic and financial economists estimated, on average, that the U.S. had a 20% chance of falling into recession in the next year. That was up slightly from the 19% in last month's survey. While 1-in-5 odds are far from a slam dunk, they are double the odds from as recently as September. (…)

The average forecast now calls for 1.9% growth this year, down from 2.1% in last month's survey. Over the next 12 months, the economy will add about 180,000 jobs, they estimate, down from 185,000 last month and 190,000 in March.

Even after making these downgrades, 63%% of economists think the risks to the economy are to the downside. In other words, if their forecasts are wrong, economists think it's because they're probably too optimistic. (…)
OPEC Sees Rival Oil Production Declining as Markets Rebalance Shrinking U.S. output and massive cuts to investment in new oil projects will reduce the global oil glut over the course of this year, OPEC said.
OPEC said in its monthly report that non-OPEC production will fall by 740,000 barrels a day from 2015 to 56.4 million barrels a day this year—10,000 barrels a day less than OPEC previously predicted. Most of the decline will stem from cuts that U.S. oil producers are making to cut production that is become unprofitable with the oil-price rout.

OPEC forecast U.S. production this year will fall by 431,000 barrels a day from 2015 to 13.56 million barrels a day. The rest of the predicted non-OPEC decline will come from lower investments and production delays in China, Mexico, the U.K., Kazakhstan and Colombia.

Overall, oil companies world-wide will cut their exploration and appraisal investments during 2016, 2017 and 2018 to $40 billion annually, half the average annual spending of 2012 through 2014, the group said. (…)

Iran, which was released in January from international sanctions curbing its oil sales, hasn't agreed to production limits. Its oil output in April was 3.45 million barrels a day—up 198,000 barrels from a month earlier, OPEC said. That accounted for the cartel's entire output boost from March. Overall OPEC production last month was up 188,000 barrels a day, to 32.44 million barrels, from a month earlier.

OPEC said its higher output will be absorbed by rising global oil demand, which it predicted to increase by 1.2 million barrels a day from last year to 94.18 million barrels a day in 2016. (…)

Global oil oversupply halved to 950,000 barrels a day, based on OPEC's production numbers in April, compared with overproduction of 2.13 million barrels a day in 2015. (…)
The withdrawals have put equities "firmly" on track for their biggest year of redemptions since 2011, according to data provider EPFR. Fears over growth in Japan and the eurozone, as well as concerns over US corporate profits, are being blamed. (…)

Bond funds and money market accounts benefited from the shift out of stocks in the past week. Global bond funds counted $3.5bn of fresh capital in the five trading days to Wednesday, the 11th week of inflows in the past 12, according to EPFR.

Money market accounts — often considered a proxy for cash — received $5.1bn of inflows in the past week, the third consecutive week of additions, the Lipper figures showed. (…)

Global bond funds have recorded $59bn of inflows since the year began, surpassing the $56bn haul in 2015. (…)
EARNINGS WATCH
Department stores missed and sold off due to a continued deceleration in comparable store sales and SG&A deleveraging. Further, these names lowered their outlook on lackluster consumer spending expectations and ongoing investments in alternative formats.
458 companies (93.0% of the S&P 500's market cap) have reported. Earnings are beating by 3.8% while revenues have missed by -0.4%.
Expectations are for a decline in revenue, earnings, and EPS of -2.0%, -7.3%, and -5.1%. EPS is on pace for -4.8%, assuming the current beat rate for the remainder of the season. This would be +0.2% excluding Energy.
Next week, 22 companies representing 4.7% of the S&P 500 will report results, including Home Depot, Cisco, Wal-Mart, Lowe's, and TJX Companies. (RBC)
In all, the Q1 earnings season has failed the hopefuls. RBC sees EPS down 4.8% but Thomson Reuters is at –5.4%, not much better than the –7.1% expected on April 1.
If you enjoyed this article, Get email updates (It's Free)