Total retail sales & spending at restaurants increased 1.3% (3.0% y/y) during April following a 0.3% decline, unrevised from the preliminary report. The rise compared to expectations for a 0.8% improvement in the Action Economics Forecast Survey. The figures reflect annual revisions published late last month.

Stronger sales of motor vehicles led spending as a 3.2% rise (3.1% y/y) recouped March's 3.2% decline. The increase compares to a 5.1% increase in unit auto sales which recovered the prior month's 5.5% drop. Excluding autos, total retail spending increased 0.8% (3.0% y/y) which built on gains of 0.4% and 0.2% in the prior two months. A 0.4% rise had been expected.

Gasoline service station sales rose 2.2% (-9.6% y/y) following a 3.1% increase as prices rose. Building material store sales fell 1.0% (+8.2% y/y) and reversed two months of increase. Purchases at restaurants improved 0.3% (5.2% y/y) following a 0.4% fall.

Spending in the retail control group, which excludes autos, gasoline, building materials and restaurants increased 0.9% (3.6% y/y). That also was improved from 0.2% and 0.4% increases in the prior two months.

0.2% (4.2%), the same as in March. Showing a slight decline were general merchandise store sales (0.5% y/y), and they're down slightly versus yearend.

David Stockman disputes the numbers blaming the seasonal adjustments:
(…) For crying out loud, seasonally-maladjusted, weather-whacked single month deltas from the rickety government statistical mills are only one step removed from noise. But they are seized upon by the financial press because the latter are exceedingly lazy and always on the prowl for anything that might be "good news" for the stock averages.

But that's what Bubble Finance has come to. Namely, a cult of the daily stock market that is so myopic, superficial and sycophantic that it has practically reduced financial journalism to noise, as well. (…)

In fact, the April retail sales report brought even more evidence of continued deceleration from the 4-6% annual gains recorded earlier in the recovery. It is reminiscent of the pre-recession patterns of the past, not a signal that the consumer has spung back to life. (…)
Other good YoY charts from Doug Short:


Inventories remain too high across the board.


The headline Final Demand Producer Price Index increased 0.2% (0.0% y/y) in April after an unrevised 0.1% March dip. The rise compared to a 0.3% increase expected in the Action Economics Forecast Survey. A 0.3% decline (-2.0% y/y) in food prices offset a 0.2% increase (-12.0% y/y) in energy prices. Excluding food & energy, the PPI improved an expected 0.1% (0.9% y/y).

Core producer goods prices for final demand increased 0.3%, following four consecutive 0.1% gains. It reflected the emerging improvement in factory sector activity. Durable consumer goods prices gained 0.1% (0.5% y/y) and core nondurable goods costs increased 0.6% (4.0% y/y), the strongest rise in three months. Capital equipment prices edged 0.1% higher (0.5% y/y) following three months of remaining unchanged.
A measure of the US Treasury yield curve flattened on Friday to levels not seen since early March, reviving once again anxiety about the health of the world's most important economy.
The spread between 10-year and 2-year US Treasury notes tightened on Friday to as low as 94.9 basis points, the lowest level on an intraday basis since March 8. It would also be the lowest closing level since December 2007, according to Bloomberg data, writes Adam Samson in New York.

The flattening in the yield curve suggests longer-term borrowing costs are moving closer to shorter-term costs, and signals investor concerns about the longer-term outlook for the economy. A worse situation would be an inverting in yield curve, something that remains far away, which would indicate investors reckon the Fed may have to reduce short-term rates because of an economic slowdown.

While economic researchers are mixed on whether a prolonged period of low interest rates has impaired the yield curve's power as a recession harbinger, the flattening is just the most recent sign of investors' uneasiness over the strength of the US economy. (…)

Bears are also quick to point out that the recovery in junk bonds, which has been led by a rally in speculative-rated energy debt that has strengthened with oil prices, could be pre-mature. After all, they say, fundamentals look downright grim.

The global default tally has climbed to 62 issuers for 2016, which is the highest level at this time in the year since 2009, according to data from Standard & Poor's. At the same time, speculative-grade downgrades have been running at 55 a month year-to-date, far higher than the 29 a month rate over the same period in 2015, S&P data show. (…)
All weaker than consensus and weak, especially retail sales which reflect slowing domestic demand.

Industrial output rose 6.0% year-over-year in April, compared with 6.8% growth in March, the National Bureau of Statistics said Saturday. This was below a median forecast of 6.6% growth by 15 economists surveyed by The Wall Street Journal.

Fixed-asset investment in urban areas grew by a weaker-than-expected 10.5% year-over-year in the January-to-April period, compared with an annual increase of 10.7% for the first three months of 2016.

Retail sales—a traditional bright spot—grew by a less-than-expected 10.1% in April compared with a year earlier, slowing from March's 10.5% year-over-year rise, the statistics bureau said. (…)

Housing sales rose 61.4% year-over-year during the January-to-April period, the statistics bureau said Saturday. This compared with a 60.3% year-over-year increase for the first quarter of 2016, and 16.6% growth for all of 2015. Property investment grew 7.2% year-over-year in the January-to-April period, compared with a 6.2% annual rise in the first quarter of 2016. (…)

The central bank Saturday also said a sharp drop in April bank lending was the result of local governments tapping the bond market, rather than going to financial institutions for funds. Last month, banks lent a less-than-expected 555.6 billion yuan ($85.1 billion). This followed 1.37 trillion yuan in bank loans in March, and a record 4.6 trillion yuan for the first quarter of 2016—more than was released during the depth of the financial crisis in early 2009.

Fiscal spending also decelerated in April with 4.5% year-over-year growth compared with 15.4% in the first quarter. China set an annual fiscal spending growth target of 6.7% this year and a 2016 fiscal deficit target of 3% of gross domestic product, up from 2.3% in 2015. (…) (chart from FT)
China Housing Revival Buffers Economy China's housing market is showing nascent signs of recovery after a two-year downturn, providing a cushion for the economy.
(…) "Leaving my money in the bank is meaningless and it will only devalue," said Wang Hong, a 35-year-old office administrator who is looking to buy a second home in Nanjing. "If home prices fall and if I get cash-strapped, I will just sell my first home." (…)

Demand for homes is growing at a similar rate across China but price gains in the top tier cities are outpacing those of smaller ones, as developers struggle to sell stockpiled properties, real-estate experts say.

"We should not neglect the fact that many more cities [are] still in the process of clearing their dwelling stock," said China Vanke, a Shenzhen-based property developer, said in its annual report in late April.

Vanke calculated the dwelling-to-household ratio in 49 relatively developed Chinese cities and concluded that 29 of them, including Kunming, Changzhou and Hangzhou, must slow new construction to allow the population to grow or risk increasing the stock of empty homes.

One sign of more plans for construction is that the price of residential land in 105 cities surveyed by the Ministry of Land and Resources rose 4.7% in the first quarter from the same period a year earlier. It was the third straight quarterly rise.

The faster than expected revival of housing construction is driving concern that builders are responding too quickly to the recent surge in sales.

"Housing starts will need to remain below sales for a few years in order to absorb the overhang of unsold properties and put construction growth on a more sustainable trajectory," Capital Economics' Mark Williams and Julian Evans-Pritchard wrote in April. (…)
(…) Goldman Sachs said that the recent outages from large producers such as Canada and Nigeria had sent the oil market from nearing full storage levels to being in deficit.

Goldman Sachs has been among the most bearish of banks on the price of oil. It still predicts tough times ahead for the sector, saying that low-cost oil producers could push the market back into surplus by early 2017.

The bank remains relatively negative on price, forecasting $45 oil by the first quarter of 2017 and $60 a barrel by the end of that year.

New production outages in Nigeria, caused by attacks on infrastructure, are likely to continue supporting the oil price in the short term. They come just as concerns over supply in Canada are starting to fade as its oilfields restart following shutdowns caused by wildfires. (…)

Still, the biggest driver in the oil price is an uptick in global demand, not supply, Barclays said. A mild northern hemisphere winter had sapped energy consumption, but strong demand from China and India are now providing support for oil prices. (…)
Russia Weighs Tax Increases to Fill Budget Gaps While the government is spending its oil reserves to shore up the budget, officials privately say that won't be enough to fill the gap between revenues and expenditures within just a few years.
Several Russian officials say the government is considering raising income-tax levels and increasing value-added tax but that any changes would only take place after 2018—a presidential election year. Any increase would be a sensitive issue in Russia, where real incomes shrank 9.5% in 2015 and the number of those living below the poverty line was projected to grow in 2016 at its fastest rate since the 1998 crisis, according to the World Bank. (…)
EARNINGS WATCH
As shown, 60.1% of the 2,400+ companies that have reported this quarter have beaten consensus analyst estimates. That's well below last quarter's reading but slightly above the reading from two quarters ago. Since 1999, the average beat rate for any given quarter has been 61.9%, so this season is tracking just below average.
Overall, 91% of the companies in the S&P 500 have reported earnings to date for the first quarter. Of these companies, 71% have reported actual EPS above the mean EPS estimate, 7% have reported actual EPS equal to the mean EPS estimate, and 22% have reported actual EPS below the mean EPS estimate. The percentage of companies reporting EPS above the mean EPS estimate is above both the 1-year (69%) average and the 5-year (67%) average.

In aggregate, companies are reporting earnings that are 4.1% above expectations. This surprise percentage is slightly below both the 1-year (+4.2%) average and the 5-year (+4.2%) average.

In terms of revenues, 53% of companies have reported actual sales above estimated sales and 47% have reported actual sales below estimated sales. The percentage of companies reporting sales above estimates is above the 1-year (50%) average but below the 5-year average (56%).

In aggregate, companies are reporting sales that are 0.4% below expectations. This surprise percentage is below both the 1-year (+0.6%) average and above the 5-year (+0.7%) average.

The blended earnings decline for the first quarter is -7.1% this week, which is larger than the blended earnings decline of -6.9% last week. Downside earnings surprises reported by companies in the Financials and Consumer Discretionary sectors were mainly responsible for the increase in the overall earnings decline for the index during the past week.

The blended earnings decline for Q1 2016 of -7.1% is smaller than the estimate of -8.8% at the end of the first quarter (March 31). The first quarter marked the first time the index has seen four consecutive quarters of year-over-year declines in earnings since Q4 2008 through Q3 2009. It also marked the largest year-over-year decline in earnings since Q3 2009 (-15.7%).

If the Energy sector is excluded, the blended earnings decline for the S&P 500 would improve to -1.8% from -7.1%. If the Energy sector is excluded, the blended revenue growth rate for the S&P 500 would jump to 1.2% from -1.7%.

The upcoming week will be another focus week for retail earnings for the S&P 500, as 12 of the 21 companies in the index scheduled to report earnings next [this] week are retailers.
At this point in time, 83 companies in the index have issued EPS guidance for Q2 2016. Of these 83 companies, 58 have issued negative EPS guidance and 25 have issued positive EPS guidance. The percentage of companies issuing negative EPS guidance is 70%, which is below the 5-year average of 73%.
Similar finding at Thomson Reuters:
Deal with it: the M&A slow-down
A few big transactions are still under way, such as Bayer's potential $47 billion bid for Monsanto, a seed and pesticide firm. But an epic spree is petering out. At the current pace, global activity in the second quarter will be down by 11% in dollar value from the first and by 35% from the previous year. Bosses are jittery about Brexit, China's economy and America's election. Two further factors are dampening spirits. First, the American Treasury's decision to squelch the tax-arbitrage deals known as "inversions": in April it scuppered Pfizer's giant takeover of Allergan. Second, America's antitrust regulators are getting tougher: for example, blocking the purchase by Halliburton, an oil-services company, of a rival, Baker Hughes. Fat profit margins, high valuations, low interest rates, lots of spare cash and stagnant top lines mean American firms still have strong incentives to do deals. Perhaps they will turn their attention abroad. (The Economist)
(…) Announced repurchases dropped 38 percent to $244 billion in the last four months, the biggest decline since 2009, data compiled by Birinyi Associates and Bloomberg show. (…)

To be sure, large banks such as Citigroup Inc. and Morgan Stanley, whose capital plans are awaiting Federal Reserve approval, were among the missing, and their programs may restart later in 2016. Stress test results are due before the end of June. (…)

The first-quarter slowdown was mostly executives responding to the economic and credit stress earlier in the year, according to Joseph Amato, chief investment officer of equities at Neuberger Berman LLC in New York, where the firm oversees $243 billion. As the fear subsides, buybacks are likely to stay elevated, he said. (…)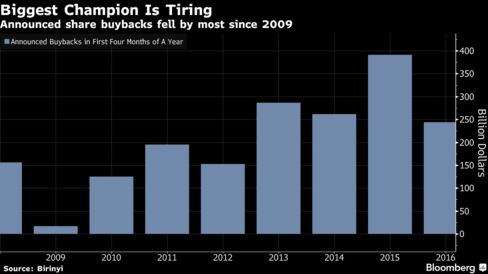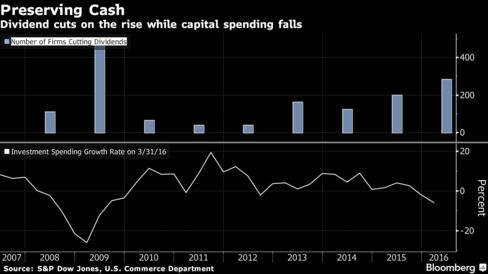 After beating the market by at annualized pace of 3.5 percentage points in the four years through March 2015, the S&P 500 Buyback Index that tracks stocks with the highest payout ratio has since trailed the broad measure by almost 10 percentage points. (…)
If you enjoyed this article, Get email updates (It's Free)