New York's health insurers are seeking to raise the amount that customers pay for individual Obamacare plans by an average of 17.3 percent for 2017. That's alongside sharp increases in Florida, where insurers are looking for 17.7 percent more, and Washington State, where health plans are seeking a 13.5 percent increase from customers. (…)

New York's insurance regulator does have an option to push back — like some other states, it can push the requested rate increases back down. Last year, insurers in the state requested a 10.4 percent increase for individual policies, on average, and were allowed to boost rates by 7.1 percent.

Yet many of New York's insurers are losing money on their Obamacare policies, which may limit how harsh the state will be, lest companies pull out of the market entirely.

CareConnect, owned by the Northwell Health hospital system on Long Island, is asking for an increase of 29.2 percent on average. Chief Executive Officer Alan Murray said he doesn't expect the state insurance regulator to cut his requested increase by much, since it reflects a much more complete understanding of how expensive it'll be to care for customers. (…)

Oscar Insurance Corp., a closely held startup that lost about $105 million last year, is requesting to boost individual rates by 18.4 percent on average, while UnitedHealth is seeking to boost New York premiums by 45.6 percent — the second-highest request in the state. (…)

Last year, rates for individuals increased about 8 percent on average in states using the Federal healthcare.gov marketplace, according to the Department of Health & Human Services. Some individuals get government subsidies to help them afford coverage, cushioning the effect of rising costs.
The U.S. CPI-Medical Care index is up 3.0-3.5% YoY so far this year but the monthly trend has accelerated to +4.3% annualized since January.
Employers Weigh In on Overtime-Pay Rule Employers preparing for a new federal overtime-pay regulation say the change will lead them to slow hiring, reduce workers' hours and cut pay, bonuses and benefits.
(…) The regulation, finalized Wednesday by the Labor Department, will make 4.2 million employees newly eligible for overtime pay when they work more than 40 hours a week, and will clarify that millions more have already been eligible but haven't been getting the pay to which they are legally entitled.

When the rule takes effect in December, the threshold under which salaried workers will automatically qualify for overtime pay will double to $47,476 a year, from $23,660. Workers who are paid hourly are generally eligible for overtime pay, regardless of their annual earnings. (…)

The regulation will have a sweeping effect on workers, employers and industries across the nation including retail, fast-food, universities and nonprofits. Store managers, front-line supervisors and postdoctoral associates at colleges are among the many jobs expected to be affected. It marks one of the most far-reaching regulations issued during President Barack Obama's administration, which has made boosting wages and strengthening the middle class a core part of its mission. (…)
Warning: labor distortions of many kinds ahead…
Fed to Markets: June Rate Increase Is on the Table Federal Reserve officials sent skeptical investors a sharp warning Wednesday that an interest-rate increase is still in play for June's policy meeting if the economy keeps improving.
(…) "Participants generally agreed that the risks to the economic outlook posed by global economic and financial developments had receded over the intermeeting period," the minutes said. (…)

Some also cited as an uncertainty the U.K.'s June 23 referendum on whether to leave the European Union, which falls a week after the Fed meeting. Participants also raised concerns about "unanticipated developments" associated with how China manages its exchange rate. (…)

Still, Fed officials signaled they weren't overly worried about the apparent [Q1 GDP] slump, judging it was temporary and "could partly reflect measurement problems and, if so, would likely be following by stronger [gross domestic product] growth in subsequent quarters," the minutes said.

The view wasn't unanimous. Some officials worried that softness in consumer spending and declines in business investment may be a sign of a more persistent slowdown in economic activity. (…)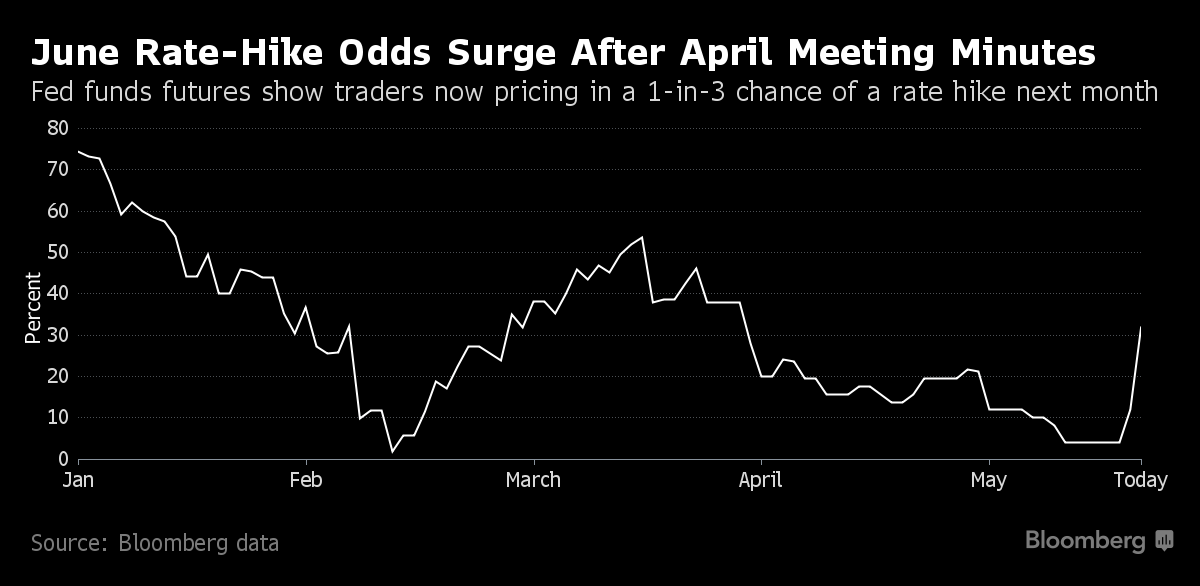 The Federal Reserve (Fed) faces a big challenge as it seeks to raise interest rates this year: The central bank already missed the "window of opportunity" for normalizing rates in a manner that doesn't hamper the recovery.

This is evident when you take a close look at two charts depicting BlackRock's proprietary Yellen Index, which tracks a suite of indicators that Fed Chair Janet Yellen has cited as being critical for Fed movement and that have coincided with historical Fed moves.

(…) Looking forward, as payrolls tend to track corporate profits by about six months, I expect to see a continued weakening in jobs numbers as the year progresses.

The slowing-payroll dynamic places the Fed in a difficult position. It implies that rate hikes will occur at a much slower pace than market watchers had anticipated at the start of the year. Two rate hikes this year aren't out of the question, but one hike is more likely, and a Fed that remains on hold remains a distinct possibility.

(…) But U.S. realized inflation, inflation expectations and inflation breakevens are poised to grind modestly higher, so the Fed will eventually have to reconsider the importance of price stability versus other more global factors. The bottom line: The Fed's job will only get tougher from here.
(…) Although it has achieved full employment, the Fed continues to maintain excessively low interest rates in order to move toward its inflation target. This has created substantial risks that could lead to another financial crisis and economic downturn.

The Fed did raise the federal-funds rate by 0.25 percentage points in December, but interest rates remain excessively low and are still driving investors and lenders to take unsound risks to reach for yield, leading to a serious mispricing of assets. The S&P 500 price-earnings ratio is more than 50% above its historic average. Commercial real estate is priced as if low bond yields will last forever. Banks and other lenders are lending to lower quality borrowers and making loans with fewer conditions.

When interest rates return to normal there will be substantial losses to investors, lenders and borrowers. The adverse impact on the overall economy could be very serious.

A fundamental problem with an explicit inflation target is the difficulty of knowing if it has been hit. (…)

With a margin of error that large, it makes no sense to focus monetary policy on trying to hit a precise inflation target. The problem that consumers care about and that should be the subject of Fed policy is avoiding a return to the rapidly rising inflation that took measured inflation from less than 2% in 1965 to 5% in 1970 and to more than 12% in 1980.

Although we cannot know the true rate of inflation at any time, we can see if the measured inflation rate starts rising rapidly. If that happens, it would be a sign that true inflation is also rising because of excess demand in product and labor markets. That would be an indication that the Fed should be tightening monetary policy. (…)

Not only are nominal wages and incomes not falling in the U.S. now, they are rising at about 2% a year. The negative true inflation rate means that true real incomes are rising more rapidly than the official statistics imply.

The Federal Reserve should now eliminate the explicit inflation target policy that it adopted less than five years ago. The Fed should instead emphasize its commitment to avoiding both high inflation and declining nominal wages. That would permit it to raise interest rates more rapidly today and to pursue a sounder monetary policy in the years ahead.
(…) The forecast of recession comes from World Economics, which produces a family of sales managers' indices or SMIs, based on replies from a panel of salespeople across the services and manufacturing sectors, which it claims is the most forward-looking data series available.

Although these SMIs are little known, World Economics' parent company is Information Sciences, which developed the widely followed purchasing managers' indices or PMIs, now owned by Markit.

The headline SMI reading for Mexico came in at just 47.3 in May and has been below 50 — the cut-off between an increase or decrease in activity — since February, as the first chart shows. All five sub-components — confidence, market growth, sales, prices and staffing — have also slumped below 50. (…)

Across Latin America as a whole, World Economics saw the recession deepening in May, with the headline SMI reading falling to 45.2, its fourth straight decline since hitting 49.8 in January and the 13th successive sub-50 monthly reading, as the second chart shows. (…)
Cash crunch:
Saudi Arabia is considering using IOUs to pay outstanding bills with contractors and conserve cash, according to people briefed on the discussions.

As payment from the state, contractors would receive bond-like instruments which they could hold until maturity or sell on to banks, the people said, asking not to be identified because the information is private. Companies have received some payments in cash and the rest could come in the "I-owe-you" notes, the people said, adding that no decisions have been made on the measures.

Saudi Arabia has slowed payments to contractors and suppliers, tapped foreign reserves and borrowed from local andinternational banks in response to the decline in crude oil, which accounts for the bulk of its revenue. The country will probably post a budget deficit of about 13.5 percent of economic output this year, according to International Monetary Fund estimates, pushing the government to borrow an estimated 120 billion riyals ($32 billion). (…)

The Saudi government owes approximately $40 billion to the country's contractors, estimated Jaap Meijer, managing director of research at Dubai-based Arqaam. (…)
THE MOST HATED BULL MARKET IN HISTORY
Here's why: everybody missed it:
Well, not quite everybody:
TAKE-OVERS
As the great minds of the world ponder all the game-changing implications of a world featuring autonomous cars, along comes Barrie Kirk to say what we've all really been wondering about.

"I am predicting that, once computers are doing the driving, there will be a lot more sex in cars," Kirk, of the Canadian Automated Vehicles Centre of Excellence, told The Canadian Press on Monday.

"That's one of several things people will do," Kirk continued, "which will inhibit their ability to respond quickly when the computer says to the human, 'Take over'."
More traffic!
Contrary to the widely held belief that self-driving vehicles could ultimately eliminate traffic congestion, at least one transportation expert is saying the opposite.

"​We could end up with a lot of cars on the road," AnnaLisa Meyboom, director of the Transportation Infrastructure and Public Space Lab research group at UBC, told CBC's The Early Edition on April 25. "You've all sorts of potential extra people on the road that don't currently drive, including kids, dogs and people who are blind."
If you enjoyed this article, Get email updates (It's Free)