Q2 BOUNCE?
Yesterday's release of Markit's flash Services PMI has not been mentioned in any of the mainstream media that I read daily. The Services industry has kept the U.S. economy afloat amid weak manufacturing and exports. That support is seriously weakening.
U.S. service providers indicated a sustained upturn in overall business activity during May, but the rate of expansion was only marginal and the weakest for three months. Survey respondents cited relatively subdued client demand and less favourable domestic economic conditions as key factors weighing on business activity in May.

In line with the trend for business activity, service providers also recorded a renewed slowdown in growth of incoming new work during May. The latest expansion of new business intakes was only modest and one of the weakest recorded since the survey began in late-2009.

Having correctly forewarned of the near-stalling of the economy in the first quarter, the surveys are now pointing to just 0.7% annualised GDP growth in the second quarter, notwithstanding any sudden change in June. (…)

The surveys are signalling a non-farm payroll rise of just 128,000 in May.
Research by the Conference Board, a US think-tank, also shows the rate of productivity growth sliding behind the feeble rates in other advanced economies, with gross domestic product per hour projected to drop by 0.2 per cent this year. (…)

Unless the rate of productivity growth increases, advanced economies will struggle to raise living standards and pay for the costs of their ageing populations. (…)

Output per person, an alternative measure of productivity, grew just 1.2 per cent across the world in 2015, down from 1.9 per cent in 2014. A slowdown in Chinese productivity was a big driver, as was poorer output growth in commodity producing countries in Latin America and Africa because of weaker oil prices and production.

Productivity growth in the eurozone, measured by gross domestic product per hour, is set to be a feeble 0.3 per cent and barely better in Japan at 0.4 per cent.

But the US, which appeared to be outperforming other advanced economies, is now increasingly concerned at the deterioration in its own performance. Growth in output per hour slowed last year to just 0.3 per cent from 0.5 per cent in 2014, well below the pace of 2.4 per cent in 1999 to 2006. (…)

The poor productivity numbers are in some ways surprising given the breakneck pace of digital innovation in powerhouses such as Silicon Valley and other US research hubs.

However such new technologies are only gradually being rolled out across the economy. There are also difficulties measuring the fruits of the digital economy. Free online media and open-source software are, for example, hard to capture in GDP numbers. (…)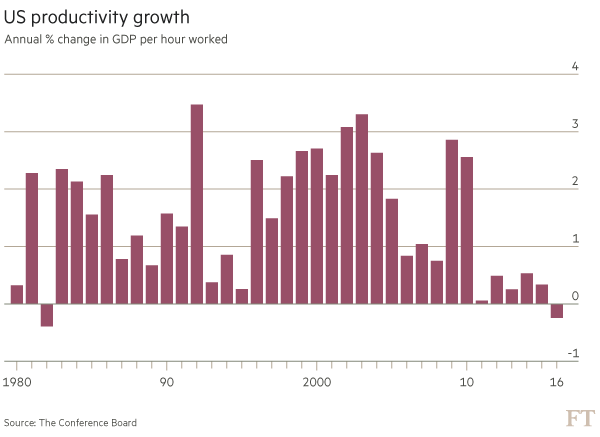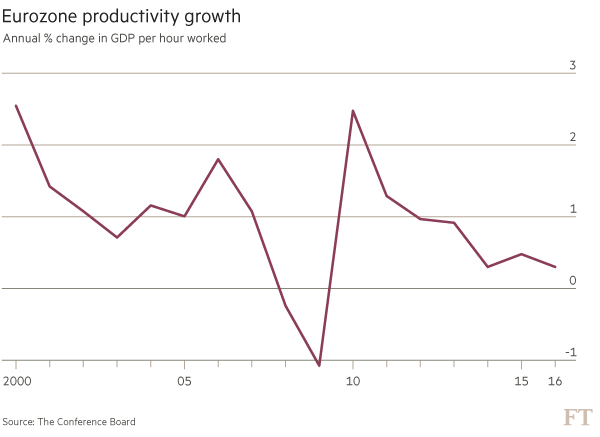 How High Can Oil Prices Go? Analysts appear unable to reach consensus as market offers opposing hints to oil rally's potential
(…) Many analysts cite strong demand from major emerging countries such as China and India, coupled with supply constraints on many main producers in the Middle East, as a reason to remain bullish on oil.

However, those in the "bear" camp reckon there is still plenty of global supply that could potentially come on line, with a number of U.S. producers of shale oil ready to step up production as prices rise. The return of thousands of barrels of crude onto global markets from Iran is also helping keep oil plentiful. (…)

In China, oil imports have risen 12% this year, government data show. That is thanks in part to the country's efforts to fill up its strategic reserves of oil. The gain has also been supported by the rise of independent Chinese refiners, known as teapots, that have been processing more oil for both the domestic and export markets.

In India, fuel consumption rose 10% in the first quarter as auto sales there hit a record, according to International Energy Agency estimates. (…)

At the same time, the U.S. is littered with drilled wells that haven't been activated and $50 oil makes doing so profitable, according to Citigroup, while prices at $60 are likely to spur fresh drilling. The recent price rally could release 400,000 barrels a day or more of new U.S. output.

The bank's analysts forecast oil prices could reach around $65 a barrel by the end of 2017, though they say they have only "65% or so confidence in this price path."
The return of $50 oil promises to sting motorists and other energy consumers across Asia, leaving them stuck with higher energy bills following the rollback of costly fuel subsidies.

India, Malaysia, Indonesia and Thailand are among big fuel consumers in the region that took advantage of the slump in oil prices to scale back long-standing government assistance for gasoline, diesel and other fuels. (…)

That is translating to higher fuel prices across the region. Diesel prices in Delhi have climbed more than 7% this year, while diesel in Thailand is up 17%, according to data compiled by BMI Research. (…)
Meanwhile in the USA: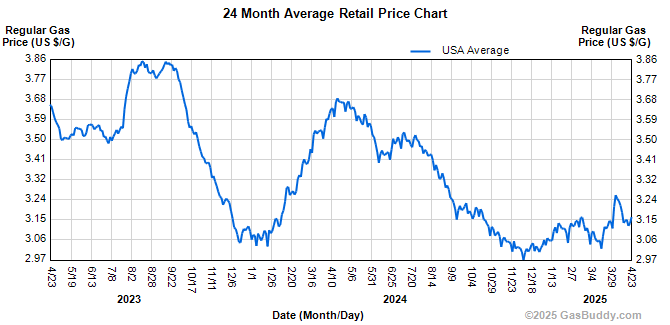 Fed Survey Finds Improvement in Household Finances Most Americans reported their household finances mildly improved last year, but nearly half said they would struggle to cover a $400 expense in an emergency.
(…) A total of 69% of respondents in the Fed's 2015 Survey of Household Economics and Decisionmaking said they were either "living comfortably" or "doing okay," up from 65% in 2014 and 62% in 2013.

However, the survey found that 31%, or roughly 76 million adults, are either "struggling to get by" or are "just getting by."

For nearly half of Americans, household finances are precarious: 46% of respondents said they wouldn't be able to cover a $400 expense in an emergency or would have to borrow money or sell something to meet it. (…)

The majority of working adults without a disability, 77%, are confident that they have the skills necessary to get the kind of job they want. That is an increase of 10 percentage points from the 2013 survey.

The number of people who would prefer to work more hours at their current wage was roughly the same year-over-year, at 35% in 2015 compared with 36% in 2014. Around one in five workers said they are juggling two or more jobs. (…)

Nearly a third of respondents who aren't yet retired reported that they have no retirement savings or pension at all, the survey found. (…)
U.S. households owed $12.25 trillion at the end of the first quarter, up 1.1% from the end of 2015, according to the Federal Reserve Bank of New York's Quarterly Report on Household Debt and Credit, released Tuesday. If the first quarter repeats itself through the end of the year, U.S. household debt will approach its peak of $12.68 trillion, which it hit in the third quarter of 2008. (…)

This time is different because short-term interest rates have been stuck near zero since then. For U.S. consumers, that means household debt-service payments as a percent of disposable personal income are at their lowest level since at least 1980, despite a much higher debt load. In addition, more loans are going to higher-quality borrowers.

The combination of better-quality borrowers, plentiful jobs and low rates means U.S. default rates are at historic lows.

Low rates have had an even more dramatic impact overseas, where economies are weaker or less stable. Global debt—including households, businesses and governments—has risen from 221% of GDP at the end of 2008 to 242% at the end of the first quarter. But the cost of interest payments, as a share of GDP, has fallen to 7% from a peak of 11%, according to J.P. Morgan.

Japan is the prime example of how low interest rates can change the rules of the game. At 400% of GDP, Japan's debt level is by far the highest in the world. (…)

But Japan's interest-cost-to-GDP ratio is just 2%, among the lowest in the world, according to J.P. Morgan. At that level and with ample domestic savings, that game could go on forever.

Japan's example eases some of the short-term worries about China, where borrowing to juice the economy has become national policy. Debt to GDP in China has risen from just over 140% before the financial crisis to 243% currently. But China's interest cost to GDP is 12%. That's among the highest in the world, and higher than the U.S. precrisis, but the ratio hasn't risen in two years, even as borrowing increased.

More important, China has plenty of room to cut interest rates. And lenders are also rolling over loans and extending maturities. Debt can't rise forever, but if there's no big shock in China, there's little reason the debt game can't keep going for the foreseeable future.
TRUMPED?
But hold on; those polls do not mean much yet. The presumptive Democratic nominee is still battling Bernie Sanders, while the Republican Party is uniting behind Mr Trump. In April 2008, John McCain was ahead in opinion polls matching him against Barack Obama, who was then still tussling with a troublesome Democratic rival—Mrs Clinton. And what of the State Department report? It contains some damning evidence about the former secretary of state's behaviour, but also censures her predecessors. There is nothing in it that makes an indictment from the FBI (what really worries those Democrats interested in winning the presidency) seem likely.
(…) Analysts are also bearish, but the negative call from once bullish miners underscores just how poor sentiment is in metals markets, even after five years of declines.

"Although we have recently seen some positive signals…we are expecting another year or two of low copper prices," said Jean-Paul Luksic, chairman of Chilean copper producer Antofagasta PLC, last week.

Other senior executives from the world's largest miners have a similar message on their metals and iron ore. (…)

As this year's rally faded, the sector faced the same problems it has wrestled with for years, in particular the overcapacity that built up during the decadelong commodity boom that began at the turn of the century. Analysts have repeatedly said that more mines and smelters need to close for prices to really bottom out, particularly in metals such as aluminum and nickel and in iron ore. (…)

Norilsk Nickel, the world's largest nickel producer, estimates that about 70% of global production in this metal is currently loss-making. Only 17% of this capacity is close to shutting down, the Russian miner estimates. (…)

The FTSE 350 mining index, which includes some of the world's largest miners, climbed 83% from its low this year to a peak in April, before falling 15% to date. Shares in commodities giant Glencore PLC more than doubled from their low in January to their March peak. They have since fallen 19%. (…)
I hope people don't invest on the basis of these "forecasts". None of these people really know what's going on. Investing in commodities and mining companies is a losers game.
The $2.9 trillion hedge-fund industry may lose about a quarter of its assets in the next year as performance slumps, said Tony James, Blackstone Group LP's billionaire president.

"It's kind of a day of reckoning that we face here," James said Wednesday in an interview with Bloomberg TV Canada's Pamela Ritchie at a conference in Toronto. "There will be a shrinkage in the industry and it will be painful. That's going to be pretty painful for an awful lot of places."

The hedge-fund industry is having its worst start to a year in performance and investor withdrawals since global markets reeled after the financial crisis. Third Point, the hedge-fund firm founded by Dan Loeb, last month said the industry is in the first stage of a "washout" after "catastrophic" results this year. (…)
China Huishan Dairy Holdings Co., which operates the largest number of dairy farms in the country, is selling about a quarter of its herd -– some 50,000 animals — to Guangdong Yuexin Finance Lease Co. for 1 billion yuan ($152 million) and then renting them back. (…)

"Huishan Dairy seems to be selling cows and leasing them back in order to raise money now, because they've been using cash to buy back shares," said RHB's Yuen, who has a "sell" rating on the stock. "The chairman wants to prop up the share price for reasons that are unclear. It could be a way to get better terms for share pledged-based loans, which he's done before." (…)
New type of bull market…
If you enjoyed this article, Get email updates (It's Free)