The job openings rate increased to 3.9% during April after remaining at 3.8% for three months. The latest level equaled the record high. The private sector job openings rate increased to a record 4.2%. This rate compared to 2.2% in the public sector. (…) The job openings rate is the number of job openings on the last business day of the month as a percent of total employment plus job openings.

The hires rate in April dropped sharply to 3.5%, the lowest level since August 2014. The private sector rate declined m/m to 3.9%, a three month low. (…) The hires rate is the number of hires during the month divided by employment.

The actual number of job openings increased 2.1% to a record 5.788 million (3.7% y/y). A 4.1% y/y rise in private sector openings was led by a 23.1% y/y surge in manufacturing and a 17.6% y/y increase in construction. These were followed by a 16.4% y/y gain in retail trade and a 6.4% y/y improvement in education & health services. Job openings in leisure & hospitality rose 5.1% y/y, but professional & business services openings fell 22.0% y/y. Government sector job openings were roughly unchanged y/y following gains of 7.6% and 39.8% in 2015 and 2014.

The number of hires declined 3.7% m/m to 5.092 million in April, the third decline in four months, and they were roughly steady y/y. Hires grew 5.2% during all of last year and 8.2% in 2014. Private sector hiring was little changed y/y versus peak 8.3% growth in 2014. (…)

The total job separations rate was steady at 3.5%, down from its cycle high of 3.6%. The actual number of separations increased 2.1% y/y. (…) Separations include quits, layoffs, discharges, and other separations as well as retirements.

The layoff & discharge rate fell to the record low of 1.1%. The private sector rate of 1.2% was also at the all-time low and compared to 0.6% in the public sector. Layoffs overall declined 8.5% y/y in the private sector, but were up 14.3% y/y in the public sector.
See all JOLT charts at Bespoke Investment.
Notice how the recent pattern in the hires rate since 2015 resembles that of 2012-13. Given the continued rise in openings, there is hope that employment will bounce back in June even of positive revisions for May. Mish Shedlock has a good piece on that today if you want to get even more confused:
This is from Mish Shedlock who got it from Liz Ann Sonders, Senior Vice President, Chief Investment Strategist, Charles Schwab & Co., Inc. who got it from Evercore ISI.

US federal personal tax receipts receipts are falling fast. So is the Evercore ISI State Tax Survey.

The last two times the survey plunged this much, the US was already in recession.
Is it different this time?
U.S retailer Target Corp (TGT.N) is asking many suppliers to take on up to an extra 3-5 percent of the cost of promotions and price cuts after slow sales so far this year. (…)

In May, Target reported a drop in sales for the quarter ended April 30, and Chief Executive Brian Cornell predicted an extended period of promotions ahead for the retailer and rivals.

Most suppliers who spoke to Reuters said they will have to comply or at least deliver part of Target's demands so old stock can make way for new season products. That will strain already thin margins.

"Target is not leaving a lot of room for negotiation here," said one supplier, who asked to remain anonymous. "They want to get this unsold stock out of their stores in the next three months." (…)
All this stuff about jobs, consumers and sales is crucial given the inventory overhang that just won't go away. In fact, it has gotten worse. These are not voluntary stockings, illustrating how weak sales are. Not a trivial problem even in a service economy where many services are linked to the retail and manufacturing activity.
A report published Tuesday by Cowen and Co. and Chainalytics said the spot market, where shipping prices currently are cheaper, is taking a bigger role in truck transportation as companies look to take advantage of plentiful capacity on the roads.

The report said the difference between spot and longer-term contract rates expanded in April, a sign that low demand is giving retailers and manufacturers more bargaining power. (…)

Early reports show demand was still week by the end of May, the report said. (…)
Speaking of May, Gallup's survey provides little hope of a turn:

Notably, Gallup has yet to see an increase in average spending from May to June in any of the prior eight years that it has tracked consumer spending. Thus, if history is a guide, one would expect June spending this year to be at or below May's level.
First week of June: Redbook reports that same-store sales were up a slow 0.6 percent year-on-year in the June 4 week (…)
China Exports Continue to Shrink as Demand Wanes China's exports declined in May for the second consecutive month while imports fell slightly as weak demand further weighed on the world's second-largest economy.
Exports slid 4.1% last month from the previous year, after declining 1.8% in April, the General Administration of Customs said Wednesday. The rate was slightly stronger than the median 4.6% decline economists had forecast.

Imports in the period fell by a less-than-expected 0.4% from a year ago, compared with a 10.9% drop in April, mostly due to rising commodity prices. The customs agency said China's trade surplus widened to $49.98 billion in May from $45.56 billion in April.
Bank of Korea Surprises With a Rate Cut South Korea's central bank took markets by surprise by cutting its main policy rate to a record low, in a move to support the economy as lowered expectations of a U.S. rate increase over the summer gave the bank room to ease further.
(…) The finance ministry is widely expected to lower its growth forecast of 3.1% for this year when it makes its next economic policy announcement in late June or early July. The central bank has already trimmed its annual growth estimate to 2.8% from 3% this year. Some economists say the bank may lower its growth outlook again in July. (…)

Exports—which account for half of Korea's economy—shrank for the 17th straight month in May. Inflation slowed to 0.8% in May, far below the central bank's annual target of 2%.

The BOK previously cut its policy rate in June 2015.
Amid a drive by the Communist Party leadership to cut excess capacity, producer prices fell 2.8 percent, the least since late 2014 and less than the 3.2 percent decline economists had estimated in a Bloomberg survey. The consumer price index rose 2 percent from a year earlier, less than the median forecast of 2.2 percent. (…)

For consumers, vegetable prices dropped 21.5 percent in May from April, while pork and gas prices rose, the statistics bureau said. Compared with a year earlier, gains in food prices slowed to 5.9 percent from 7.4 percent in April. Non-food prices rose 1.1 percent. (…)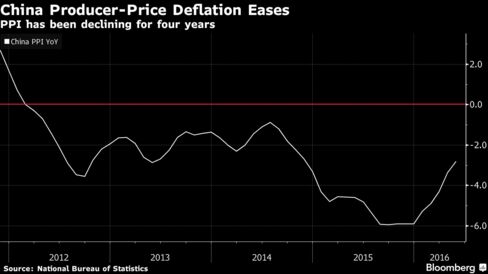 CEBM China survey:
Steel order volume in May fell M/M in contrast to market expectations. With prices dropping quickly, buyers took a wait and see approach. June order volume is expected to continue to exhibit a downward trend due to 1) seasonal factors, 3) tepid downstream demand, and 3) the sharp drop in May crude steels prices persuading buyers to delay procurement. Survey results indicate that the market will face an oversupply situation and that inventory will continue to rise.

Shipping volumes have increased along US routes though other routes remain flat. Many respondents reported a noticeable improvement in the US economy and expect prices and volumes to increase somewhat in June. However, feedback from the Canton Fair suggests fewer orders than in years past. In anticipation of the Christmas holiday season, shipments will begin to pick up in June and July, but volume is not expected to be as strong as in years past.
George Soros Comes Back to Trading With Bearish Bets George Soros has returned to trading after a long hiatus, lured by opportunities to profit from what he sees as coming economic troubles, directing a series of big, bearish investments.
Worried about the outlook for the global economy and concerned that large market shifts may be at hand, the billionaire hedge-fund founder and philanthropist recently directed a series of big, bearish investments, according to people close to the matter.

Soros Fund Management LLC, which manages $30 billion for Mr. Soros and his family, sold stocks and bought gold and shares of gold miners, anticipating weakness in various markets. Investors often view gold as a haven during times of turmoil. (…)

"China continues to suffer from capital flight and has been depleting its foreign currency reserves while other Asian countries have been accumulating foreign currency," Mr. Soros said. "China is facing internal conflict within its political leadership, and over the coming year this will complicate its ability to deal with financial issues."

Mr. Soros worries that new troubles will arise in China partly because he said the nation doesn't seem willing to embrace a transparent political system that he contends is necessary to enact lasting economic overhauls. Beijing has embarked on overhauls in the past year but has backtracked on some efforts amid turbulent markets. (…

"If Britain leaves, it could unleash a general exodus, and the disintegration of the European Union will become practically unavoidable," he said. Still, Mr. Soros said recent strength in the British pound is a sign that a vote to exit the EU is less likely.

"I'm confident that as we get closer to the Brexit vote, the 'remain' camp is getting stronger," Mr. Soros said. "Markets are not always right, but in this case I agree with them." (…)

The last time Mr. Soros became closely involved in his firm's trading: 2007, when he became worried about housing and placed bearish wagers over two years that netted more than $1 billion of gains.
If you enjoyed this article, Get email updates (It's Free)