My timing was pretty good. Apart from Brexit (from the Euro and out of the Euro
), there wasn't much on the eco and finance world in recent days. But the Atlantic salmon was very present on the Moisie River.
U.S. Consumer Spending Rose 0.4% in May Consumer spending climbed in May, suggesting a key pillar of the U.S. economy has bounced back after a lackluster start to the year.
Personal spending, which measures how much Americans paid for everything from autos to airfare, increased 0.4% in May from a month earlier, the Commerce Department said on Wednesday. Consumption had climbed a revised 1.1% in April and was flat in March. (…)

Personal income, which includes wages, government benefits and other sources, climbed 0.2% in May. Wages and salaries advanced 0.2%. (…) The personal saving rate in May was 5.3%, the lowest level of the year and well down from a near-term peak of 6% in March.

The personal-consumption expenditures price index rose 0.2% in May from the prior month. From a year earlier, the index climbed 0.9%.

So-called "core" prices, which exclude the volatile categories of food and energy, climbed 0.2% from the prior month and 1.6% from a year earlier.
From Bloomberg: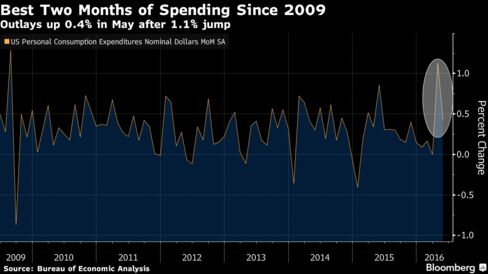 After adjusting for inflation, which generates the figures used to calculate gross domestic product, purchases rose 0.3 percent in May after a 0.8 percent increase in April that was also the biggest gain since August 2009.
Here's the darker way of looking at the same numbers:
After an exuberant April, spiking hope that everything was awesome with a surge in spending, May has dragged US consumers back down to earth. The 1.1% (revised) jump in spending in April (highest since Aug 09) is over as May's 0.4% gain is back in the land of 'normal' once again. Income rose just 0.2% MoM (less than expected) slowing dramatically from last month to near the weakest YoY growth since March 2014. The savings rate fell once again on the back of this (down 0.1%) to 5.3%. (…)
The Pending Home Sales Index,* a forward-looking indicator based on contract signings, slid 3.7 percent to 110.8 in May from a downwardly revised 115.0 in April and is now slightly lower (0.2 percent) than May 2015 (111.0). With last month's decline, the index reading is still the third highest in the past year, but declined year-over-year for the first time since August 2014.

Lawrence Yun, NAR chief economist, says pending sales slumped in May across most of the country.
If you enjoyed this article, Get email updates (It's Free)