Fed Minutes: Officials Divided on Rate Path Divisions emerged inside the Federal Reserve at its June policy meeting about the economic outlook and how to proceed on interest-rate decisions, minutes from the meeting show.
(…) Divisions had emerged inside the bank in the weeks after a dismal May jobs report. At the June meeting, officials sparred over the health of the labor market, the outlook for growth, risks to the economy, and whether underlying inflation is picking up. Those uncertainties were amplified by "considerable uncertainty" ahead of the U.K. referendum. (…)

In June, some officials emphasized that the Fed shouldn't wait too long to raise rates again, while others warned that delaying for too long could increase risks to financial stability or raise the chance of overshooting the Fed's employment and inflation objectives, according to the minutes.

They also disagreed on the outlook for jobs and growth, with some believing the labor market was near full health, while others worried that a cooling off in hiring and continued weak business investment could be a harbinger of a broader economic slowdown.

Several officials also worried about signs in bond markets that inflation expectations were softening, though others pushed back.

Fed officials in recent days have also said it could take some time before they understand how the Brexit vote might affect the U.S. outlook. (…)
Finally, all the unknowns are now known, but knowing they are known does not make them less unknown.
Trucking companies are hitting the brakes hard.
Carriers ordered just 13,100 heavy-duty trucks last month, says ACT Research, the lowest level in nearly six years and a stark sign that operators are pulling back investment. WSJ Logistics Report's Loretta Chao writes that truck operators are facing headwinds that include persistently high inventory levels and patchy U.S. manufacturing growth. But the fundamental factor is that capacity far outweighs market demand. The response has cut deep into truck manufacturing: Class 8 truck orders declined nearly 40% in the first half of the year compared to last year, when the buying spree peaked. There are some signs of improving demand—DAT Solutions, which tracks the truckload spot market, says demand grew year-over-year in June for the first time this year. It will take several months like that, however, to get truck sales moving again.
U.S. Trade Gap Widened in May The U.S. trade deficit widened in May as exports edged lower, reflecting soft overseas demand for American goods and services.
The trade gap rose 10.1% from April, the largest rise since August, to a seasonally adjusted $41.14 billion, the Commerce Department said Wednesday. Exports of goods and services fell 0.2% while imports rose 1.6%. (…)

For the January to May period, U.S. exports are down 4.9% from the same period a year ago. Imports are down 4.7% over the same period in 2015. (…)
Exports declined in 2 of the last 3 months (+0.1% in total) and are down 4.2% YoY. Nonpetroleum imports jumped 1.5% in May following +2.2% in April but that was after –5.7% in March. Last 3 months –2.0% and –1.9% YoY in May.
Purchases of U.S. residential real estate by foreigners who aren't residents of the United States fell by $10 billion in the year ending March to $44 billion, the lowest level since 2013, according to a survey by the National Association of Realtors released Wednesday.

A strong U.S. dollar and weakening economies in Europe, South America and China along with rising U.S. home prices have hurt the purchasing power of foreign buyers. Tighter restrictions by the Chinese government on moving money out of the country also have made it more difficult for people there to buy U.S. homes. (…)

For the second year in a row Chinese buyers were the top purchasers of U.S. properties, buying $27 billion worth of residential property, or about one quarter of the dollar volume of properties sold to foreigners. That was down from nearly $28.6 billion last year, the first annual decrease since 2011. (…)
Production, adjusted for seasonal swings, fell 1.3 percent from the previous month, when it rose a revised 0.5 percent, data from the Economy Ministry in Berlin showed on Thursday. (…)

The decline was led by investment goods, which dropped 3.9 percent, while consumer goods gained 0.5 percent. Construction fell 0.9 percent from April and intermediate goods declined 0.3 percent, the ministry report showed. Output of manufacturing fell 1.8 percent, while energy gained 3.9 percent.

The ministry said that the large number of holidays in May could have contributed to weaker output, yet that there are signs production might pick up in the coming months.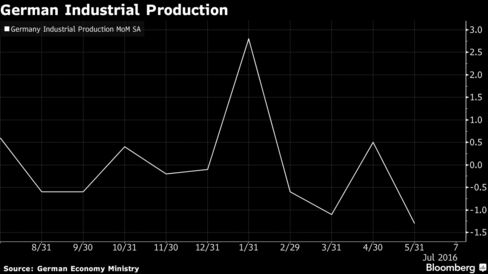 Central Banks Put Squeeze on Sovereign-Debt Market A buying spree by central banks is reducing the availability of government debt for other buyers and intensifying bidding wars.
(…) "The world is running out of positive-yielding safe-haven bonds,'' said Shyam Rajan, head of U.S. rates strategy research at Bank of America Merrill Lynch in New York. (…)

The Fed's data showed it held more than $2.4 trillion of U.S. Treasury debt at the end of June, nearly one-fifth of the total outstanding. The BOE owns about one-quarter of U.K. government debt, the BOJ has gobbled up more than one-third of Japan's government debt, and the ECB owns around 15% of Germany's sovereign government debt, according to analysts. (…)

Data from Bank of America Merrill Lynch show the share of bonds with the three highest credit ratings has dropped to 51% of all debt tracked by the bank's world sovereign bond index in 2011 from 84%.

Barry Eichengreen, economics professor at the University of California, Berkeley, calculated the drop in supply a different way: by looking at a broad pool of high-grade assets, including outstanding debt in the developed world, as a percentage of global gross domestic product. It came to barely 30% in June, down from nearly 60% a few years ago. (…)
(…) If expectations for the second quarter prove true, US companies will post their fifth straight year-over-year profit decline for the period — the worst stretch since the aftermath of the financial crisis. With the season set to get into full swing next week, analysts are forecasting a decline of 5.4 per cent, according to FactSet.

US multinationals, which make a significant portion of their money outside the US, have struggled with dollar strength for more than a year. Since the Brexit vote on June 23, the dollar is up about 2.7 per cent against a basket of other currencies while sterling has fallen 13 per cent versus the dollar. (…)

For the second half of the year, analysts are forecasting a combined increase of 4 per cent in year over year profits for the S&P 500 with 0.8 per cent in the third quarter and 7.2 per cent in the fourth quarter. (…)
From Bespoke Investment:
If you enjoyed this article, Get email updates (It's Free)