U.S. Consumer Spending Increased Solidly in June Consumer spending increased steadily for the third straight month in June, suggesting Americans have capacity to remain the primary driver of economic growth this year.
Personal consumption, which measures how much Americans spent on everything from haircuts to cars, increased 0.4% in June from a month earlier, the Commerce Department said on Tuesday. Incomes rose more slowly, increasing 0.2% for the month.

Economists surveyed by The Wall Street Journal had expected personal spending to rise 0.3% in June. Income was projected to increase at the same rate.

Consumer spending also rose 0.4% in May and was up 1% in April. Each of those gains outpaced income growth. (…)

The personal saving rate in June was 5.3%, the lowest since March 2015. The rate was 5.5% in May, and above 6% as recently as March. (…)

The personal-consumption expenditures price index, the Federal Reserve's preferred inflation measure, increased 0.1% in June from the prior month. The index was up 0.9% from a year earlier.

So-called core prices, which exclude the volatile categories of food and energy, also rose 0.1% from the prior month and were up 1.6% from a year earlier. The annual core reading has been consistent since March.
Bless American consumers. They boosted their real expenditures at a 4.9% annual rate in Q2 even though real income rose only 0.8% a.r.. Remarkable and very timely.
But for how long?
FYI, the PCE deflator rose at a 2.4% annual rate in Q2, core PCE: +2.0%.
Now this, just to make you understand that eco data should not be the foundation of your investment strategy…
…and that this data is the basis for the Fed's monetary policy…
Total sales of light vehicles during July jumped 6.8% versus June (1.7% y/y) to 17.88 million units (SAAR). Sales had declined in four of the prior five months, and the latest level was the highest level since November 2015. Seasonally adjusted data were revised back through 2015.
Still looks like a cyclical top (chart from CalculatedRisk):

Volkswagen AG said industrywide demand in China will plunge if a tax cut due to expire at the end of the year is allowed to lapse. (…)
In a rare public comment on monetary policy, researchers at the National Development and Reform Commission said interest rates and the required reserve ratio for banks should be cut when appropriate, according to a statement on the commission's website on Wednesday. The section of the report about rate and RRR cuts was later deleted.

The research office is an advisory body of the commission — the main government agency for economic planning and reform — and doesn't have direct power to set policy. The NDRC usually doesn't make public commentary on monetary policy, which is under the purview of the central bank.

Researchers also called for implementing "proactive" fiscal policy and making investment more effective amid downward pressure on spending. China should encourage private firms to raise money by selling bonds, keep pressing to remove excess capacity, promote healthy property investment and keep reducing excess inventories of housing, the NDRC researchers said.
OIL
This from The Daily Shot:

EARNINGS WATCH
362 companies (80.9% of the S&P 500's market cap) have reported. Earnings are beating by4.5% while revenues are surprising by 0.4%.
Expectations are for declines in revenue, earnings, and EPS of -0.8%, -4.1%, and -1.9%, respectively.
EPS is on pace for -1.0%, assuming the current beat rate for the remainder of the season. This would be +3.7% excluding Energy and the Big-5 Banks. (RBC)
SENTIMENT WATCH
One of the safest assumptions on Wall Street is that however high stocks have climbed, professional forecasters will say they can go higher. That's not the case now. (…)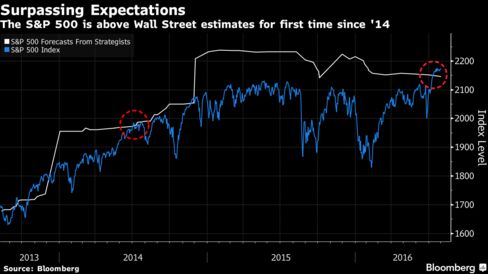 BTW: US transport index is down over 4% in the last five days – not a good sign for those who follow the Dow Theory (The Daily Shot):
CAREFUL OUT THERE!
In spite of ok earnings, equities are acting bad. MACD is declining and the 200-d m.a. is 5.2% below. And there is this new threat:
Remember this? A Powerful Combo: the Rule of 20 and the "120 Yield Spread"
Hmmm…
If you enjoyed this article, Get email updates (It's Free)