Robust Jobs Report Spurs Fed Watch The U.S. labor market in July capped off the best two-month stretch of hiring so far this year despite global turbulence and slower business spending, posing a challenge for the Federal Reserve as it aims to raise interest rates again in coming months without spooking investors.
Employers added 255,000 jobs in July. Job growth was also stronger in May and June than previously thought. Employers added 292,000 jobs in June, up from the initially estimated 287,000. They added 24,000 in May, up from the prior estimate of 11,000. Over the past three months, job growth has averaged 190,000. In 2015, growth averaged 229,000.
More Americans joined the labor force, keeping the jobless rate steady at 4.9%. The labor-force participation rate rose to 62.8% in July from 62.7% in June.
Average hourly earnings for private-sector workers rose by 2.6% in July from a year earlier. Wages grew 8 cents, or 0.3%, in July from June, settling at $25.69.
One blemish on Friday's report was a rise in a measure of unemployment and underemployment, including Americans who stopped looking for work. The rate rose to 9.7% in July from 9.6% in June, largely because of a rise in the number of people who were working part-time but wanted a full-time job.
'The U.S. Labor Market Earned a Gold Medal' one economist said. David Rosenberg said the NFP was "clean as a whistle" and went on to list all the positives:
A strong companion household survey with surging part-time jobs.
A work week that expanded from 34.4 hours to 34.5, the highest in 2016.
The diffusion index rose from 61.8 in June to 63.7, the highest since Nov. 2014.
Etc., etc.
Kessler Investment Advisors are not as impressed:
The economy actually lost 1 million (-1.03mm) jobs in July, but the seasonal adjustment brought that back into the positive; to +255 thousand. Seasonal adjustments are valid and we accept the +255k, but the point is that when the seasonal adjustment is more than 5 times the amount of the job gain, the adjustment is so great that you really need to look at multiple data points to get any clarity.

And so, in looking at the average of the last 12 months to eliminate the seasonality, the economy is generating about 200k (209k) new jobs on average per month, and more importantly, this metric has been trending lower since Q1 2015. While this is certainly not a recessionary number, it looks no different than the labor slowdowns preceding recessions of the past.
Lance Roberts also was not as enthusiastic:
The large number in July of 255,000 defies the payroll tax collection data. Remember, the BLS takes a phone survey of individuals asking them what their employment status is, or is not. The corporate tax receipt data is an actual measure of the amount of payroll taxes being paid for all employees. (Which do you think is a more accurate measure?)

As Nick Colas of Convergex recently noted:


"Looking at individual tax/withholding receipts (available from the U.S. Treasury) for the month of July, there is a reason for caution on both indicators. July "Withheld" receipts – those tax and withholding payments that come straight from wage earner pay stubs – are down 1.0% year over year.

Also worth noting: YTD non-withheld tax receipts (such as those that come from 'Gig economy' workers) are down 6.5%, and July's comp is 15% lower than a year ago.

Last, corporate tax receipts are down 11% YTD, and if the current pace of these payments holds it will be the first negative comp since 2011. Bottom line: if the tax man isn't as busy, can the U.S. economy really be expanding?"
But then there is also the ongoing seasonal adjust "fudgery" going on with the employment data this week as well.


"As Mitsubishi UFJ strategist John Herrmann wrote in a note shortly after the report, the 'jobs headline overstates' strength of payrolls. He adds that the unadjusted data show a 'middling report' that's 'nowhere as strong as the headline' and adds that private payrolls unadjusted +85k in July vs seasonally adjusted +217k.

In Herrmann's view, the government applied a 'very benign seasonal adjustment factor upon private payrolls to transform a soft private payroll gain into a strong gain.'"

Southbay Research also blasted today's seasonal adjustment factor, this is how the seasonal adjustments look like relative to history.
Meanwhile in Canada:
Turning to Canada, the nation lost the most full-time jobs in nearly 5 years while the labor force participation continues to drop (though remains about the US levels). A temporary blip? (The Daily Shot)
Exports valued in dollar terms shrank 4.4 per cent year-on-year in July, easing somewhat from a fall of 4.8 per cent in June. Imports using the same currency tumbled 12.5 per cent, sharpening again from the previous month's reading of -8.4 per cent, according to China's General Administration of Customs.

Consensus forecasts from economists had predicted exports and imports would fall only 3.5 per cent and 7 per cent respectively. Between the two figures, China's trade balance in dollar terms came to $52.31bn for July, up from June's $48.11bn.
Exports to most major trading partners – with the exception of South Korea and Hong Kong – did grow on a month-to-month basis, but in year-on-year terms exports to most top markets contracted.

Still, shipments to most of those shrank less in July in annualised terms compared to the previous month, with those headed to the US falling only 2 per cent compared to a 10.4 per cent drop in June. Exports to the EU and Asean fell 3.2 and 3.9 respectively; those to South Korea and Japan were down 1.1 and 5.2 per cent for the period.

China's renminbi-denominated exports rose 2.9 per cent year-on-year in July – up from 1.3 per cent in June – while imports purchased using the currency shrank 5.7 per cent last month, sharpening markedly from a fall of 2.3 per cent the month prior, according to figures from China's General Administration of Customs.

Export growth in domestic currency terms beat a consensus forecast from economists of 2.3 per cent growth year-on-year, while the fall in imports vastly exceeded expectations of a 1.1 per cent contraction.
From Bloomberg:

A year on from China's surprise devaluation of the yuan, the weaker currency is buffering the effects of weak global demand as local receipts get a boost.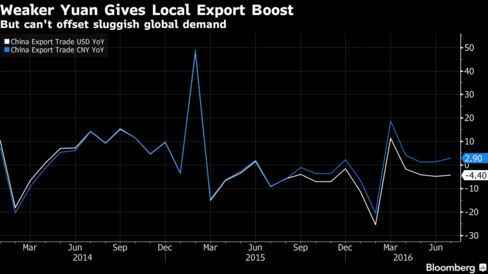 Exports grew 1.2 per cent last month compared to a year earlier, according to Taiwan's Ministry of Finance, pulling the rug out from beneath economists' consensus forecast of 2.1 per cent contraction. Expectations of 5.1 per cent contraction in imports were spurned by an annualised fall of just 0.2 per cent.

Exports of machinery and electrical equipment rose 3.1 per cent to $13.237bn, compensating for annualised falls in a number of other categories. Shipments to Japan rose 10.2 per cent year on year, while those to China and Hong Kong were up 3.4 per cent and those to Europe grew 4.5 per cent for the period, offsetting a drop of 7.3 per cent in exports to the US.

That brought the trade balance to $3.61bn, up slightly from the previous month and coming in below a forecast calling for $3.83bn.

The latest figures suggest export growth has returned to more robust levels than expected and track nicely with the latest reading from Taiwan's Nikkei-Markit purchasing managers' index for the manufacturing sector, which came in at 51 for July, up from 50.5 in June and marked a second month of expansion thanks to the strongest growth in new export business in 18 months. (…)
EARNINGS WATCH
From Factset:
Overall, 86% of the companies in the S&P 500 have reported earnings to date for the second quarter. Of these companies, 69% have reported actual EPS above the mean EPS estimate, 12% have reported actual EPS equal to the mean EPS estimate, and 19% have reported actual EPS below the mean EPS estimate. The percentage of companies reporting EPS above the mean EPS estimate is below the 1-year (70%) average, but above the 5-year (67%) average.

In aggregate, companies are reporting earnings that are 4.2% above expectations. This surprise percentage is equal to both the 1-year (+4.2%) average and the 5-year (+4.2%) average.

In terms of revenues, 54% of companies have reported actual sales above estimated sales and 46% have reported actual sales below estimated sales. The percentage of companies reporting sales above estimates is above the 1- year average (49%), but below the 5-year average (55%).

In aggregate, companies are reporting sales that are 0.8% above expectations. This surprise percentage is above the 1-year (0.0%) average and above the 5-year (+0.6%) average.

The blended earnings decline for the second quarter is -3.5% this week, which is smaller than the blended earnings decline of -3.9% last week. Upside earnings surprises reported by companies in multiple sectors were mainly responsible for the decrease in the overall earnings decline for the index during the past week.

If the Energy sector is excluded, the blended earnings growth rate for the S&P 500 would improve to 0.3% from -3.5%.

The blended earnings decline for Q2 2016 of -3.5% is smaller than the estimated earnings decline of -5.5% at the end of the second quarter (June 30). Seven sectors have recorded an increase in earnings growth since the end of the quarter (June 30) due to upside earnings surprises, led by the Information Technology (to -1.5% from -7.3%) and Consumer Discretionary (to 10.7% from 6.4%) sectors. Three sectors have recorded a decrease in earnings growth
during this time due to downside earnings surprises and downward revisions to estimates, led by the Energy (to -82.0% from -78.1%) sector.

At this point in time, 79 companies in the index have issued EPS guidance for Q3 2016. Of these 79 companies, 53 have issued negative EPS guidance and 26 have issued positive EPS guidance. The percentage of companies issuing negative EPS guidance is 67% (53 out of 79), which is below the 5-year average of 74%.
SENTIMENT WATCH
If you enjoyed this article, Get email updates (It's Free)