Where We Spend Is Upending Traditional Retail Health care and travel are keeping the economy moving, as clothing and electronics chains suffer
(…) Since 2000, there has been a significant rotation in U.S. spending away from goods and toward services. Craig Johnson, president of retail consulting firm Customer Growth Partners, estimates the shift represents about 5% of all consumer spending, or about $600 billion annually. (…)

Health care accounts for about 20% of total consumption today, up from 5% in 1960, according to IHS Global Insight economist Chris Christopher. He expects the figure to rise to 25% of consumption by 2025.

When it comes to discretionary spending, consumers are opening their wallets for travel and leisure activities. According to First Data Corp., which tracks sales at four million merchant locations across the country, travel expenditures rose 8.6% last month over a year earlier. (…)
Total business inventories edged 0.2% higher (0.5% y/y) during June following an unrevised 0.2% increase in May. Total business sales strengthened 1.2% (-0.6% y/y) after a 0.3% rise, revised from 0.2%.
Sales have strengthened lately which slowed the rate of inventory accumulation. But inventories are still rising everywhere but in manufacturing. Note that inventories tend to drop during recessions…
…but the I/S ratio remains so high. If sales don't pick up solidly, merchants will need to liquidate, i.e. stop buying and take markdowns.
Meanwhile, July import volume through the Southern California port complex fell 0.3% compared to the same period in 2015. Exports were down 1.8%, and empty cargo containers were off 14%, for an overall volume decline of nearly 5% across the two ports.
Money managers increased wagers on rising crude prices by the most since January as futures rebounded from a three-month low. Prices jumped after OPEC's president said Aug. 8 the group will hold informal talks in Algiers next month and Saudi Arabia signaled Aug. 11 it's prepared to discuss taking action to stabilize markets. (…)
China's central bank said July new credit growth slowing to a two-year low was a distortion and that money supply data for August and September will show a rebound.

Investors should avoid over-interpretation of short-term data for a specific month, the People's Bank of China said Monday in Q&A statement posted to its website. Liquidity in the banking system is ample, it said.

The comments follow data released Friday showing the broadest measure of new credit rose at the slowest pace in two years. Aggregate financing was 487.9 billion yuan ($73.4 billion) in July, less than the 1 trillion yuan estimate in a Bloomberg survey of economists. The broad M2 money supply climbed 10.2 percent, the least since April 2015. (…)
From The Daily Shot:
Bond yields are dropping in China as well (Bloomberg):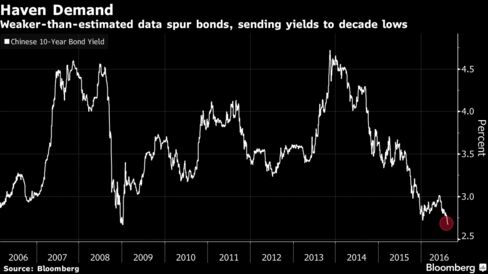 The economy expanded an annualized 0.2% in the April-June quarter, weaker than a 2% expansion in the first three months of the year, Japan's government said on Monday.

The economy would have contracted in the quarter were it not for a rise in public investment. The government front-loaded infrastructure spending in the quarter, the first of Japan's fiscal year. Prime Minister Shinzo Abe's cabinet in early August approved a ¥28 trillion ($276 billion) stimulus package that includes ¥15,000 handouts to 22 million low-income people, so the government spending should continue in the latter part of the fiscal year. (…)

Business investment fell for the second straight quarter, while exports dropped an annualized 5.9%. Exports of ships, steel product and oil-related goods fell. U.S. and European demand for Japanese goods weakened, said a government official briefing reporters on the data. (…)

Household spending also was nearly flat. Consumer spending makes up roughly 60% of Japan's gross domestic product. (…) Total compensation received by Japanese employees increased 0.3% from the previous quarter. (…)

The Bank of Japan most recently estimated Japan's potential growth rate at 0.21%, and the Cabinet Office put it at 0.3%. Any negative factors such as weak exports can easily cause a contraction.

The weak GDP figure might also reflect the effects of the leap year, which pushed up growth in the first three months of the year and made the second quarter look weaker by comparison. Stripping out the leap-year effect, Japan's economy expanded an annualized 1.3% in the April-June quarter, accelerating from a 0.9% expansion in the first quarter, said SMBC Nikko Securities economists in a report. (…)
Budget deficits may be coming out of retirement. With economies all over the world growing too slowly and little scope left for new monetary stimulus, governments are turning their attention back tofiscal policy.

This shift in thinking is overdue. In many countries, though not all, fiscal expansion is not just possible but also necessary. A resumption of budget activism, if it happens, won't be riskless, so caution will be needed. A stubborn commitment to fiscal austerity, though, would be riskier still. (…)
EARNINGS WATCH
Factset's summary
Overall, 91% of the companies in the S&P 500 have reported earnings to date for the second quarter. Of these companies, 70% have reported actual EPS above the mean EPS estimate, 11% have reported actual EPS equal to the mean EPS estimate, and 19% have reported actual EPS below the mean EPS estimate. The percentage of companies reporting EPS above the mean EPS estimate is equal to the 1-year (70%) average, but above the 5-year (67%) average.

In aggregate, companies are reporting earnings that are 4.0% above expectations. This surprise percentage is slightly below both the 1-year (+4.2%) average and the 5-year (+4.2%) average.

In terms of revenues, 54% of companies have reported actual sales above estimated sales and 46% have reported actual sales below estimated sales. The percentage of companies reporting sales above estimates is above the 1- year average (49%), but below the 5-year average (55%).

In aggregate, companies are reporting sales that are 0.5% above expectations. This surprise percentage is above the 1-year (0.0%) average, but below the 5-year (+0.6%) average.

The blended earnings decline for the second quarter is -3.5% this week, which is smaller than the blended earnings decline of -3.6% last week. The blended earnings decline for Q2 2016 of -3.5% is smaller than the estimated earnings decline of -5.5% at the end of the second quarter (June 30).

If the Energy sector is excluded, the blended earnings growth rate for the S&P 500 would improve to 0.4% from -3.5%. If the Energy sector is excluded, the blended revenue growth rate for the S&P 500 would improve to 2.5% from -0.2%.
At this point in time, 90 companies in the index have issued EPS guidance for Q3 2016. Of these 90 companies, 62 have issued negative EPS guidance and 28 have issued positive EPS guidance. The percentage of companies issuing negative EPS guidance is 69%, which is below the 5-year average of 74%.
From Ed Yardeni:
SENTIMENT WATCH
The S&P 500, Dow Jones Industrial Average and Nasdaq Composite Index all notched record highs Thursday, a triple-threat that hadn't occurred since the dot-com boom.

Meanwhile, 15 block trades, bulk sales of big chunks of stock, raised a total of $5 billion in the biggest week for such deals since March 2015. Private-equity firms, which use block trades to sell out of companies they previously took public, accounted for nine of the 15 deals. (…)
A bang and a whimper: global M&A
After a boom in 2014 and 2015, global dealmaking is limping along. Transactions in June and July were worth $692 billion, down by 29% on the prior year, according to Dealogic. This is despite the fact that American share prices are higher than a year ago and borrowing costs lower. Antitrust regulators have become more aggressive. The European Union has just said it will investigate the $130 billion marriage of Dow Chemical and DuPont. Geopolitical strains are hobbling deals, too: last week Australia rejected two Chinese bids for a utility on national-security grounds. The populist mood isn't helping. America is cracking down on "inversions"—deals designed to cut tax bills—and Britain's new government plans to take a more protectionist stance. Jittery bosses plotting takeovers are watching America's political race closely: few like the idea of a President Trump, even if his autobiography is entitled "The Art of the Deal". (The Economist)
How New U.S. Money-Market Rules Could Push Down China's Yuan China's currency, the yuan, has declined in value this year, and now imminent changes to the way the U.S. regulates money-market funds are adding to the downward pressure.
The link between these funds and the yuan-dollar rate comes from the effect these new money-market regulations are having on the London interbank offered rate, or Libor, which measures the cost of short-term interbank borrowing.

The 3-month U.S. dollar Libor rate has risen sharply since June, and since then has hovered around levels not seen since 2009, when trust between banks dropped during the global financial crisis. On Friday, that rate was 0.81825%, the highest since May 2009, according to Thomson Reuters.

Analysts say Libor's recent rise is thanks to new Securities and Exchange Commission regulations that are expected to make it less attractive for money-market funds to hold any debt not issued by the government.

Starting in October, funds that invest in nongovernment debt will be able to suspend redemptions temporarily during any future crisis, making it harder for investors to get their money back. That is making money-market funds less willing to invest in debt issued by companies, including banks. With a once-reliable source of funding being choked off, banks are instead having to borrow more from each other and that, in turn, pushes up Libor.

So how does this affect the yuan?

The answer lies in the impact on Chinese companies that borrowed heavily in dollars after the financial crisis as U.S. interest rates fell near to zero. The cost of many of those loans was often closely linked to 3-month U.S. dollar Libor rates. (…)

Chinese companies "could borrow in U.S. dollars at a cheap rate and bring it back and invest in China."

But more recently, he says, Chinese companies have been rushing to pay down dollar-denominated loans as the cost of servicing that debt rises thanks to the Libor spike. That process involves Chinese companies swapping yuan for dollars to repay those loans.

In turn, that should help weaken the yuan further against the dollar. (…)
A company called Planet Labs Inc. has launched a small constellation of what it calls "cubesats" that can deliver much more frequent imagery of economically sensitive spots than traditional satellites. Those spots include retailers' parking lots, oil-storage tanks or farmland.

The company, founded by three former NASA scientists, has now signed an agreement to supply data to Orbital Insight Inc., which mines satellite imagery for trading tips for hedge funds.

Until now, Orbital has relied on monthly or bimonthly imagery for its analysis. The deal with Planet Labs will give them access to weekly images at first. Next year, if Planet Labs succeeds in a plan to launch another 40 or so cubesats, Orbital will have access to daily images of every piece of land on earth.

"Almost all economic activity is change," said Jimi Crawford, a former Google executive who founded Orbital. "Once you get down to daily images, tremendous new horizons open up to being able to monitor and track that change."

Orbital counts several large hedge funds and other investment firms as clients.

Orbital has offered clients "signals"—predictions on how prices will move for certain stocks—based on its automated analysis of satellite imagery since 2014. This analysis includes revenue predictions for big-box retailers such as Wal-Mart Stores Inc. andTarget Corp. based on changes in the number of cars in their U.S. parking lots, or forecasts for oil inventories based on the height of floating lids in oil tanks in the U.S. In both cases, the company makes its predictions on a statistically significant sample of images. (…)

The leaders of the Orbital-Planet Labs tie-up have big aspirations to shed light on economies where government data is considered less reliable, such as China.

One effort is under way to gauge steel production in mainland China by tracking the entire supply chain from where ore is dug from the ground to the refineries to the ports where steel is shipped. The company already has a China economic index based on construction rates revealed by changing heights of new buildings and vehicle counting.

"The most excitement we've heard from Wall Street clients is understanding markets like China or places in the world that are not as transparent," Mr. Crawford said.
Hopefully, the Fed will subscribe to also get the "outside information"!
If you enjoyed this article, Get email updates (It's Free)