Singapore's exports plunged the most in four months as orders from China, Indonesia and the U.S. dropped. The local currency fell as the report provided more evidence that the economy is slowing.

Non-oil domestic exports dropped 10.6 percent in July from a year earlier, worse than the median estimate of a 2.5 percent decline in a Bloomberg survey of 15 economists, a government report showed Wednesday. That compares with a revised 2.4 percent decline in June.

Singapore this month cut the top end of its 2016 growth forecast after the economy expanded less than previously estimated in the second quarter. The island nation, a financial center and major trading hub, said the world's prospects have weakened since May, with the U.K.'s vote to leave the European Union adding uncertainties and China's economy at risk from a potential spike in debt defaults. (…)

Electronics shipments contracted 12.9 percent in July from a year earlier, while petrochemical exports fell 35 percent. Sales to China slid 17 percent, those to the U.S. declined 19 percent and shipments to Indonesia plunged 23 percent.

Signs of weak demand are showing up everywhere in Singapore's export numbers. As key electronics shipments remain in a slump, petrochemicals sales have declined for at least three straight months and fell 35 percent in July from a year earlier, data released Wednesday shows. That kept non-electronics exports in negative territory, unable to counter the electronics decline even with a 13 percent increase in pharmaceuticals.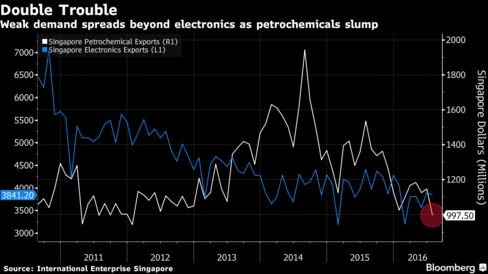 INFLATION WATCH
(…) Minutes from the Fed's latest rate-setting meeting will be released on Wednesday, and these could affect market odds, as could a speech from Janet Yellen, the Fed chair, who speaks on Friday next week at the central bank's symposium in Jackson Hole, Wyoming. (…)
John Williams, president of the Federal Reserve Bank of San Francisco, said on Monday that the current 2 per cent inflation target is not well suited to an economy with a depressed natural interest rate — the rate consistent with an economy operating on an even keel.

"There is simply not enough room for central banks to cut interest rates in response to an economic downturn when both natural rates and inflation are very low," he said. A higher inflation target "would imply a higher average level of interest rates and thereby give monetary policy more room to manoeuvre". (…)
FYI:
According to the Federal Reserve Bank of Cleveland, the median Consumer Price Index rose 0.2% (2.7% annualized rate) in July. The 16% trimmed-mean Consumer Price Index rose 0.1% (1.8% annualized rate) during the month. The median CPI and 16% trimmed-mean CPI are measures of core inflation calculated by the Federal Reserve Bank of Cleveland based on data released in the Bureau of Labor Statistics' (BLS) monthly CPI report.
July inflation was low but the basic trends are still in the 2.0%+ range. Core CPI is +2.2% a.r. in last 6 months, +2.0% in last 3 months. Median CPI is +2.8% a.r. in last 3 and 6 months.
In truth, the Fed has no control over food and energy prices which account for nearly 30% of the CPI. These two components are keeping headline inflation low for now. But for how long? Pressures are building in other important areas: housing inflation is up +3.6% a.r. in the last 6 months and +5.3% in the last 3. Medical Care inflation is +4.4% a.r. in the last 6 months, +3.6% in the last 3. These two components total 50% of the CPI.
It is true that the Fed's preferred inflation measure is the PCE deflator but core PCE and core CPI are generally pretty close…except since 2015. Interestingly, the current gap between the two series is 0.6% on a YoY basis and all of the gap built up between January and April 2015 when core CPI rose 1.26% while core PCE rose only 0.5%.
This 0.6% gap is as wide as it has been since 2004. Although it has been wider before, one must wonder why that gap built up and how long it will last. If the gap were to close, the Fed would be hard-pressed to raise rates more aggressively. Maybe this explains John Williams' comments last Monday (quoted above).
Central bankers have long understood that a few well-placed words can wield nearly as much power as pulling the actual levers of monetary policy. It is a lesson that Opec and Saudi Arabia has started to heed.

Just a few short sentences from Saudi Arabia's energy minister Khalid al-Falih last week sent hedge funds scrambling to cover large bets against the oil price, subsequently propelling Brent crude 10 per cent higher and largely silencing fears the market was on the cusp of another rout.

Following calls from Venezuela for big producers to revisit the idea of freezing output, Mr Falih said the kingdom was willing to "discuss any possible action" needed "to stabilise" prices when Opec ministers gather informally at a conference next month.

For those that had written off Opec and Saudi Arabia's position as "the central bank of oil" the market's reaction was notable. Most long-term Opec watchers expect no official agreement to emerge from the Algeria gathering, even as oil-dependent economies struggle under the weight of a two-year price collapse.

Still, prices shot higher at the mere threat of action.

"A lot of traders appear to hold the view that eventually there's going to be so much pain among Opec that they'll have to do something," says Jamie Webster of Columbia University's Center on Global Energy Policy. "I don't see anything to make me think outcome is going to be different this time."

Instead, analysts see an attempt by Opec and Saudi Arabia to verbally intervene in the market during the long process of bringing supply and demand back towards balance, as they stick with the policy of keeping output high to squeeze out higher cost rivals.

That Saudi-led effort, in place since late 2014, is starting to show signs of working. Opec production has risen to its highest on record and supplies outside the group are expected to fall this year.

However, the process is taking time, leaving the oil price vulnerable to attacks from short-sellers when seasonal surpluses emerge, as they did recently in refined fuels markets like gasoline. Where once Opec might have cut output, verbally intervening is now the preferred option.

"By raising the possibility of a freeze it can help them get through this period while the rebalancing continues," says Ann-Louise Hittle, chief analyst at Wood Mackenzie. "It's almost as if there's an attempt to talk the market through what was always going to be a long process." (…)
OPEC is on course to strike an output-freeze deal with fellow oil producers in Algiers next month because its biggest members are already pumping flat-out, the group's former president said.

While a similar initiative failed in April, an agreement can now be reached as Saudi Arabia, Iran, Iraq and non-member Russia are producing at, or close to, maximum capacity, Chakib Khelil said in a Bloomberg Television interview. (…)

"They have gained all the market share they could gain." (…)
Cisco Systems Inc., the largest maker of networking equipment, will cut as many as 14,000 employees worldwide, or 20 percent of its workforce, CRN reported, citing people close to the company. (…) The company last announced a large round of firings in August 2014, when it eliminated 6,000 positions.
SENTIMENT WATCH
Markets are extravagantly confident that brokers are too bearish, and that their profit forecasts for US companies are too low. (…)

There are other signs that optimism on earnings is taking hold. For a while, the S&P has been dominated by high dividend-yielding stocks. This is a sensible strategy when you do not have faith in corporate profitability or growth. In the past few weeks, however, the S&P 500 Dividend Aristocrats index has started to lag behind the market. Classic income-producing sectors, such as utilities and real estate investment trusts, have also ceded leadership.

And companies that take a lead in buying back their own stock are also underperforming after years of outstripping the market. (…)

Much, therefore is running on earnings. (…) The argument (…) goes as follows. First, it is the direction of change that matters to markets, and on this basis it looks like US earnings have reached an inflection point. Earnings were down in the second quarter compared with a year earlier. But the extent to which they are declining reduced; the second-order derivative has changed.

Added to this, energy companies have driven the awful numbers for the S&P as a whole, and this can be explained almost entirely by the huge fall in the oil price that started in the second half of 2014. For the second quarter, earnings for the S&P as a whole were down 2.5 per cent, on revenues that slipped by 0.5 per cent. Exclude energy, and the numbers were positive — earnings rose 1.8 per cent, backed by a rise of 2.5 per cent in sales, according to Thomson Reuters.

In the final quarter of this year, the adjustment in the oil price will at last drop out of year-on-year calculations, and energy earnings are projected to rise. (…) The oil fall also helped to drive a stronger dollar, which weakened the dollar-denominated foreign earnings of multinationals. With the dollar weakening of late, currency should help companies in the second half of the year.

So, the bullish argument has it, the inflection point in US earnings has been reached, a bear market has been averted, emerging markets are taking up some of the strain again and brokers have been slow to catch up with reality.

Against this, estimates for the current third quarter are actually still falling, and including energy, the brokers still call for a slight fall of 0.4 per cent. (…)

Company managements tended to be downbeat when guiding questioners during their earnings conference calls. Margins, which have been historically high, tended to fall. There are nerves about the effect of US electoral uncertainty on consumers, and on the fallout from Brexit, about which much remains uncertain.

Further, it is very unusual for top-down strategists to be more bullish than bottom-up analysts. (…)
Bespoke Investment has this to say about the dollar:
The US Dollar index had been trying to hold onto support at its 50-day moving average over the last couple of weeks, but today it fell hard below its 50-day. Since making a near-term low in early May, the Dollar Index has begun to form a new uptrend channel by making a series of higher highs and higher lows. As you can see below, today's drop left the Dollar close to the bottom of this newly-formed uptrend channel, and those bullish on the currency will be watching closely to see if this support level can hold over the next few days.
(…) We were surprised to find his summary of recent events downright gloomy, and certainly non-conforming with a stock "market", manipulated by central banks as it may be, trading at all time highs. Here are the key excerpts:


The six months under review have seen central bankers continuing what is surely the greatest experiment in monetary policy in the history of the world. We are therefore in uncharted waters and it is impossible to predict the unintended consequences of very low interest rates, with some 30% of global government debt at negative yields, combined with quantitative easing on a massive scale.

To date, at least in stock market terms, the policy has been successful with markets near their highs, while volatility on the whole has remained low. Nearly all classes of investment have been boosted by the rising monetary tide. Meanwhile, growth remains anaemic, with weak demand and deflation in many parts of the developed world.

Many of the risks which I underlined in my 2015 statement remain; indeed the geo-political situation has deteriorated with the UK having voted to leave the European Union, the presidential election in the US in November is likely to be unusually fraught, while the situation in China remains opaque and the slowing down of economic growth will surely lead to problems. Conflict in the Middle East continues and is unlikely to be resolved for many years. We have already felt the consequences of this in France, Germany and the USA in terrorist attacks.

As a result, Rothschild has put his money where his mouth is: "we have reduced our exposure from 55% to 44%. Our Sterling exposure was significantly reduced over the period to 34%, and currently stands at approximately 25%. We increased gold and precious metals to 8% by the end of June." (…)
If you enjoyed this article, Get email updates (It's Free)