The Index of Small Business Optimism declined two-tenths of a point in August to 94.4, with owners refusing to expand; expecting worse business conditions; and unable to fill open positions, according to the National Federation of Independent Business (NFIB).
According to the survey, 15 percent said that finding qualified workers was their biggest problem. Thirty percent said they had job openings that they couldn't fill. That's the highest level since the recovery.

"There's a very disturbing picture emerging in the economy," said Duggan. "A growing number of small business owners are paralyzed by the political climate. They're especially reluctant to hire. On the other hand, there's another group of small business owners who want to hire, but can't find qualified workers to fill positions."
Weak sales:
Wages rising faster than sales inflation compress margins:
Hence:
From Bespoke Investment:
Household Incomes Leapt 5.2% in 2015; Poverty Rate Drops U.S. household incomes jumped in 2015, delivering the first increase in eight years, with the largest gains in the bottom fifth of earners. The overall 5.2% jump was the largest since the Census Bureau began releasing the data nearly 50 years ago.
(…) Median household incomes stood 1.6% shy of the 2007 level, before the last recession took its toll, and 2.4% below the all-time high reached in 1999.

The figures show how several years of robust employment growth, including 2.4 million people who gained full-time work last year, helped regain ground lost after an especially wrenching downturn, particularly for lower-income households. Longer hours, higher wages and lower inflation also have contributed to the improvement.

(…) even with the gains reported Tuesday, the typical male full-time worker earned around $150 less last year than in 1998, after adjusting for inflation. (…)

The Census Bureau found 29 million people, or 9.1% of Americans, lacked health insurance in 2015. That is down from 33 million people, or 10.4% of the population, in 2014. The uninsured rate has dropped significantly since 2008, when millions more Americans lacked coverage. (…)

The largest increases in incomes last year were for the bottom fifth of all earners, which could reflect rising state and local minimum wages. As a result, the ratio between incomes at the 90th and the 10th percentiles narrowed.

Meanwhile, the figures showed incomes at the 60th, 80th, 90th and 95th percentiles reached new records after adjusting for inflation. Incomes for households at the 10th and 20th percentiles still stood 9.9% and 7.6% below their peaks set at the end of the 1990s, respectively. (…)
From the NYT: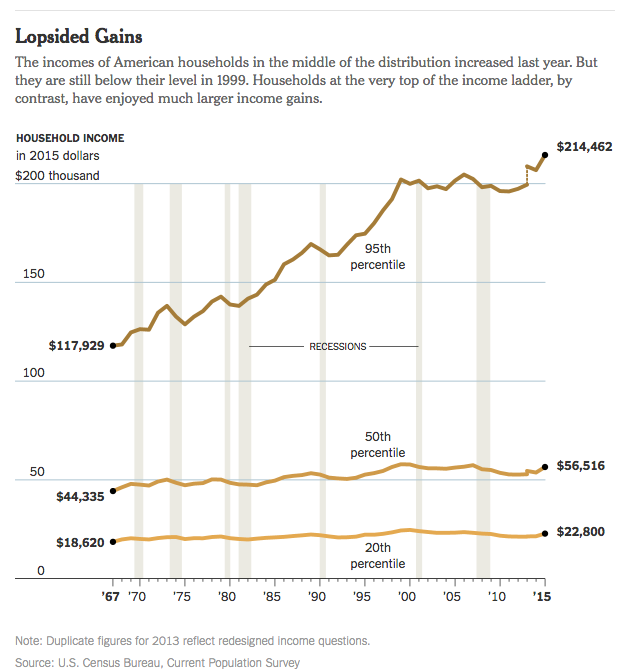 (…) Wilkins said economists estimate the interest rate needed to balance savings and investment when the economy is operating at potential has fallen in Canada to 1.25 per cent, from three per cent in the early 2000s.

She noted that while the Bank of Canada's key interest rate target is set at 0.5 per cent, it is less stimulative that it would have been a decade ago at that level when the so-called neutral rate was higher.

"At the same time, as population aging continues, the neutral rate could fall further, unless productivity growth picks up or global savings fall," Wilkins said.

"And the longer weak investment persists, the more important this risk becomes." (…)
Some related JPM charts:
(…) We already saw a weakening in July retail sales based on both the BAC aggregated card data and Census Bureau figures. Based on the BAC aggregated card data, retail sales ex-autos fell 0.1% mom SA in August, a payback from 2Q strength."

The details, as per BofA, reveal that "the BAC aggregated card data showed that retail sales ex-autos declined 0.1% mom SA in August. This follows the 0.3% mom decline in July and pushes the 3-month average down to -0.2% mom." The number would have been even worse if BofA had not decided to adjust out data from the recently bankrupt Sports Authority. As BofA writes, "there is a special factor to account for — we adjusted our data to control for the bankruptcy of Sports Authority, which officially shut stores this month. We expect the Census Bureau will do the same." In other words, if one did not "adjust" the data for this factor, it would have been an outright disaster. (…)
Cartier Parent Richemont Warns on Profit After Sales Slip The maker of Cartier jewelry and watches issued a profit warning as it posted a tumble in sales, reflecting the challenges luxury-goods companies face from weaker demand in Asia and a decline in tourism in Europe.
(…) Geneva-based Richemont said sales fell 14% for the five months through August from the previous year at actual exchange rates. At constant exchange rates, sales declined 13%. It also said it expects operating profit for the six months through September to fall around 45% from the previous year.

"We are of the view that the current negative environment as a whole is unlikely to reverse in the short term," the company said. (…)

The results came weeks after Swatch Group AG reported a 52% plunge in first-half profit. Net sales at the company, known for its cheap plastic watches but also the owner of expensive brands such as Omega, Blancpain and Breguet, fell 11%. (…)

Richemont said sales were down in much of Europe, "particularly in France, due to a significantly lower level of tourist activity."

In Asia, sales growth in mainland China and Korea "was more than offset by the continuing weakness of the Hong Kong and Macau markets," where the company is buying back inventory, Richemont said. Sales in Japan declined sharply, in part due to the strong yen that hurt tourism. (…)

Sales also fell in the Americas, but at a slower rate than in other regions. (…)
New renminbi-denominated bank loans in August rose to Rmb948.7bn, up 17.1 per cent year on year after falling almost 69 per cent in July to Rmb463.6bn, according to new figures released by the People's Bank of China.

That was markedly higher than a median estimate from economists of Rmb750bn. New monthly household loans in August came to Rmb675.5bn, accounting for 71 per cent of the total. (…)

Total social financing (TSF), Beijing's favoured gauge of overall liquidity encompassing most major forms of financing, rocketed to Rmb1.47tn, exceeding by more than half a median estimate of Rmb900bn. The figures came in nearly Rmb1tn higher than July's Rmb487.9bn. (…)
China economist Julian Evans-Pritchard at Capital Economics suggested the pickup in credit growth was likely to add to optimism among investors in the near-term and strengthened the case against more easing from the People's Bank of China this year. But he also noted that August's figures still left broad credit growth below the recent peak from April to June for this year, adding that "with the PBOC now signalling that it is keen to rein in credit risks, we still expect a further slowdown in the coming quarters."
(…) Since Prime Minister Shinzo Abe came to power at the end of 2012, the number of foreigners living in Japan is up almost 10 per cent to 2.2m, with the number of "technical interns" rising 27 per cent and the number of foreign students up 36 per cent.

While permanent immigration is rigidly controlled, the figures highlight one of the safety valves that Japanese companies use to control wage inflation, with worker inflows equivalent to 10-15 per cent of total job creation under Abenomics. (…)
One of the main areas of migration is "technical interns", a visa category that is supposed to allow workers from developing countries to train for up to three years at high-tech companies. Numbers are up by 41,178 to 192,655 since Abenomics began.

"Some are real trainees but some are disguised imports of cheap labour," says Mr Fukao. Almost half of the technical interns are from China but numbers from Vietnam have exploded, rising threefold to 57,581 since 2012, reflecting Japan's industrial ties with the fast-growing economy.

Student numbers are also up sharply, by 65,760 to 246,679, and the visa status allows some part-time work. (…)

The subject remains controversial. Mr Abe has flirted with a few schemes to allow inhighly skilled workers, but only a few thousand have arrived to date, and there is little political will to do more. But as labour shortages bite, especially in areas such as nursing care, that may change. (…)

With Federal Reserve policymakers warning of still subdued inflation in the US, the threat from higher consumer prices — which could burn holders of US Treasury bonds — also fell to 15 per cent in September.
Markets addicted to central banks' backstop, Citi warns Central bank efforts to soften the blow to markets from weakening fundamentals are losing their impact and are leaving a system vulnerable to shocks, analysts at Citi said.
BOJ to make negative rates centerpiece of future easing: sources The Bank of Japan will consider making negative interest rates the centerpiece of future monetary easing by shifting its prime policy target to interest rates from base money at its review next week, sources familiar with its thinking say.
Meanwhile,
A benchmark for near-term borrowing, the three-month U.S. dollar London interbank offered rate, has risen above 0.75 percentage point. That's a key threshold for junk-rated companies with about $230 billion of loans outstanding according to data compiled by Bloomberg — with Libor above that level, the borrowers will have to pay more interest over time. The increase so far could amount to about an extra $230 million of total interest expense annually for the companies. (…)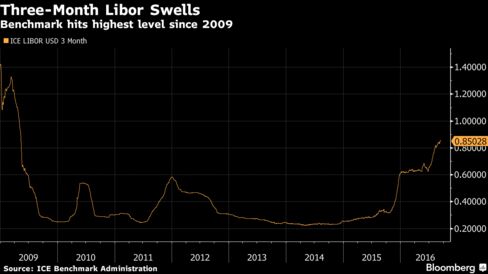 Powered by record amounts of monetary stimulus from the world's central banks, 54 per cent of investors surveyed by Bank of America Merrill Lynch said a combined measure of bonds and equities was now overvalued — an all-time record for the survey which has been running since the start of the century.

Fears of overvaluation drove some money managers to retreat to the safety of cash at the start of the month, with investors increasing their cash holdings to 5.5 per cent in September, up from 5.4 per cent in August. (…)

Despite the relative despondency about valuations in financial markets, more than a quarter of money managers expected higher global growth over the next year — a nine-month high for the survey.

"Macroeconomic optimism is firmly at pre-Brexit levels, with economic growth expectations at their strongest since June," said Manish Kabra at BofA. (…) (Charts via The Daily Shot)

"HIGH DIVIDENDS", REALLY?
This chart from Greg Merrill shows the ratio of dividends from the "high-dividend" portfolio (SDY) to that from the S&P500 (SPY). SDY dividend payout is now less than 20% higher than SPY. (The Daily Shot)
If you enjoyed this article, Get email updates (It's Free)