US CEOs are not very optimistic, especially on hiring and sales.
Yesterday, we saw how "cautious" small business people are (here). The bigger execs are not more optimistic as The Daily Shot illustrates:
UPS Projects Holiday Hiring in Line With Last Year United Parcel Service Inc. on Wednesday said it expects to hire about 95,000 extra employees for the holidays, the same number as the past two years, in the latest signal that seasonal hiring will remain flat.
Hanjin Creditors Seek to Keep Ships Anchored in U.S. Waters A group of creditors who have gone unpaid for services such as towing and fueling say that the judge's order shouldn't apply to vessels chartered by Hanjin because they are not legally its property.
OIL
Iran offsetting decline in U.S. oil output
After getting a lift from a Saudi/Russia "deal" in early September, oil prices seem to be struggling again. Perhaps markets are realizing that such agreement between the two "to cooperate in world oil markets" is not credible. After all, Saudi Arabia's oil production rose in both the second and third quarters this year despite last February's "deal" between the two countries to freeze output at January levels. As we had pointed out in Hot Charts last December and again in February, such bilateral "deals" are meaningless because the oil market is now a non-cooperative game, meaning that producers have an incentive to maximize output. Moreover, such incentives are enhanced in Saudi Arabia and Russia by the need to generate revenue to address their deteriorating public finances. So, the oil supply glut is likely to remain a problem for a while longer.

Making things worse with regards to excess supply is the return of Iran to global oil markets after sanctions were lifted. As today's Hot Charts show, the increase in Iran's oil output more than offset the decline in the U.S. in the first half of 2016. In fact, Iran has been able to grow its oil output faster than the rest of OPEC, boosting its share of the cartel by two percentage points (to 11%) in less than a year. (NBF)
A close-up chart from The Daily Shot:
Fiscal Policy Makes a Quiet Turn Toward Stimulus For years, the world has looked to central banks to prop up economic growth. But now governments are stepping up: Fiscal policy across the developed world is collectively turning more stimulative for the first time since the end of the recession, Greg Ip writes.
This may be the most underappreciated economic development of the year. While the scale of the stimulus is modest in dollar terms, it signals a more profound shift in the political winds.

Globally, the rise of political populism has pushed deficits down the list of priorities while elevating tax cuts and benefits for the working class. With enough critical mass, such measures could persuade central banks to rethink their own super-easy monetary policies, which would undermine the case for today's rock-bottom bond yields and pricey stocks. (…)
And here's the elephant:
Here is a nice chart showing both monetary and fiscal stimulus in China. (The Daily Shot)
Annual premium cost rose 3% to $18,142 for an employer family plan in 2016, from$17,545 last year, according to the annual poll of employers performed by the nonprofit Kaiser Family Foundation along with the Health Research & Educational Trust, a nonprofit affiliated with the American Hospital Association.

Employees paid 30% of the premiums for a family plan in 2016, compared with 29% last year, according to Kaiser. For an individual worker, the average annual cost of employer coverage was $6,435 in this year's survey, with employees paying 18% of that total. The change in annual premium for individual coverage from 2015 wasn't statistically significant. (…)

Kaiser foundation analysts suggested that the movement of workers into higher-deductible plans reduced the rate of premium growth by half a percentage point this year and another half-point last year.

Employers' efforts to stem cost increases are the major driver behind the shift, said Drew Altman, chief executive of the Kaiser Family Foundation. High-deductible plans typically have significantly lower premiums than other types of plans. "Practically, it's a step they can take to keep their costs down," he said.

This year, 29% of covered workers were enrolled in high-deductible plans that can be paired with savings accounts that aren't taxed, up from 24% last year and 20% in 2014.

At the same time, the share of employees with health coverage who had traditional preferred provider organization plans was just 48% this year—the first time it had dipped below half since 2001, when health-maintenance organizations were more prominent.

In another milestone, for the first time, more than half of workers had a deductible of more than $1,000 for a plan covering a single person. The share was 51%, compared with 46% last year. However, some of those workers' deductibles are offset by employers' contributions to their tax-free accounts. (…)

A separate Kaiser foundation poll of consumers, performed in June, found that among insured people, deductibles were cited more often than premiums as the greatest financial burden related to health care. (…)
TRADE PROTECTIONISM EXPLODES
World GDP growth, which has been trending down in recent years, is on track to grow roughly 3% this year, the slowest pace since 2009. Some of the explanations for the moderation in growth include China's economic rebalancing (which is having repercussions across global supply chains), tight fiscal policy worldwide (which is offsetting monetary policy stimulus), underinvestment (which has lowered the world's potential GDP), and elevated debt levels and deteriorating demographics which are restraining consumption particularly in advanced economies.

Another culprit perhaps is the rise of trade protectionism, the latter explaining in part why global trade volumes are on track to grow this year at the slowest pace in eight years. As today's Hot Charts show, 2016 is set to be the worst in years, with discriminatory measures vastly outnumbering measures aiming to liberalize trade. (NBF)
The report, which was discussed at a 25 July meeting of the WTO's Trade Policy Review Body (TPRB), shows that 22 new trade-restrictive measures were initiated by WTO members per month during the mid-October 2015 to mid-May 2016 review period. This constitutes a significant increase compared to the previous review period, which recorded an average of 15 measures per month, and is the highest monthly average since 2011.

During the same period, WTO members adopted 19 new measures per month aimed at facilitating trade, a slight increase compared to the previous review period. The stockpile of trade-restrictive measures in place grew by 11 per cent during the review period.

"The report shows a worrying rise in the rate of new trade-restrictive measures put in place each month — hitting the highest monthly average since 2011," Director-General Roberto Azevêdo said. "We hope that this will not be an indication of things to come, and clearly action is needed. Out of the more than 2,800 trade-restrictive measures recorded by this exercise since October 2008, only 25 per cent have been removed.
Total U.S. trade usually rises between recessions:
Total trade has also been flat in Europe for nearly 5 years:
The volume of exports to the rest of the world shrank by 10 per cent for July this year, compared to the same month in 2015, while imports also shrank by 8 per cent, Eurostat said today. The result follows a sharp drop in German exports, which unexpectedly slumped by 10 per cent on the year to July.
BTW: world IP keeps suffering partly as a result:
In the Eurozone, the bloc's industrial production fell in July. (The Daily Shot)
Here's the U.S. IP…
…Japan's…
…and China's (from Trading Economics):

Long Bonds Waver in Volatile Trading In recent weeks, investors have pulled money from bond funds and increased wagers on lower interest rates, creating the conditions for a crowded trade—in which investors have large and similar positions—that is apt to suddenly reverse.
Amplifying the swings are the use of strategies that use leverage, or borrowed money, some traders said. (…)
Investors yanked $1.9 billion out of government bond funds in the week ended Sept. 7, according to strategists at Bank of America Merrill Lynch, marking the largest weekly outflow in six months. (…)

Taking advantage of low interest rates, investment-grade companies flooded the market with new bonds last week with issuance reaching $48.43 billion, the highest weekly total since May and ninth highest on record, according to LCD, a unit of S&P Global Market Intelligence. (…)

Hedge funds and money managers had $10.5 billion of net wagers betting on higher prices of 10-year Treasury note futures for the week that ended Sept. 6, according to Cheng Chen, U.S. rates strategist at TD Securities, citing data from the Commodity Futures Trading Commission. The figures came off a high reached in July that reflected the most on a weekly basis since December 2012. (…)

Since the start of 2015, ETFs and passive global bond funds have reported net inflows of more than $28 billion, according to AllianceBernstein.

"The influence of ETFs has risen, and some are heavily leveraged," said Chris Iggo, chief investment officer of fixed income at AXA Investment Managers. "That's going to mean exaggerated price moves from time to time."
With a seismic overhaul of the $2.6 trillion money-market industry weeks away from kicking in, money managers are bracing for a last-minute exodus of as much as $300 billion from funds in regulators' cross hairs.

Prime funds, which seek higher yields by buying securities like commercial paper, are at the center of the upheaval. Their assets have already plunged by almost $700 billion since the start of 2015, to $789 billion, Investment Company Institute data show. The outflow has rippled across financial markets, shattering demand for banks' and other companies' short-term debt and raising their funding costs.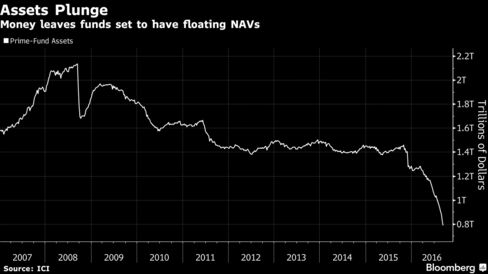 (…) most of the cash leaving prime and tax-exempt funds has streamed into less risky offerings focusing on Treasuries and other government-related debt, such as agency securities and repurchase agreements. These funds are exempt from the new rules, which the U.S. Securities and Exchange Commission issued in 2014.

As a result, banks' unsecured lending rates, such as the dollar London interbank offered rate, have soared. Three-month Libor was about 0.85 percent Wednesday, close to the highest since 2009.

(…) "You'll see the prime-fund space continue to shrink until we hit mid-October," said Tracy Hopkins, chief operating officer in New York at BNY Mellon Cash Investment Strategies, a division of Dreyfus Corp.

"After that," she said, "I would not be surprised to see assets return, once customers get accustomed to the floating NAVs and want to earn incremental yield over government money-market funds."
Meanwhile, the Ted Spread has been rising…

New Laws Haven't Made Big Banks Safer, Paper by Lawrence Summers Says Big Wall Street banks are no safer today than they were before the 2008 financial crisis, despite a raft of new rules aimed at safeguarding the system, according to a new paper co-authored by former Treasury Secretary Lawrence Summers.
If you enjoyed this article, Get email updates (It's Free)