BEARNOBULL TO EDGE and ODDS
It looks like the transition is now complete and Bearnobull has fully morphed into Edge and Odds. Edgeandodds.com is the main url to reach the site although bearnobull.com will also take you to Edge and Odds for a while. Please adjust your bookmarks. If you see anything wrong or bizarre on the site, please let me know. Subscribers to the daily email do not need to do anything as the transition should be automatic.
I apologize for any problems due to this transition, including my inability to reply to comments and/or feedback, many of which, for some unknown reason, never reached me directly. I found many that got buried within the site dashboard. I particularly thank Jim L., Rajiv D. and John D., an old friend, for their kind words. Apologies for followers who tried edgeandodds.com before I completed the transition this weekend. Comes with not having a large staff (!!).
Hopefully, everything will work smoothly now.
Just look at Japan, where the yen plunged 28 percent in the two years through 2014, yet net exports to America still fell by 10 percent. Or at the U.K., where the pound's 19 percent tumble in the two years through 2009 couldn't stave off a 26 percent decline in shipments to the U.S. In fact, since the turn of the century, the ability of exchange-rate movements to affect trade and growth in major economies has fallen by more than half, according to Goldman Sachs Group Inc. (…)

Since the late 1990s, a 10 percent inflation-adjusted depreciation in currencies of 23 advanced economies boosted net exports by just 0.6 percent of gross domestic product, according to Goldman Sachs. That compares with 1.3 percent of GDP in the two decades prior. (…)
Could be the effects of globalization…Two charts from The Daily Shot:


The year-to-year increase for the outstanding debt of US nonfinancial corporations slowed from the 8.0% of Q2-2015 to the 5.2% of Q2-2016, according to the Federal Reserve's Financial Accounts of the United States (also known as the Flow of Funds). Despite the noticeably slower growth of corporate debt, an accompanying contraction by operating income drove the ratio of debt to operating income sharply higher.

The yearlong average of nonfinancial-corporate profits from current production — proxy for operating income — sank from the 7.6% increase of the span-ended June 2015 to the -9.3% contraction of the span-ended June 2016. In turn, nonfinancial corporate debt soared from Q2-2015's 601% of nonfinancial-corporate profits from current production to Q2-2016's 697%. The latest ratio of nonfinancial-corporate debt to operating profits was the steepest since the 717% of Q2-2010.

Some ask why the ratio of debt to operating profits is used here instead of the ratio of debt to internal funds? The answer is that the high-yield default rate shows a stronger correlation of 0.81 with the ratio of debt to operating income compared to its 0.59 correlation with the ratio of debt to internal funds.
In contrast to what might otherwise be inferred from the elevated ratio of debt to net revenues, the high yield spread recently narrowed to 536 bp. For one thing, the containment of net interest expense by ultra-low benchmark borrowing costs has facilitated a narrowing of spreads despite a very high ratio of debt to net revenues. In addition, the recent narrowing of spreads has been driven by expectations of significantly faster revenue growth. If those expectations go unfulfilled, much wider spreads loom.
We know that we won't get both higher revenue growth and low interest rates. We could get even slower revenue growth without lower rates, however.
The moving yearlong sum of the net stock buybacks plus net dividends paid by US nonfinancial-corporate businesses reached a record $1.24 trillion for the span-ended June 2016, breaking the former zenith of $1.19 trillion from the span-ended December 2007.

Comparing the year-ended June 2016 with the year-ended June 2015 showed a 17.8% annual surge by the sum of net stock buybacks plus net dividends which differed drastically from the accompanying – 9.3% contraction by nonfinancial-corporate profits from current production.

In terms of a moving yearlong ratio, shareholder compensation jumped up from June 2015's 79% to June 2016's 103% of pretax operating profits, where the latter was the highest such ratio since the 113% of Q3-2008.

The ratio first broke above 100% upon reaching the 104% of the year-ended June 2007. The record suggests that unless the ratio turns lower, perhaps in response to much faster profits growth, the high yield bond spread is likely to widen considerably from its recent 536 bp.

Moreover, the market value of US common stock peaked not long after the yearlong sum of net dividends plus net stock buybacks formed cycle tops in Q4-2007, Q2-1999, and Q3-1989. For now, the good news is that shareholder compensation still expands. But, the continuation of that expansion is very much at the mercy of an anticipated, but far from guaranteed, timely return of profits growth.
This FactSet chart suggests that dividend growth is about to stall:
Last June, I showed (CETERIS NON PARIBUS) how American corporations are using leverage to boost returns in the face of slow revenue growth and declining margins. This GS chart (via The Daily Shot) suggests that European corporations have actually been deleveraging in the last several years.
SENTIMENT WATCH
David Hay, Chief Investment Officer at Evergreen Gavekal disputes the idea that this is "the most hated bull market ever":
(…) What really counts is how investors are actually positioned. Per the charts below, you can see that overall US household asset allocations are hardly reflecting fear and loathing toward equities. In reality, it's cash that is near its lowest weightings of the past 30 years, while bonds are in the middle of their historic allocation range.

Source: Ned Davis Research
The cash chart also doesn't take into account the extremely lofty level of margin debt (essentially, negative cash). Though this has come down a bit, it remains among the highest readings of all-time. This is why the following chart factoring in both cash and margin debit balances is close to where it was when the biggest US stock market bubble on record was in full swing back in 2000.
INVESTOR CREDIT BALANCE/MARGIN DEBT (%)
Source: Ned Davis Research
Further, as recently as last month, this is how the net speculative positioning looked on the Dow. Maybe it's just me, but I don't see a lot of hate in this chart.
Ergo, perhaps what we've got on our hands is a market that is quite late stage and very tired, propped up by trillions of central bank joy-juice. Not to mention, one also supported by a lot of fully-invested bears. If so, these folks might not be the stickiest holders of equities should events take a turn for the worse this autumn. (…)
David also rightly points out the fact that while S&P 500 and the Nasdaq Composite have recently reached new highs the wider NYSE has not, being 4.3% below its May 2015 peak.

So, we have an expensive market with leveraged investors buying leveraged companies. Earnings have yet to turn up, higher dividends and buybacks are getting more difficult to justify and the Fed is trying as hard as it can to find reasons to raise rates. And we have not discussed politics…
(…) The labor market "is close to as good as it gets," given the underlying fundamentals of the economy, said IHS Markit Chief Economist Nariman Behravesh. "But averages hide a lot of problems. A lot of low-skilled and blue-collar workers have been left behind. They might have a job, but it pays less than the job they had before the recession." (…)

A broader measure of unemployment that includes discouraged workers and those stuck in part-time jobs was 9.7% last month. It's been little changed for almost a year. And the share of Americans ages 25-54 with jobs, 77.8% in August, is near a postrecession high, but has changed little since January. (…)
(…) As recently as three months ago, analysts estimated U.S. corporate earnings growth would return to positive territory by the third quarter. As of Friday, they were predicting a 2.3% contraction from the year-earlier period. (…)

Revenue growth, meanwhile, is set to return for companies in the S&P 500 for the first time since the end of 2014, according to analysts polled by FactSet. Nine of the 11 sectors are predicted to report year-over-year sales growth during the third quarter. Consumer-discretionary companies lead with a projected rise of 8.7%. (…)
Q3 ends this week and there are no signs that this will not be the usual earnings season. From Factset:
If the Energy sector is excluded, the estimated earnings growth rate for the S&P 500 would improve to 0.9% from -2.3%.
If the Energy sector is excluded, the blended revenue growth rate for the S&P 500 would improve to 4.1% from 2.6%.
analysts have made smaller cuts than average to earnings estimates for Q3 2016. On a per-share basis, estimated earnings for the third quarter have fallen by 3.0% since June 30. This percentage decline is smaller than the trailing 5-year average (-3.8%) and trailing 10-year average (-4.6%) over approximately the same time frame (first 2.5 months of the quarter).
In addition, a smaller percentage of S&P 500 companies have lowered the bar for earnings for Q3 2016 relative to recent averages. Of the 114 companies that have issued EPS guidance for the third quarter, 79 have issued negative EPS guidance and 35 have issued positive EPS guidance.
I closely monitor guidance and I have not seen any adverse trend in recent weeks.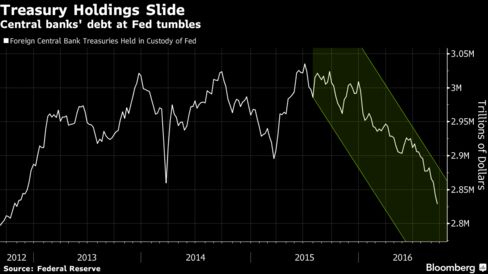 Great golfer, but also a great human being.
If you enjoyed this article, Get email updates (It's Free)