First blood: Trump and Clinton debate
The first presidential debate between Hillary Clinton and Donald Trump had been billed as one of the biggest televised political events ever. The reality, played out in New York before a television audience of millions, was messy, ill-tempered, but momentous nonetheless. Mr Trump started strongly, hammering Mrs Clinton for backing free trade, which he decries. Her response, chiefly an exasperated smile, was dismal. Yet she recovered by attacking Mr Trump for his many misdeeds. She skewered him for failing to publish tax returns—even seeming to draw from him an admission that he pays no federal income tax. She castigated him for pushing racist theories about President Barack Obama's birthplace, and noted that his claim to have opposed the Iraq war was a lie. Then again, Mr Trump's bad behaviour is well-established; he is still level-pegging in the polls. It is not clear this debate will change that. (The Economist)
Industrial profits rose 19.5 percent in August from a year earlier to 534.8 billion yuan ($80.2 billion), the National Bureau of Statistics said Tuesday. That completes August data that showed new credit, industrial output, fixed-asset investment and retail sales picked up and beat analysts' estimates. Meantime, private indicators show upbeat sentiment in business confidence and increased factory activity continued in September. (…)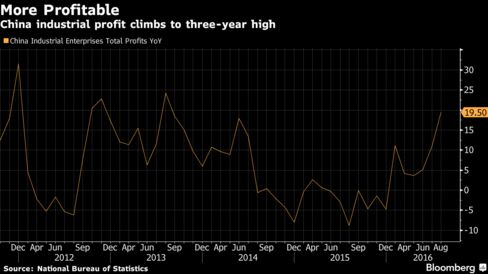 Strong sales growth, rebounding prices and decreasing costs contributed to the profit surge, NBS said in a statement. Auto, steel and oil processing companies performed best, it said.

Demand is still weak at home and abroad, NBS said. The time it takes companies to get paid money they're owed remains relatively long and the traditional manufacturing, especially those with excess capacity are still struggling, the agency said.

"Although August growth was strong, it's largely because of a low base last year," NBS said in the statement. "The foundations to support sustained rapid industrial profit growth isn't solid. There's still a lot of work to be done to boost the upgrading of the real economy."
World Trade Set For Slowest Yearly Growth Since Global Financial Crisis World trade will this year grow at the slowest pace since the global financial crisis, a development that should serve as a "wake-up call" as anti-globalization sentiment builds, the World Trade Organization warned.
The Geneva-based body responsible for enforcing the rules that govern global trade cut its forecast for the growth of exports and imports this year and next, and now foresees an increase of just 1.7% in 2016 and as little as 1.8% in 2017, having projected rises of 2.8% and 3.6% respectively in April. (…)

The WTO said the cut in its forecast was a response to weak trade growth in China, Brazil and North America during the first six months of the year. According to its figures, trade in goods fell 1.1% during the first three months of 2016, and while there was a rebound in the three months to June, it was "smaller than anticipated" at just 0.3%.

The trade body said over the longer term, world trade has usually grown 1.5 times as rapidly as total economic output. During the period of rapid globalization in the 1990s, trade grew at twice the rate of economic output. However, the WTO's projection for 2016 suggests it will be the first time in 15 years that trade will grow more slowly than total output. (…)

The WTO said a "striking" feature of the last two years has been a large fall in imports to countries that in turn rely heavily on exports of commodities, reflecting big falls in commodity prices. Those imports stabilized in the three months to June, and there have been signs of a pickup in world trade since the end of the second quarter. (…)
U.S. Shale Firms Survive Oil Slump Many U.S. companies that revolutionized the oil and gas business with hydraulic fracturing and horizontal drilling are surviving the prolonged oil-price slump unbowed.
Though the collapse in prices caused a wave of bankruptcies, total U.S. oil production has only fallen by about 535,000 barrels a day so far this year compared with 2015, when it averaged 9.4 million barrels, according to the latest federal data. (…)

Goldman Sachs forecasts the U.S. will be pumping an additional 600,000 to 700,000 barrels of oil a day by the end of next year—making up for every drop lost in the bust. (…)

"The U.S. isn't the marginal barrel but the most flexible," said R.T. Dukes, an analyst at Wood Mackenzie. "We'll be the fastest to snap back."

More than 100 North American energy producers have declared bankruptcy during this downturn, but even companies working through chapter 11 keep pumping oil and gas. Many exit bankruptcy stronger thanks to a balance sheet that has been wiped clean.SandRidge Energy Inc., which filed in May, will exit next month after erasing nearly $3.7 billion in debt. (…)

A big reason U.S. oil production has been so resilient is that U.S. producers found ways to cut costs and enhance efficiencies during the lean years. Those innovations are now poised to propel the industry's resurrection. (…)
(…) As energy ministers arrived in Algiers for a summit on energy, Iran Oil Minister Bijan Zanganeh called the meeting set for Wednesday "consultative," adding to concerns that member nations of the Organization of the Petroleum Exporting Countries won't adopt production limits to prop up the sagging price of oil. (…)

Saudi Arabia has stated it would support a production freeze only if all players are committed to the plan and if Iran caps its future production at its current daily output of 3.6 million barrels, according to people familiar with the kingdom's proposal. However, Iran has reiterated its goal to increase its output until it hits pre-sanction levels of 4.2 million barrels a day.

Even if a deal were reached, oversupply in global oil markets would persist as countries like Nigeria and Venezuela are aggressively ramping up production to make up for losses in recent months due to internal strife. (…)

In 2015, global investments in oil and gas fields fell by 25%, and are set to slide by a further 24% this year, according to Paris-based energy watchdog International Energy Agency. (…)
Corporate-Bond Buying Attracts Doubts as Growth Tool for Europe European central banks are looking to corporate debt to help get the region's economy firing on all cylinders again, but many companies are wary of investing the proceeds from those purchases.
Many European companies have hesitated to issue bonds to fund growth. Instead, they are more likely to take advantage of extremely low interest rates to refinance their debt more cheaply, analysts say.

"I don't see these big [capital spending] programs, the share buybacks or the large-scale investment in new projects," said Hans Lorenzen, head of European credit strategy at Citi. "Unlike their U.S. counterparts, European [chief financial officers] are more cautious." (…)

On Monday, German airline Deutsche Lufthansa AG took the unusual step of pulling a $562 million bond sale, citing unattractive pricing. (…)

Even if companies increased the number of bonds issued, negative interest rates at banks can be a deterrent.

If I borrow too much, I have to store the money at negative interest rates," said Stephan Wiemann, head of treasury at Deutsche Telekom AG. "I won't do that."
The Private Debt Crisis China is drowning in it. The whole world has too much of it. History suggests: This won't end well.
(…) Now, the indicators for the U.S. and Europe are in negative territory — a reflection of struggles to restore growth while still working through the excesses of the previous boom. The credit gap in China, by contrast, is at its highest level since at least 1995 (the first year of the data series): As of March, it stood at more than 30 percentage points. (…)
If you enjoyed this article, Get email updates (It's Free)