In a startling development, almost unheard of outside a recession, food prices have fallen for nine straight months in the U.S. It's the longest streak of food deflation since 1960 — with the exception of 2009, when the financial crisis was winding down. Analysts credit low oil and grain prices, as well as cutthroat competition from discounters.
This is Bloomberg's chart of MoM price trends: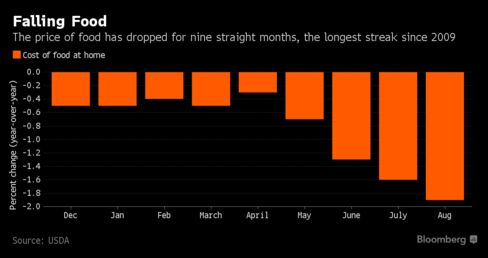 The actual seasonally-adjusted index with total CPI in red.

This chart plots Food-at-home YoY with Total CPI. Food deflation is pretty rare and rarely gets much worse than –2.5% YoY. It currently is –1.9%.

The "Food-at-Home" component is 8% of the CPI.
If you invest in food retailers, you must understand that because volume is growing very minimally, margins are key to the industry's profits. The reality is that grocers have little control over the price of the products they sell. Accordingly, their margins can be very volatile, swinging along with the difference between food-at-home inflation (inflation on sales) and total inflation (inflation on costs), plotted below. History shows that periods of margins squeeze often trigger price wars as grocers attempt to boost volume to offset declining sales. This year's squeeze is amplified by the widespread increases in minimum wages across the USA.
This is Kroger since last December:

OPEC might still agree an oil output-limiting deal later this year as the economic problems of its de-facto leader Saudi Arabia force Riyadh to cede more ground to arch-rival Iran.

Saudi Energy Minister Khalid al-Falih said on Tuesday Iran, Nigeria and Libya would be allowed to produce "at maximum levels that make sense" as part of any output limits which could be set as early as the next OPEC meeting in November. (…)
The S&P CoreLogic Case-Shiller Indices, covering the entire nation, rose 5.1% in the 12 months ended in July, slightly higher than a 5% increase reported in June.

The 10-city index gained 4.2% from a year earlier down slightly from 4.3% last month, and the 20-city index gained 5% year-over-year, down from a 5.1% increase in June.

After seasonal adjustment, the national index rose 0.4% month-over-month, the 10-city decreased 0.1% and the 20-City index remained unchanged.

The hottest markets in the country have shifted away from California and toward the northeast, as many buyers priced out of the Silicon Valley area flee to secondary tech hubs. Portland reported a 12.4% year-over-year gain, Seattle showed growth of 11.2%, and Denver had a 9.4% increase. (…)
BTW, yesterday's release of the Conference Board's Consumer Confidence Index revealed that plans to buy a new home plummeted to the lowest percentage (0.6%) since April of last year. In most other aspects, the survey was pretty good, even though this indicator is coincident at best.
All-cash transactions in the U.S. home market have hit a record-low level, accounting for 29.3% of total home sales in June, according to the California-based data firm CoreLogic.

On a year-over-year basis, cash sales in June declined 2.5 percentage points . And this is the first time the figure stood below 30% for a single month since late 2007.

The percentage of cash sales peaked in January 2011, when cash transactions accounted for 46.6% of total home sales nationally. Prior to the housing crisis, the percentage of total home sales that were paid in cash averaged approximately 25%, according to CoreLogic.

Cash sales are declining partly because "a reduction in foreclosure activity which is generally a cash-based investor transaction," said Jonathan Miller, the chief executive of appraisal firm Miller Samuel.

Easier access to financing has also helped diminish all-cash transactions. "We are also seeing some easing in credit conditions likely influenced by improving household income," Mr. Miller added. (…)
"Some easing in credit conditions" continue…
…but no longer in auto loans…
…as US auto debt delinquency rates remain elevated relative to pre-crisis levels…
…causing this (The Daily Shot):
(…) Fifty-seven percent of parents with children under the age of 18 are saving for college this year, up from 48% last year, according to the report by SLM Corp., better known as Sallie Mae, and market-research company Ipsos Public Affairs.

On average, those families that are saving have $16,380 set aside for college, a four-year high, and up from $10,040 last year. (…) Parents of teens have saved an average of $22,998, compared with $13,216 saved by parents of 7- to 12-year-olds. (…)

This year, 37% of parents report using 529s, the highest rate reported since the study began in 2009, and higher than 27% reported last year. (…)

In 2016, 51% of parents report having a plan for how to pay for all four years for college, up from 42% last year. (…)
SENTIMENT WATCH
European banks are in a "very fragile situation" and are "not really investable as a sector", Credit Suisse chief executive Tidjane Thiam said in a FT interview in London.
"I think there is also a lot of doubt, a fundamental doubt, is there a viable business model that covers its cost of equity?" Mr Thiam is quoted by the FT. "That's the big big big question," he said, describing it as something that "makes banks not really investable as a sector".
The Twitter takeover frenzy is spreading, and it's causing investors to overpay for Internet stocks.

On Tuesday, shares of Yelp (ticker: YELP), TripAdvisor (TRIP), Expedia (EXPE), andGrubHub (GRUB) were all jumping, without any business rationale. It seems that investors are bidding up the stocks on the idea that the companies could become the next acquisition targets, after a (hoped-for) Twitter deal (TWTR). Yelp was the largest gainer with a 5.2% gain, while TripAdvisor, Expedia, and GrubHub were all up at least 3%. (…)

The stocks all trade at high multiples of earnings. In the case of GrubHub, investors are paying $51 for every dollar earned by the company this year. And Yelp won't even make money in 2016. Expedia is the cheapest of the bunch, with a price-to-earnings multiple, or P/E, of 22. (…)
If you enjoyed this article, Get email updates (It's Free)