The Index of Small Business Optimism fell 0.3 points to 94.1, another monthly decline, and four points below the 40 year average of 98. Four of the 10 Index components posted a gain, six declined. There was a huge improvement in the outlook for business conditions, but rising only to a net 0 percent expecting improvement. Offsetting that gain were large losses in job openings, inventory satisfaction and plans for inventory investment.




Lower profits, lower employment:

LABOR MARKET CONDITIONS INDEX WEAKENS
The latest LMCI update came in at -2.2. The previous month was revised downward to -1.3 (from -0.7).
THIS, JUST BEFORE CHRISTMAS:

Low crude prices have led U.S. oil producers to idle more than a thousand rigs over the past two years, resulting in a big decline in so-called associated gas, a byproduct of oil drilling. This gas typically represents about 40% of total supply, but its production isn't particularly responsive to gas prices.
Since September 2015, associated-gas production outside the Northeast, the country's fastest-growing gas-producing region, has fallen by nearly 9%, or about 2.5 billion cubic feet a day, according to energy data firm Platts Analytics Bentek. (…)
The decline in production along with an unusually hot summer has helped to shrink a record gas glut that had been pressuring prices. U.S. gas production in September was about 2.4% lower than a year earlier and down 3.5% from its peak in February, according to Platts. (…)
(…) industrial output in the eurozone was 1.6% higher than in July, and 1.8% up on August 2015. That was a slightly stronger performance than had been expected, with economists surveyed by The Wall Street Journal last week having estimated that output rose 1.5%. Eurostat also cut its estimate for the decline in output during July to 0.7% from 1.1%.

The pickup was led by Germany, the eurozone's largest exporter to the U.K. But there were also significant increases in France, Italy, Spain and the Netherlands. (…)
Lumpy IP: down, up, down, up…Last 3 months: +7.0% annualized. Last 4 months: +0.9%; last 6 months: +1.6%.
Economic data from the euro area remains broadly better than expected as the Citi economic surprise index recovers. (The Daily Shot)

House prices, as measured by the House Price Index, rose by 2.9% in the euro area and by 4.0% in the EU in the second quarter of 2016 compared with the same quarter of the previous year.

Compared with the first quarter of 2016, house prices rose by 1.4% in the euro area and by 1.6% in the EU in the second quarter of 2016.
Pound at Weakest Level in History Against Currency Basket The British pound is now at its weakest ever level against a basket of global currencies, data from the Bank of England shows.
The chart below shows the renminbi 1-month forward, which indicates expectations of a further decline. (The Daily Shot)

More pounding (from The Daily Shot):
The South African rand quickly lost over 4% while CDS spreads and bond yields rose.

The Thai baht continues to slide as the king's health remains a concern.

The Malaysian ringgit is under pressure again on declining global risk appetite. The ringgit is often the "punching bag" for fast money moving in and out of risk assets.

The Egyptian pound forward rates are still falling as the market prices in a massive devaluation after the conclusion of the IMF bailout deal.

With the recent dovish comments from Riksbank, this weak inflation report took the Swedish krona sharply lower. Since last May, the declines in the currency (shown against the euro below) have been dramatic.

In spite of all the positive economic data, the euro came under pressure over the past couple of days in response to rate hike expectations in the United States (which pushed the dollar higher).

With a rate hike later this year hanging over the markets, the dollar continues to rise. If this trend continues, it will once again tighten financial conditions in the US and return volatility to vulnerable emerging markets (such as Malaysia – above).

Government tax breaks and dealer discounts helped fuel a 29% jump in China car sales last month for the biggest gain since January 2013.

Foreign and domestic auto makers shipped 2.27 million cars—including sedans, crossovers and minivans—to dealers last month, the China Association of Automobile Manufacturers said Wednesday, up from 1.75 million in September 2015.

So far this year, China's new-car sales are at 16.75 million vehicles, a 15% increase from the same period a year earlier.

The sharp uptick in September car sales reflects just how weak the market was a year ago.

In response to four straight months of slow sales, China's central government in October 2015 halved the 10% purchase tax on vehicles with 1.6-liter engines or smaller.

Sales have since rebounded strongly. More than 70% of cars sold in China qualify for the incentive, which helps consumers save up to 10,000 yuan, or about $1,500, when buying a new vehicle.

The tax break is scheduled to expire Dec. 31, as car dealers aren't shy about reminding customers. (…)
The German lender sold another $1.5 billion of investment-grade notes on Tuesday to mostly the same investors who bought last week's $3 billion private deal, according to a person with knowledge of the matter, who asked not to be identified because the information isn't public. The deal was priced at a premium of 290 basis points, close to the average of 300 basis points for highly-rated junk debt in dollars and more than twice the 143 basis points Deutsche Bank paid for similar notes in August 2015, data compiled by Bloomberg show. (…)

The October 2021 notes are combined with a sale on Oct. 7 and pay a coupon of 4.25 percent, according to data compiled by Bloomberg.
Intermodal cargo, goods hauled in containers, fell a second consecutive quarter for the first time since 2009, according to the Association of American Railroads trade group. A surplus of trucks has pushed down freight rates and lower diesel prices have chipped away at rail's usual fuel-savings advantage, taking a toll on once-steady growth. (…)

Container volume for the industry dropped 5.3 percent while all traffic declined 6.3 percent, according to the association.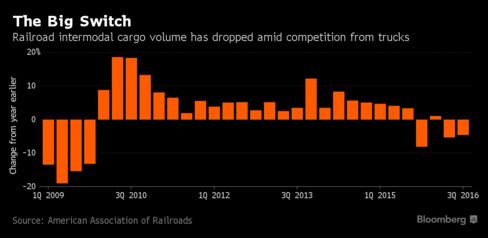 Here's the monthly trend from the AAR:
THE RULE OF 20
The Fair Index Value (yellow line: (20 – inflation) * EPS)) needs to stabilize soon…Current Fair Value is 2039, 4.4% lower than the S&P 500 Index. The technicals don't look good here. We sure need a good earnings season.
If you enjoyed this article, Get email updates (It's Free)