The total job openings rate declined to 3.6% in August, down from the record high of 3.9% in July. It was the lowest rate since December. The private sector job openings rate fell to 3.9%, a three month low. In the government sector, the job openings rate eased to 2.2%, the lowest point since March.

The job opening rate declined in most major sectors except for leisure & hospitality where it rose to a three-month high of 4.7%. In professional & business services a precipitous drop to 4.6% from 5.6% was registered. Another large decline in the openings rate was seen in construction to 2.7% from 3.3%, and the factory sector's 2.7% was down from 3.0%. The trade, transportation & utility rate fell to 3.5% from its cycle high of 3.7%, and the openings rate in education & health services eased to 4.4%, the lowest point since March. The job openings rate is the number of job openings on the last business day of the month as a percent of total employment plus job openings.

The actual number of job openings declined 6.7% (+2.5% y/y) to 5.443 million following a 3.3% rise in July. Private-sector openings were off 6.6% (+2.3% y/y) to 4.936 million, the lowest level this year. (…)

The total hires rate was unchanged at 3.6% for the third straight month, below February's of 3.8%. The private sector rate was steady at 4.0%, but remained below 4.2% it reached in February. (…)

The number of hires declined 0.9% (+3.0% y/y) to 5.210 million in August. The decline was the first in three months. Private sector hiring fell 1.1% (+2.8% y/y). (…)
Fed Officials Plan to Increase Rates 'Relatively Soon' Federal Reserve officials meeting in September laid the groundwork to raise short-term interest rates "relatively soon," according to minutes, although they struggled to reconcile internal divisions over the timing of the next rate move.
(…) The minutes didn't say when the next rate increase might come, but they largely reinforced market and analyst expectations of a Fed move in December, after the U.S. presidential election. The central bank has two more policy meetings this year, in early November and mid-December.

About 74% of economists surveyed by The Wall Street Journal in September said they expected the Fed's next move in December.

In their economic projections released last month, 14 of 17 Fed officials indicated they expected to raise rates before the end of the year. Policy makers believed they would raise their benchmark federal-funds rate "relatively soon if economic developments unfolded" about as they expected, the minutes said. (…)

One camp, which includes Fed Chairwoman Janet Yellen, argued for patience in raising rates because it judged the labor market still had room to improve.

Another camp, who wanted to raise interest rates in September, worries that continuing to pump cheap money into the economy could cause asset bubbles to form and the labor market to get too tight. (…)
Note here that the Yellen camp seems to be only 3 strong while the other camp is pretty crowded…but without the chair.
In a news conference after last month's meeting, Ms. Yellen hinted at a difficult debate behind closed doors. "We struggled mightily with trying to understand one another's points of view, and to come out at a balanced place and to act responsibly," she said. (…)
Obviously, this was the "royal We" who "struggled" "mightily" but who eventually acted "responsibly".
Still, the minutes show Fed officials didn't see major threats to the U.S. economy. Most said the risks to the outlook were balanced, which means the economy could as likely perform better than expected as perform worse, with several of them indicating the risks from Brexit had receded. (…)
But even we we agreed that the risks are balanced, 14 Fed officials don't seem to appreciate that what the economy is balancing on stands over a dangerous precipice and not just 2 feet off the ground in some play yard.
Let's consider the Fed's decision-making process through a legendary mountaineer's eyes (from SUMMIT FEVER):
In 1987, on his first Everest attempt, Viesturs backed off just 300 feet below the summit because the conditions were not right. It was this steadfast commitment to safety that allowed him to climb mountains with such great success. As he says, "Getting to the top is optional. Getting down is mandatory."

According to Viesturs, "It's almost a lemming-type effect. People get swept up in it, it's that psychological feeling of safety." No one gives any thought to the acceptable level of risk.

When I am climbing, I listen to the mountain. All the information is there, which helps me decide what to do. Arrogance and hubris need to be put aside, and humility and thoughtfulness are essential. I truly believe that is how I survived so many expeditions into a dangerous arena.
This is effective and sensible risk management. The Fed's priority here is to keep this very fragile economy up, even at the risk of creating a little more inflation. Being wrong is not an option. Being safe is mandatory.
The hawks only consider the potential risk of runaway inflation without weighing the consequences to the economy and to real people of another recession given current indebtedness, the lack of monetary elbow room and ineffective politicians.
When you are balanced over a precipice, it's generally better to avoid certain moves and slowly but surely find your way to the other side.
Why would one want to tighten monetary policy when labor conditions are deteriorating and most economic indicators are pointing to slower growth?
Note that the NY Fed Nowcast model is now at +1.3% for Q4. Recall that Q4'15, Q1'16 and Q2'16 averaged 1.0% growth.
And, BTW, monetary conditions are already tightening on their own given rising LIBOR rates and the stronger dollar.
Reminders from last Friday's payroll data:
Manufacturing jobs declined 13k in September after –16k in August. YTD: –58k.
Services employment rose 146k (94% of all new August jobs), continuing the slowdown from +276k in June, +238k in July and +192k in August.
The labor force rose 1.9% YoY, its fastest growth rate since January 2007 and among the fastest on record since 1990. In actual numbers, 3 million Americans entered the labor force during the last 12 months, a spurt only seen twice since 1980.
While these 3 million people entered the labor market, the economy created 2.4 million new jobs, up 1.7% YoY.
Every Markit PMI surveys since April noted that services employment was slowing. Services account for 86% of all jobs in America.
Yesterday, we saw that small business owners, the main job creators in the U.S., were not very keen on hiring:
This was for September, while the JOLT data above is for August…
David Rosenberg noted yesterday that only 21 S&P 500 companies issued any guidance in September, a record low for the month and 30% lower than the historical norm, evidence he says that executives have little visibility going forward.
Amazon to Add 120,000 Workers for Holidays Amazon.com Inc. plans to hire 20% more seasonal workers for its U.S. warehouses this holiday season as some competitors have kept hiring steady.

CSX Corp. is scrambling to cut its operations down to meet rail shipping demand. The freight railroad's $455 million profit in the third quarter was 10% behind the same quarter a year ago, but the WSJ's Ezequiel Minaya reports the earnings slip was far less than the decline in key shipments. Coal carloads were off 21% from a year ago, metals and equipment business fell 13% while revenues overall were down 8%. Like other railroads, CSX is scaling back by parking engines and furloughing workers, and the company cut its expenses 6.8% from the same quarter a year ago. And the cutbacks in capacity helped the company maintain its pricing: the revenue per unit, or yield, on its overall business was flat despite the reduced demand. And yields for coal, agricultural and the intermodal container business even edged up slightly over last year. The figures show CSX is telling its customers that it will keep its prices steady even if demand remains weak.
Exports fell 10 percent from a year earlier in September, the customs administration said Thursday
Imports declined 1.9 percent
Both readings fell short of estimates in Bloomberg survey of economists, who projected exports would drop 3.3 percent and imports gain 0.6 percent
In yuan terms, shipments declined 5.6 percent, imports rose 2.2 percent
Trade surplus fell to $42 billion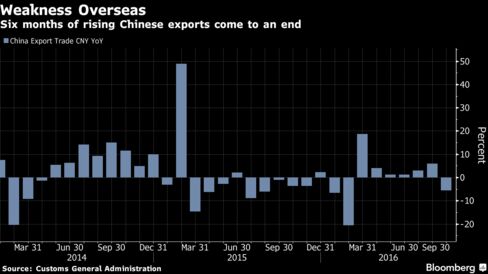 Exports to EU fell 9.8 percent, U.K. shipments slid 10.8 percent, U.S. down 8.1 percent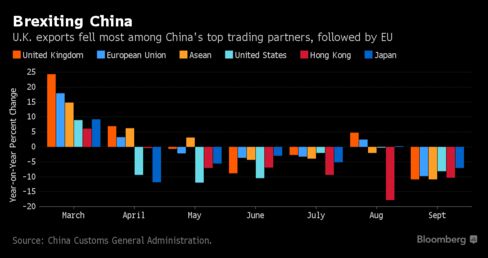 Via the FT:
The fall in exports "adds weight to our view that the People's Bank will maintain its recent policy of gradual trade-weighted renminbi depreciation in coming quarters," said Julian Evans-Pritchard, China economist at Capital Economics.

However, Chinese trade figures are also notoriously volatile, Mr Evans-Pritchard warned. "Unless there is evidence of a renewed slowdown in the broader economic data we still see some upside to import growth in the coming months," he said.
If you enjoyed this article, Get email updates (It's Free)