The CFNAI Diffusion Index weakened in October, declining to -0.35 from September's -0.16, according to the Federal Reserve Bank of Chicago. The components of the index all show weakness relative to trend except for the employment complex where the reading is neutral (pointing to trend growth). The index and all components were negative in September and all but one (sales orders and inventories) were negative in August as well.

Over three months, there is deterioration in the diffusion index and its activity reading as well as for three of the four components. Over three months, the consumption/housing complex has improved slightly as have sales/orders/inventories. Over six months, there are declines in the diffusion index, the activity index and in two of four of the components. The consumption/housing complex indicates weakening along with production/income. Strengthening slightly is the employment complex and sales/orders/inventories. Over 12 months, the overall diffusion index is weaker, but the weighed activity index change is positive signaling improving growth. Only one component (the employment complex) signals weakening growth compared to 12-months ago. (…)

U.S. light-vehicle sales results are expected to track above the year-to-date pace for the third straight month in November, leaving open the possibility that 2016 still could finish with record volume.

With an upward bias, November sales are forecast to end at a 17.7 million-unit seasonally adjusted annual rate, the third consecutive month the SAAR finished above the year-to-date total, which stands at 17.3 million through October.

The forecast SAAR is below like-2015's 18.1 million and October's 17.9 million.
However, because there are two extra selling days (25) in November compared with last year, the forecast volume of 1.367 million units is 3.3% above same-month 2015's 1.323 million. If November's outlook holds firm, year-to-date volume will total 15.8 million units, a smidgeon above 11-month 2015's 15.7 million, but keeping the prospect alive that 2016 could end as a record year.

Regardless of whether 2016 posts a new high, the signs still point to a plateauing in demand, with the likelihood of a decline next year – albeit a mild downturn, based on WardsAuto forecast of 17.2 million units in 2017.

The month's forecasted daily selling rate of 54,696 is 4.9% below November 2015, and the third decline in the past four months. Also, November's forecasted SAAR will be the fourth straight year-over-year decline.

November's results largely will be determined by how much Thanksgiving promotions juice volume from the holiday weekend through the end of the month. (…)

A potential dampener to the month is fleet deliveries. Estimated raw volume has declined for two consecutive months and could drop again in November, as more automakers show signs of pulling back from using fleet sales as a way to maintain market share. (…)
Donald Trump Poised to Pressure Mexico on Trade Rather than kill Nafta, Trump and his advisers appear set for to push for substantial changes to the rules governing trade with Mexico and Canada.
(…) Among the likeliest would be special tariffs or other barriers to reduce the U.S. trade deficit with Mexico and new taxes that would hit U.S. firms that moved production there, according to Trump advisers. His team says it may also seek to remove a Nafta provision that allows Mexican and Canadian companies to challenge U.S. regulations outside the court system. (…)

The U.S. imported and exported $1.1 trillion in merchandise to and from Canada and Mexico last year, compared with about $700 billion with the European Union and $600 billion with China.

The U.S., Canada and Mexico are intertwined in a complex system of supply chains, with some components crossing borders more than once before final products are sold to consumers. (…)

Mexican officials say they are willing to update the 22-year-old treaty, including adding new chapters on e-commerce and other aspects that didn't exist in the mid-1990s.

But Mexican officials are wary of revisiting tariffs and export quotas. "We can't get lost in an old debate about traditional tariffs…that's a debate from the last century," Economy Minister Ildefonso Guajardo told a business conference earlier this month. Reopening the treaty would create "a long line" of special interests in all three countries trying to get protection, he said. (…)

If Mr. Trump doesn't get what he wants in the talks, as president he has the authority to pull the U.S. out of Nafta in a matter of months and could do so, perhaps warning about such a move in his first days in office, lawyers say. If the U.S. leaves Nafta, then the two-decade-old agreement could be replaced with bilateral trade agreements, which Trump advisers say they prefer to multilateral tie-ups.
BTW:
U.S. goods exports to Canada and Mexico have quadrupled since Nafta took effect in 1994, rising to about $550 billion last year. (…)

While critics have decried Nafta and other free-trade agreements for opening U.S. markets to foreign products, the deal actually lowered tariffs in Canada and Mexico even more than in the U.S. The American government applied an average tariff of just 4.3 percent to imports from Mexico and 5.1 percent to those from Canada before Nafta, while Canada had a 9.7 percent tax on imports from the U.S. and Mexico's tax was 12.4 percent, according to a study last year led by Gary Hufbauer, an analyst at the Peterson Institute for International Economics. (…)
Weighing exports and imports is too simplistic. For example, a car made in Canada or Mexico and shipped to the U.S. is counted as an export, but includes many parts and inputs from the U.S.
Under the trade agreement, Canada is prohibited from cutting off oil exports to the United States if there is a worldwide shortage or supply disruption unless supplies are also rationed to Canadian consumers by the same amount.
Also BTW, back in 2008:
During a nationally televised debate in Cleveland, the two Democratic presidential candidates suggested Canada and Mexico would be given just six months to make compromises on the deal in order to satisfy the U.S. government.

"I will say we will opt out of NAFTA unless we renegotiate," Mrs. Clinton said. "I have said we will renegotiate NAFTA (and) you would have to say to Canada and Mexico, 'That's what we are going to do'."

Said Mr. Obama: "We should use the hammer of a potential opt-out" to force Canada and Mexico to reopen trade talks.
A final BTW from The Daily Shot:
Mexico's manufacturing boom has been brutal on Canada's trade. Some in Canada are excited about Trump's anti-NAFTA rhetoric.
(…) A stronger dollar means weaker currencies for some struggling regions, notably Europe and Japan. But tightening elsewhere could offset any gains these regions would get from rising exports driven by their weaker currencies. (…)

Already in some emerging markets, currencies have fallen and yields have risen more rapidly than they did during the [2013] tantrum. (…)
The biggest dollar-denominated emerging markets bond fund is seeing significant outflows which started immediately after Trump's victory.



European Firms Take ECB's Cheap Cash, but Don't Spend It The European Central Bank began buying billions of euros worth of corporate bonds earlier this year in a high-profile experiment aimed at spurring private investment. So far, the spending hasn't materialized.
(…) "We just don't see much evidence that the behavior of corporates has changed as a result of the" corporate bond-buying program, said Hans Lorenzen, head of European credit strategy at Citigroup Inc. "On the whole, corporates in Europe remain very cautious." (…)

Unlike in the U.S., European companies have barely taken advantage of cheap debt to buy back stock and boost their share price. According to Goldman Sachs, a quarter of cash held by S&P 500 companies is spent on buybacks, compared with 5% for Stoxx Europe 600 companies. (…)

The average yield on eurozone senior debt of nonfinancial companies is 1.1%, down from around 1.4% before the ECB announced its buying plans in March, according to IHS Markit's iBoxx index. (…)
U.K. Prime Minister Theresa May on Monday officially endorsed a move by Britain's previous Conservative government to lower the main corporate rate there to 17% by 2020, from today's 20%. (…)

The new attention being paid to corporate tax in both places follows close on the heels of recent moves in Japan, Canada, Italy and France to attract investment with lower rates of their own. (…)
SENTIMENT WATCH
It's looking more likely that President-elect Donald Trump will preside over a continuing U.S. expansion that could take its place as the longest among American business cycles, according to Deutsche Bank AG. And Chief U.S. Equity Strategist David Bianco predicts that by the time the real estate mogul takes office in January, the S&P 500 Index will eclipse 2,250.

Investors are under-appreciating the "much higher chance now of a long lasting economic expansion that rivals the 10 year U.S. record," the strategist writes "We're more confident now that the S&P will reach 2,500 in 2018 before suffering its next bear market." (…)

While Bianco doesn't discount the risks to Corporate America's bottom line posed by a rising U.S. dollar, potential protectionist trade policies under a Trump administration, and the rise in Treasury yields, he thinks the more important things for investors to focus on are lower taxes and the increase in bank profitability.

Deutsche Bank estimates that the U.S. corporate tax rate will be cut to about 25 percent — which would bring it in line with the Organisation for Economic Co-operation and Development (OECD) average — and suggests that every 5 percentage point cut lifts the earnings per share of S&P 500 companies by a cumulative $5.00.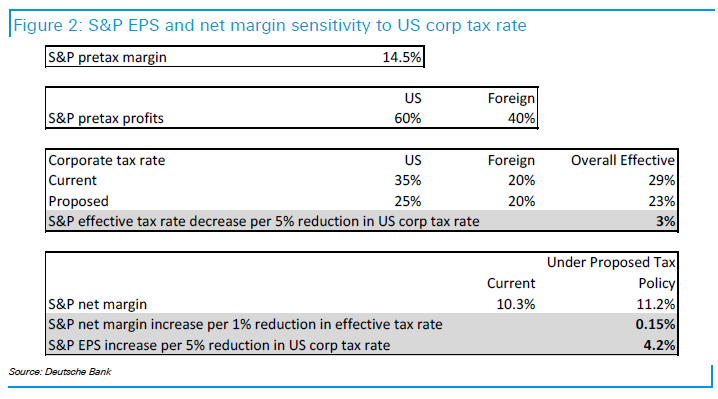 Source: Deutsche Bank
As such, Bianco upped his earnings per share target for the S&P 500 to "at least" $130 for 2017, which would constitute annual growth of over 9 percent (assuming his 2016 estimate of $119 is on the mark). "We're unsure how much the U.S. corporate tax rate will be cut, but we think a significant cut is likely," the strategist writes. (…)

Meanwhile, bonds won't become attractive enough of an alternative to crimp stock valuations or cause companies to face higher interest expenses. The continuation of the Fed's tightening cycle will keep the labor market from overheating and put a cap on the longer end of the U.S. Treasury yield curve, he added. As such, Bianco recommends that investors in need of income should turn to utilities stocks, which have been battered since the election.

"Utilities benefit from: 1) a lower U.S. corp tax rate given nearly 100 percent U.S. profits and thus no foreign exchange risk, 2) likely continued 15 percent tax rate on dividends versus income tax rates for interest income and the 3.8 percent Affordable Care Act tax is likely dropped, 3) more Federal infrastructure grants and loans for transmission upgrades, 4) a safe haven for retirees and institutions looking to reduce fixed income exposure," he concludes.
If you enjoyed this article, Get email updates (It's Free)