Sales of new single-family homes during October declined 1.9% (+17.8% y/y) to 563,000 (AR) from 574,000 sales in September, revised from 593,000. (…)

Led by a 12.0% m/m jump in orders for transportation equipment, U.S. durable goods orders surged a much larger-than-expected 4.8% m/m (2.1% y/y) in October. The Action Economics Forecast Survey had looked for a 1.0% m/m increase. And the initially reported 0.3% m/m decline for September was revised up to a 0.4% m/m rise. The rise in transportation orders was due almost completely to a 94% m/m explosion of nondefense (civilian) aircraft orders. Nondefense aircraft orders rose $10.6 billion (SA) in October while total orders were up $11 billion (SA).

Excluding defense and aircraft, orders edged up 0.3% m/m (0.6% y/y). While the October rise was modest, it was the fifth consecutive monthly increase for this key private-sector indicator, the longest string of monthly increases since the first five months of the recovery in 2009. Excluding transportation, orders rose 1.0% m/m in October (0.3% y/y, the first y/y increase since December 2014).

Core capital goods orders (nondefense capital goods orders excluding aircraft) rose 0.4% m/m (-4.0% y/y). After falling consistently during 2015, these orders appear to have bottomed during 2016, but nonetheless, remain lackluster, underscoring the general weakness exhibited by business investment spending in the national accounts. Core capital goods shipments, an accurate measure of the near-term course for business investment spending, edged up 0.2% m/m in October (-4.9% y/y) for its third consecutive monthly increase. Core capital goods shipments in October were 0.5% above the third quarter average–this indicator has declined in each of the preceding four quarters.

Doug Short has the best chart on that:

U.S. ECONOMY GROWING AT 2% IN Q4
Although only covering around 10% of the economy, the manufacturing PMI acts as a good barometer of GDP. This is in part due to the sector influencing business trends in other related sectors, notably transportation.

Since mid-2007, the correlation between Markit's PMI and official GDP growth has been 82%, rising to 91% if official data are smoothed using a moving average to remove volatility in the GDP series. These correlations are marginally higher than equivalent ISM comparisons of 81% and 87% respectively.

With the average Markit Manufacturing PMI reading for the first two months of the fourth quarter running at 53.6, it is broadly indicative of 0.5% (2% annualised) GDP growth in the closing quarter of 2016.
EUROZONE ECONOMY GROWING AT 1.6% IN Q4.
The PMI readings so far for the fourth quarter point to GDP expanding 0.4%, led by a rebound in German growth to 0.5%. France is also seen to be enjoying its best spell since the start of the year, with the PMIs signalling GDP growth of 0.2-0.3% in the fourth quarter.

(…) California's private-sector economy would shrink by almost 7% if its unauthorized workers, which make up 10% of its workforce, were removed, the study found. (…)

Unauthorized workers in the U.S. earned $580 a week on average across all industries, more than 40% less than U.S.-born workers. In finance and information sectors, though, where they still made up 2% of employment, they almost earned the same, around $1,300 a week.

The output of the construction, agriculture and hospitality sectors, whose workforces are made up of between 10% and 18% unauthorized workers, would fall by up to 10%, the research suggests. (…)
Taxing Times for the Market's Global Elite Likely tax changes, promised fiscal boost, strong dollar benefit smaller, domestic-focused companies
Winners since the election are the archetype of middle America: shares of smaller companies, with higher tax rates, which focus on domestic customers. Losers since the election are the globe-trotting elite of the corporate world, behemoths that pay little tax and sell a lot overseas.

At least three factors are working together to help small stocks. First up is corporate taxes, about which President-elect Trump has rare cross-party agreement that Something Must Be Done. That something is likely to mean a big cut to the headline corporate-tax rate, which currently comes in at 39% when state taxes are included, the highest of major countries.

Next is Mr. Trump's promise of a fiscal boost to the economy from wider tax cuts and infrastructure spending, making domestic sales more attractive than the foreign earnings of the multinationals.

Finally there is the strength of the dollar, boosted by many factors but quite literally meaning that foreign earnings are devalued when brought back to the U.S. (…)

The Russell 2000 index of small stocks has leapt more than 12% since the election, beating the S&P 500 by 9.25 percentage points. (…)

Michael Zezas, fixed-income strategist atMorgan Stanley, says the obvious winners from a big tax package are domestically oriented companies with high tax rates. He estimates that cutting the corporate tax to 15%, as Mr. Trump proposes, would mean a 30% increase in profit, justifying much higher prices. A score of companies his team picked as likely winners are up an average 6% since the election, led by Charles Schwab and Aetna with double-digit gains. (…)
At the heart of the fight is a Republican plan in Congress that would impose corporate taxes on imports while eliminating them from exports, a move that would upend decades of tax policy.

The proposed shift in effect would curtail existing incentives for U.S. companies to move profits and operations abroad, but it would also pose new challenges for some global businesses. Retailers selling imported products and refiners using imported oil could be hardest hit, while some exporters could see their tax bills vanish. (…)

And the changes to the tax system could be quite complex for those with global supply chains that import and export components and products, such as auto manufacturers and Apple Inc.

Still, the plan's path forward is uncertain. While it has support from House Republicans, senators and Mr. Trump haven't weighed in.
China Struggles to Steady Yuan's Decline China is facing an uphill battle to maintain an orderly depreciation of the yuan as investors pile up bearish bets against the currency outside the mainland.
(…) The pace of depreciation has quickened sinceDonald Trump's surprise U.S. presidential-election win sent the greenback soaring and emerging-market currencies tumbling. The yuan is down 6.2% against the dollar this year in onshore markets, reaching 6.9152 against the dollar on Thursday, with more than a third of the drop in the past two weeks. (…)
SENTIMENT WATCH
"It's a wonderful world!", suddenly.
The man on the street is also upbeat all of a sudden:
The University of Michigan said Wednesday its final reading of consumer sentiment rose to 93.8 this month from a preliminary November reading of 91.6 and a final October reading of 87.2. (…)

The post-election rise in optimism was widespread across different regions of the country, income and age groups. (…)

The Michigan index had matched a two-year low in October, just as outcome of the bare-knuckles campaign appeared relatively uncertain.

The turnaround was also apparent in subindexes. The survey's reading of current economic conditions jumped to 107.3 from October's final reading of 103.2. The gauge of future expectations climbed to 85.2 from 76.8.
(…) And 'optimistic' might be an understatement. According to the latest report, in some cases, Americans are the most hopeful they have been in more than a decade. For the first time since 2006, 37 percent of households said they expect their personal finances to improve in 2017. Also hitting decade highs: real income expectations, as wage growth continues to gain strength in a broadening swath of the economy.

It's not just on the personal finance front either. The index tracking households' expectations for changes in business conditions over the next year rebounded strongly after tumbling in October, with the share calling for an improvement in this area registering its biggest one-month gain last exceeded in 2008. (…)

46 percent of respondents surveyed agreed the U.S. will have "continuous good times" over the next year, up a whopping 11 percentage points from October, while the share who expected "bad times" ahead fell by 7 percentage points to 37 percent. (…)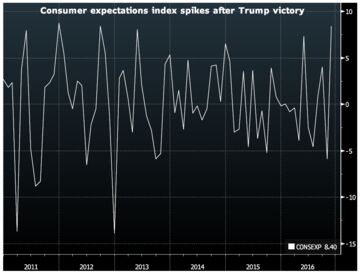 If you enjoyed this article, Get email updates (It's Free)