At 55.0 in January, up from 54.3 in December, the seasonally adjusted Markit final US Manufacturing Purchasing Managers' Index™ (PMI™) signalled a robust and accelerated improvement in overall business conditions across the manufacturing sector. The latest reading was little changed from the earlier 'flash' reading of 55.1 and pointed to the fastest upturn in manufacturing performance since March 2015.
Survey respondents noted that greater production volumes had been underpinned by improved client demand and efforts to boost inventory levels at the start of 2017. Reflecting this, latest data signalled the fastest accumulation of post-production stocks for almost ten years.
New business growth picked up again in January, thereby signalling a sustained turnaround from the soft patch seen during the third quarter of 2016. Anecdotal evidence indicated that stronger order books reflected an improved economic backdrop and a corresponding rise in clients' willingness to spend. However, export sales growth remained only marginal at the start of 2017, suggesting a continued drag on external demand from the strong dollar.
The latest upturn in purchasing activity was the fastest since March 2015, which was in line with the trends seen for output and new business intakes. The latest survey also pointed to another rise in stocks of purchases and a solid expansion of workforce numbers.
Meanwhile, manufacturers indicated that cost pressures intensified in January, driven by higher prices for a range of raw materials (particularly oil and metals). The overall rate of input cost inflation was the fastest for almost two-and-a-half years, but manufacturers' factory gate charges increased only moderately at the start of 2017.
Hopefully, this is not just post-elections hope ("efforts to boost inventory levels"). The Manufacturing PMI has been rising for over 6 months and yet, manufacturing output has remained flat since 2014.
Capex have been dismal:
Inventory risk: case in point:
Based on a preliminary estimate from WardsAuto, light vehicle sales were at a 17.47 million SAAR in January. That is down about 2% from January 2016, and down 4.5% from the 18.29 million annual sales rate last month.
Still looks like a cyclical peak:
From the WSJ:
U.S. auto makers have caught the inventory bug. The Big Three auto makers posted sales declines in January but still moved more goods to dealer lots, providing a robust if risky show of confidence in future demand, the WSJ's Mike Colias and Anne Steele report. RBC Capital Markets estimates the industry now has 90 days' worth of supply, up from 62 days' in December and 77 days' in January 2015. Dealers typically build up backlogs for sales in the warmer months, but RBC says this year's inventory surge is about 12% ahead of the typical January. The auto industry seems to be following bigger trends that have seen businesses loosen their reins on inventory growth over the past two years. But the high value and carrying costs of automobiles also carry outsize risks, and high inventories traditionally have triggered discounting and layoffs.
But RBC says it's not that bad:
January always has higher days inventory. We understand that whenever the market sees high
inventory amid a "plateau" demand environment, the sentiment skew on production direction tends
to lean towards looming cuts. We wouldn't be so quick to assume that. The math never helps January days inventory as the formula is calculated on current month sales (and January is always a low absolute number) while the inventory is meant for demand over the coming months. So Ford's
(adjusted) 96 days is in line with its 10-year January average while GM's 108 days are a little above
its 96-day, 10-year January average.
Spring sales better be good…More on January auto sales:
(…) So overall car sales are not down because automakers "cut back" on fleet sales. They're in a deep funk for several reasons:

1. American consumers have gravitated toward light trucks;

2. Retail sales of cars are getting squeezed by a flood of off-lease vehicles that customers turn in at the end of the lease, and that are sold via auctions to dealers on whose lots these cars compete with new cars, but at a much lower price point;

3. And rental car companies, are trimming back their orders for reasons of their own, under pressure from a variety of directions, including rideshare companies, whose drivers own their own cars and buy them via retail sales not fleet sales. For automakers, the arrival of the rideshare industry means a welcome shift from fleet sales to retail sales. But it's still not enough to stop the decline in car sales.

Gallup's Job Creation Index, a measure of U.S. workers' perceptions of the job climate where they work, remained strong in January. The January JCI score of +34 is similar to the +33 figures found most months since last May, and indicates that many more workers believe their employer is bringing on new employees than letting people go.
Fed Stands Pat, Offers No Hint on Next Rate Move The Federal Reserve held its benchmark rate steady and said it remains on track to gradually raise short-term rates this year. It gave no hint about when the next increase might come.
Decisions made by the Fed years ago mean that the maturity of its $4 trillion-plus bond portfolio declines every day, a process that Fed Chairwoman Janet Yellen said in January has the same impact on benchmark bond yields as two short-term rate increases over the course of 2017. (…)

But the status quo alone means reduced stimulus, because as the portfolio gets closer to maturity, the Fed's ownership of long-term debt decreases, pushing rates higher. The Fed is simultaneously thinking about actively trimming the size of its portfolio, a move that analysts say could put even more upward pressure on long-term rates (…)

In recent years, the amount of maturing debt had been small, partly due to the Fed's decision in 2011 to sell short-term debt to buy long-term bonds aimed at keeping long-term interest rates low to stimulate the economy. The policy is known as Operation Twist.

But the amount of maturing Treasury debt is expected to rise to $195 billion this year and $422.6 billion in 2018, compared with $3.5 billion in 2015, according to Mark Cabana, head of U.S. short-rates strategy at Bank of America Merrill Lynch.

Francesco Garzarelli, interest-rate strategist at Goldman Sachs Group Inc, said that once the Fed announces its intention to downsize the balance sheet, investors may look ahead to the issue of demand from other sources to fill the void from the Fed. The impact from this, he said, could lead to a rise of 0.5 to 0.75 percentage point on the 10-year Treasury yield. The yield Wednesday afternoon was 2.466%. (…)

Many analysts say the Fed is likely to concentrate its efforts first on its portfolio of mortgage-backed securities, given its stated intention of returning to an all-Treasury portfolio. That could have a more direct impact on lifting borrowing costs in the housing market, analysts say. Morgan Stanley economists forecast that ending the reinvestment of maturing MBS would be the equivalent financial tightening of two rate increases.

Few expect a rash decision from the Fed, which, if anything, is thought to be biased toward keeping market conditions docile. Analysts say the process of ending reinvestment isn't expected to commence until next year and is likely to be approached cautiously.

"Would the Fed gamble that it can get away with reducing its balance sheet in 2017 and not cause a crisis? I don't think so," said Jonathan Lewis, chief investment officer at Fiera Capital Inc. (…)
INFLATION WATCH
The global Citi Inflation Surprise Index, which measures price surprises relative to market expectations, is at the highest in more than five years. The reading turned positive in December — meaning inflation data were higher than expected — for the first time since 2012.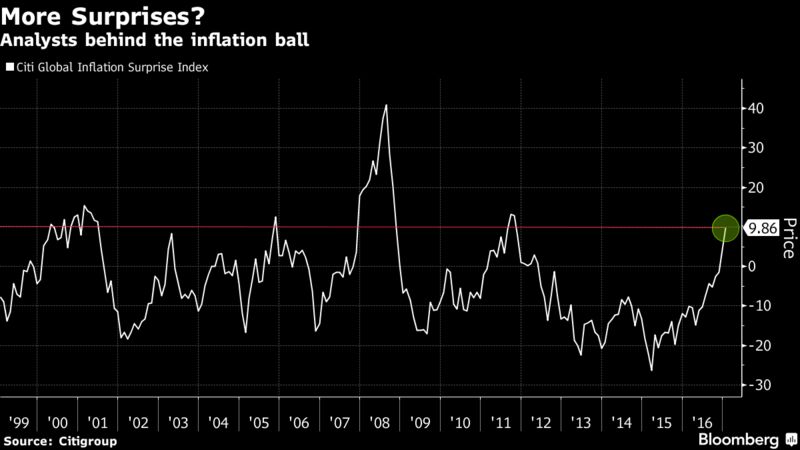 EARNINGS WATCH
234 companies (63.2% of the S&P 500's market cap) have reported. Earnings are beating by 3.1% (2.6% ex-Financials) while revenues are surprising by 0.3%.
Expectations are for revenue, earnings, and EPS growth of 4.2%, 5.5%, and 7.6% (5.4% ex-Financials), respectively.
EPS is on pace for 8.7%, assuming the current beat rate for the remainder of the season. This would be 7.2% excluding the benefit of easy comps at AIG and GS.
If you enjoyed this article, Get email updates (It's Free)