The Index of Small Business Optimism rose 0.1 points to 105.9, the
highest reading since December 2004, sustaining the remarkable surge in
optimism that started post-election. Five of the 10 Index components
posted a gain and 5 declined, but all by just a few points.

Post-election optimism appears to be translating into job creation with the
seasonally adjusted average employment change per firm posting a gain of
0.15 workers per firm, the best reading since September 2015 and
historically, a strong showing.

Fifty-three percent reported hiring or trying to
hire (up 2 points), but 47 percent reported few or no qualified applicants
for the positions they were trying to fill. Fifteen percent of owners cited
the difficulty of finding qualified workers as their Single Most Important
Business Problem (up 3 points).

Thirty-one percent of all owners reported job openings they could not fill
in the current period, up 2 points, the highest reading in this recovery. This
indicates rising demand for labor and a tightening labor market. Thirteen
percent reported using temporary workers, up 2 points. A seasonally
adjusted net 18 percent plan to create new jobs, up 2 points and the
strongest reading since November 2006.

The percent of owners planning capital outlays in the next 3 to 6 months
fell 2 points to 27 percent, just below the highest reading in the recovery.
Seasonally adjusted, the net percent expecting better business conditions
fell 2 percentage points to a net 48 percent, still exceptionally optimistic.
The seasonally adjusted net percent expecting higher real sales lost 2
points to 29 percent of all owners, but also a very strong reading.
Funny how earnings suddenly jumped at year-end, especially given the apparent margin squeeze with labor costs rising much faster than selling prices and actual sales. I may be wrong but there seems to be a lot of hope in the survey results.
Producer price index rose 6.9 percent in January from a year earlier, compared with a median estimate of 6.5 percent in a Bloomberg survey and a 5.5 percent December gain
Consumer-price index climbed 2.5 percent, boosted by the week-long Lunar New Year holiday beginning in January this year, versus a 2.4 percent rise forecast by analysts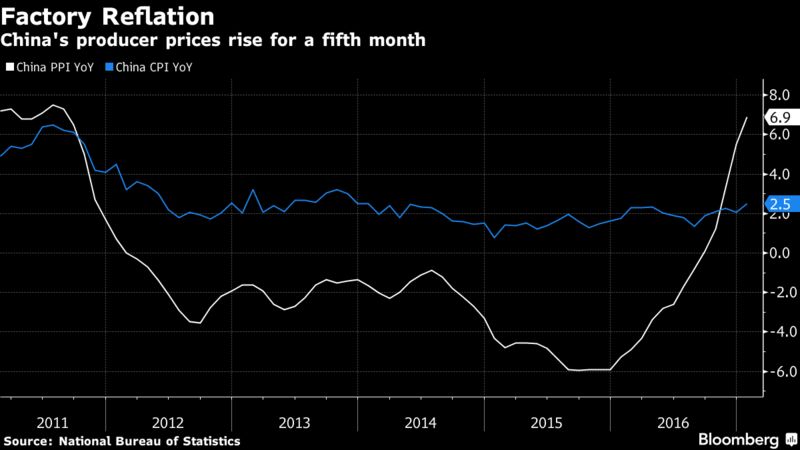 THE BOOM-BUST BAROMETER
Yesterday, I showed Ed Yardeni's YRI Fundamental Stock Market Indicator which is really the average of Bloomberg's Consumer Comfort Index and Boom-Bust Barometer, which, in turn, is CRB raw industrials spot price index divided by initial unemployment claims. (All charts courtesy of Yardeni Research)
The YRI has really exploded after the elections mainly because of the Boom-Bust Barometer:
The Raw Industrials Spot Market Price Index is a measure of price movements of 16 sensitive basic commodities whose markets are presumed to be among the first to be influenced by changes in economic conditions. As such, it serves as one early indication of impending changes in business activity. Raw Industrials include burlap, copper scrap, cotton, hides, lead scrap, print cloth, rosin, rubber, steel scrap, tallow, tin, wool tops, and zinc.
The BBB was strongly boosted by the jump in the CRB Raw Industrials Index after Nov. 8. This Index is now very close to its highs reached when China was growing at high double-digit rates. At barely 6% and flat for 2 years, China is far from consuming commodities to justify previous peak prices. The U.S. IP remains below its 2007 peak and just turned positive (+0.5%) on a YoY basis. Japan's IP is up 3.0% YoY while the Eurozone's is up 2.5% thanks to a suspect 1.6% MoM jump in November. Nothing to justify a 25% jump in prices.
There is also that other problem:
See all the air in that balloon? Now, go back to the first chart above and imagine what could happen if that balloon deflates.
BTW: BMI Research has this chart (via The Daily Shot) showing 3-M returns when sentiment is bullish and internals weak as currently. Period covered was not mentioned.
EARNINGS WATCH
361 companies (82.3% of the S&P 500's market cap) have reported. Earnings are beating by 3.6% while revenues are surprising by 0.3%.
Expectations are for revenue, earnings, and EPS growth of 4.3%, 6.6%, and 8.7%, respectively.
EPS is on pace for 9.3%, assuming the current beat rate for the remainder of the season. This would be 7.8% excluding the benefit of easy comps at AIG and GS. (RBC)
Gross domestic product rose 0.4 percent in the three months through December, the European Union's statistics office in Luxembourg said on Tuesday. That is below a Jan. 31 estimate and follows an increase of 0.4 percent in the previous quarter. (…)

Fourth-quarter performances fell short of analysts' forecasts in Germany, Italy and the Netherlands, three of the region's five-largest economies. Greek output contracted 0.4 percent, compared with estimates for a 0.4 percent increase. Eurostat confirmed the pace of growth in Spain and France in the final three months of 2016.

Andreas Rees, an economist at Unicredit in Frankfurt, predicts that the downward revision of euro-area growth is mainly due to Germany's performance, which was damped by the timing of Christmas holidays.

"It is a technicality which will be corrected," he said. "Fundamentals look solid. An acceleration in global trade is in the pipeline." (…)
While pricing power is an obvious fillip to economies and earnings, its restoration does funny things to price-earnings ratios. That's the message from a study by Strategas Research Partners on data since 1950, which found the higher the consumer price index, the lower the S&P 500 Index's valuation. (…)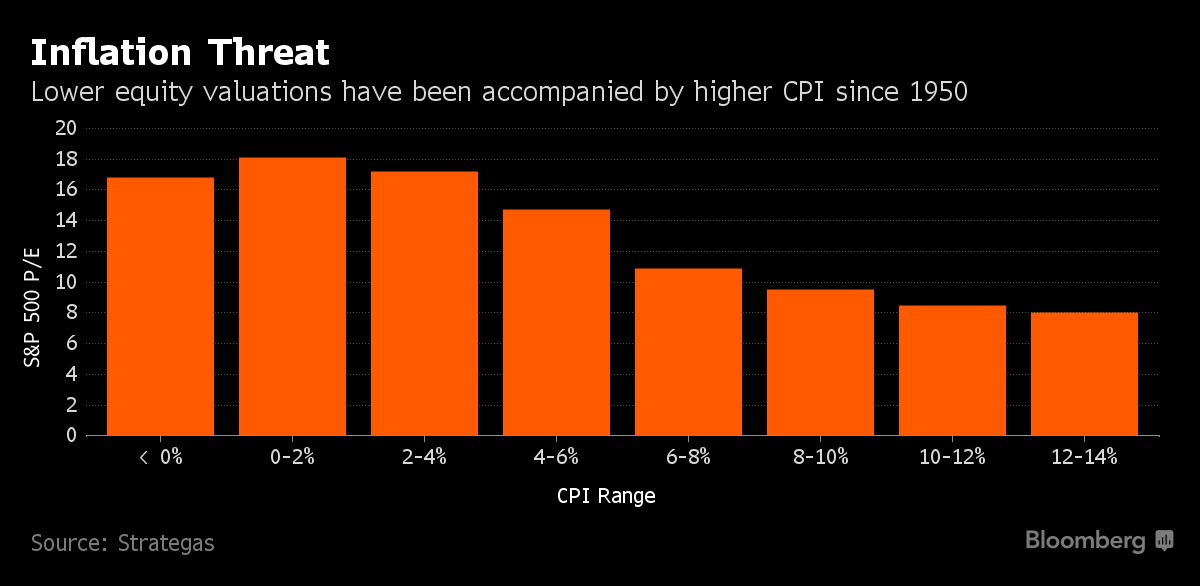 If you enjoyed this article, Get email updates (It's Free)