The Philadelphia Federal Reserve reported that its General Factory Sector Business Conditions Index jumped to 43.3 during February from January's 23.6. It was the highest level since January 1984. The latest monthly reading compared to expectations for 18.9 in the Action Economics Forecast Survey.

The ISM-Adjusted General Business Conditions Index constructed by Haver Analytics ticked higher to 55.6 this month, the highest level since November 2014. The ISM-Adjusted headline index is the average of five diffusion indexes: new orders, shipments, employment, supplier deliveries and inventories with equal weights (20% each). This figure is comparable to the ISM Composite Index. During the last ten years, there has been a 71% correlation between the adjusted Philadelphia Fed Index and real GDP growth.

Stronger new orders and production components led the way higher, as they surged to multi-year highs. Unfilled orders also held at the best level in six years. Delivery times eased, however, indicating quicker delivery speeds, while inventories fell.

The employment series slipped from its roughly two-year high. During the last ten years, there has been an 81% correlation between the jobs index and the m/m change in manufacturing sector payrolls. The average workweek reading strengthened to an expansion high.

Prices Paid vs. Prices Received (Mike "Mish" Shedlock)

33 percent of the firms reported increases in the prices paid for inputs; only 3 percent reported paying lower prices.
22 percent of the firms reported receiving higher prices, down from 31 percent in January.
By a ratio of 29.9 to 10.6 more firms report higher input prices than prices they get for manufactured goods. That's not a sign of strength.
The Philly Fed report also suggests that we may see business investment picking up.
Source: @jbjakobsen (via The Daily Shot)
U.S. Housing Starts Slide in January U.S. housing starts slid in the first month of 2017, an indication that softness in apartment construction could offset a continued recovery in the single-family construction market this year.
Housing starts dropped 2.6% in January to a seasonally adjusted rate of 1.246 million, below the revised December rate of 1.279 million, the Commerce Department said Thursday.

Permits, an indication of how much construction is in the pipeline, rose 4.6% to 1.285 million from the revised December total of 1.228 million. (…)

Single-family construction climbed 1.9% in January, while multifamily construction tumbled 10.2%. (…)

Multifamily permits rose 23.5% in January over December, indicating that builders are continuing to begin new projects despite concerns about a glut. (…)

Single-family permits declined 2.7% in January over December, but were up 11.1% compared to the same time last year. (…)
The above reports sent the US economic surprise index to a multi-year high.
U.S. Household Debts Climbed in 2016 by Most in a Decade Total household debt climbed by $226 billion in the final three months of 2016 to $12.6 trillion, driven by broad and steady increases in credit card debt, auto and student loans, and a surge of mortgage originations.
Total household debt climbed by $226 billion in the final three months of 2016, according to a report Thursday from the Federal Reserve Bank of New York. Total household debts are now just $99 billion shy of the all-time peak of $12.7 trillion set in the third quarter of 2008 just as the banking system began crashing down. The New York Fed estimates that debt is highly likely to set a new record in 2017. (…)

When measured against the broader economy, total household borrowing today is 67% of nominal gross domestic product, compared with about 85% in 2008. (…)

While student loans and subprime loans are particular sources of concern, especially for those with the heaviest burdens, overall delinquency rates have continued to decline. Just 4.8% of loan balances were in delinquency in the fourth quarter, the lowest level in more than a decade, and down from as high as 11.9% in 2009. Just 3.3% of that debt was seriously delinquent, down from a peak of 8.7%.
From NBF:
(…) But as today's Hot Charts show, the composition of debt is quite different now compared to 2008. The share of mortgages in total debt plunged from 73% to 67%, while the share of auto and student loans have increased dramatically, the latter more than doubling its share.

One could argue household debt is less risky now than it was in 2008. After the subprime fiasco, lenders significantly tightened mortgage standards ─ last year 58% of mortgage originations went to borrowers with a credit score 760 or better, versus just 36% eight years ago ─ which explains in part the drop in the
share of mortgages in total debt. Moreover, student loans, the major source of growth in household debt in the last eight
years, are guaranteed by the federal government and hence represent minimal direct risks to banks.

As for auto loans, it's true that a quarter of those are sub-prime and hence very risky. But sub-prime auto loans are unlikely to singlehandedly trigger the next financial crisis because of their relatively small size (less than $300 million at the end of last year) and the fact they are held mostly by non-bank entities.
What is missing this cycle is Americans' "lease obligations" since so many have opted to rent. Rents have been rising faster than earnings in the last 2 years…
The decline in real wages (discussed yesterday) seems inconsistent with the rising consumer sentiment and strong retail sales. Either wages have to rise, or the consumer pulls back. (The Daily Shot)

Source: @IIF, @DeanDijour
(…) Auto loan balances in 2016 surged at the fastest pace in the 18-year history of the data series, the report said, driven by the highest originations of loans ever. Alas, what the auto industry has been dreading is now happening: Delinquencies have begun to surge. (…)

"Seriously delinquent" auto loan balances, composed of all loans that are 90+ days past due, rose in Q4 to 3.8% of total auto loan balances. That puts them right between Q1 and Q2 of 2013, as auto credit was recovering from the Financial Crisis. Last time auto loan delinquencies had surged to that level was after Q3 2008, as the Financial Crisis was tearing into the economy: (…)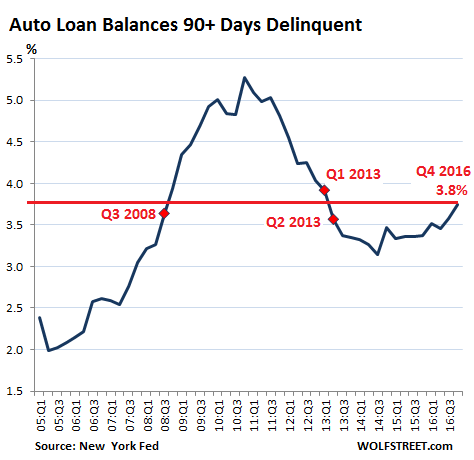 From RBC: Credit card 30+ days delinquencies end of January 2017: Capital One (left), Discover Financial (right)

(…) "It appears we've now reached the bottom on commodities and are likely to have to contend with commodity inflation beginning in Q1 of this year," Mr. Basilio said on the company's Wednesday conference call, according to a transcript by FactSet.

The futures and immediate-delivery market for certain commodities has already ticked higher, showing year-over-year inflation, Mr. Basilio said. (…)
Worst Gasoline Glut in 27 Years Could Be Oil Rally's Nemesis A gasoline glut brought on by drivers buying less at filling stations is emerging as one of the biggest threats to the yearlong oil-price rally.
(…) U.S. gasoline consumption plummeted last month, nearly matching a 15-year low, government estimates show. It fell to as low as 8.2 million barrels a day, averaged over the four-week period ended Jan. 27.

January sales at the pump fell 4.4% from a year ago, according to data from the Oil Price Information Service. That has led to a record amount of surplus gasoline, the U.S. Energy Information Administration said Wednesday. Storage levels swelled last week to 259 million barrels, the highest in EIA records dating to 1990. (…)

This drop-off in demand would be unlike any other outside of a recession, according to Goldman Sachs Group Inc. It is leaving many analysts befuddled. Some question the data. Others attribute the decline to storms and poor weather. Drivers may be put off by pump prices 31% higher than a year ago, according to the EIA. (…)

U.S. drivers account for 9% of total global oil demand, according to Cowen. They helped steady the crude market a year ago when they took advantage of lower prices to drive at record lengths. Motorists drove an additional 85 billion miles in the first 11 months of last year, compared with 2015, according to federal data.

But with gasoline consumption now down to levels rarely seen since the early 2000s, a glut has been building. There is enough gasoline in storage to cover 31 days of U.S. driver demand—the most in 22 years, according to the EIA. A similar situation played out a year ago and left a glut lingering for months, weighing on crude prices. (…)

Refineries have already slowed their utilization rate to 85.4% from 93.6% in about a month for maintenance they typically do in the winter. The amount of gasoline in storage has continued to rise anyway, another possible indication of weak demand. (…)

Robert Merriam, director of EIA's Office of Petroleum and Biofuels Statistics, said much of the data in question is an estimate based on figures from gasoline suppliers, which are a proxy for actual drivers and retailers. (…)
U.K. Retail Sales Fell Again in January U.K. retail sales shrank in January, after posting the fastest monthly decline in over five years in December, signaling that rising prices are squeezing Britons' wallets in the wake of the Brexit vote.
European car registration rose 4.1% in January, building on a small gain registered in December. Registrations as well as the three-month moving average of registrations are showing strong, accelerating gains from 12-month to six-month to three-month. The simple 12-month gain is at 11.2%; the gain for the associated moving average is at 6%. (…)
As Tax Debate Heats Up, Lawmakers Struggle to Think of a Plan B Despite widespread criticism, border adjustment isn't dead, and that is partly because Republicans haven't developed palatable alternatives that avoid huge budget deficits or prevent the corporate tax base from fleeing abroad.
(…) Border adjustment, a pillar of House Republicans' tax proposal, is taking a beating. Big retailers are lobbying aggressively against the concept, which would tax imports and exempt exports. Senate Republicans have expressed views ranging from skepticism to hostility. Even some House Ways and Means Republicans are wary.

With Democrats sidelined, just three GOP senators could kill the House tax plan; already, more than that oppose border adjustment. (…)

In Mr. Brady's plan, border adjustment serves two purposes that can't be easily replicated, experts say. First, it would raise an estimated $1 trillion over a decade to help pay for cutting the corporate tax rate to 20% from 35%. Second, border adjustment reshapes the U.S. tax base around domestic consumption, making it harder for companies to escape U.S. taxes by putting their manufacturing, intellectual property or headquarters outside the country.

Any plausible Plan B—whether from Mr. Brady or importers lining up against him—must grapple with those two challenges. (…)

Even without their own alternative, senators' objections to border adjustment echo in the House, where Republicans may get nervous about taking a tough vote on something their own party would shoot down.

"It's going to be up, it's going to be down, it's going to be on, it's going to be off," Mr. Ryan told reporters Thursday, previewing what he called the "drama" ahead. "Tax reform is going to happen." (…)

Republicans are also waiting for President Donald Trump to shape the debate. The president, who has been ambivalent and noncommittal on border adjustment, says he will roll out a tax plan within weeks. (…)
Congress Tests Trump Officials on Trade Lawmakers from both parties are showing early resistance to President Donald Trump's trade policy, a key pillar of his 2016 "America first" campaign.
(…) Republicans, many of whom support free trade and are therefore skeptical of Mr. Trump's approach, have mostly avoided direct criticism. The GOP lawmakers are giving him a chance to get his team in place and formulate more detailed policies on issues like the fate of existing U.S. trade agreements.

But late Tuesday, Sen. Chuck Grassley, an Iowa Republican, fretted publicly that Mr. Trump's talk about blocking U.S. imports could lead to retaliation against American agricultural exports.

"If the president can negotiate better deals for the United States, I'm all for it, but I don't want to see anything that hurts major sectors of the economy, like agriculture," Mr. Grassley said following a meeting of Mr. Navarro with Republican members of the Senate Finance Committee, which oversees trade.

On Wednesday Mr. Navarro attended another gathering with the entire Finance Committee, and some Democrats said he appeared unprepared to discuss the details of U.S. sugar policy, an elaborate system that supports American cane and beet growers and is popular with many lawmakers, according to people who attended the meeting. (…)
(…) Investors often cite Mr. Trump's business-friendly policies and the expectation of more infrastructure spending, lower corporate taxes and looser regulation for the postelection surge. What doesn't get enough credit are the fundamental underpinnings of the rally. As Nicholas Colas, chief market strategist at Convergex, tells it, slow-but-steady economic growth, low interest rates, reliable earnings and predictable monetary policy have been potent ingredients for this low-volatility market. (…)
If you enjoyed this article, Get email updates (It's Free)